I can just imagine it.
You are SO HAPPY that it's finally spring after a long winter indoors.
You can take your caged animal, I mean toddler, outside without freezing to death.
Yay!
But what if your toddler just doesn't know what to do with herself outside?
And what if you don't know what to do with her?
I've been there.
BELIEVE ME.
It can be exhausting, when you're already exhausted.
That's why I created this list.
If you're looking for things to do with a 2 year old, well, here you go!
To make it EASY for you.
It's really what my entire blog is all about.
When I was searching for "spring activities for toddlers", I got so many results like this: sensory bottles, busy bags, art projects, sensory tub ideas, obstacle courses…
These activities are all fun, sure.
But they were stressing me out!
What mom with a toddler running around has time for this?
(If you do, you're awesome and I applaud you.)
But I wrote this list for the mom who wants SIMPLE toddler spring activities.
So that's what you'll find here!
Only activities that are no-prep or that will take very few minutes to set up.
So you can spend your time WITH your toddler, not preparing activities.
Spring Activities For Toddlers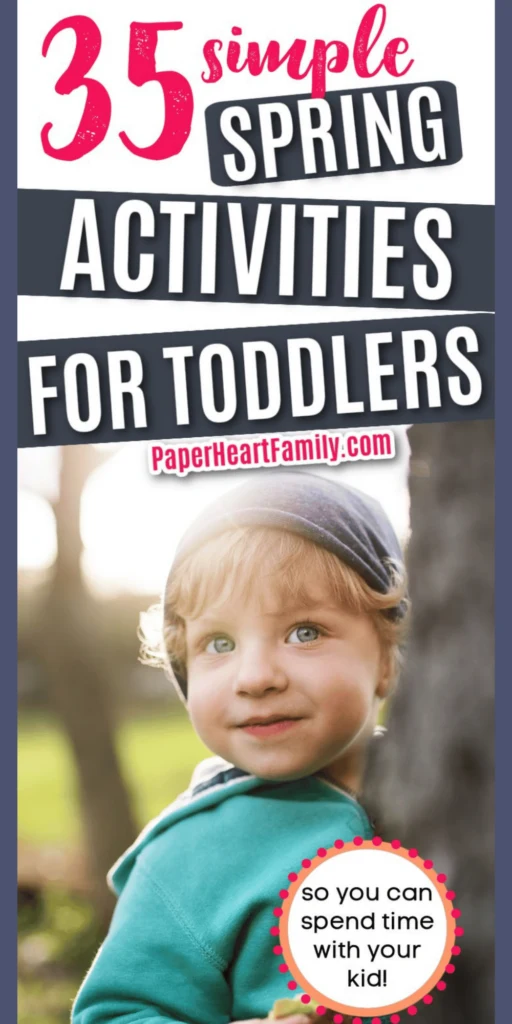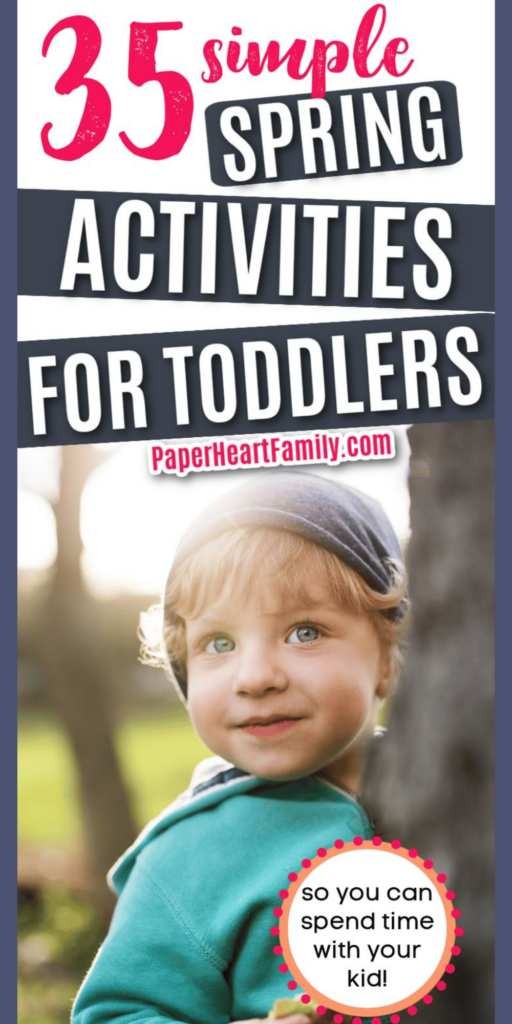 1. Complete The 30 Day Toddler Physical Activity Challenge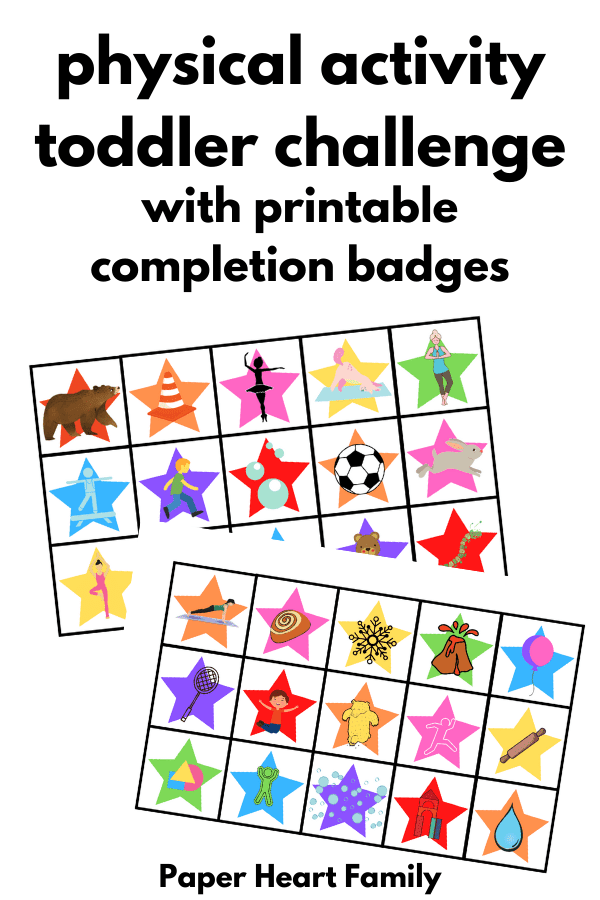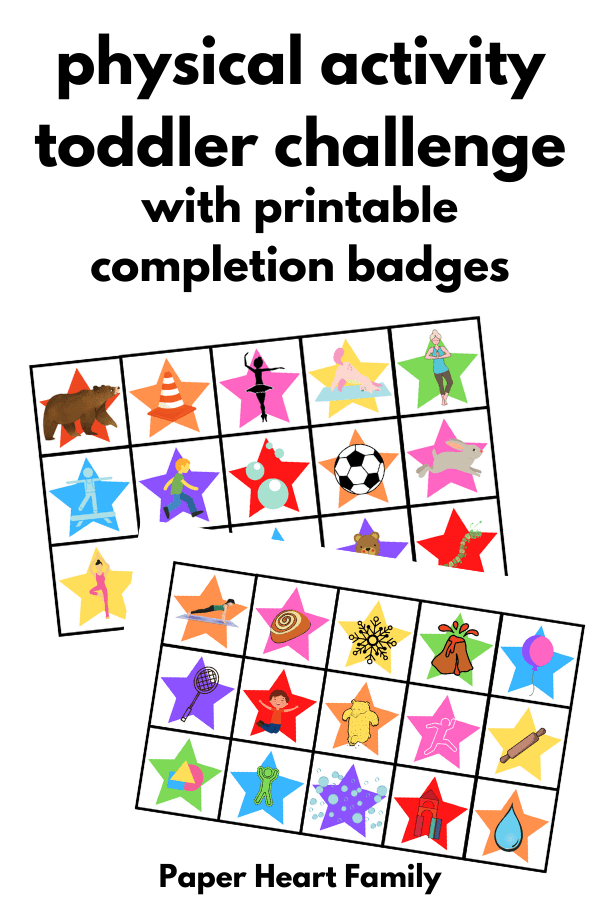 This Physical Activity Challenge for Toddlers is the perfect way to get active after a long winter trapped inside.
And you could do it along with your toddler, too!
Here's what you do.
Have your child do one of the challenges once to get their baseline score.
Then, she tries to beat her personal best!
I even have completion badges that you can give to your child as she successfully completes the challenge!
Some of the challenges you will find are:
bear crawl
balance
hopping on one foot
Get started with the Toddler Physical Activity Challenge today!
Being active everyday is a skill 3 year old's can learn!
2. Start Some Seeds Indoors
Toddlers love learning about the world around them, and are very eager to help out.
That's why I love this activity.
Get yourself an old egg carton, some soil and some vegetable or flower seeds.
Some of the easiest seeds to grow inside are:
marigolds
zinnias
tomatoes
watermelon
basil
kale
peppers
3. Make A Bird Feeder
Grab an empty toilet paper roll, some peanut butter and some bird seed and make a peanut butter bird feeder.
This is so much fun and something that you can do over and over again throughout the spring as the birds eat all of the bird seed off of your feeder.
4. Take An Educational Walk
Of course getting outside in the spring is a must.
Take advantage of the nice weather to make your walk educational.
I always like to choose something each time that I walk with my toddler to count.
Some ideas are:
count the number of flowers you see
count the amount of white cars you see
count how many animals you see along the way
5. Check Out Some Spring-Themed Books From The Library
You can teach your child about the marvels of spring with one of these favorite books:
The Very Hungry Caterpillar
Little Blue Truck's Springtime
Flip, Flap, Fly!
Planting A Rainbow
Spring Stinks
6. Have An Easter Egg Hunt
This could be an activity that you do throughout spring in order to practice for the real thing!
I have 10 Easter egg hunt toddler ideas such as:
And more!
7. Watch Planes Flying In The Sky
We love using the Flightradar24 app.
Using the app, you can see where the planes overhead are coming from and where they are going to.
Your 2-year-old can start to learn a little bit about the world!
8. Paint Rocks
9. Do A Printable Craft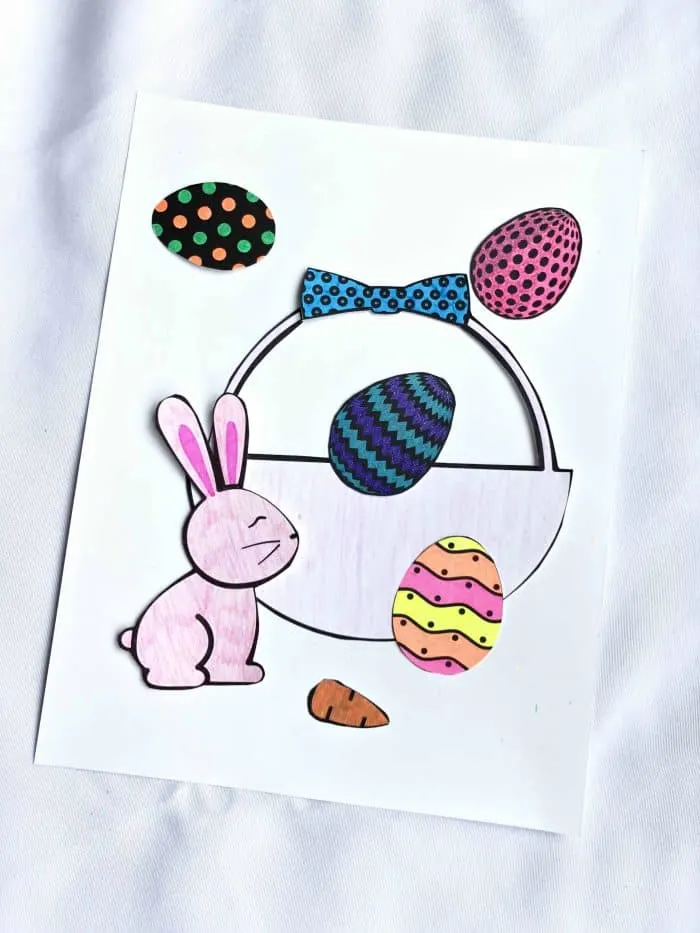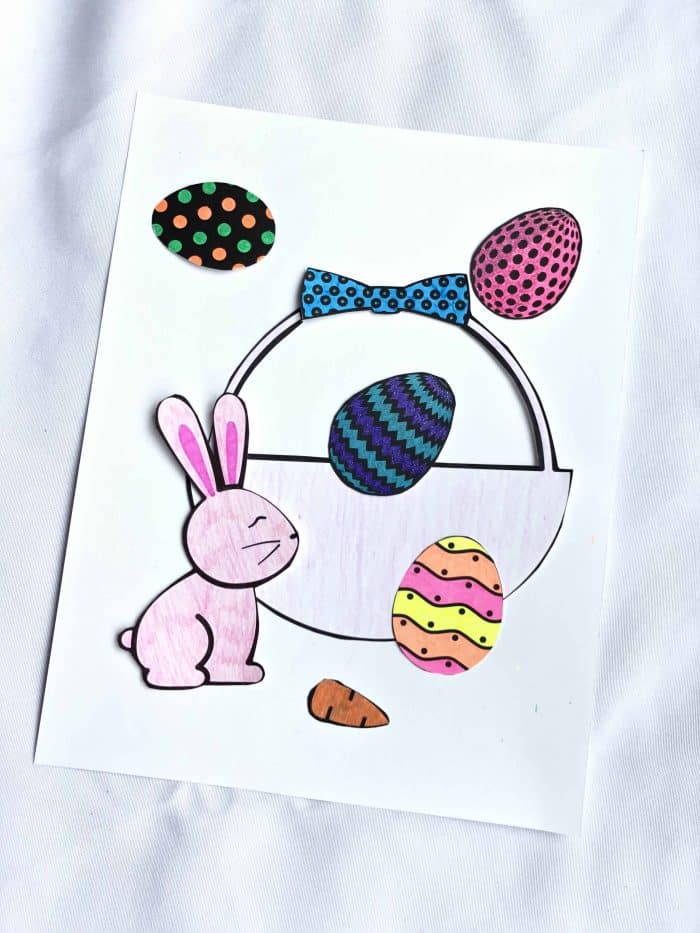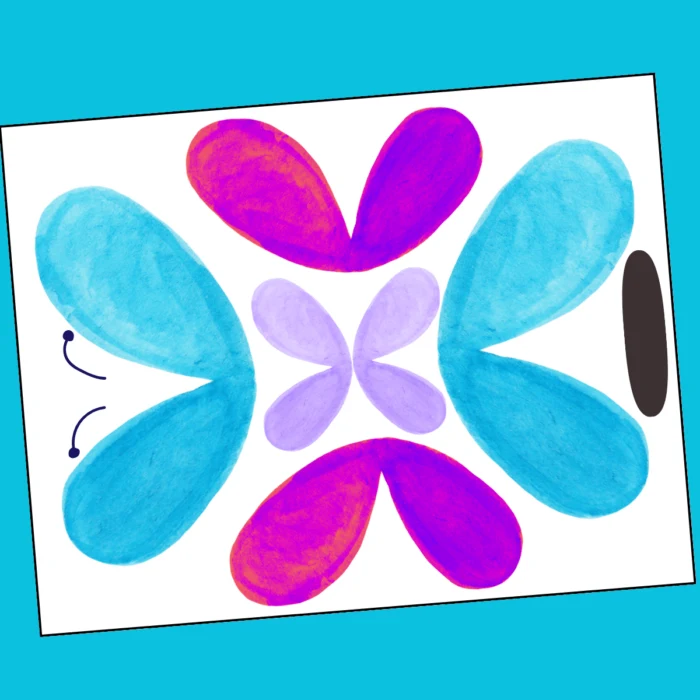 I love the idea of doing crafts with my toddler, but actually doing them is usually not as I envision.
You have to assembly all of the supplies.
Then get everything set up while your toddler is getting impatient.
That's why I created this fun butterfly cut and paste craft and printable Easter craft.
Just print, cut and your toddler can color and paste.
If your toddler is working on cutting skills, they can do that on their own.
10. Take Your Toddler's Favorite Toys Outdoors
Sometimes kids get tired of certain toys.
But I guarantee if you move those same toys outdoors, they will become like new!
11. Have A Picnic
There is something about a picnic that makes an ordinary lunch feel extraordinary.
A bonus is that if your toddler is going through a picky eating stage, she will be more likely to try new things when those things are served on a picnic blanket.
So grab some ideas from this list of cold lunch ideas for kids and get started!
12. Water The Flowers
If you have some flowers already popping up, make it a daily activity that your toddler water them.
Toddlers love chores.
Older kids, unfortunately, don't.
13. Make A Flower Garden Out Of Play Doh
If you have some little clay pots laying around, you can add them into the mix.
If you don't, no big deal.
Show your toddler how to make flowers out of Play Doh and this is one of the sensory craft ideas that will keep your child busy for a long time.
These free printable play dough mats are so much fun. You can even make play dough out of shaving cream!
14. Collect Materials From Nature
Toddlers (and all kids really) love collections.
You and your toddler can head outside this spring and collect flowers, leaves, rocks, pinecones, or anything else she finds interesting.
15. Measure The Rainfall
Let's take advantage of all the rain that is likely to fall this spring and teach your toddler a little about measuring at the same time.
You could even make a fun chart that your toddler could color to show the rainfall of each day.
16. Have A Spring Scavenger Hunt
Toddlers love a good mission, and this spring scavenger hunt is too cute not to share.
This printable is complete with pictures so that your toddler can complete the hunt independently.
We actually have 7 toddler-friendly scavenger hunts that you should definitely check out!
17. Build A Leprechaun Trap
Check out Pinterest to get some ideas of a simple leprechaun trap that you and your toddler can build together.
18. Do A Simple Daffodil Science Experiment
Did you know that daffodils will absorb food coloring and some of the color will show up on the petals?
All you have to do is pick a couple daffodils and place them in water along with food coloring.
Pretty soon you and your toddler will see that the daffodils are picking up some of the color from the water.
19. Make Toilet Paper Roll Flowers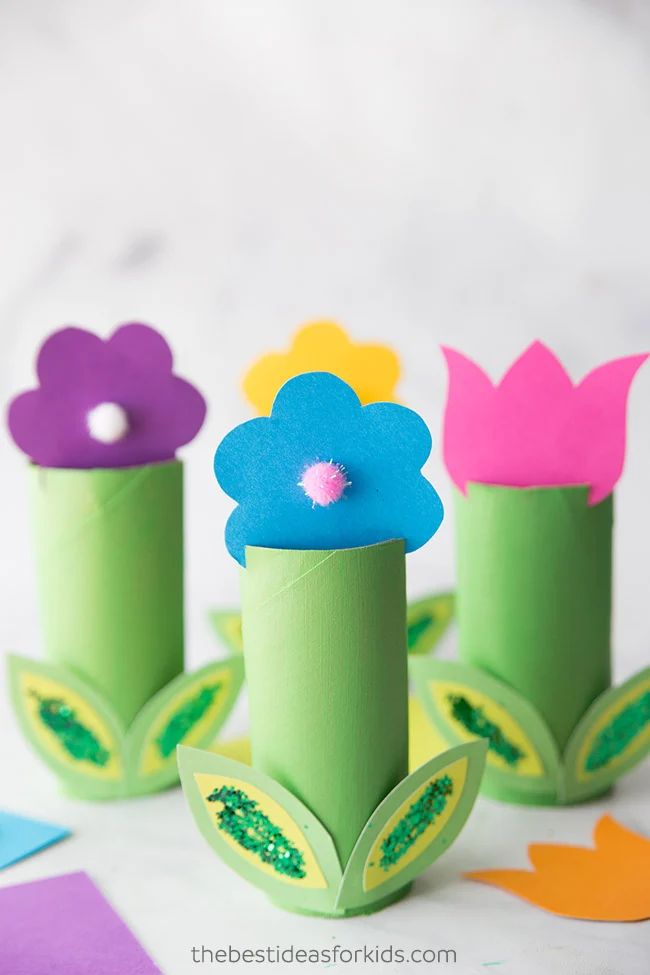 I know I said I'm not big into toddler crafts, but these toilet paper roll flowers super easy and even more cute.
The only materials you need are toilet paper rolls and construction paper!
20. Make A Milk Carton Bird Feeder
If you have an empty milk carton laying around, cut a big hole in one side.
Then your toddler can paint and decorate it.
When it's done, fill the bottom with bird seed and you've got a super cute milk carton bird feeder!
21. Play Spring Bingo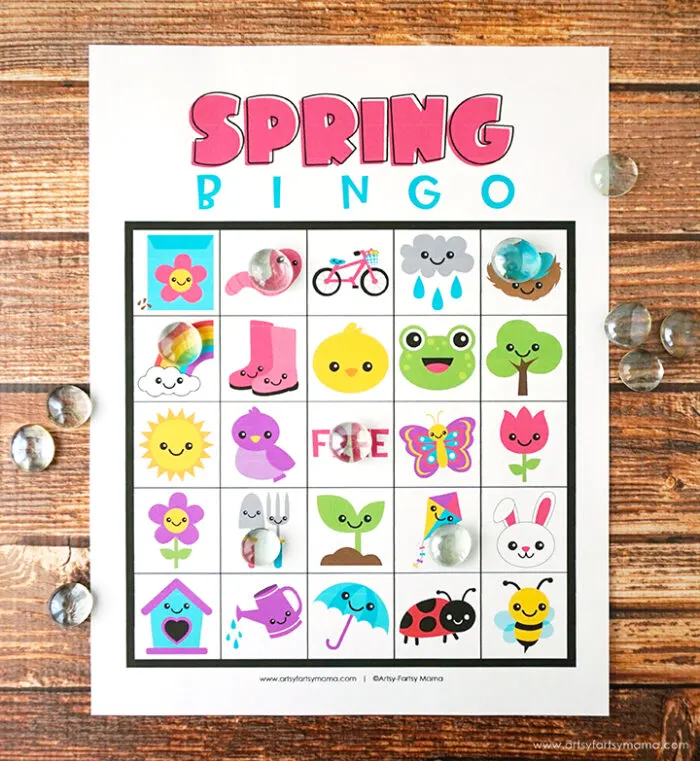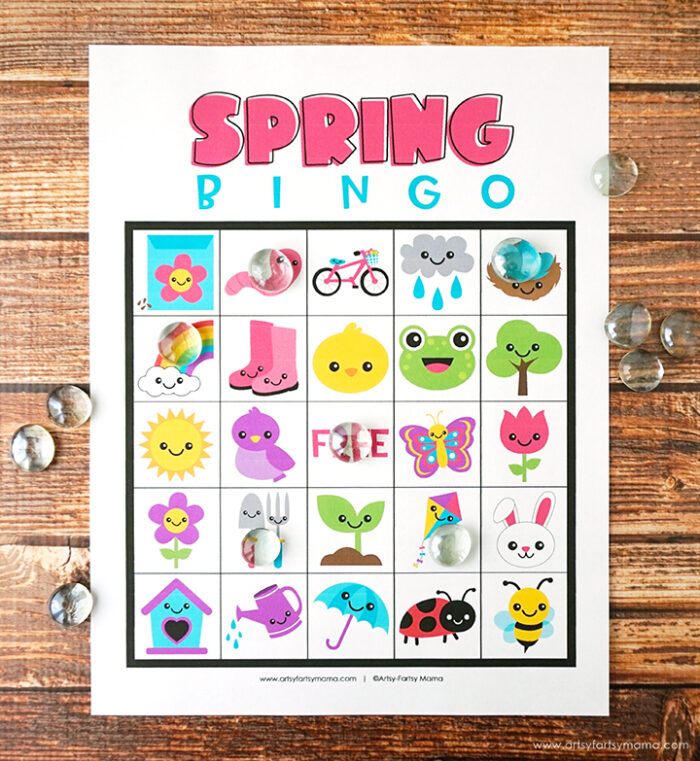 Get into the spirit of spring with this adorable printable spring bingo game.
22. Make Dirt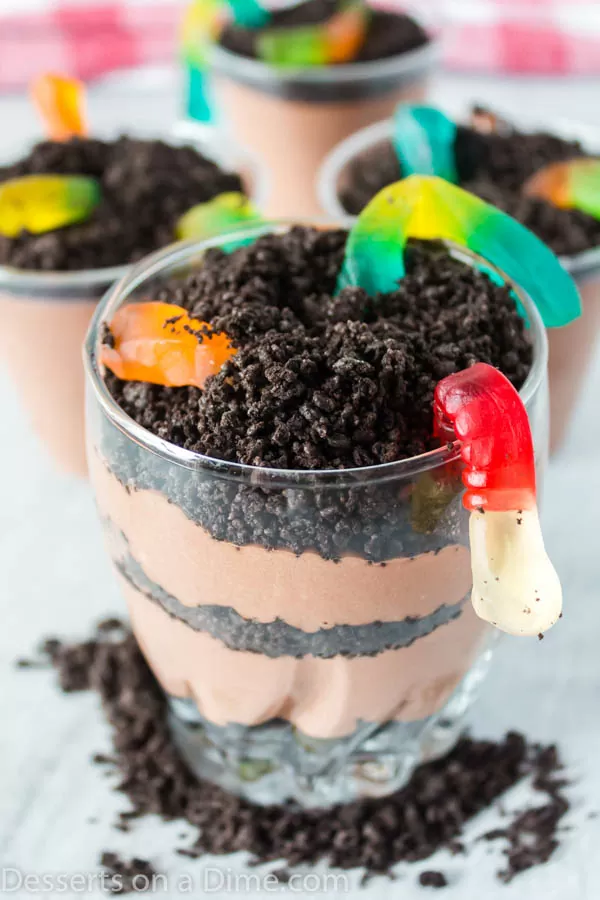 Have you ever eaten this delicious dessert?
You know the one with the crushed up oreos, chocolate pudding and gummy worms.
This is a great recipe to make to get your toddler into the kitchen!
Learn how to make Dirt.
23. Play Spray The Letter
If your toddler is working on letter recognition, break out the sidewalk chalk and a spray bottle.
As you call out a letter, have your child find it and spray it until it's gone.
This activity is one of the many simple and fun letter recognition activities in my Prep Through Play pack.
24. Create Hammered Flower Art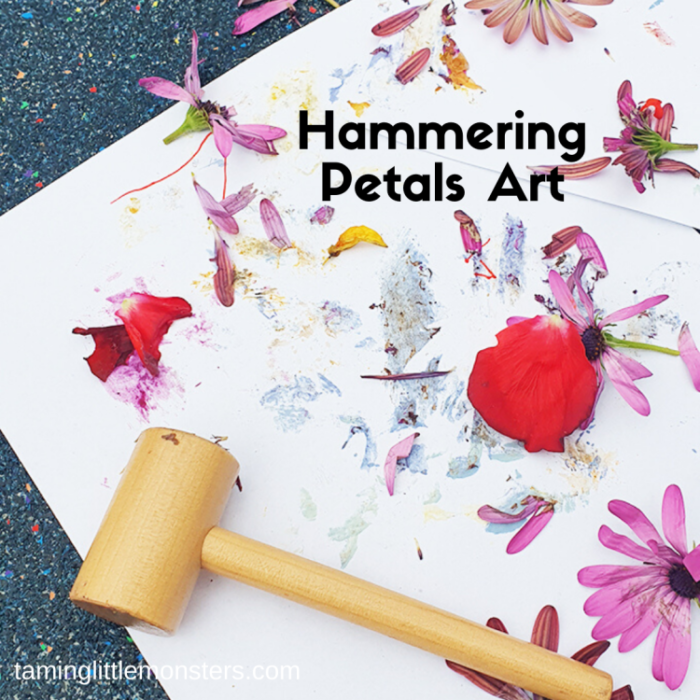 How cool is this?
Did you know that you could create actual art with just a hammer, paper and flowers?
Check out Taming Little Monsters for the details!
25. Make Mud Pies
I feel like this is an activity that isn't done as much as it was "back in the day".
Let's bring this one back.
26. Make Fork Stamped Tulips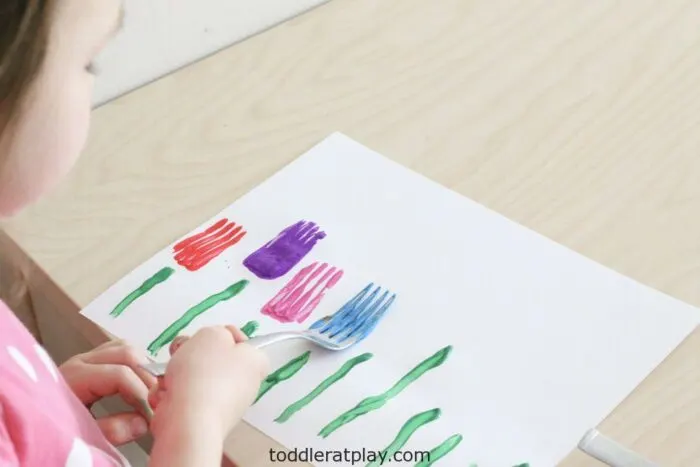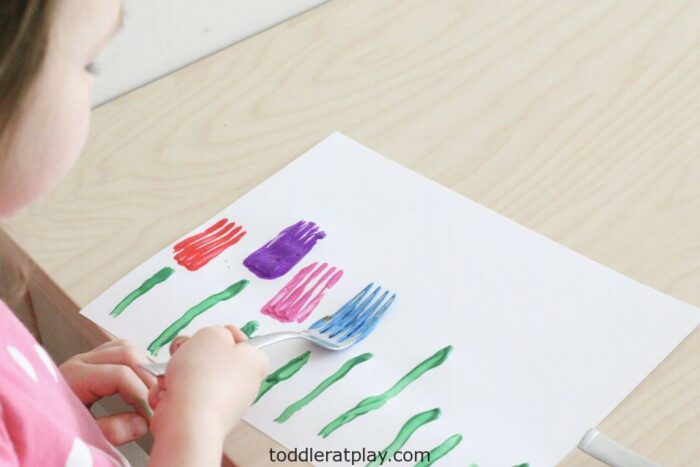 Again, a super simple toddler craft that requires very little set up.
All you need in order to create these fork stamped tulips is paper, paint and a plastic fork.
27. Set Up An Easter Egg Rescue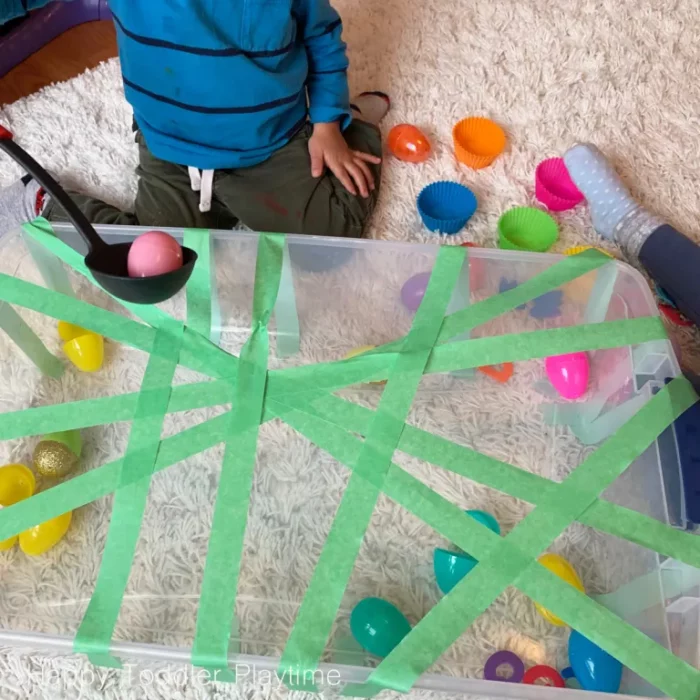 This fine motor activity is super cute!
It can be assembled in minutes.
All you need is a big bin, plastic Easter eggs, some streamers (or toilet paper would work in a pinch!) and some ladles from the kitchen.
This Easter egg rescue is one of the most simple sensory activities that I've seen for a fun way to work on fine motor skills.
28. Paint With Easter Eggs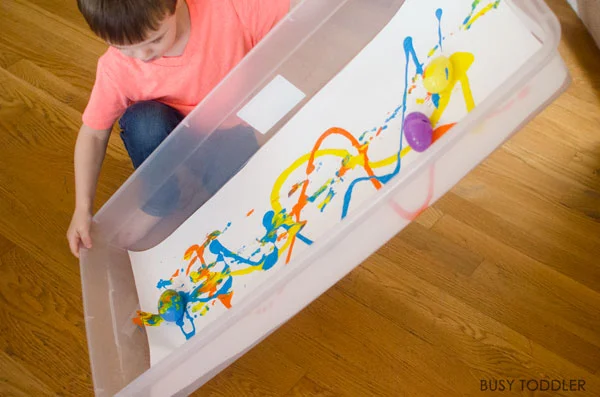 This activity from Busy Toddler is simple.
Get a Tupperware container and place a piece of paper inside.
Then, add in some plaster Easter eggs and paint and start rolling!
You can see more details about the activity here: Paint With Easter Eggs
29. Do Some Spring Movement Activities
Toddlers want to move, right?
If they're not sleeping, they're running… or jumping… they're just super active.
These springtime movement activities are so much fun with prompts like:
waddle like a duck
crawl like a caterpillar
slide like a snail
Check out these printable movement cards.
30. Stack Easter Eggs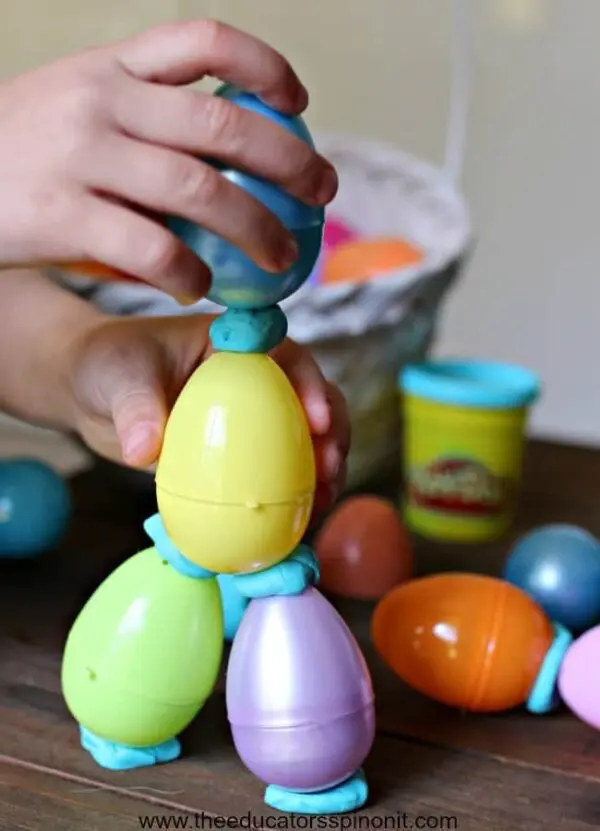 Have a competition to see who can make the biggest tower using only plastic Easter eggs and Play Doh.
Who knew that stacking plastic eggs could be so much fun?
31. Paint With Bubbles
Pour your bubble solution into a few different containers and add food coloring.
Then have your toddler blow the bubbles on to a sheet of paper.
It will create some beautiful abstract artwork!
32. Find Shapes In The Clouds
Lay back and relax while you and your toddler decide whether the cloud in front of you is a cow or a horse.
33. Play In The Rain
Who says you have to stay indoors on a rainy day?
Give your toddler some rain boots and an umbrella and get outside!
34. Catch Butterflies
35. Hunt For Bugs
36. Tell Spring Jokes
Think your toddler is too young for jokes?
You might be pleasantly surprised to discover that your toddler understands more than you think!
Check out these Spring Jokes, with jokes for March and Saint Patrick's Day!
Related Posts: