My kids LOVE scavenger hunts.
They can't get enough.
So I started creating scavenger hunts for my kids, because it was a fun, creative outlet for me.
And then I of course decided to share them with you!
This birthday present scavenger hunt is the perfect way to extend the birthday present excitement beyond just a few minutes of present-opening chaos.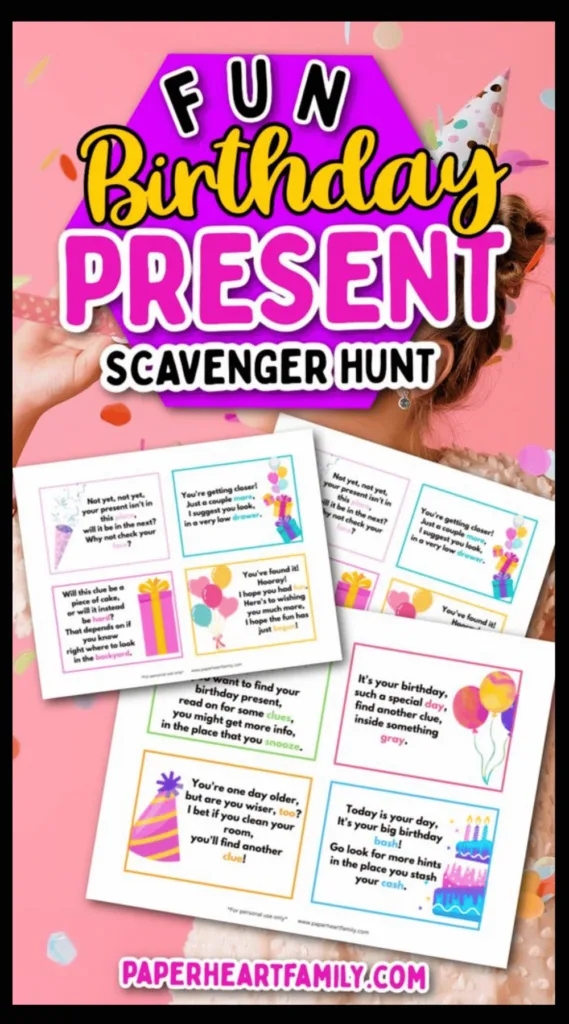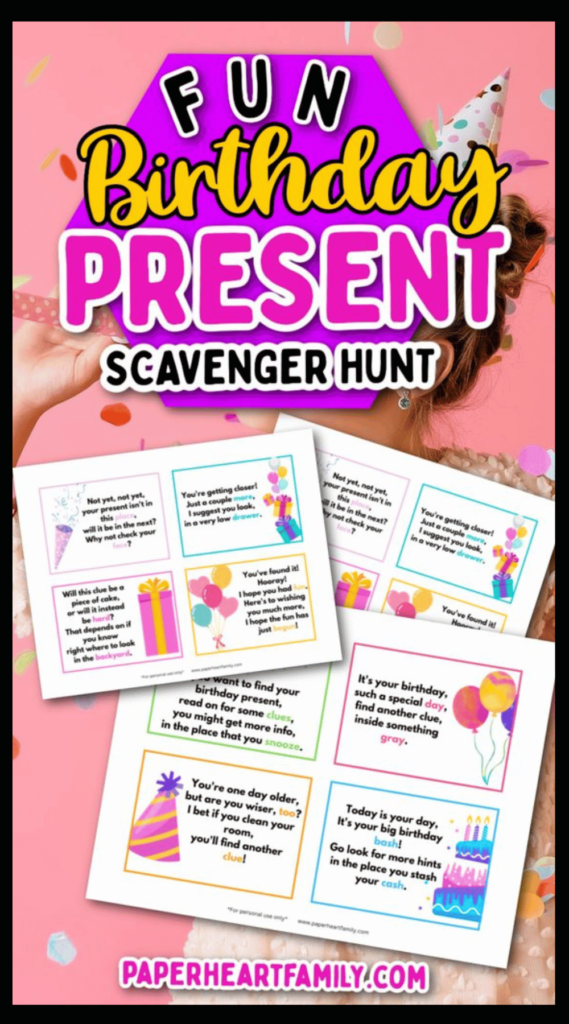 This scavenger hunt is meant to be a part of the birthday gifts.
You might want to hide the first clue among the birthday presents that you give to your child.
From there, they will find the next clue and continue until they find their last present after the last clue.
If you're gifting an experience gift, this is such a fun way to do it!
This is not only a great idea for adding some fun into your child's day, it's also a great way to make your child feel extremely special on their birthday.
It's a special gift in itself!
This special surprise will create unforgettable memories.
It is also a birthday tradition that you can start each year for you birthday boy or birthday girl.
Let the birthday celebration begin!
Birthday Present Scavenger Hunt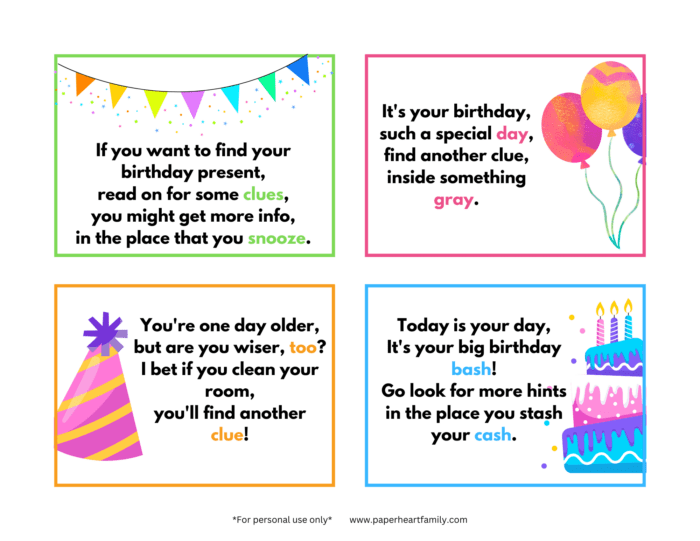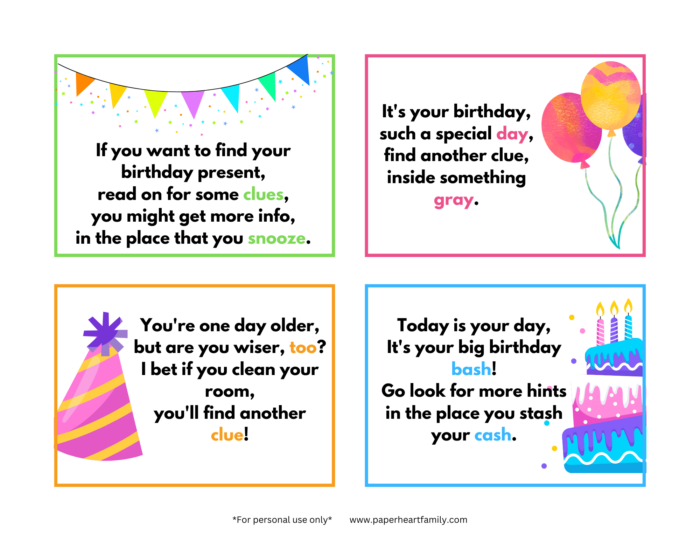 This scavenger hunt takes a little bit of prep work, but it's still much easier than coming up with your own clever clues!
And it's such a fun way to show your kids that you care.
There are 8 scavenger hunt riddles. The first will be given to your child and the last clue will signal the end of this birthday present treasure hunt.
Scavenger Hunt Set Up
Download your instant printable PDF from the bottom of this post.
Print using a color printer on card stock. This is optional but it will allow your clues to be more substantial and less likely to rip during your child's excitement!
Cut out each of your clues.
Keep your first clue to be given to your child on their birthday morning.
Hide all of the other clues (along with a gift with the last clue) in the spaces specified below.
Where To Hide Your Birthday Scavenger Hunt Clues
I tried to write this clues so that at least some of them can be hidden in a variety of different locations.
But don't worry!
You should definitely be able to find a place to hide each of these clues that will coordinate with what the clue says.
Clue #1
If you want to find your birthday present,
read on for some clues,
you might get more info,
in the place that you snooze.
Remember, the starting clue will not be hidden.
It should be given to your child whenever you want the scavenger hunt fun to start!
If your child can't read, be sure to help them and if your child has never done a scavenger hunt before, be sure to give him some guidance!
It won't take your child long to get the idea of this fun activity.
Clue #2
It's your birthday,
such a special day,
find another clue,
inside something gray.
The second clue can be hidden somewhere in your child's room.
You can hide it:
under the bed
under the pillow
anywhere else that you deem a good hiding place in your child's bedroom (I'm sure you can come up with a great place to hide the first clue!)
Clue #3
You're one day older,
but are you wiser, too?
I bet if you clean your room,
you'll find another clue!
This one has endless possibilities, and it allows you to hide it somewhere super difficult or somewhere much easier depending on your child's age.
Think stainless steel, maybe?
Clue #4
Today is your day,
It's your big birthday bash!
Go look for more hints
in the place you stash your cash.
Unless your child's room is completely spotless (which makes me very jealous), then this will be a fun one.
Choose an item that is strewn on the floor or on top of a dresser and hide this clue under it.
If you really want to make your child work for this clue, hide it under something they have stuffed under the bed.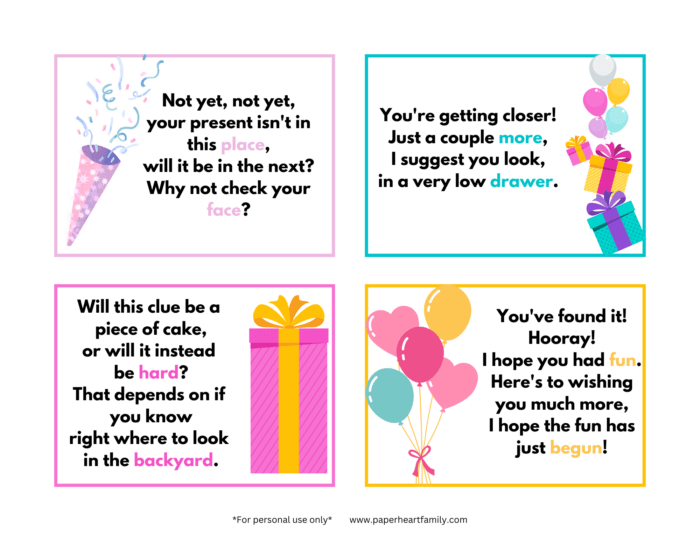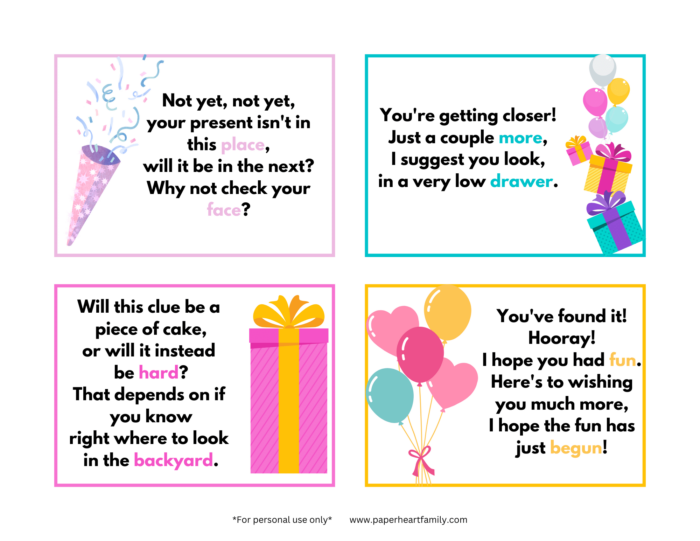 Clue #5
Not yet, not yet,
your present isn't in this place,
will it be in the next?
Why not check your face?
Where does your child keep his money?
I swear, my child has money stashed all over her room, making this one a little bit challenging and a whole lot of fun.
Clue #6
Will this clue be a piece of cake,
or will it instead be hard?
That depends on if you know
right where to look in the backyard.
I'm sure you have many different mirrors around your house.
So again, you can choose to make this one super simple for younger children or more difficult for older kids.
If you would like to make it more challenging, think about all of the little hand-held mirrors you might have around the house and hide the clue with one of those.
Clue #7
You're getting closer!
Just a couple more,
I suggest you look,
in a very low drawer.
In the backyard?
Yeah, why not!
If you don't have a backyard, you can still hide this clue on the back door or on the back of the house.
Where in the backyard should you hide it?
This one is wide open to your creativity!
Just make sure to put it in a ziploc bag in case it decides to rain or snow.
Oh and also use a rock to pin it down so it doesn't blow away!
Clue #8
You've found it! Hooray!
I hope you had fun.
Here's to wishing you much more,
I hope the fun has just begun!
With all of the possibilities for each of these clues, your birthday child is going to be problem solving for a looooong time.
I would attempt to hide this one in a room that you haven't yet visited during this scavenger hunt.
Of course, just make sure that there is a low drawer somewhere within the room and you're good to go!
Don't forget to hide your child's final present along with this "clue" that let's your child know that the scavenger hunt is over and that they have arrived at their treasure.
Are you ready to print your instant PDF and get started creating some memorable birthday fun?
While your printing, you can print one of these birthday cards to color if your child has a sibling!
I truly hope that your child has so much fun with this birthday activity!
I would love to hear about how it does below in the comments! What are some other creative ways that you celebrate your child's birthday?
Related Posts