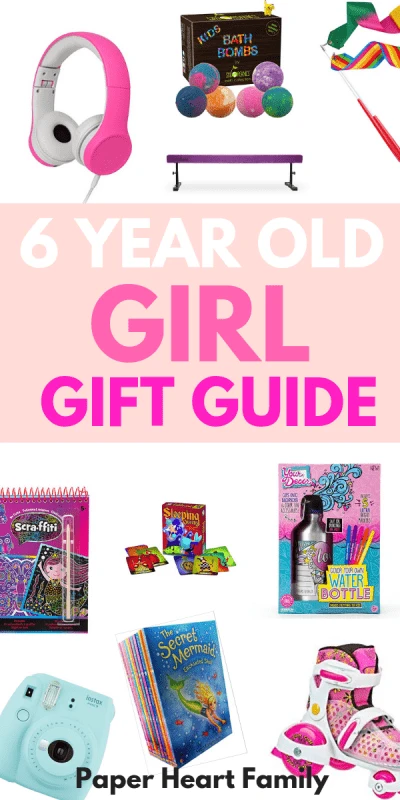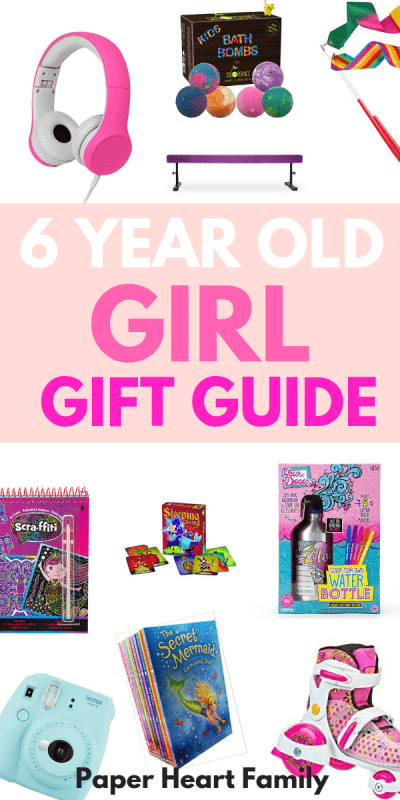 Finding the best gifts for the 6 year old crowd can be a little daunting.
You can little spend hours of your precious time scouring the Internet, wondering what to buy a 6 year old for her birthday.
First of all, your little girl is getting more and more of an opinion when it comes to what she wants. Which is good, right? You know, independence is good.
But what about when you KNOW that gift that she really, REALLY wants is going to end up being a total dud.
The other challenge about deciding on the best gift for your 6 year old girl is that she probably wants ALL THE THINGS. Meaning anything that she sees on an ad on television, tells you that she wants and then promptly forgets about 10 minutes later.
That's what happens with my daughter at least.
And for some reason, every year, I have this weird desire to get her the best gifts that she doesn't even know about yet.
Why can't I just buy the darn Hatchimal and move on with my life? I mean, I of course will, but then I find some weird satisfaction in buying the gift that I KNOW she will love, and seeing the Hatchimal cast aside for my way cooler gift idea.
Just me?
So I've scoured the Internet for the best gift ideas of 2019 for your 6 year old daughter. They're fun, they're sparkly, and they are perfect for our little girls who aren't so little anymore (wah!).
And if you're looking for a gift for the girl who has everything, here's an amazing tip: Get her an experience gift!
This post contains affiliate links.
The Best Gifts for 6 Year Old Girls
Beanie Boos: So I must admit, Beanie Boos are super adorable. I loved stuffed animals as a kid, but they weren't as cute as Beanie Boos! I had Beanie Babies, and looking back, they were pretty ugly.
My daughter has about a trillion Beanie Boos and she loves them all. And although there is truly no more room for even one more, I'll probably be won over by their humungous, adorable eyes and add a few more to her collection this Christmas.
Mermaid Tail Blanket: GAH. Is this not every little girl's dream? I'm starting to believe that my 80's childhood toys were not so cool after all. I would have KILLED for a mermaid tail blanket when I was a kid. And the one that you can click and buy below comes with a MATCHING DOLL BLANKET. I can't.
Kid Headphones: If your child has an MP3 player or tablet, I guarantee she would think she was the queen with a pair of these headphones. I love them because they limit the sound so that it can't get too loud for little ears.
Kid's MP3 Player: And if your daughter doesn't have an MP3 player, and you're not yet ready to spring for the iPod (when did they get so expensive?!), this is a great alternative. It's cute and kid friendly, and seriously, my daughter thinks she is the most awesome kid on the planet when she uses it along with her headphones.
Bonus: It is a LIFESAVER activity for long car trips.
Best Gifts For 6 Year Old Girls To Stay Active
Ribbon Wands: Making sure that my kids stay active and healthy is super important to me. I am always on the lookout for new toys to keep them active, both in and outside. These ribbon wands are super cute and will get your daughter off of the couch and performing.
Warning: Ribbon wands might will prompt her to need your undivided attention for hours, because you simply CANNOT miss part of her show.
Gymnastics Beam: My daughter takes gymnastics and specifically asked for gymnastics "stuff" for her 6th birthday, but a beam is something that you can give to any 6 year old. Whenever there are other girls over for a playdate, they are drawn to the beam.
Roller skates: These skates are adjustable, comfortable (with lots of padding), easy for my daughter to put on herself, and a great step up from training skates.
Bike: The bike pictured has it ALL. Streamers, a basket AND a doll seat in the back?! It's every 6 year old's dream.
Scooter: This scooter has lights that come on when your child jumps onto it.
Karaoke Machine: I think every child needs a karaoke machine. Kids are naturally unafraid of attention, and even though it can get a liiiiiittle monotonous, watching our kids stand up in front of us and sing and perform is so good for their self esteem.
And they'll have lots of practice for karaoke night in college.
Baton: Such a simple gift, but one that will please just about any 6 year old. (Or 3, 4, 5, 7, 8 year old).
Imaginative Toys For 6 Year Olds
Bed Tent: While I wouldn't recommend getting one of these for your child to SLEEP in, I do think it would be a fun toy to play in.
Inexpensive American Girl Accessories– Whether your child has an authentic American Girl doll or a knockoff, these cheap accessories are a great way to add to your child's collection without spending a ridiculous amount of money.
Play Kitchen- Think your 6 year old has outgrown the play kitchen? Think again! Check out the best wooden play kitchens that your daughter will STILL play with for years to come, including bigger options for bigger kids!
Princess Playhouse: This playhouse is much larger than most tents and teepees that you can buy for your kids, and is tall enough for your 6 year old to stand in. This playhouse would definitely inspire a lot of creative play!
The Best Gifts For Artistic 6 Year Old Girls
Deluxe Art Kit: This art kit from Crayola has everything that your budding artist needs in one cute carrying case.
My Little Pony Play Doh Set: Play Doh is one of those gifts that will never, ever disappoint.
Bead Jewelry Making Set: We have this exact bead set and it's really cute and fun, the colors are bright and I may or may not enjoy making jewelry with it as much as my daughter. Okay, maybe more.
Related: Art Gifts For Girls
Glittery Kinetic Sand: This kinetic sand from National Geographic is strangely softer than normal kinetic sand (we have both). It does have glitter, which does come off on little hands, but we usually take it outside or play with it on a big tablecloth on the floor. It also comes with really cute sand castle molds.
Paper Bead Maker: How fun is this paper bead maker? It's a great lesson in recycling too.
Color Your Own Water Bottle: I love crafts that are actually useful (and that don't clutter up my house!) like this water bottle.
Fashion Plates: These fashion plates are the perfect gift for the girly girl or future designer.
I Can Draw Book: This I Can Draw book makes drawing really simple and doable for little kids who love to create and draw.
You could also get these drawing printables for kids for free instead.
Scratch-ffiti Coloring Pages: These coloring pages take doodling to the next level! You simply use the wooden stylus to scratch off the black, revealing the color underneath. This gift will definitely be under the Christmas tree this year for me my 6 year old.
Best Gifts For Your 6 Year Old Fashionista
Nail Polish Dotting Tools: Create cute designs on your child's fingernails with these nail polish tools.
Bath Bombs: If you worry about what you put on your daughter's skin, these bath bombs are organic, made in the USA and they contain a hidden toy in the middle.
Hair Chalk: A safe, non-permanent way for your daughter to start experimenting with her own personal style.
Best Book Series Gifts For 6 Year Old Girls
Junie B. Jones: Is there a 6 year old girl on the planet who doesn't like Junie B? Probably not.
The Rainbow Fairy Series: I have to admit. When my daughter brings home yet ANOTHER Rainbow Fairy book from the library, I cringe. I think they are completely boring, but my daughter LOVES them.
The Secret Mermaid: A cute series about a girl who can change into a mermaid at night and must face the evil mermaid the Dark Queen.
The Never Girls: A Disney series about 4 friends who go to Never Land with Tinkerbell.
Whatever After: While my 6 year old isn't quite into this series yet (she doesn't like anything remotely scary and thinks the book in this series that we started is), I CANNOT WAIT for her to be into it. This series is pretty amazing. It's well written, never boring and the premise is really fun. It's about a girl and her brother who can be thrown into a fairy tale by a magic mirror in their basement. Once in the fairy tale, they inevitably end up changing the story in order to make it back home.
Illustory: If your daughter likes to write and illustrate her own stories, then this gift is a MUST. Your daughter can write a book, illustrate it and then send it in to get a real copy of the book sent back.
Educational Toys For 6 Year Old Girls
Silly Sentences Game: Kids love anything and everything silly, so it's no surprise that this game would be a hit. And the best part is that your child will practice reading without even realizing it.
LeapFrog LeapReader System: I have been eyeing up the LeapReader System for literal YEARS. Now that my daughter is on the verge of reading independently, I think it's the perfect time to get this system. It allows your child to read and get help with unknown words, promoting independent reading, which at this age is the next step to attaining essential reading skills.
Sum Swamp game: My daughter received this game as a gift, and at first I was skeptical. My daughter didn't really like math at the time, and I didn't think that she would like a math game. Thankfully, she loves it! It's a super cute game that contains 3 dice (2 number die and one that contains either a + or -). The board has a lot of different and interesting obstacles that you need to avoid or that you want to land on. I enjoy playing it with her too.
Other Gifts For 6 Year Old Girls
Pretend School Play Set: If your daughter loves to play school, this set is a great supplement. It comes with a hall pass, stickers, report card, bell, pointer and more.
Fujifilm Instax Mini Instant Camera: I don't know about your 6 year old, but mine is definitely ready to move on from the little kiddie camera. This would be the perfect step up (as long as I could keep my 3 year old away from it).
Kid Safe Knives: If your daughter loves to cook and help out in the kitchen, these knives are perfect (and will mean less prep-work for you!).
Best Board Game Gifts For 6 Year Olds
Sleeping Queens: We play a lot of games in our house, but Sleeping Queens has for a long time been the favorite of the whole family. My husband and I love to play it too. The object is to be the first to collect 5 queens, but you can also steal your opponents queen or "sleep" their queens along the way.
Monopoly Jr.: Of course Monopoly is a classic, great game but it is SO LONG. After playing the junior version, you may never go back to the original. It has all the same fun without the hours of play time.
What gifts will you be buying your 6 year old?
Related Posts: