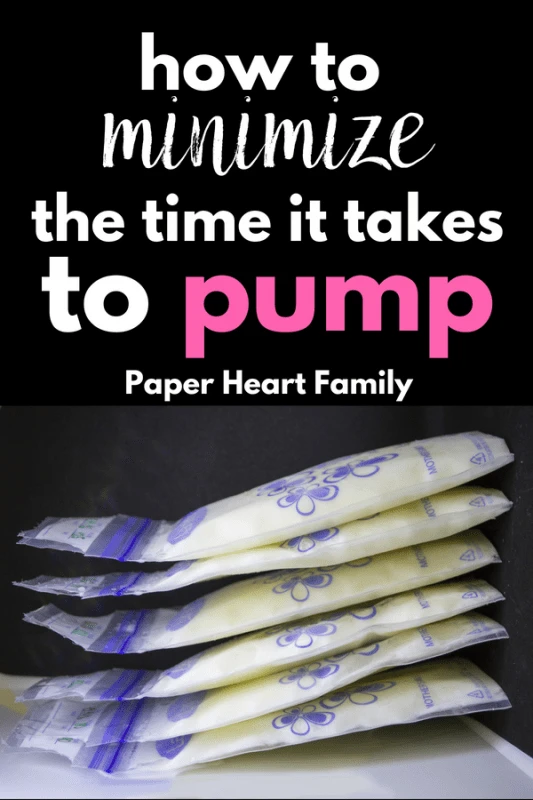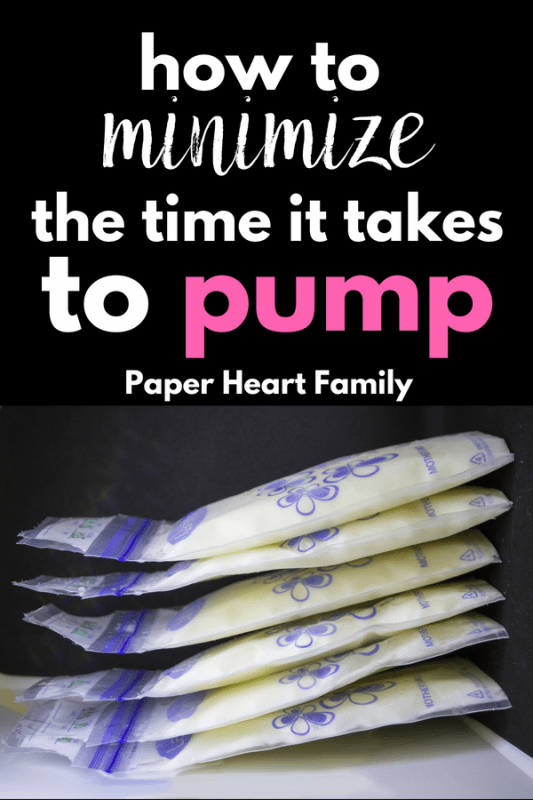 If you're wondering how to pump milk faster at work or at home, I've got some tips for you. To make it, you know, a little less dreadful.
I can imagine that ANYONE who pumps would want to know how to do it faster, right?
I mean, you don't even have to have a reason!
The only reason you need is this: pumping sucks. If you are trying to pump more and faster because of issues with milk supply, you should check out my post on the most common breastfeeding struggles.
Just ask any exclusive pumper and they will tell you of how they dream of having a celebratory breast pump bonfire when it's all over.
It's also possible that you have some major time constraints and you really need to make pumping happen as quickly as possible.
However, you might think that a shorter pumping session could negatively affect your milk supply. With these tips, you don't have to worry.
Read: How To Increase Milk Supply When Pumping
Sadly there are bosses out there who don't allow their workers to take a long enough break to sufficiently pump. Know that it is federal law that you should be given sufficient time. If your boss is trying to restrict you, go to HR or file a federal complaint.
If you haven't yet gone back to work, you need to make sure that you are 100% prepared for pumping at work. My friend Stacey has the best resource for breastfeeding working moms. She will hold your hand through every step such as choosing a pump, storing milk safely, building a freezer stash, building and maintaining your milk supply, and what to do if you're still not pumping enough. Check out her Ultimate Back To Work Pumping Class.
When I nursed both of my babies, I was teaching and my schedule was not flexible. At all. Unfortunately I could just leave my students for 30 minutes to go pump a couple times a day.
So I had to learn some tricks and I also had to come up with the perfect schedule for pumping at work.
This post contains affiliate links.
How To Pump Faster
Get a hands free pumping bra so that you can continue working
If you are holding your flanges (and getting NOTHING done at the same time), then you need to order a hands-free pumping bra immediately (or read on for my hands-free pumping bra alternative) . Even if you're pumping at home, you want to be hands free for… whatever!
In my situation, I had to pump quickly and use that time to grade papers, lesson plan, etc.
I used a hands-free pumping bra for my first baby, but I still didn't love that I had to get half undressed in order to take my bra off and put a pumping bra on.
For my second baby, I found Freemies. They slip into your REGULAR BRA. They are much more discreet than traditional flanges and are compatible with most major breast pumps. I used them with my Medela PISA. I am seriously in love with them.
Massage
I know I just said that you want to be hands free. I never massaged while pumping because I was always working, but massaging can help to get the milk out faster if you really need some extra help.
Figure out your perfect speed/suction combination
You might think the higher the speed and suction, the better right? Wrong.
And besides, the higher you go, the more it hurts! Definitely not the relaxing state you need in order to encourage letdown.
Experiment to find what works and feels best for you
For example, you could try starting off with high speed and low suction until it has triggered a letdown. Then, you can turn the speed down and suction up a bit. Once your milk stops flowing, repeat.
Utilize the pump letdown function
The previous suggestion sounds like one big pain in the butt, right? Luckily, many pumps have a built-in letdown button. Much easier! Especially if you're trying to do other things while pumping.
Flange size
Have you ever verified if your flange size is right for you? Having the incorrect size can greatly effect how quickly you can remove milk.
Check out this video that explains finding the right size.
https://www.youtube.com/watch?v=2Rzazf1lJ3s
Lubricate your flange
You can lubricate your flange with coconut oil to prevent friction, which makes the entire pumping process a little more enjoyable, therefore allowing you to relax and get more milk.
Look at pictures/videos of your baby
Looking at your baby can help you relax and respond better to your pump.
Don't pump until the flow stops
I've read a lot about moms who are trying to pump until their milk stops.
Don't do this!
Your milk never actually stops completely, because you're constantly producing .
It is a big waste of time to pump for more than 30 minutes at a time, as you will get less and less as time goes on. I used to aim for 15-20 minutes per pump session.
Put your pump parts in a ziplock in the fridge between pumpings
This is one of the best pumping tips. SUCH a time saver.
When you're finished pumping, simply place your flanges in a ziplock bag and put them in a refrigerator. You can wash them when you get home.
I love these pads so much because they are so versatile. Use them hot to encourage letdown, relieve clogged ducts and help treat Mastitis. Using them cold can help relieve engorgement.
If you'd like a more natural option, check out Earth Mama Booby Tubes. They are 100% natural, made in the USA and are gel free (gel could possibly burn your skin).
Pump in the car
Because of my inflexible schedule, I had to pump in the car on the way to work.
Okay, well I COULD have woken up earlier, but I was tired enough.
The ONLY reason I was able to pump in the car was thanks to my Freemies. I could quickly pop them into my bra without getting undressed, and then in the parking lot at work, discreetly pop them out.
Dress for the occasion
Make sure that you wear clothes that make it quick and easy to get your pump attached.
Pump in the morning
You produce the biggest amount of milk in the morning, and less as the day goes on.
Check out the membranes
Make sure that your pump membranes are still working well. They should be changed every 2 to 3 months, unless you sterilize daily. In that case, you should change them every month!
Assemble pump parts the night before
After you have washed and dried everything, take a minute to assemble them before placing them back in your bag.
Take Sunflower Lecithin
Sunflower Lecithin is commonly used for breastfeeding moms prone to clogged milk ducts (which can lead to mastitis, ouch!). It may also help your milk flow more freely, therefore speeding up your time at the pump.
Get a pump bag
Having a pump bag is a necessity if you want to pump quickly. I had a Sarah Wells bag, and while it's pricey, I decided to treat myself because I was sacrificing a lot by breastfeeding. I would definitely buy it again.
Read: More Must-Have Pumping Supplies
It was huge and fit everything I needed for work, and it has two zipper compartments on the side. One holds your pump, so when you're ready to pump you simply unzip and your ready to go. The other zipper pocket is insulated, so you can keep your milk and a freezer pack in there, and don't have to worry about store your breastmilk in the office fridge for anyone to see.
Related: How To Freeze, Thaw And Warm Breast Milk
Hope these tips help you to pump faster at work or at home.