I have found that no matter how much effort I put into remembering someone's special day, there is always a birthday or two that ends up sneaking up on me!
While I usually like to put in extra effort to celebrate a person's exciting occasion, sometimes I am not able to do it properly at the last minute.
Enter our amazing, store-bought quality card selections! Having these digital downloads is so helpful when you want to send a personal message for a birthday celebration.
Even when you do not have the time to go buy a greeting card, these free printable birthday cards are the next best thing.
They give the same feeling as a handmade birthday card with a heartfelt message. These cards make a great gift, especially if you color them in with the birthday person's favorite colors.
Making a more personalized card is such a great birthday tradition.
These printable templates come in a single-fold design and can be printed on thick paper, matte photo paper, and any size paper of your choice.
Come take a browse at our birthday cards for kids of all ages to help them celebrate their special birthday!
Printable Birthday Cards To Color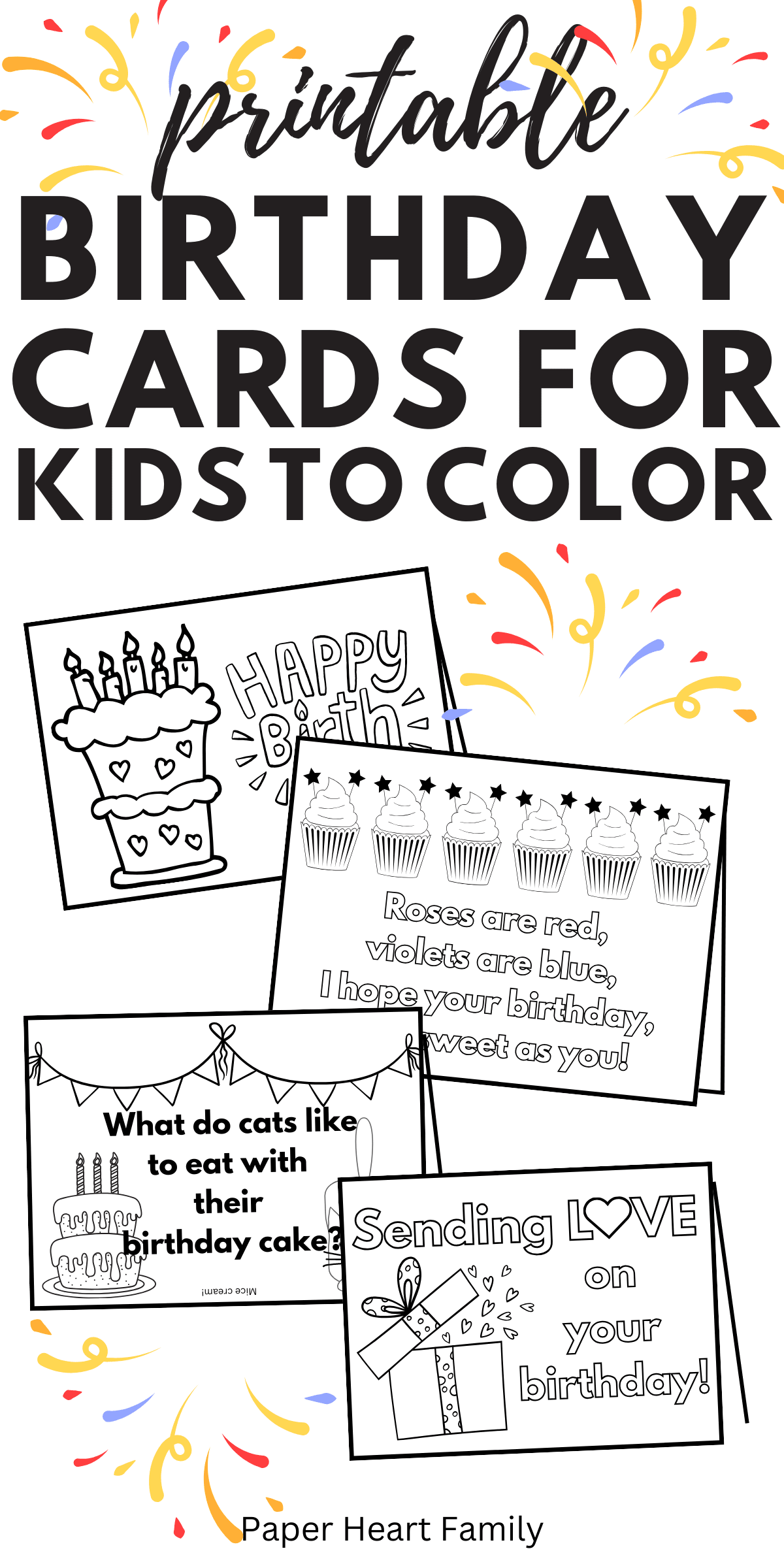 There are so many different ideas that can be used to take these cards to an extraordinary level!
You can start with pulling out all of the crayons, colored pencils, pens and markers you have and evaluate how you would like to decorate.
To take the cards to another level, you can use different types of puff paints or even sparkly glue that will help create a super special end product!
In the end, the most creative ideas will most likely come from the kids. Go through your craft items and let their imaginations take hold.
They could use anything from decorative pipe cleaners to glitter and paint to create the most beautiful cards that will be so appreciated!
So without further ado, let us take a look at our selection of amazing birthday cards!
Card #1
This first card includes a cute Happy Birthday message with a two tiered birthday cake topped with candles and decorated with a few little hearts.
There is also the cutest candle standing in for the letter "i" in birthday!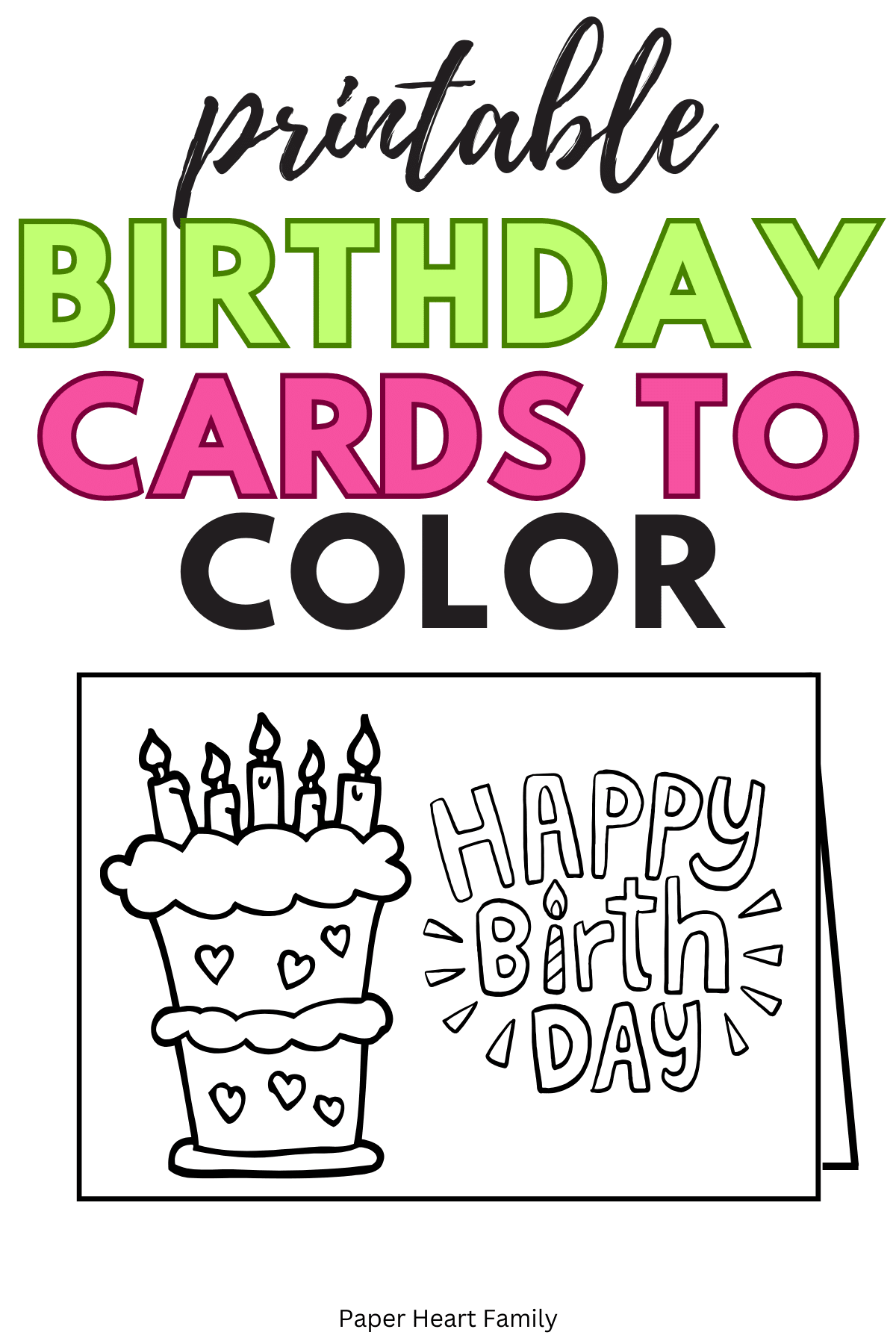 Card #2
The next card has a beautiful Happy Birthday wish written in cursive. The background looks like sunbeams and leaves a lot of room for a lot of color.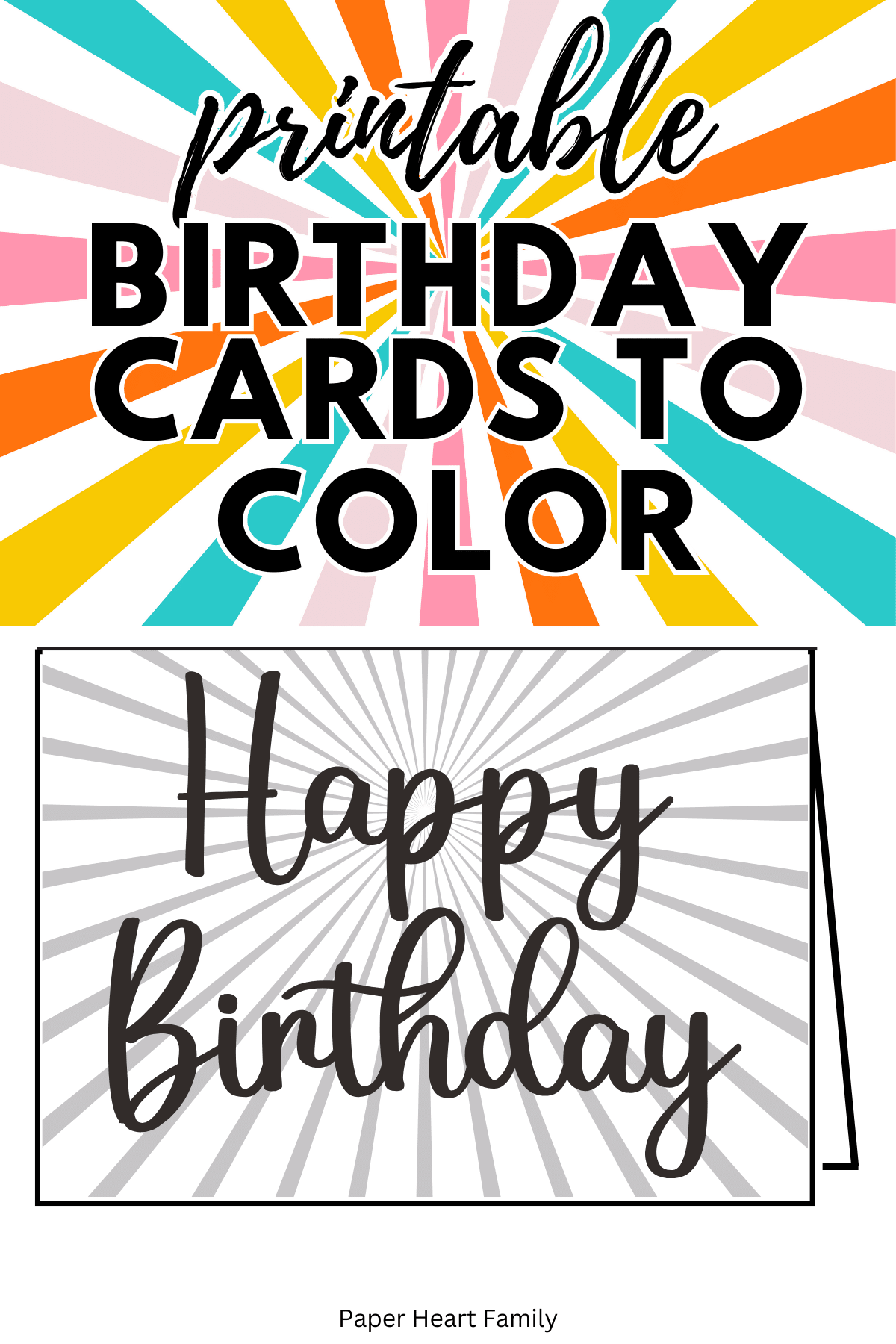 Card #3
The block lettering in this next card lends itself wonderfully to be decorated with a lot of different patterns and colors.
The swirls in the background are also amazing and leave lots of room for a very colorful background.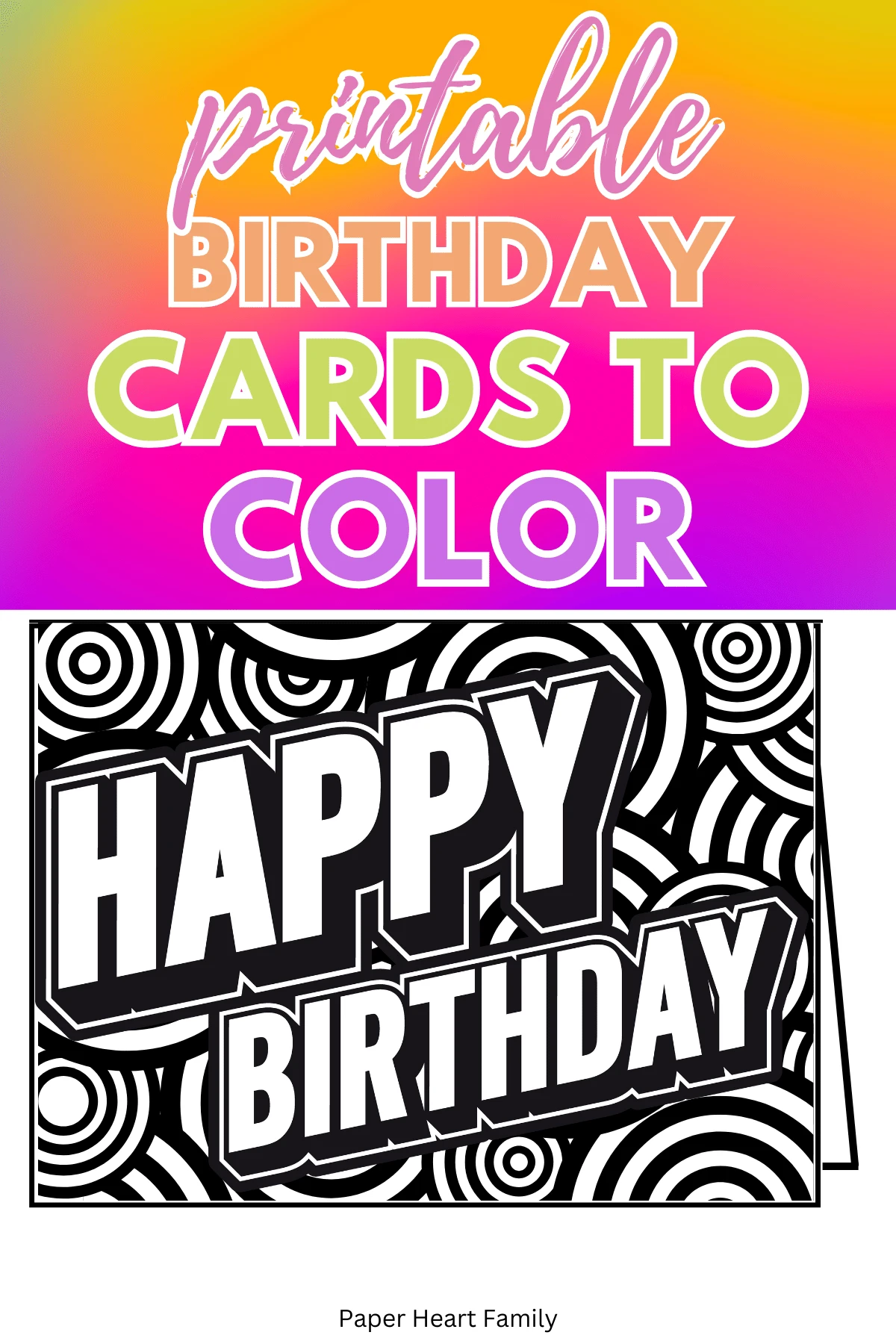 Card #4
This birthday card is topped with delicious looking cupcakes that can be colored for different flavors!
In addition to that, this card is made even sweeter with an adorable Valentine's style rhyme that is sure to inspire a smile!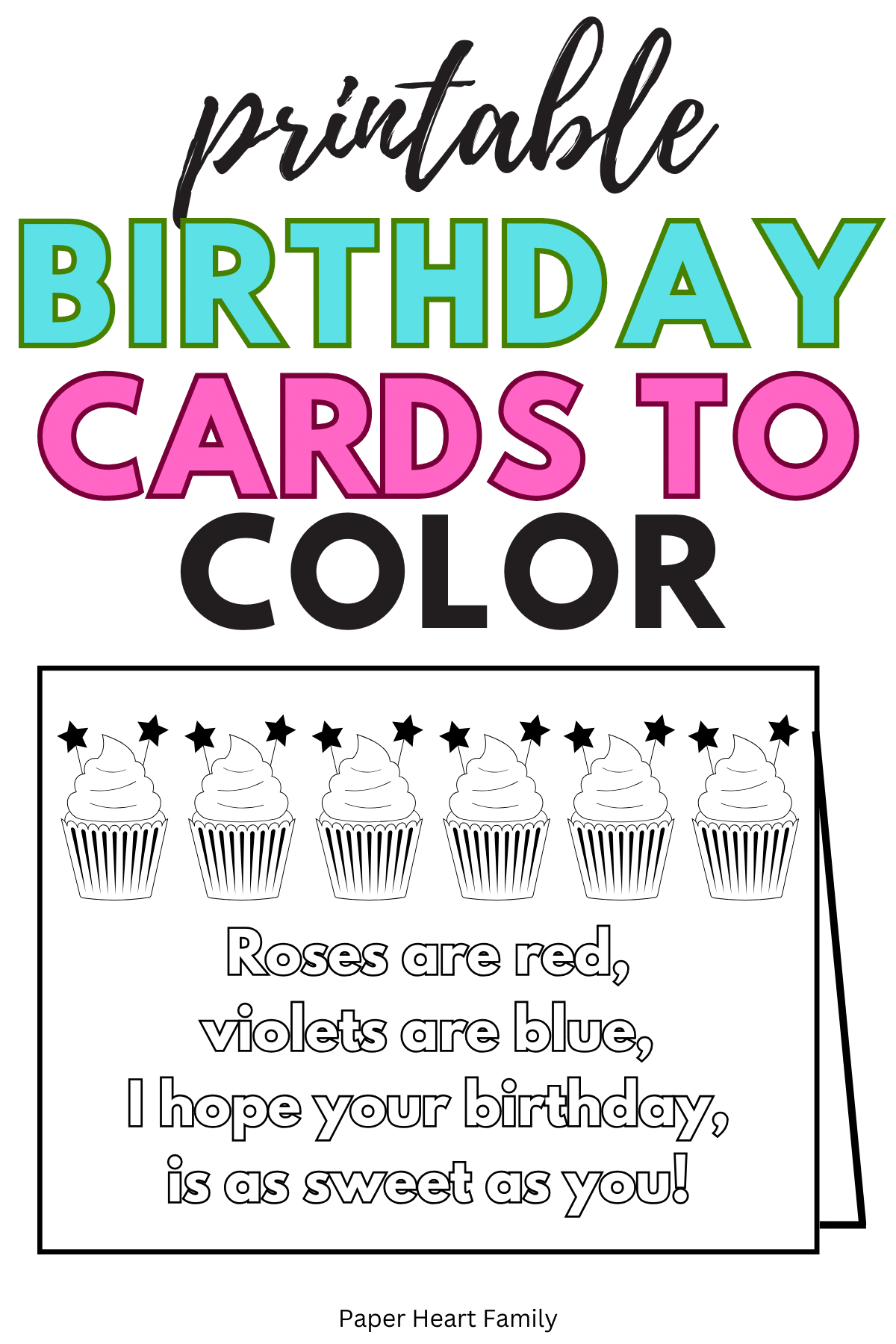 Card #5
For the birthday kid who loves cats, this next card is purrfect! Decorated with a very festive banner, an adorable cat and a very yummy looking birthday cake, this card is sure to impress.
Beyond that, it even includes a very clever cat and birthday themed riddle that is sure to bring out some birthday giggles.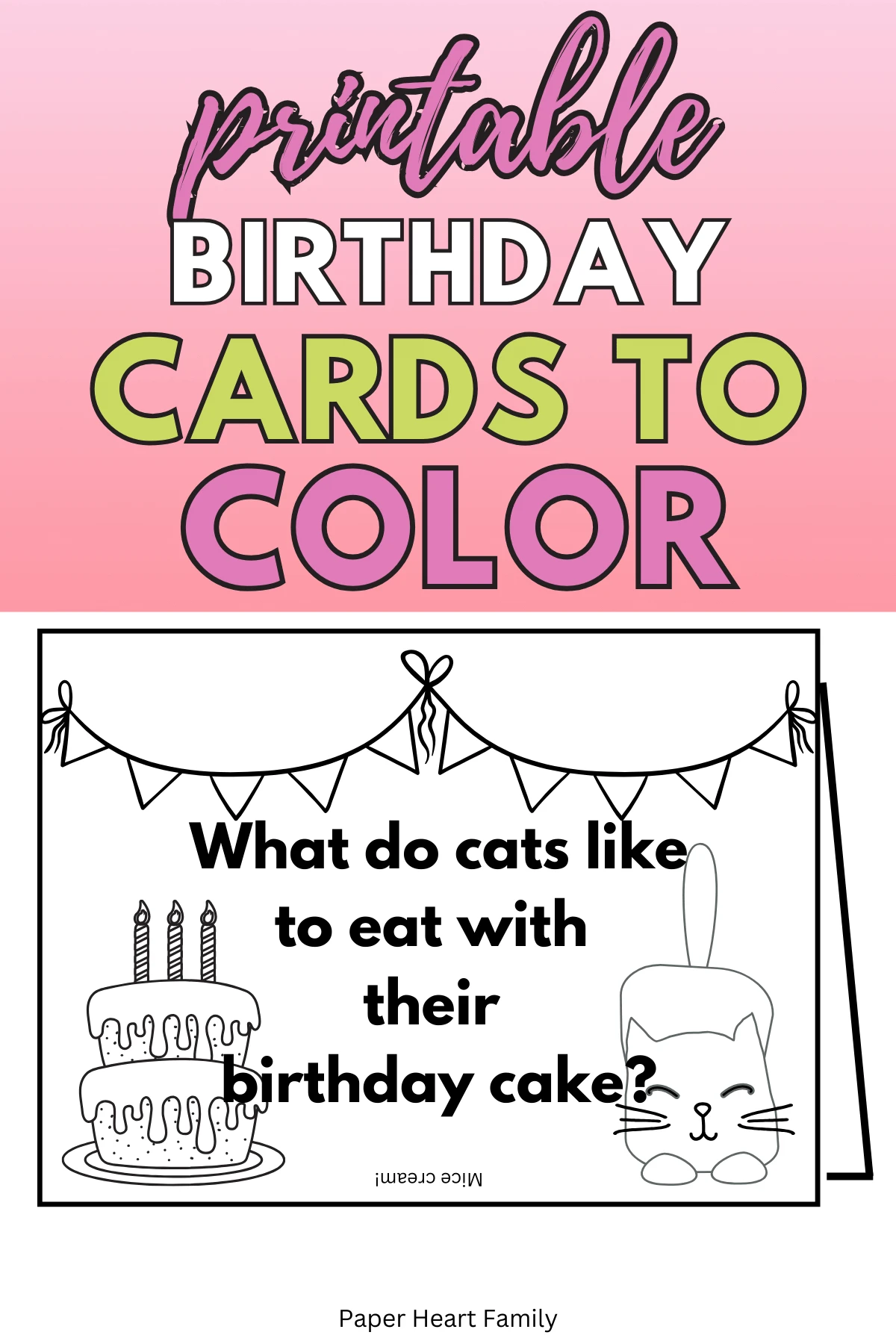 Card #6
This card is literally sending love in a box! With a cute birthday gift and hearts, the message is sending love to someone on their birthday.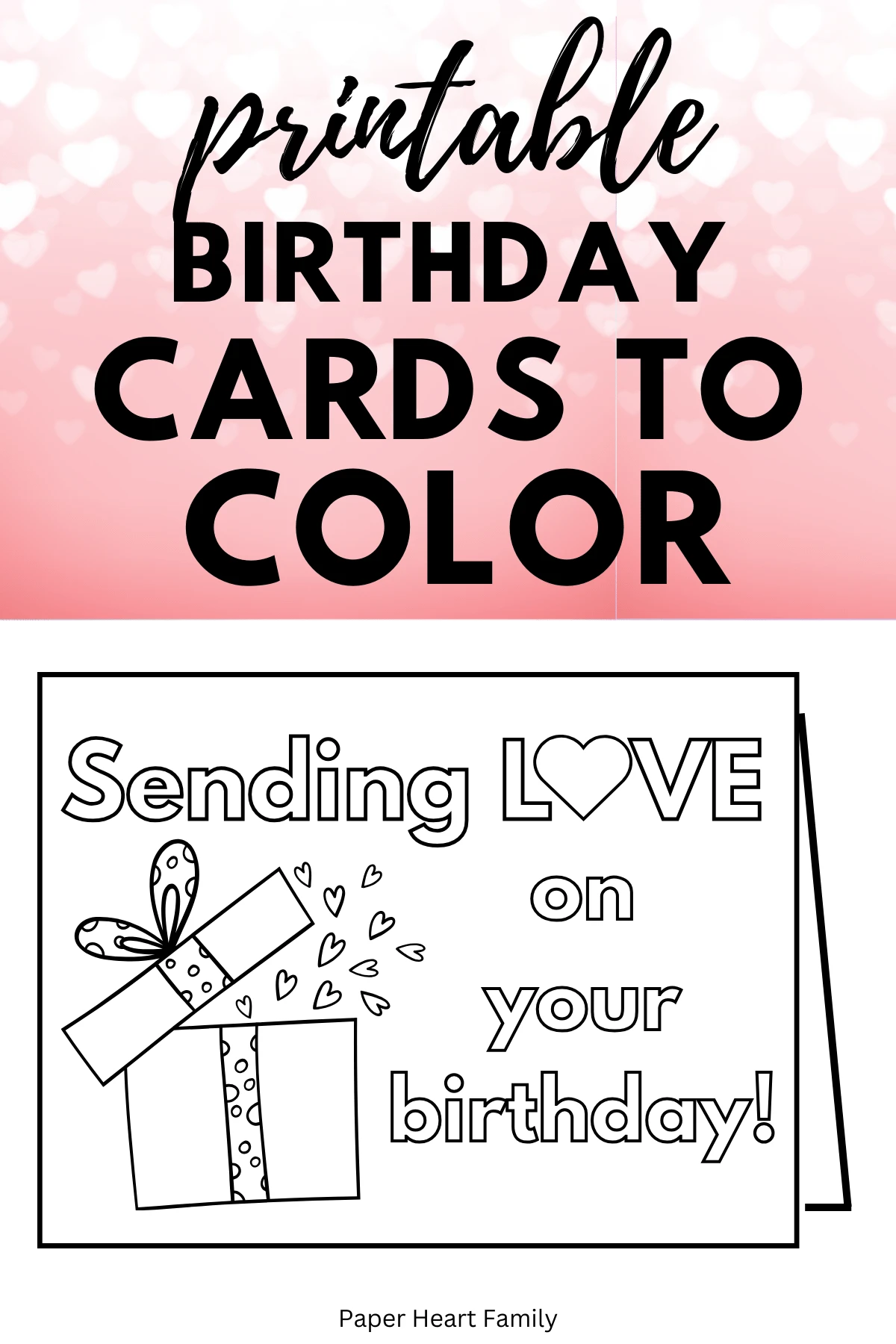 Card #7
I really like all the different patterns on the birthday candles on the front of this card. It is perfect for coloring in with the birthday person's favorite colors!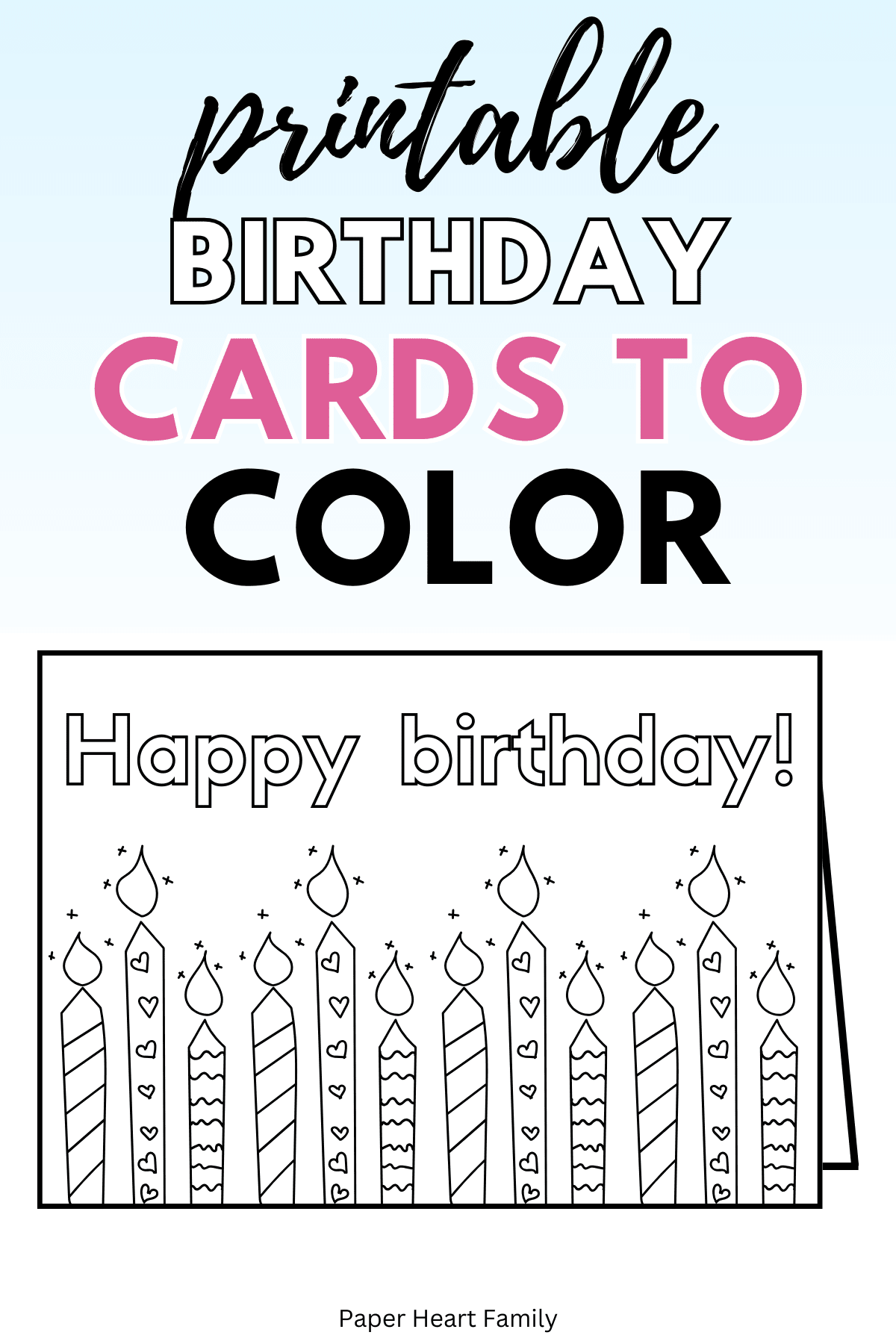 No matter what cards you choose to use (and perhaps reuse again!), the thought that you put into it is what will be most appreciated. A personal card that has extra effort written on it is so special.
There are so many choices here to match the right card to the right person. They will feel the care that was put into creating a beautiful, handmade card.
And, if your child is coloring a card for a friend or a sibling, they should absolutely pair it with this fun birthday present scavenger hunt.
I think this is an especially great idea for kids because it not only gives a personalized feel to the card, but the kids will also feel like they really had a big part in making the card.
You can encourage them to think about the person the card is for, what their favorite colors are, and how much they will appreciate their amazing artistic stylings.
This helps children work on their confidence as well as their artistic abilities. At any rate, it is always good to be able to connect your children with doing kind things for others.
It is a bonus when they feel the joy that comes with doing something kind for a person they care about. Enjoy these fun cards and as always, you've got this!
Simply subscribe below to accesss your free printable instantly!
PS- We also have printable Christmas cards and Mother's day cards!