Have you ever been talking to your child when all the sudden they use one of your very own phrases to reply to you? Or has your child ever told you an interesting fact like "mom, bugs guts come out of them when they get squished?" That's all thanks to observation!
Kids learn so much through play and especially through observational play. They listen to us all day long which builds vocabulary skills. And they watch what we are doing!
My kids love trying to imitate some of the simple tasks I do everyday. For example, rocking a baby to sleep. My 3 year old will bounce her baby doll the exact same way that I bounce her little brother!
A fun way to help them increase their observational skills is to do scavenger hunts! Kids of all ages love going on a "hunt" for specific things. But young kids especially will benefit from the time spent searching for common objects.
It's one of my favorite ways to help toddlers burn energy!
Don't think you have to spend hours preparing an elaborate hunt for your child to go on. It can be something as simple as looking for certain foods at the grocery store!
And even better? If you're looking for a free scavenger hunt, you've come to the right place! We'll provide you will all of these printable scavenger hunts for a wonderful way to connect with your child while learning together at the same time!
Toddler Scavenger Hunts
1. Indoor Scavenger Hunt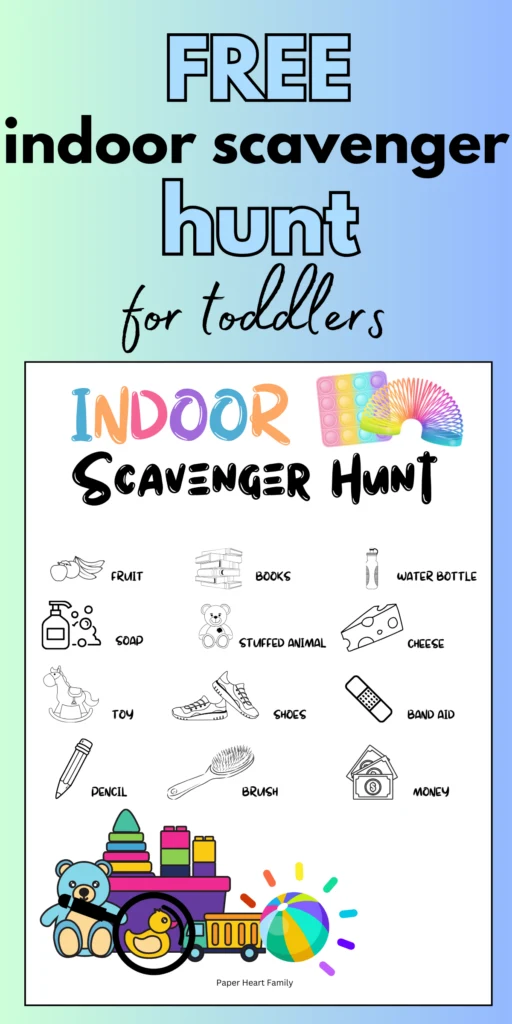 Pre-made printable indoor scavenger hunts are so handy! If you are stuck inside on a rainy day or if you just want to cook dinner while your child has something entertaining yet educational to do… look no further!
This specific traditional scavenger hunt has a list of things that your child will walk around the house looking for. They can color each item with bright colors as they find it.
A fun thing to do with this one is hide all of the items in one room and then turn off the light and close the door. Hand your child a flashlight and have them shine the light on each item they are searching for.
Download this printable at the end of this post.
2. Nature Scavenger Hunt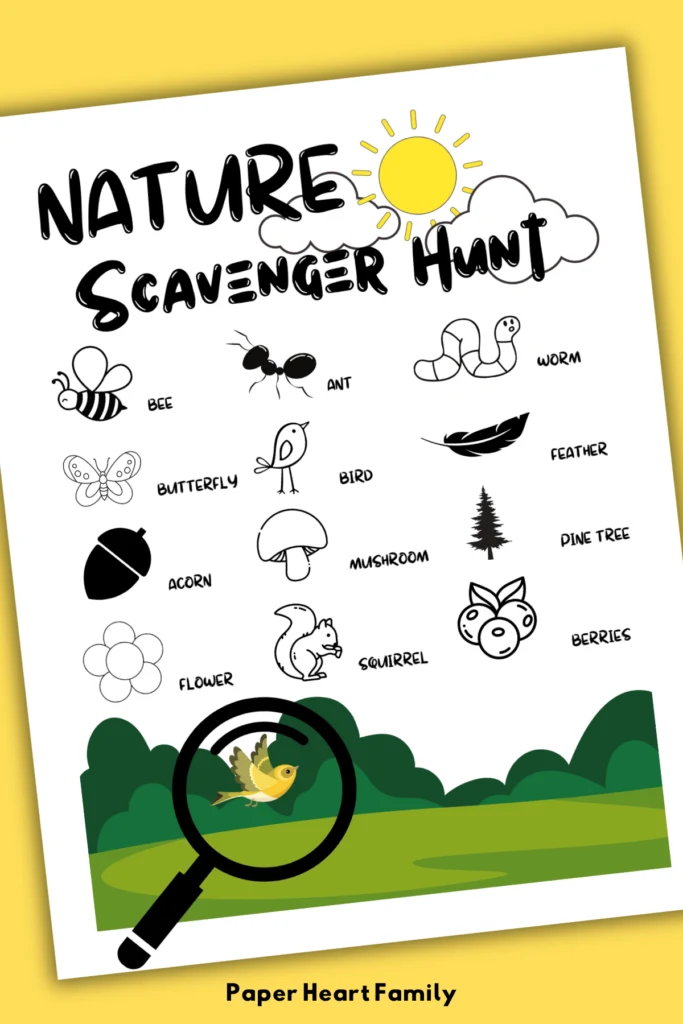 I love nature! And guess what? So do kids! Being outdoors in the natural light is so healthy for our brains and turns on a part of our kids brains that is hard to access otherwise.
So get outside and be in nature with your toddler! Outdoor play can provide a space where children will develop curiosity, critical thinking and more creativity.
It's the pits when you live in Arizona and can't go outside in the summer (or you literally might melt into a popsicle). So we'll stick with the indoor hunts at our house until it cools off a bit more!
Use this scavenger hunt to enhance your child's nature vocabulary as well as visual perception.
Click to download this toddler nature treasure hunt!
3. Rainbow Color Scavenger Hunt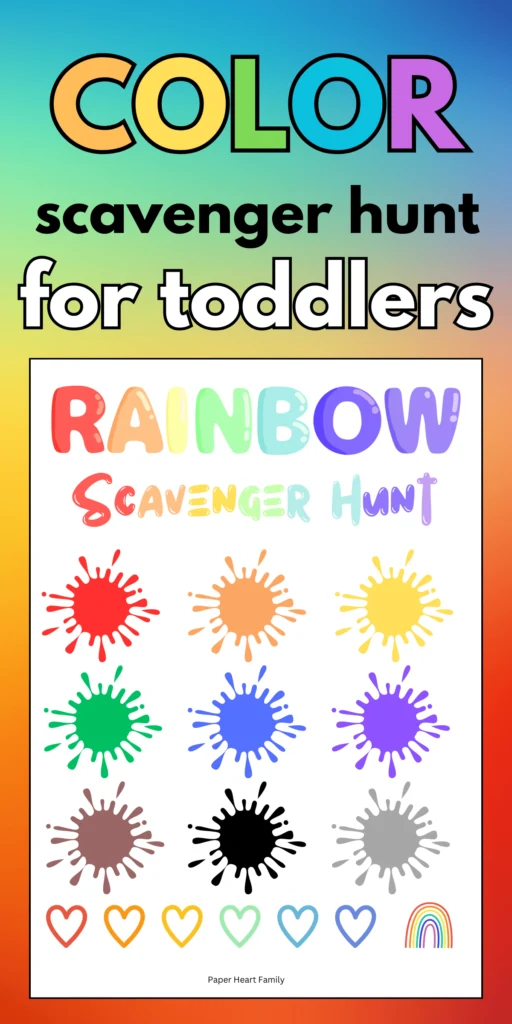 This is the perfect first game for toddlers starting out on their scavenger hunt journey! Walk around the house (or outside) looking for everyday objects that match each of the colors.
Collect them all in a basket and line them up at the end to see what fun things your child found! This will provide excellent one-on-one time as you as your tot about each of the items they chose for different colors.
Feel free to use this as you look at picture books too! Have them find one of the colors on each page that you read to provide more work on observation skills.
Download this printable at the end of this post.
4. Road Trip Scavenger Hunt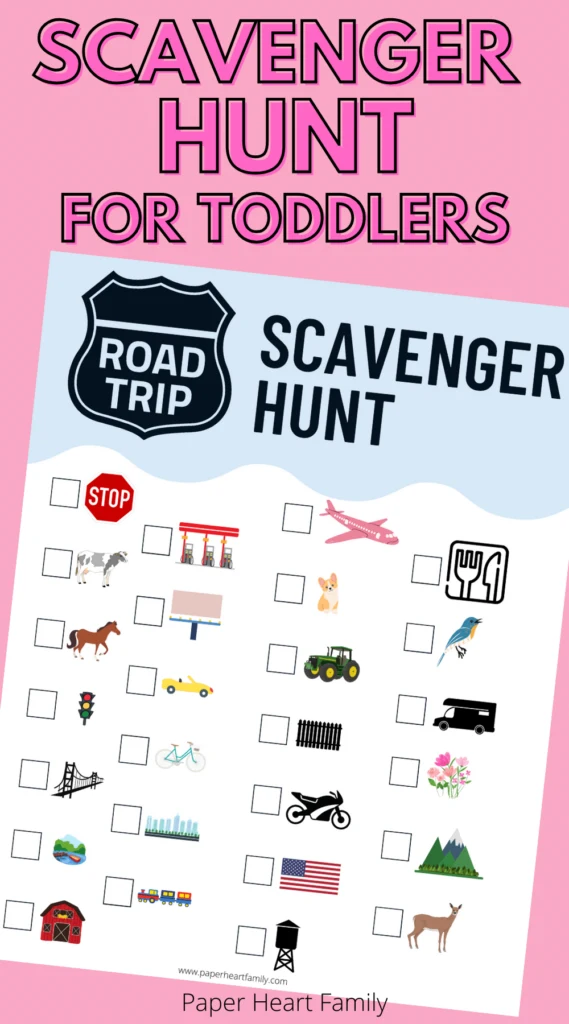 Your big kids might need to help out with this one just a bit. I don't know about you, but if I point out something to my toddler as we are driving and she doesn't look quick enough… we're in for some tears.
So if you have an older child, you can enlist their help with this hunt. Help point out things on the list that they are searching for on their list of items.
Click for access to this road trip scavenger hunt!
5. Road Trip Car Find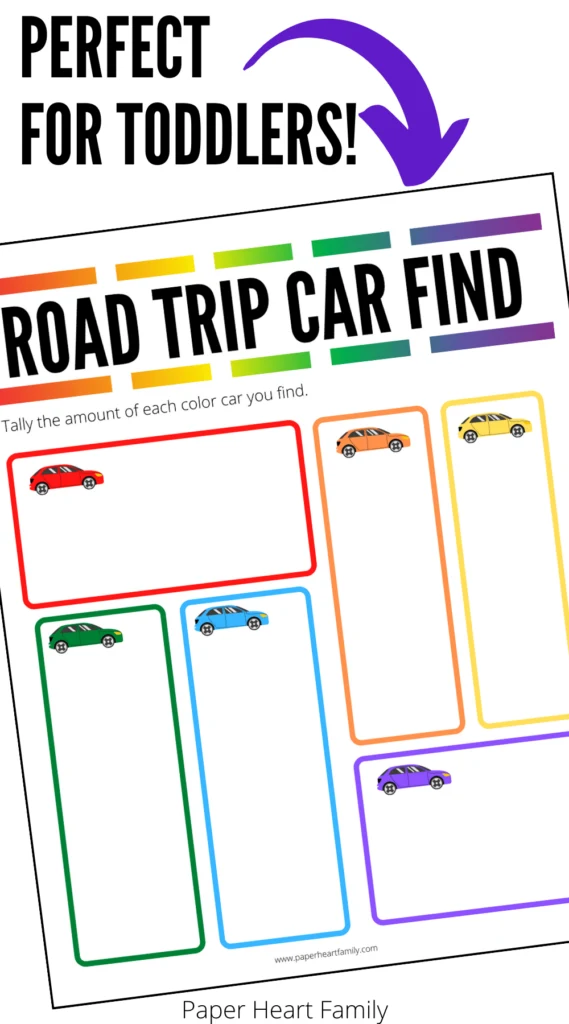 This is the perfect game design for a toddler who is learning how to count. Try shrinking it down and turn them in to scavenger hunt cards that you can keep in the car for easy access.
You might also try printing this one and the road trip scavenger hunt on double-sided sturdy cards. Then laminate them so they turn into easy wipe cards with a dry erase marker!
Click to access this road trip car find for toddlers!
6. Halloween Scavenger Hunt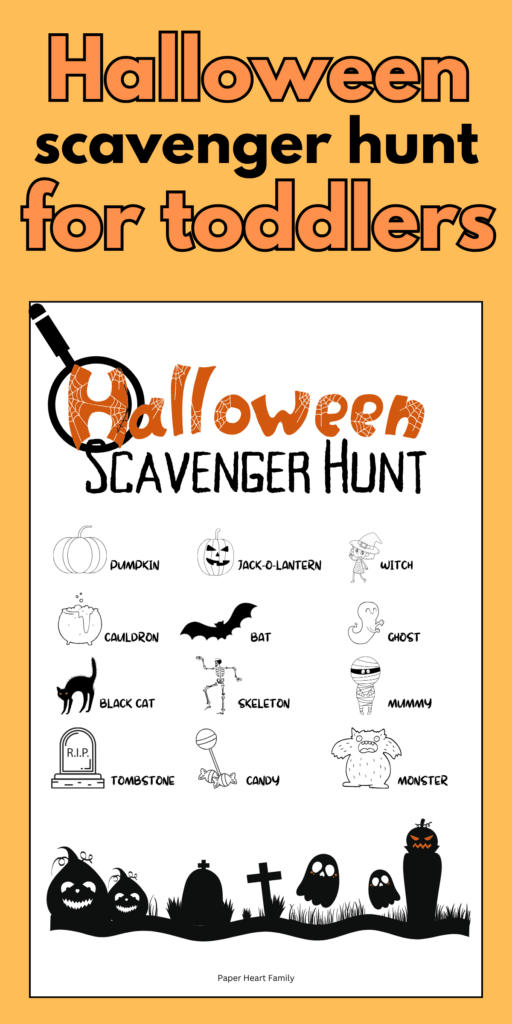 Holiday scavenger hunts are the best! You can do this one while you are trick-or-treating or you can hide these objects around your house.
Invite some of your child's friends over and have it be a treasure hunt! After they find the last item, there can be a special Halloween treat waiting at the end. Children of all ages will love this!
Download this printable at the end of this post.
7. Christmas Scavenger Hunt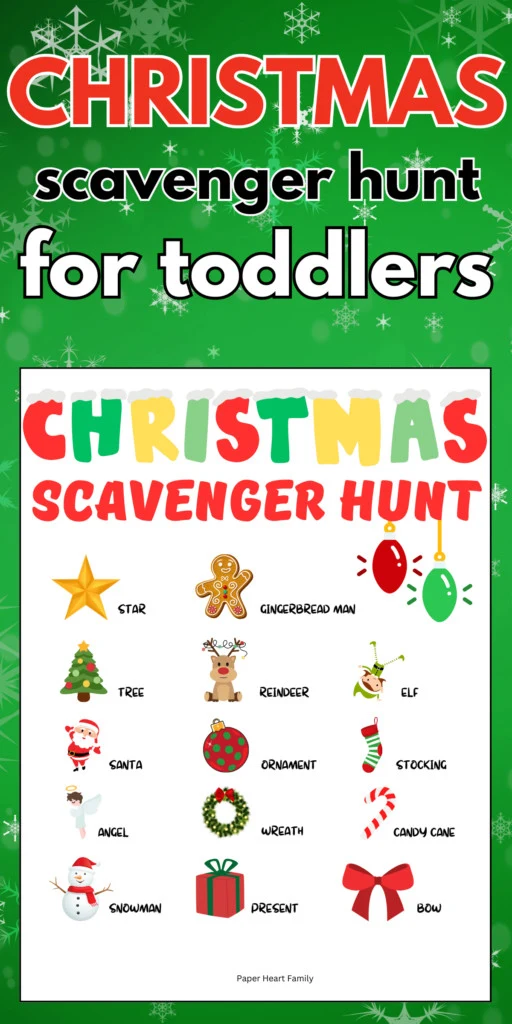 Let's have some indoor fun for Christmas! (Or some outdoor fun if you live in a warm place like us).
This will help promote those early literacy skills as you teach your child what each object is on their list. Walk around the house looking for each Christmas themed item and make sure to end with some hot chocolate!
If you are in need of an outing, hop in the car and drive around looking for these items in people's yards with their Christmas decor.
In order to download any of the scavenger hunts from above, simply subscribe below!
We hope you enjoy this exciting at-home activity that is sure to help you give your child that undivided attention that they need! And who doesn't love to learn while having fun! Happy Hunting!