Hey, smart parent! I can see that you are being proactive and trying to stop the road trip meltdowns and fights before they start. Good. Idea.
There's nothing worse than taking a long road trip (which is stressful as it is) and having your kids screaming in the backseat.
It usually happens at the worst possible time, when tensions are the highest already.
There is only so many movies kids can handle. Especially my kids. They can watch a movie no problem at home, but in the car, they get… antsy.
I created these fun and unique scavenger hunts for road trips for my kids, and of course wanted to share them with you! We tried the license plate game last summer, and it was a flop for my kids.
My husband and I loved it, but the kids? Not so much.
So I tried to come up with some games that I haven't seen on the Internet. Yes, I do have the traditional scavenger hunt, but I have some other different ideas, too.
I thought a tally game and BINGO would be much more interesting and engaging for them. I'm hoping your young children or big kids love these, too!
These printables are a great way for the whole family to spend some fun, quality time on a long car ride.
You can of course make any of these printable games into family competitions, too! Who doesn't love a good competitive game?
Here's to a great start (or end!) to your next trip! I hope these road trip games are helpful!
In this post you will find:
The traditional check list type scavenger hunt (with or without pictures)
Road Trip BINGO (with or without pictures)
Cars Of The Rainbow Scavenger Hunt
Also, I highly suggest you check out all of my Best Car Activities for Toddlers.
This huge list will give you over 50 unique ideas for entertaining your toddler in the car.
This post contains affiliate links.
Scavenger Hunt For Road Trips
Road Trip Scavenger Hunt Checklist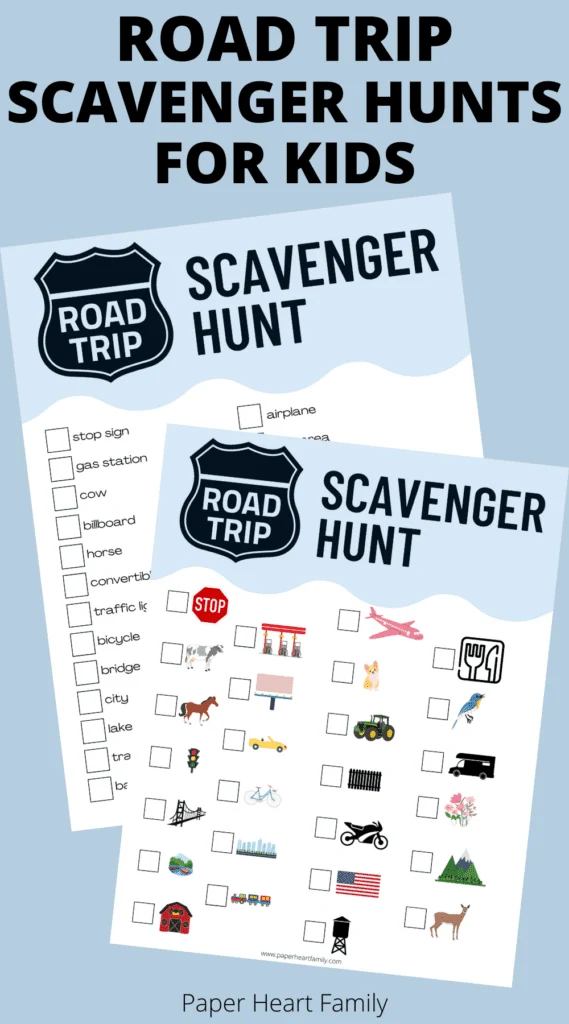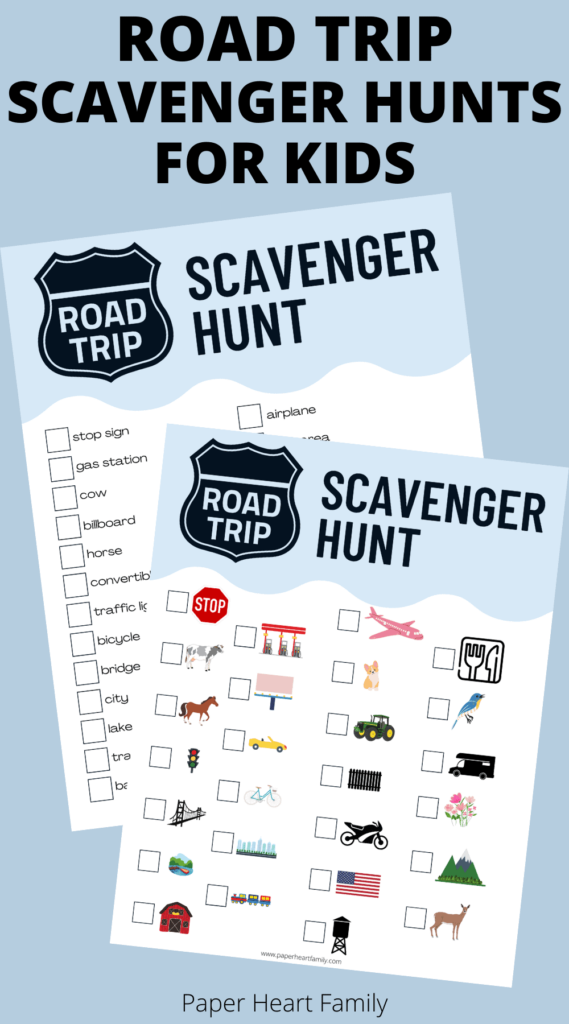 This checklist is the classic version of a scavenger hunt.
How To Play:
Your kids can mark off items (such as a stop signs and cows) as they find them.
If you want something a little more interesting, you could see who can spot each item first. Once an item is found, only the person who found it first can check the box. Everyone else will have to cross it off.
And if you're looking for an even more fun game, make sure to checkout the other fun things in this post for a family road trip.
The version with pictures is the perfect scavenger hunt for toddlers.
Free Printable Road Trip Scavenger Hunt:
Road Trip Bingo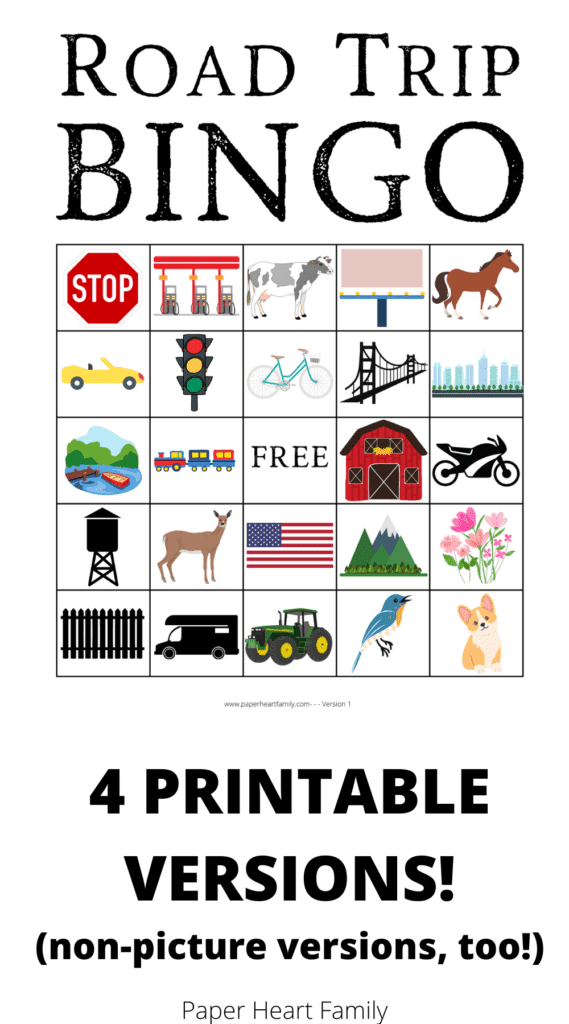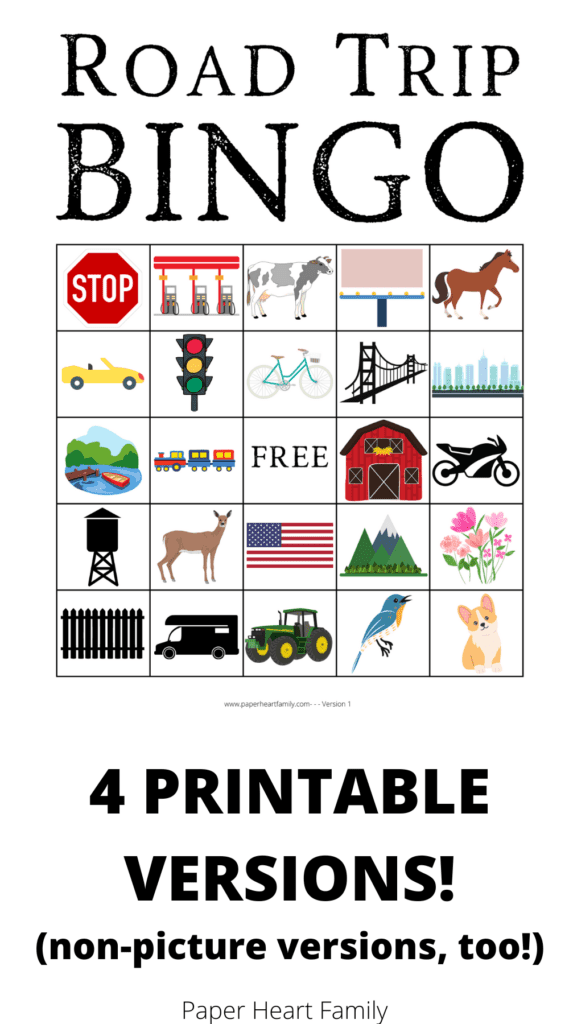 My Road Trip Bingo printables are a PDF file that comes in two different versions:
with pictures (for kids who cannot yet read)
without pictures (for older kids)
Each version comes with 4 different BINGO boards so that four people can easily play. (If you have a group bigger than four, you can work in teams or you can use the same BINGO boards but only the first person to find an item is allowed to mark it).
How To Play:
If you would like replay-ability, these dry erase pocket sleeves are the best (and so useful for so many things).
Decide what the goal is: Do you have to get five in a row or fill the whole board to win?
Get started!
Printable Road Trip Games:
Cars of the Rainbow Scavenger Hunt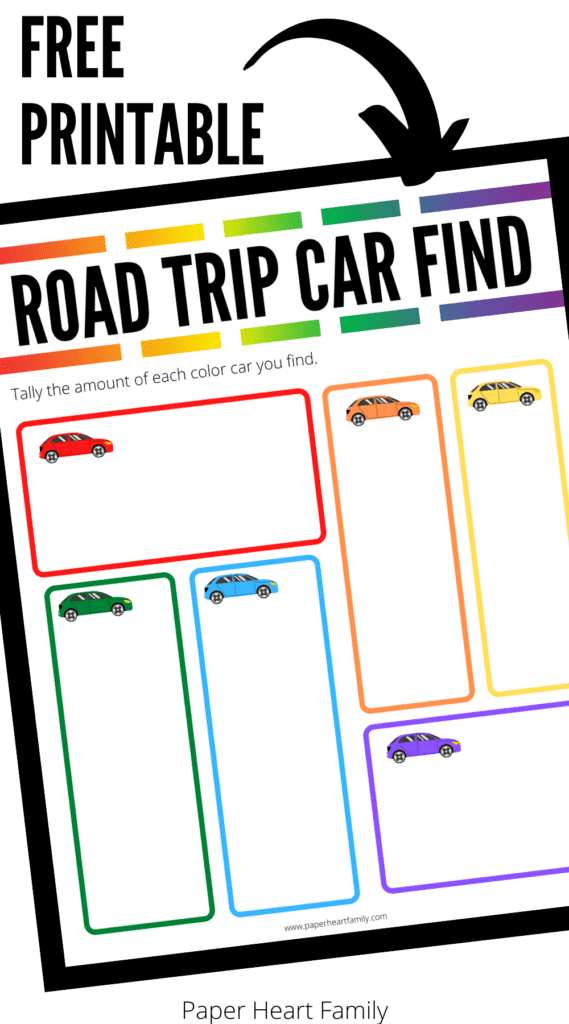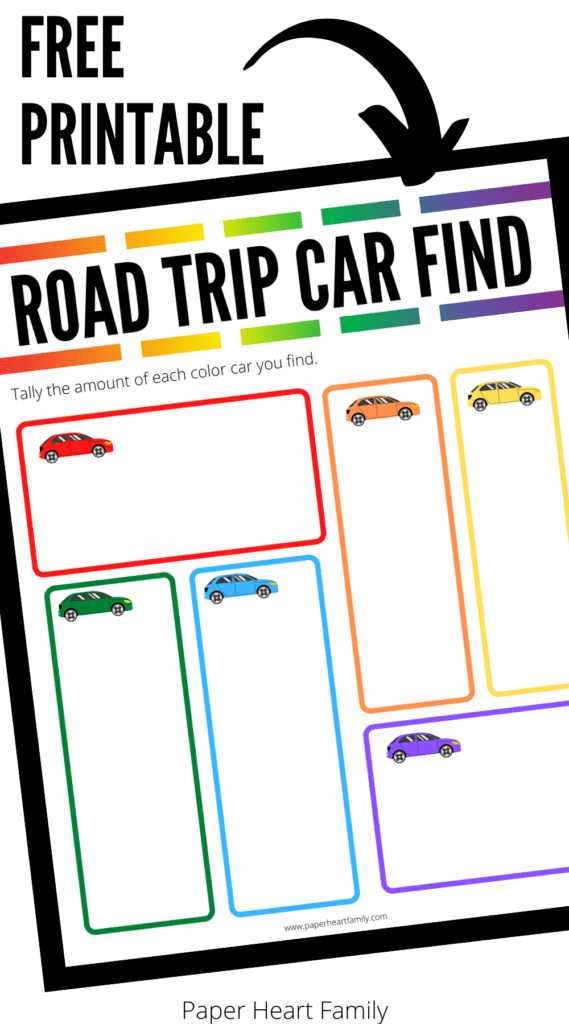 This is a new idea that I haven't seen anywhere else, but that would be so fun for kids of all ages, especially preschoolers who are learning their colors.
How To Play:
Your child will keep count of the amount of red, orange, yellow, green, blue and purple cars and trucks that he finds along the way.
If you want to make it more of a competition, each family member could be assigned a color or two. If you are playing with younger kids, make sure to give them the easier colors like red and blue.
Get Your Own Copy Here:
Other Road Trip Ideas
There are so many other things that you can do that don't require any items or preparation. We love to tell jokes in the car or play Would You Rather. Telling jokes is a great way to pass the time!
Play Would You Rather
Make your way through the letters of the alphabet game- Starting with A, someone in the car needs to spot an object that starts with A. Once A is completed, then you move on to the letter B.
Have a License Plate Scavenger Hunt– I know I talked about how my kids did not enjoy the license play game above, but maybe your kids will love it! See how many license plates from different states you can spot during your long car trip!