If you need some letter A activities that are SIMPLE and helpful, you've come to the right place!
Before kids enter school is the perfect time to start learning to recognize letters and the sounds they make.
Learning is a great activity and young children are learning every single day, but the most important things is that learning should be FUN! It should never be work. That's why you won't find any worksheets here.
Learning letters is one of the best things to teach your 3 or 4 year old.
Kids do enough of them once they get to school, they do not need them in order to learn in the early years.
At this point in a young learners life, I believe that working on letter recognition skills is a great idea, but that working on letter formation is unnecessary. (You'll find some simple letter formation ideas here, but none that include writing the letter).
So why not incorporate the letter A into your daily activities. Whether you want to focus on one letter for the day or do a letter of the week, these activities will start your child on the path to letter identification.
It will give you something fun to do with your child or children and it will also help fill your day with educational activities (that don't feel like learning!).
These are the best alphabet activities because they are simple and effective!
Here's what I suggest you do. Hands-on activities are going to be best when teaching the alphabet. Incorporate hands-on crafts, music and movement into your day when learning about the letter A.
In this post, you will find simple ways to incorporate all of those things:
a few printable letter A crafts (apple, alligator and astronaut)
letter A songs to listen to and sing along with
letter A movement prompts to get your preschooler up and active
letter A lunchtime suggestions
blank letter A sheet with many different possibilities
All of these activities will help your child recognize the letter A and the sounds that it makes.
Make sure to save my letter B activities and crafts for later!
This post contains affiliate links.
Letter A Activities For Preschoolers
Letter A Craft Printable Activities
If your preschoolers are anything like mine, they LOVE to cut and paste, way more than they like coloring. These letter activities are also a fun activity to get your child to start to follow directions and to follow an example. Of course, your child could get creative and make their own interpretation, too.
These cut and paste activities are already done for you.
Here's how they work:
Print the attached PDF files in color (preferably on thicker cardstock paper)
Cut out the shapes on the second page (you can cut out the shapes or you can allow the child to cut out the shapes for some great fine motor skills practice)
Use a glue stick in order to paste the shapes onto the letter from the first page following the example given on the second page
Trace the letter A
Add any details that your child would like to add with a crayon or marker
I have three different letter A printable crafts for you to choose from. This might turn out to be a favorite activity, and you might want to print all of them! Keep in mind that older children might love to join in. My 7 year old loved doing these with her younger sister the other day!
Apple Letter Craft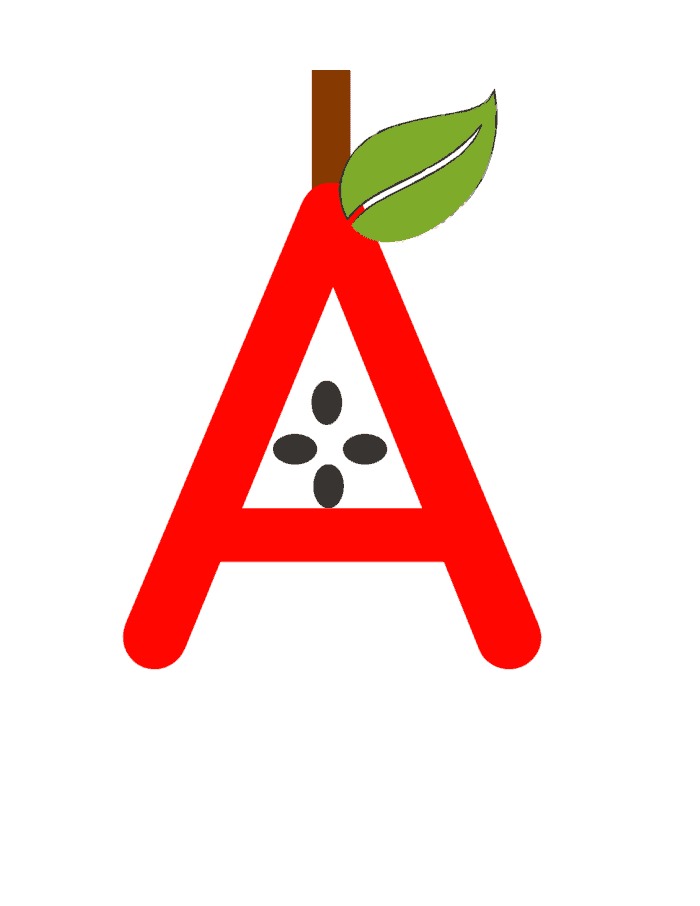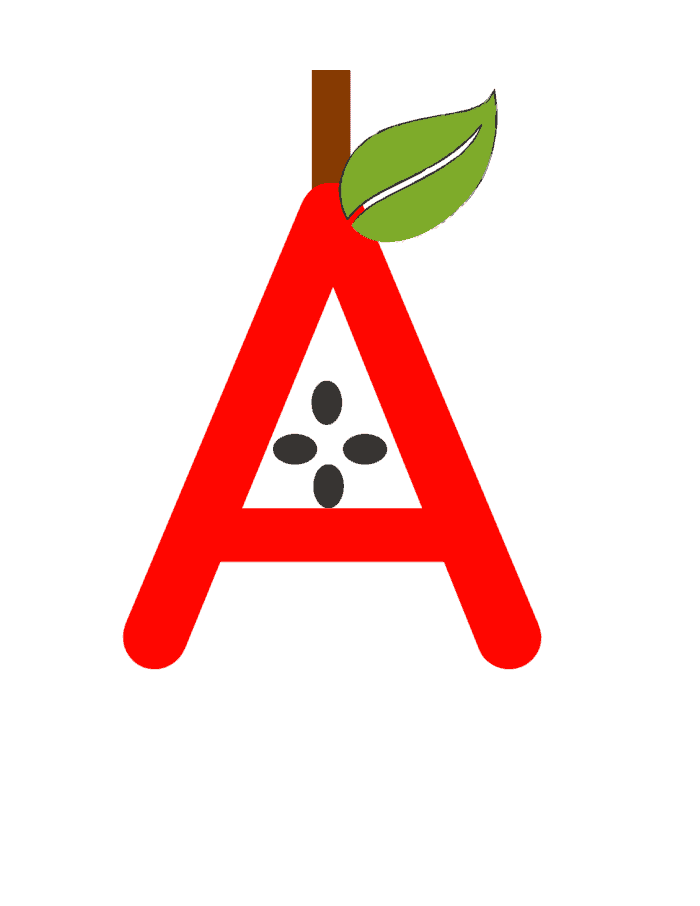 Click here for your Apple Letter Craft Printable.
You can also talk about Johnny Appleseed with these Johnny Appleseed printables.
Alligator Letter Craft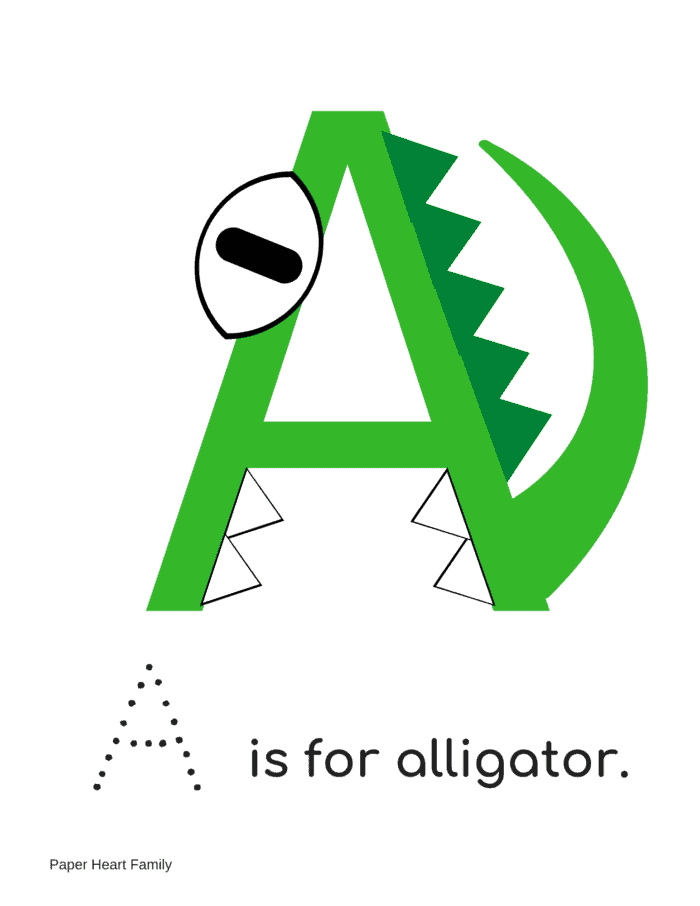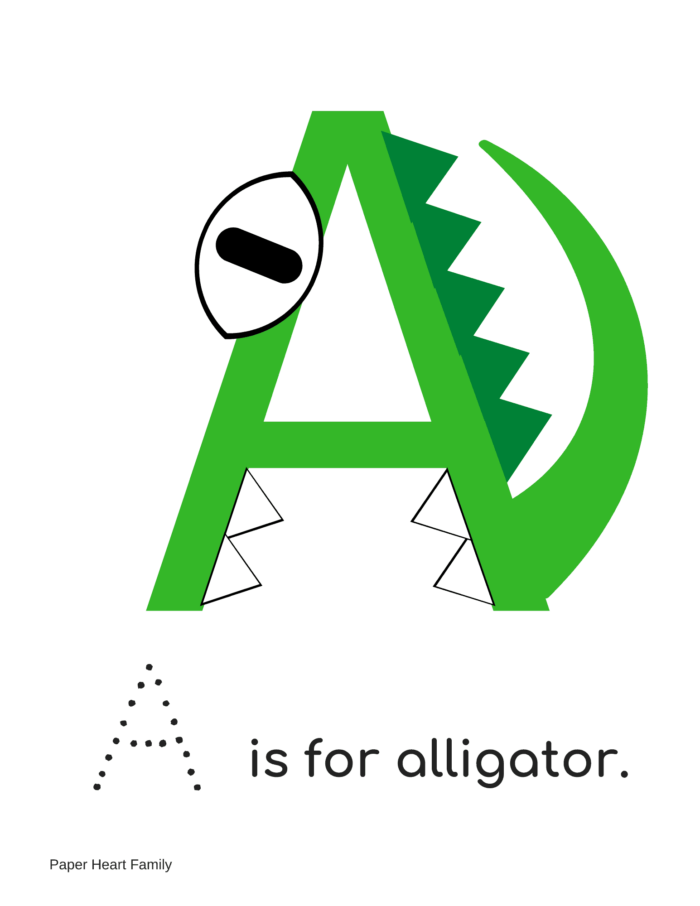 Click here for your Alligator Letter Craft Printable.
Astronaut Letter Craft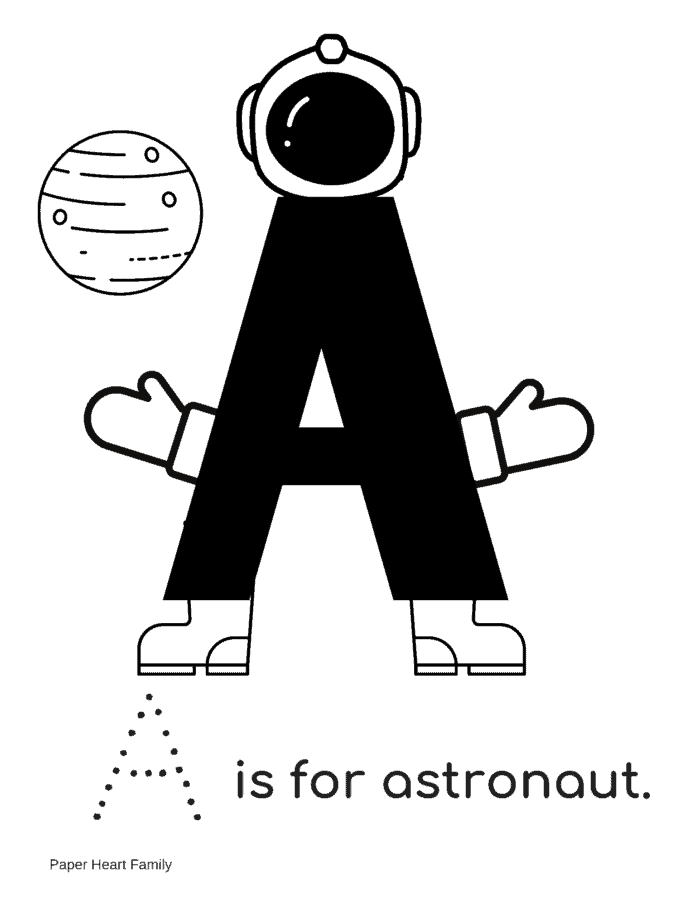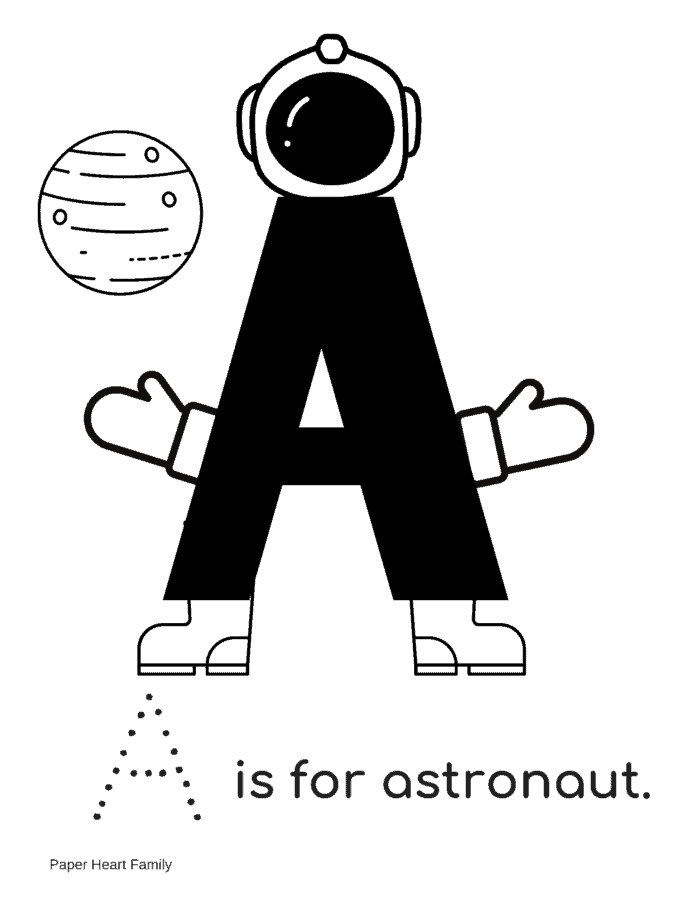 Click here for your Astronaut Letter Craft Printable.
Would you like the alligator and apple printable letter crafts in a black and white version that your child could color? Let me know in the comments below if this is something you are interested in.
Letter A Songs
Nothing sticks more with us than music, so incorporating music into learning alphabet recognition is a no-brainer. When it comes to an alphabet song, Jack Hartman is the best.
Just beware, your child may become addicted to these songs, and you may hear them in your sleep.
Letter A Movements
I'm always trying to find new ways to get my kids to move and to be active. Incorporate these letter A movements into your day. You can even do them multiple times throughout the day, too! Just make sure to accentuate the words that start with letter A as your saying each movement.
For example, say "eat an ah, ah, apple!"
eat an APPLE
chomp like an ALLIGATOR
ACT like a monkey
float like an ASTRONAUT
crawl like an ANT
fly like an AIRPLANE
act like an ANGEL
swing your ARMS
shake your ANKLE
chop with an AXE
ACT like an APE
You know what would be even more fun? Use these prompts in order to play Simon Says!
Letter A Lunchtime Activities
Practicing the letter A doesn't have to end when it's time to eat! Please don't look at this list and think, what is she thinking, my child hates asparagus. You definitely don't have to include ALL of the foods listed, they are just there to give you ideas or to inspire you.
You could also include an ABC coloring page as a placemat.
Try to incorporate at least one food that starts with the letter A into your child's lunch or dinner for the day. Here are some ideas:
apple- You can even cut your apples into sticks and help your child to make an uppercase A out of the apple sticks
avocado
almonds- these can be formed into uppercase letters or lowercase letters, too!
asparagus
American cheese
alphabet soup- have your child find the letter A
Letter A Scavenger Hunt
If your child is anything like mine, they LOVE scavenger hunts.
Check out this super fun letter A scavenger hunt that you can use to reinforce the sound that letter A makes!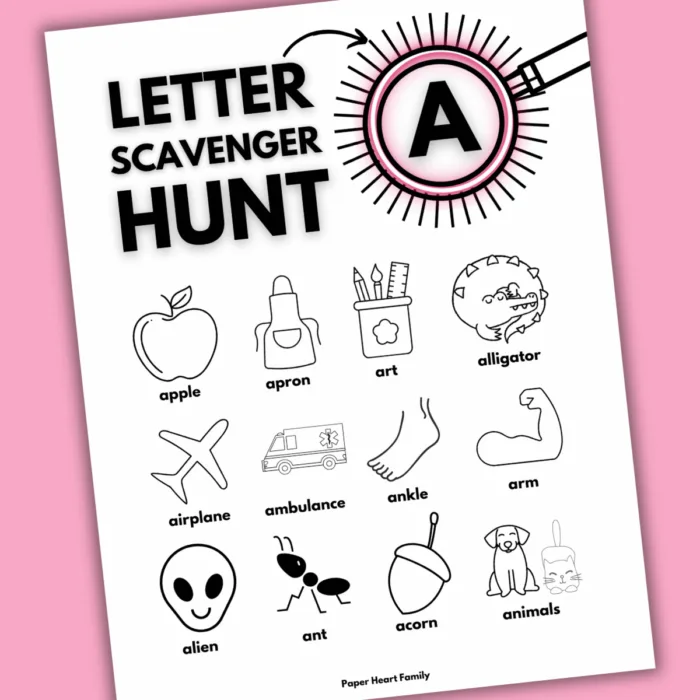 Letter A Sheet
This letter A sheet can be used in SO many different ways.
Your child can:
color it
paint it
use finger paint to color the letters
use dot-to-dot markers on it
use a real apple dipped in paint or ink to stamp it
rip up squares of construction paper to paste onto it
paste pom poms within the letter A
put dot stickers within the letters- You can even write uppercase A's and lowercase A's on the stickers and then your child can sort them into the correct letter as he goes.
cut the letters out and paste them onto colorful construction paper
The possibilities are endless. Think about the child that you're working with, and what he would like to do best with this printable. Also think about what skill you might want to work on, such as fine motor activities or gross motor skills.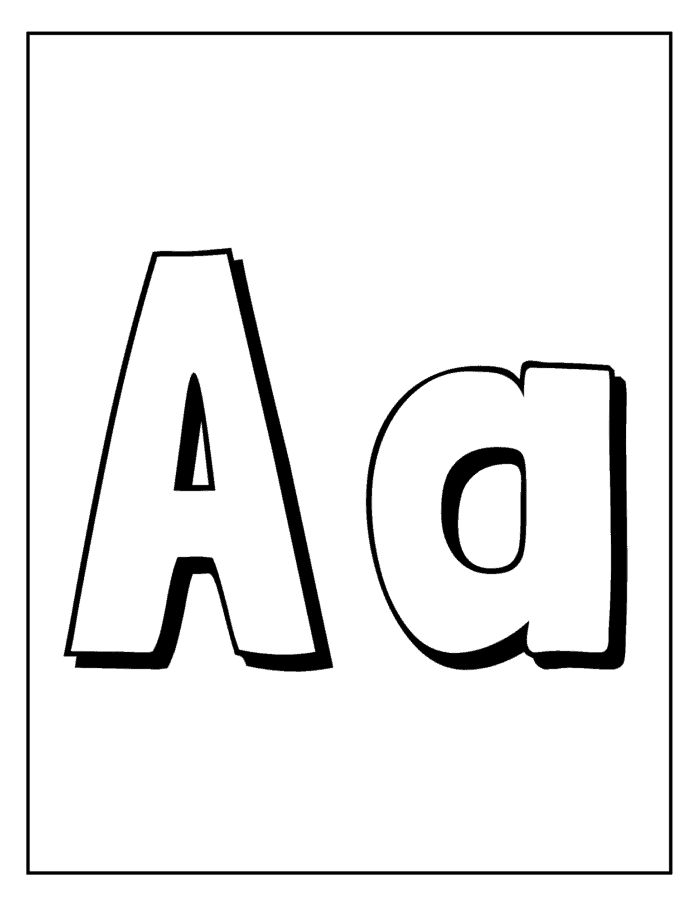 Click for your Printable Letter A Sheet
These alphabet tracing worksheets could be used, too!
Other Simple Letter A Activities
These are some more easy activities for teaching letter recognition. Just make sure to help your child by making an example for him to follow first. It will make it easier for both of you and hopefully avoid any frustration.
Form the letter A out of play dough for some fun sensory play
Form the letter A out of popsicle sticks
Read Dr. Seuss' ABC book
place magnetic letters in some kind of sensory bin and have your child find the letter A- Keep this handy for when you move on to other letters!
The Next Step
Are you looking for a more organized, effective way to not only practice letter recognition, but to actually teach it to toddlers or preschoolers? This will work whether you are a preschool teacher or a parent wanting to teach their young children.
Check out my Prep Through Play: Letter Recognition Printable Pack. It's a great addition to the activities from above.
It's how I, a teacher and mother of two, taught my children letter recognition before they entered school. I promise you, these 5-week plan will be super fun, LOW PREP for you and effective.
I did not want to include worksheets in my plan (there are none). I also didn't want it to be extra work for the parent or teacher (it's NOT extra work). All you need to do is to print out the plan and follow it each day for 5 weeks. Everything is done for you and the included activities take mere minutes to set up.
Prep Through Play will engage your child in learning with a step-by-step 5-week plan.
It comes with:
35 play-based fun alphabet activities that come with detailed instructions, a materials list and tips for making the activity as successful as possible.
2 printable alphabet games (such as BINGO) and flashcards that you will use throughout the 5 weeks.
10 bonus activities that can be used whenever your child needs a little more practice before moving on and adding in more letters.
Here are 3 activity examples:
Mountain Climb- set up your alphabet flashcards on the stairs and call out a letter. Have your child "climb the mountain" in order to find the letter and bring it back down to you.
Tape flashcards at eye level throughout your house with painter's tape (down a long hallway would be ideal). Announce a letter and have your child run to that letter.
Place the flashcards all around a room. Turn off the lights and pull the curtains and give your child a flashlight. Have him find the letter that you announce with his flashlight.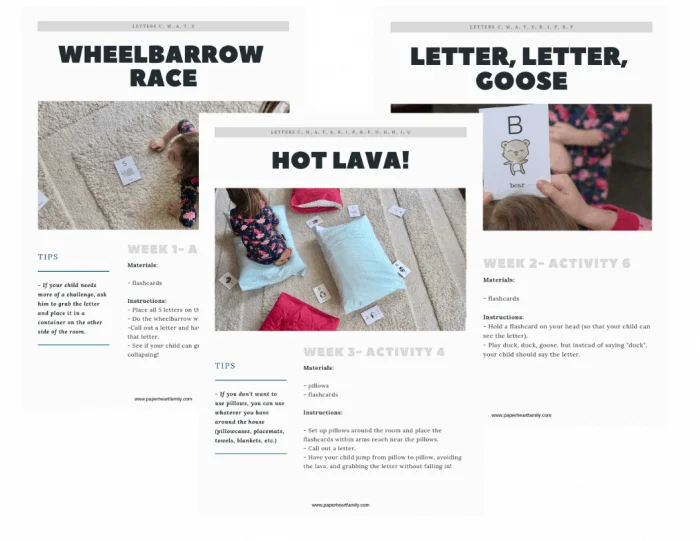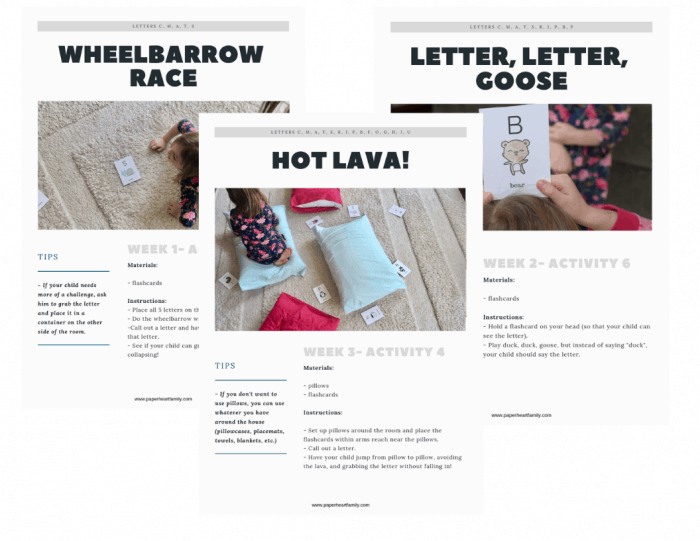 Related Posts: