Inside:Your little girl will absolutely love these no candy Easter basket ideas almost as much as you. If you're tired of buying gifts that your kids never play with, this list is for you. It has practical Easter basket filler ideas for your toddler or girl. Find craft supplies, books, clothing, accessories, and toys.
This post contains affiliate links.
Love the holidays, but hate the junk and mounds of candy that inevitably come with each and every one?
Cheap toys that will never be played with and that clutter up your house.
And the candy. Will my daughter's Easter basket contain candy? Sure. But it will definitely be limited.
It makes much more sense to give your kids useful fillers in their Easter basket.
Toys and games that will last and actually get used, clothing and accessories that they need and books (which are always a worthwhile gift).
Here you will find over 50 no candy Easter basket ideas that YOU will love (and that your little girl will love, too!).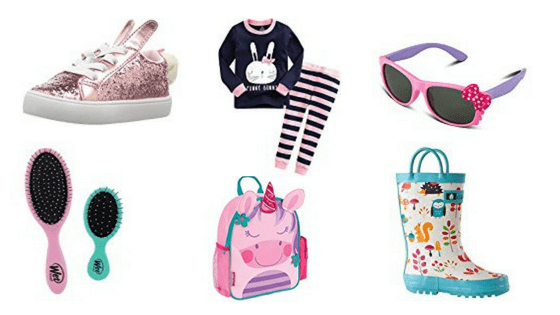 Any bunny lover would just adore these sparkly, pink sneakers with bunny ears and a bunny tail from Carter's. My daughter refuses to wear any other sneakers ever.
These pajamas are so very cute, and they come in about 10 different bunny styles.
Not only are these sunglasses adorable, but they will actually protect your child's eyes.
Your child can take her belongings from grandma's house and back in this adorable mini unicorn backpack. This is a must for my toddler, who wants to "go to school" just like her big sister.
A practical, adorable gift that will get your child out splashing in the puddles in no time.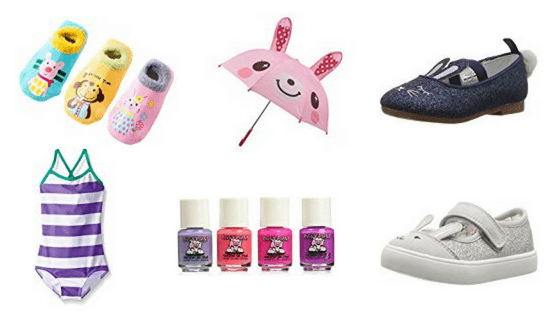 Perfect for the chillier days, these socks will allow your child to keep her feet warm and still run and play as hard as she does without socks on.
Carters does it again with the sparkles, bunny ears and fluffy bunny tail with these adorable flats.
Get your child excited for the upcoming summer season with a new swimsuit. This one comes in lots of different colors.
This is my favorite nail polish to use on my little girls by Ella + Mila. It's 7-free and comes in mommy and me sizes. We also like Piggy Paint, which is water-based and completely chemical free.
You can never have too many bunny shoe options!
These large hair bows come in many different colors, and are the perfect gift for your girly girl.
After searching, and spending, WAY too much money on a spill-proof cup, I finally found this one. It is seriously amazing, and everyone should own one.
We love these mess-free, all-natural bubble pods. They make bath time so much fun!
See all of our favorite non-toxic products.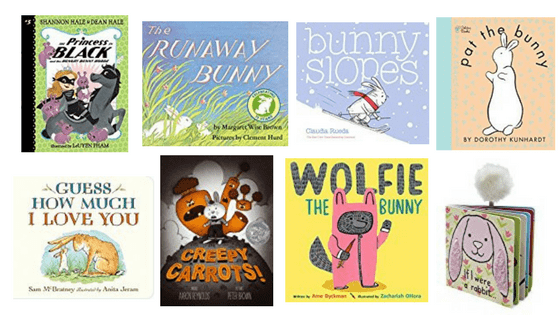 This weird I see great for teaching your daughter that girls can do anything.
The Princess in Black goes on secret missions to fight off monsters. But what happens when she arrives and the "monsters" are adorable little bunnies?
A sweet story about a mother bunny who would go anywhere and do anything to be with her baby bunny.
An interactive book that will have your toddler shaking, tilting and turning the book to help bunny ski down the hill.
A touch and feel book with things to touch, move and smell.
Another sweet story where the parent and child compete to determine who loves who more.
A hilarious and not-so-creepy story about Jasper the rabbit who loves eating the carrots out of Crackenhopper field until he starts to believe that they are following him.
A tale about a bunny family who adopts a wolf. What will happen when the youngest bunny realizes that Wolfie just might eat them all up?
A great beginner touch and feel book.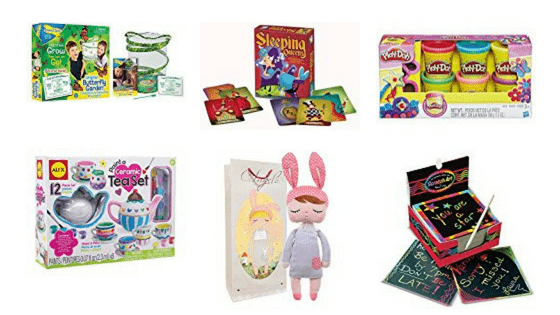 A great yearly family tradition to start. Teach your kids about science (they won't even know that they are learning!).
The very best children's game ever created. It is a big hit in the house among kids and adults.
IF you love family game night, this fun card game with knights, queens and dragons is a must.
Little girls love tea parties and crafts, and I love that this craft brings them both together.
If your child is always writing and drawing, then these scratch art notes are the perfect Easter basket addition.
More slime, anyone?
Great for any age, whether you're working on letter recognition, reading or spelling.
Toothbrush
Chapstick
An old cellphone
If you have an old cellphone that no longer works, add it to your child's Easter basket. My kids think they are so cool with their "real" phones.
If your daughter is always putting on a show, she will love these ribbon wands, that will have her dancing and twirling and performing all day long.
Before you go, check out these great Easter photo ideas so that you can capture all of your Easter morning, egg hunt and egg dyeing fun!
And if you have a toddler, you NEED to check out my Easter egg hunt that's perfect for toddlers (and older kids too!).
What Easter basket stuffers will you be putting in your kid's basket?