I LOVE creating letters that make the holidays just a little more magical for kids.
Because this time while they still believe is so short.
I know, I shouldn't have mentioned it.
Other than this Easter Bunny Letter, I have created a leprechaun letter, free printable tooth fairy letter PDF, letter from Santa, Elf on the Shelf arrival letter and Elf on the Shelf departure letter.
You should definitely check them out.
(You can always pin them for later!)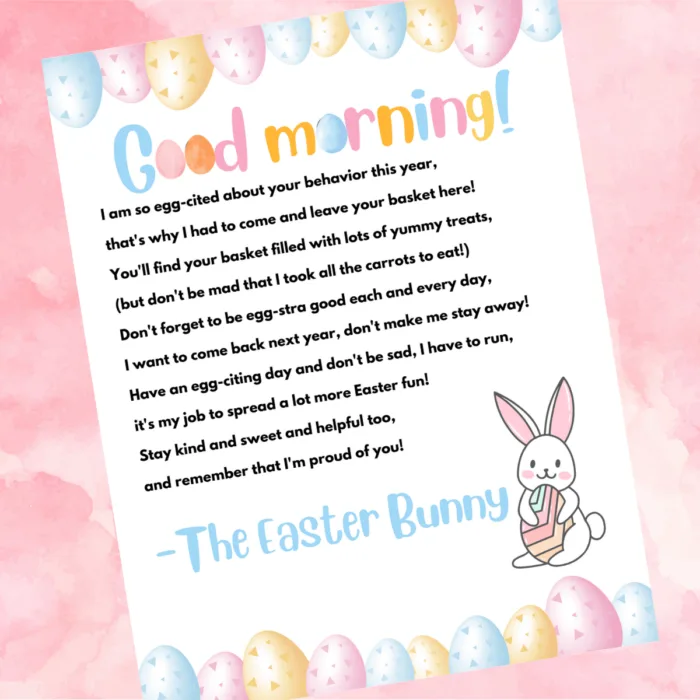 The Easter Bunny is maybe the most elusive of all holiday visitors.
Our kids write to Santa, get letters from Santa Claus, have the elf visit for an entire month, try to catch the leprechaun and so on.
I thought these Easter letters would be a great way to make the Easter Bunny seem more, well, real!
The Easter Bunny letters that I have created are great as an Easter basket stuffer for Easter morning.
They can also be left out to be read before your child hunts for their Easter basket if you would prefer.
I have created 2 different letters and each letter has two different designs.
If you like more than one, you can always use one this year and another next year!
You could also use two this year is you have two kids and want them to each receive a different letter.
Free Printable Easter Bunny Letter
Option #1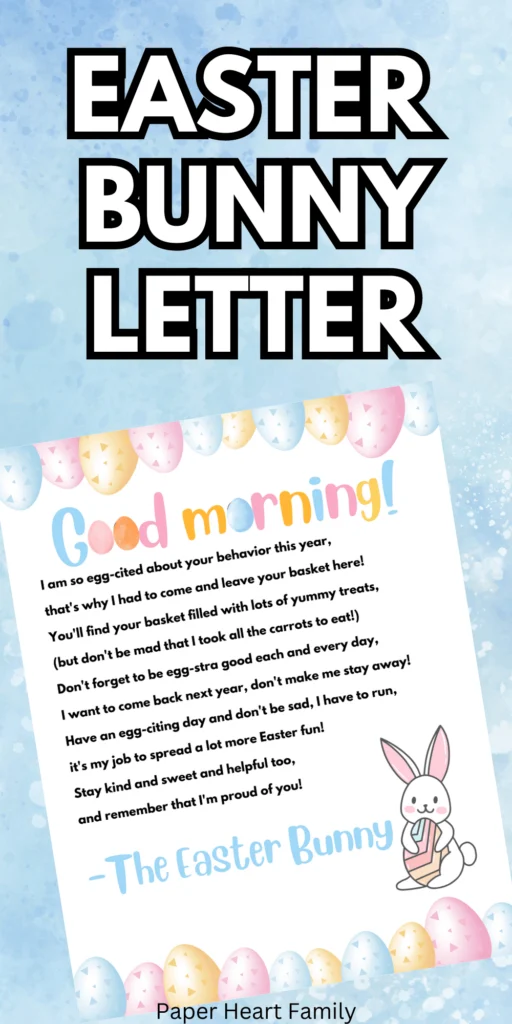 The first option uses soft, pastel colors and features an adorable bunny and Easter eggs that's not too baby-ish.
It could absolutely work for young children though!
It states the following:
Good morning!
I am so egg-cited about your behavior this year,
that's why I had to come and leave your basket here!
You'll find your basket filled with lots of yummy treats,
(but don't be mad that I took all the carrots to eat!)
Don't forget to be egg-stra good each and every day,
I want to come back next year, don't make me stay away!
Have an egg-citing day and don't be sad, I have to run,
it's my job to spread a lot more Easter fun!
Stay kind and sweet and helpful too,
and remember that I'm proud of you!
Hoppy Easter!
The Easter Bunny
Option #2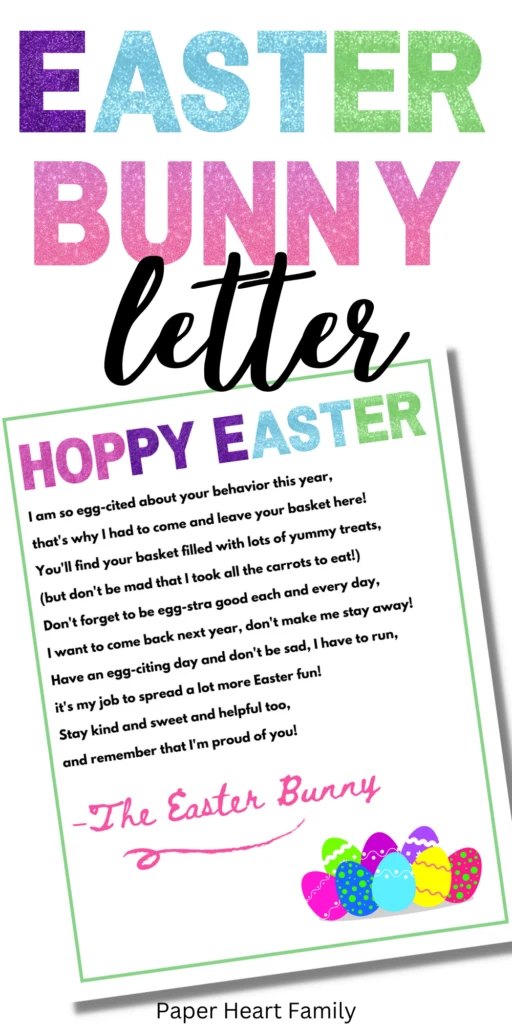 Option two is much brighter, with bold colors and glitter letters.
The text is the same as the text from option #1.
Option #3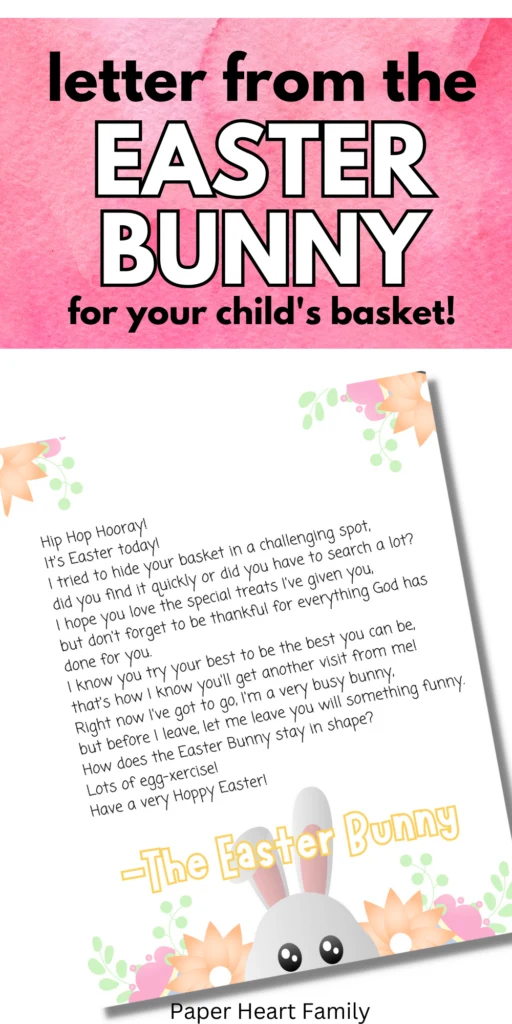 Option #3 is another soft, pastel design.
This one is a little more modern and would work for kids of all ages.
It also has a religious focus.
It states the following:
Hip Hop Hooray!
It's Easter today!
I tried to hide your basket in a challenging spot,
did you find it quickly or did you have to search a lot?
I hope you love the special treats I've given you,
but don't forget to be thankful for everything God has done for you.
I know you try your best to be the best you can be,
that's how I know you'll get another visit from me!
Right now I've got to go, I'm a very busy bunny,
but before I leave, let me leave you will something funny.
How does the Easter Bunny stay in shape?
Lots of egg-sercise!
Have a very Hoppy Easter!
The Easter Bunny
Option #4
The last option is my black and white option.
If you don't have access to a color printer, this would probably work the best.
(The others could definitely work too, though!)
The text on this option is the same as in option #3.
Instructions for the Easter Bunny Letter
Download the PDF file at the bottom of the post
Print the letter on white card stock for best results. Cardstock will provide a more sturdy, more professional-looking, high quality final product
Place the letter wherever you'd like! Some options would be:
inside your child's basket
on your child's bed
in any other visible place where your child would see it immediately upon waking.
While you are printing, why not print some of my other Easter printables?
Other Easter Printables
If you are adding this free printable letter to your child's Easter basket, why stop there?
I think adding a Easter craft printable, printable Easter scavenger hunt, printable Easter games or any of my other free Easter printables is the perfect way to keep the magic going!
Please realize that all four letter versions will open in the same PDF file.
Be sure to only print the version that you would like to use on Easter day.
**Remember that this printable is for personal use only.
I truly hope this Easter Bunny note is a fun way to bring joy to your child's Easter celebration!
Have a special day!
Which version do you like best?
Related Posts: