Are your kids getting their leprechaun trap ready to go?
My kids are OB-SESSED.
Every year, their leprechaun trap is bigger and better than the last.
And every year, without fail, my children legit believe that they will catch the leprechaun.
It's quite the let down in the morning.
This Saint Patrick's Day morning sadness is what prompted me to create this letter.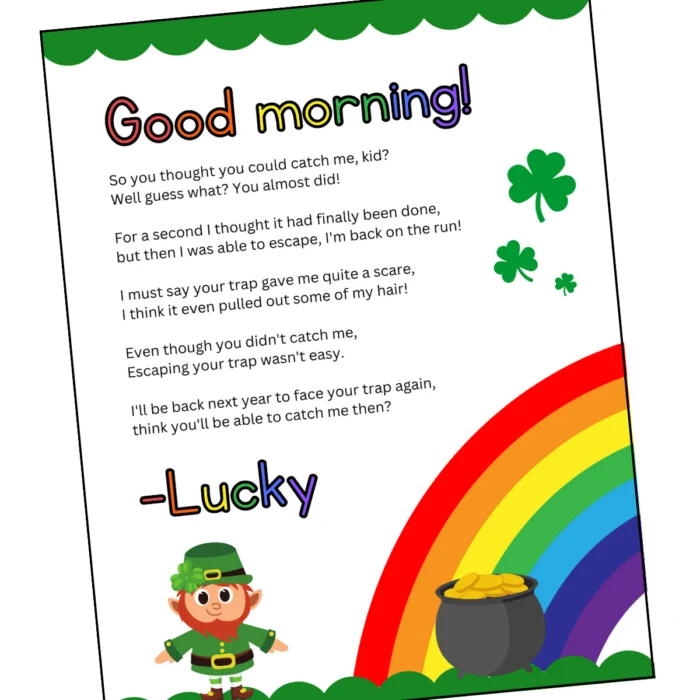 To tell my children that their trap was awesome and amazing and that they ALMOST succeeded.
Receiving this letter on the morning of St. Patty's Day is going to 100% make them excited for next year and they won't even think about being disappointed.
I've always thought that the pre-Saint Patrick's Day activities (such as building a leprechaun trap for kids) are much more fun than the actual day.
This printable letter is a fun way to bring some fun to your St. Patrick's Day celebration.
Free Printable Leprechaun Letter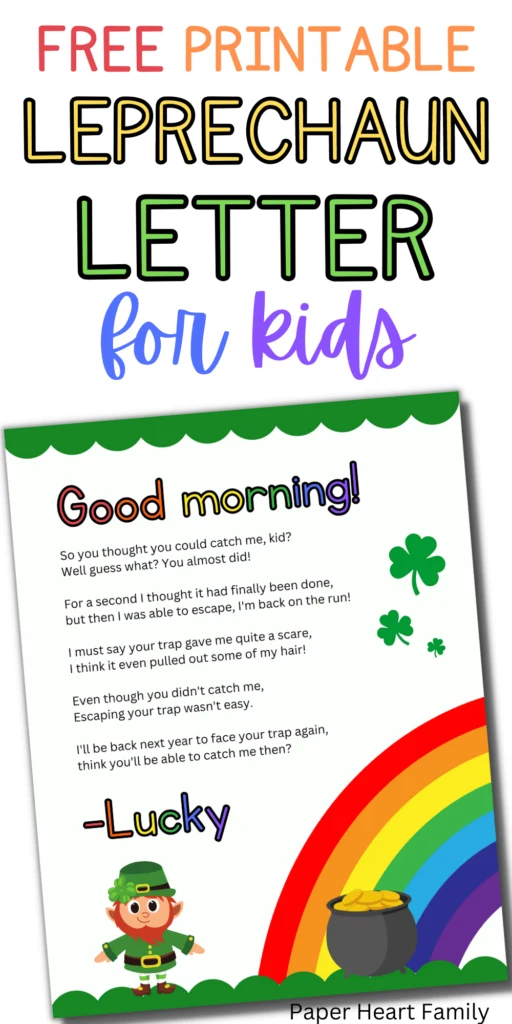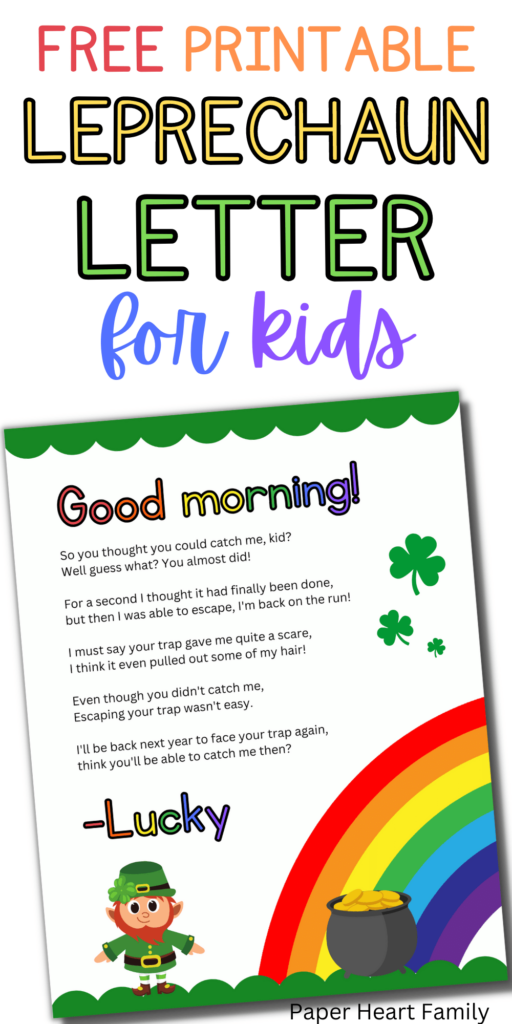 Your PDF digital file comes with this adorable, colorful free printable complete with a leprechaun, rainbow, pot of gold, four leaf clovers and a cute encouraging letter.
Here's what the letter says:
Good morning!
So you thought you could catch me, kid?
Well guess what? You almost did!
For a second I thought it had finally been done,
but then I was able to escape, I'm back on the run!
I must say your trap gave me quite a scare,
I think it even pulled out some of my hair!
Even though you didn't catch me,
Escaping your trap wasn't easy.
I'll be back next year to face your trap again,
think you'll be able to catch me then?
Lucky
Imagine your kids waking up to this letter in the morning.
They are gonna feel like rock star inventors!
Instructions For The Leprechaun Letter
Download the PDF file at the bottom of the post
Print the letter on white card stock for a more sturdy, more professional-looking final product
Place the letter near the leprechaun trap.
Make it look like the leprechaun was there!
You can scatter some chocolate coins and other props that the leprechaun may have dropped during his escape.
More Ideas For Leprechaun Mischief
Overturn some furniture within your house. Include a mix of big items (think chairs) and small items (books, vases, decor, etc)
Make leprechaun footprints throughout the house using green construction paper
Use green food coloring to make the milk in the refrigerator green
Use green food coloring to make the water in the toilet bowl green
When I was a child, we never did the leprechaun tradition.
I didn't know anything about it.
Then, I married into my husband's family and it became something we had to do.
My kids love it so it's fine, but I was clueless.
Thankfully, my mother-in-law took over.
Each year, she comes through with a bunch of props that she finds (usually at the Dollar Tree).
It could be little leprechaun pants or underwear, for example.
You could also include a leprechaun hat or pot of gold filled with gold coins.
**This printable is for personal use only!
I would love to hear about your child's reaction to this printable leprechaun letter!
I hope you have a fun St. Patrick's Day!
Related Posts