So you've decided to get a Yoto Player?
Congratulations!
I'm sure you and your child will love it.
But now you need to know which is best, the Yoto or the Yoto Mini.
Just keep in mind, BOTH players will allow your child to listen to the best audiobooks, audio streaming, children's podcasts and the Yoto daily podcast…
All without adding to your child's screen time.
It's great for kids of all ages, but read on to see just which device is best for the age of your child.
There are actually quite a few differences that we will talk about below so that you can make the best decision for your family.
This post contains affiliate links.
Yoto Vs Yoto Mini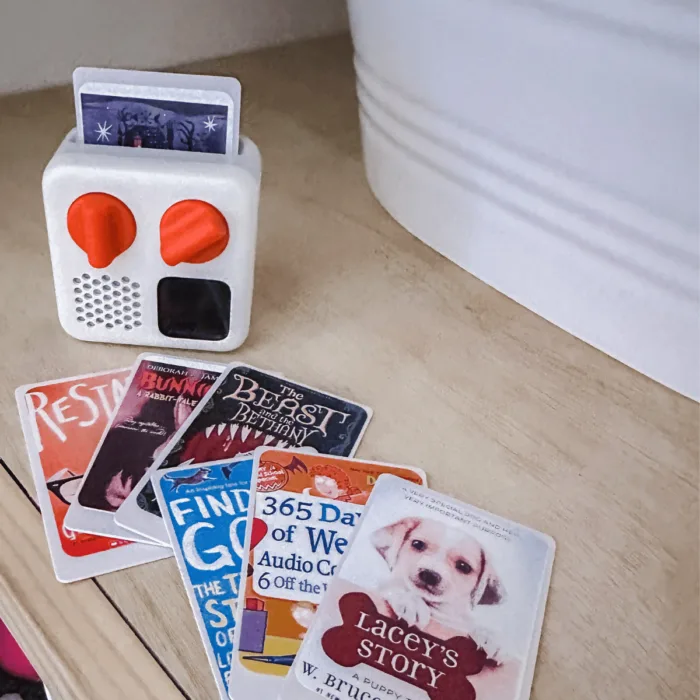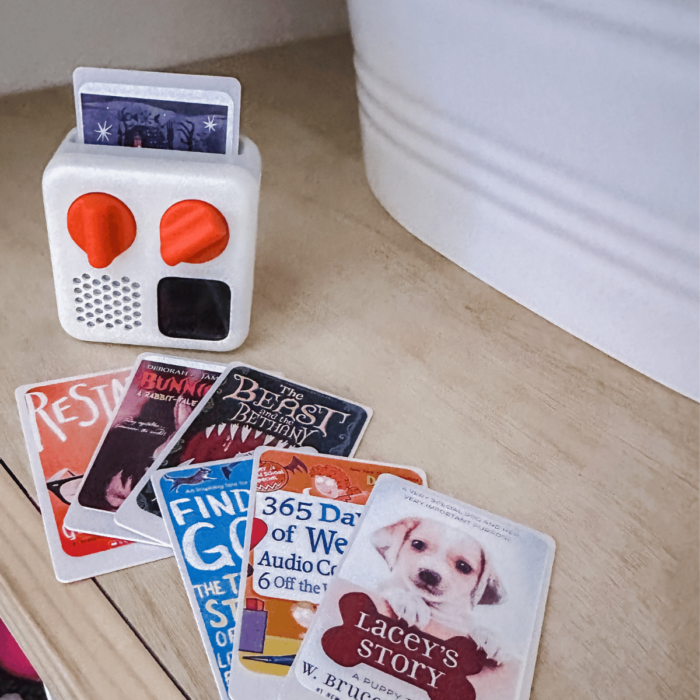 Both Yoto devices have quite a few features that are the same.
Both players do not contain a microphone, camera or ads.
They are such a great screen-free alternative (but you probably already know that).
Both players are compatible with 3.5mm headphones.
The Yoto and the Mini also have the same GB of audio storage, at 16GB of storage.
Now, let's get on to the differences, which are going to be the deciding factors in which player you choose.
Charging The Device
The Standard Yoto Player comes with a magnetic charge dock.
This is super easy for young children to handle as there is nothing for them to plug in.
Believe me, when my children were young, many USB chargers were ruined because little kids just simply cannot manipulate that little charger cord.
The Yoto Mini comes with a universal USB charger.
This type of charger is easier for older children to utilize.
The Mini can be plugged in to any charger that you have around the house, and if the original charger is lost or misplaced, it's not a big deal.
Battery Life
The Yoto Player has 10 hours of battery life.
The Yoto Mini has 20 hours of battery life.
While this might seem like a big advantage for the Mini, read on to see why it's really not a big deal.
Ok-To-Wake Nightlight And Clock
The Yoto Player includes two unique features that the Yoto Mini does not have.
A clock so that your child can start to learn the concept of time can be super helpful.
The Ok-To-Wake nightlight is also a really useful tool.
The Yoto Player will let your child know (using light) when it's an appropriate time to wake up in the morning.
It's sleep training made simple!
When my first child was much younger, we had an okay-to-wake clock from a different manufacturer.
It was a game changer in resetting her internal clock and helping her get more sleep overnight.
The Yoto Player also includes a nightlight.
My favorite night light feature is that the brightness on the nightlight can be easily adjusted with a turn of a button.
Being able to adjust the nightlight's brightness is a huge advantage (and something that you don't usually see in typical nightlights).
Pixel Display
The Yoto Player has a large pixel display that will bring the audio books that your child is listening to to life.
For example, if your child is listening to an audiobook, a different static pixel icon will appear for each chapter.
The Yoto Mini also has a pixel display, but it is much smaller.
Bluetooth Capabilities
Both the Yoto Player and the Yoto Mini can be used as a Bluetooth speaker.
While connected via Bluetooth, your child could listen to a music streaming service, for example.
Currently in BETA, the Yoto Mini can be connected to Bluetooth headphones for hands-free listening.
Sound Quality
While I haven't personally compared the sound quality of both devices, I have read from multiple sources that the Yoto Mini has sound quality that is just as good (if not BETTER) to that of the Yoto Original Player.
I can say from experience that the sound is super crisp on the Mini and we have never even had it at maximum volume.
Despite that, my daughter has had the volume up quite high.
The other day, she was listening in the kitchen when I started browning some ground beef.
The sound was still great.
Overall Appearance
I suppose this is simply an opinion, but I believe that the Original Yoto Player appearance is more appealing to smaller kids.
Older kids would much more likely be drawn to the cute overall look of the Yoto Mini.
My husband even commented on how "cute" the Yoto Mini is when we first unboxed it.
Size And Portability
The biggest difference between the two players is likely the size.
The Yoto Player is quite large at 11x11x10.
Because of this, you will likely want to keep it docked on its charger at all times.
For younger children, this is a great thing.
With your Yoto Player confined to one place, your child is much less likely to lose it.
Your child will also avoid issues with forgetting to charge it.
Also, because of its large size, it is much easier to insert content cards into the card slot because it's a much more stable object.
It will also be easier for little hands to manipulate the large dials.
The Yoto Mini's size, on the other hand, is much smaller (obviously) at 7x7x4.
Because of the Yoto Mini's small size, it has great portability
It can easily be taken on family outings or popped into a travel case for car rides and road trip activities.
Within my house, Yoto Mini spends a lot of time in my daughter's room or the bathroom.
Her favorite place to listen to the Yoto is in the bathroom while she's taking a bath, but then she can easily transport it into her room to continue listening as she gets ready for bed.
Cost
If cost is a big deciding factor for you, then you will probably go with the Yoto Player.
The Yoto Player costs $99.99.
The Yoto Mini Player costs $69.99.
Final Thoughts
If you have read all of the above comparisons, you probably see some reoccurring themes.
The player that you end up choosing will depend upon two (maybe three) big factors.
Do you have a younger child who might throw things, lose things or struggle to control a device?
Buy the Yoto Player!
Do you have an older child who is fairly responsible and likes the portability factor?
Buy the Yoto Mini!
I know a lot of moms that actually own both, because they wanted the portability for travel but also wanted a stationary bedroom option.
There's definitely no one right answer, it just depends on what you want most from the Yoto!
Has the above comparison helped you to make a decision?
If so, I would love to hear about what you ultimately chose in the comments below!
You'll see that owning a Yoto Player is a great way to provide hours of entertainment for your child!
Related Posts: