I recently started listening to audiobooks (because although I LOVE reading, I simply don't have time for it with a job, a blog and two young children). I didn't think I would like it, but I. am. hooked!
Which made me wonder if my kids would like them too. I set out to find the best audiobooks, specifically the best audiobooks for toddlers. I knew my 6 year old would be won over easily (and she was), but that my 3 year old would be much more of a challenge.
With summer coming up and endless road trips, I wanted to make sure that I started to foster a love for audiobooks now. I mean, I could just put a movie on for hours on end in the car, but listening to an audiobook is just so much better.
Audiobooks are also one of my favorite activities for 2 year olds who have dropped a nap.
In my house, my toddler listens to audiobooks as a fun road trip activity and as part of our Summer Reading Challenge. Having her listening to books allows her to be a part of my older daughter's reading challenge. It's just a great way to encourage them to continue reading throughout the summer.
You can also find my favorite stories for 2 year olds here!
Why Are Audiobooks Better Than Screen Time?
Your child has the opportunity to imagine and picture the story in their mind.

Audiobooks expand your toddler's vocabulary.

Audiobooks develop your toddler's listening skills.

Your toddler will learn about enunciation, intonation and emphasis in speaking.
This post contains affiliate links.
Here are my tips for easing your toddler into loving audiobooks.
Start small- The first time you play an audiobook for your toddler should NOT be on a 10 hour road trip. Have it be while your child is playing at home. Or on a quick 15 minute trip to dance class.

Begin with a Read-Along StoryBook with CD– This is the PERFECT introduction because your child will be able to look at a book and follow along with the CD. I love these books because the narration is usually done in the voices of the actual characters, and they also contain lots of fun sound effects too.

Begin with something familiar- If you listen to something that you child has already heard you read, or a book from a movie that your toddler has already seen, you are much more likely to be successful.
The absolute key is to make your toddler's first audiobook experience as successful as possible.
With my toddler, we started with some of her favorite books, along with Read-Along Storybooks on CD.
Once she looked forward to listening to audiobooks, we then introduced unknown titles to her. It went well.
If you're new to audiobooks, there is no better way to try them out than with Audible. You can sign up for a 30-day free trial which will get you two free audiobooks to try out!
The following are the absolute BEST audiobooks for toddlers.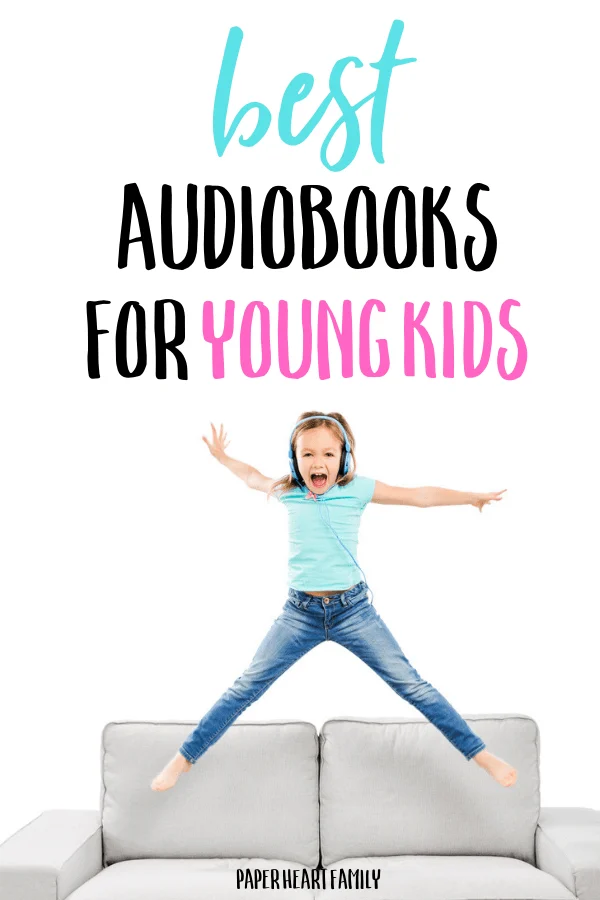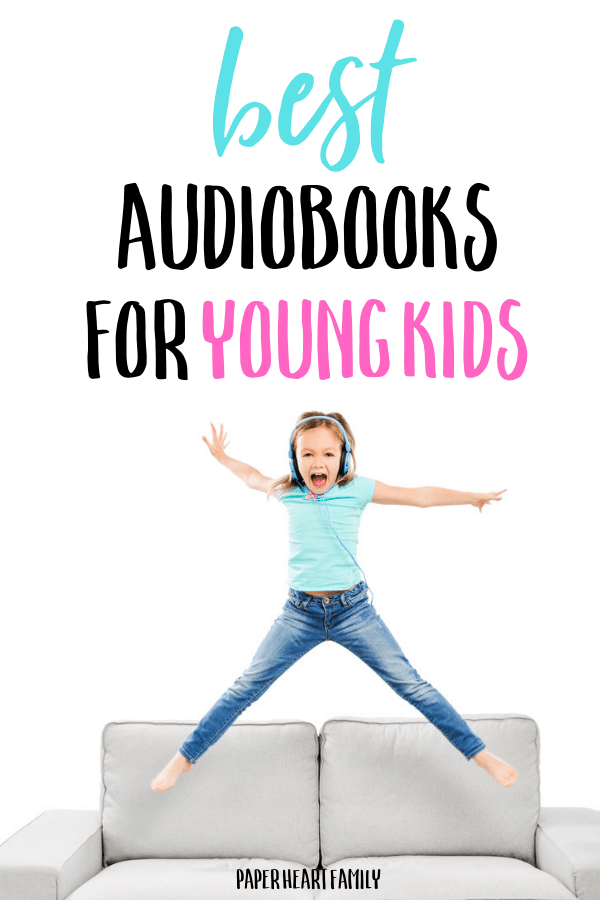 Short Audiobooks For Toddlers
The Book With No Pictures
The Book With No Pictures was already a favorite with both of my kids. This version is read by B.J. Novak himself and is super silly. A quick read of the reviews will show you that this book will be an INSTANT hit with your toddler.
Listening length- 9 minutes
The Cat And The Hat And Other Dr Seuss Favorites
There really are few books that are so fun to read aloud than Dr Seuss. This collection contains 11 popular Dr Seuss stories and the audio and narration is fun and engaging.
Listening length- 2 hours
The Gruffalo
The Gruffalo is a book that was written to be read aloud. The narration is AMAZING. Absolutely outstanding. I could never read this to my kids with as much excitement. The first time my toddler listened, she asked to listen to it four more times.
Listening length- 16 minutes
Frozen Storybook Collection
The Frozen Storybook Collection is perfect for your little Anna and Elsa fanatic. I love this because it is a total of almost 3 hours of audio (for a GREAT price) but it's split up into 27 different stories. This is a great transition from books that your child is familiar with to unknown books.
The Collected Stories Of Winnie The Pooh
It doesn't get much sweeter than Winnie The Pooh. This dramatized audio version is a joy to listen to, for toddlers, kids and mom and dad, too!
*Note- Narrators are British.
Listening length- 4 hours, 27 minutes
Frog And Toad
Although the Frog And Toad collection is quite large, each individual story lasts about 5-10 minutes, which is perfect for toddlers with short attention spans. This collection is made even better because it's read by the author. These simple, wholesome stories are perfect for toddlers.
Listening length- 1 hour, 29 minutes
Fancy Nancy
If your little one is a fan of Fancy Nancy, the Fancy Nancy Audio Collection will definitely be a hit. We love that Fancy Nancy uses some big, fancy words which will definitely expand your toddler's vocabulary.
Listening length- 3 hours, 56 minutes
Chapter Audiobooks For Toddlers
Don't be scared of beginner chapter books for toddlers. My daughter started having us read chapter books to her when she was three. Now that she's 4, she has pretty much given up picture books.
The Princess In Black
The Princess In Black is an illustrated chapter book series perfect if your toddler is ready for audiobooks with a little more length. I found the narration of this series perfect. The narrator has a soothing voice, but also has different, fun voices for each character in the book.
Listening length- 55 minutes
Mrs. Piggle Wiggle
Mrs. Piggle Wiggle is a great way to share your childhood with your children. While these books are classic, they are still completely relatable. This series is great for young children because although it is a chapter book, each chapter can stand on its own. Another plus is that the narration is fun, slow and easy to understand.
Listening length- 2 hours, 41 minutes
Magic Treehouse
Since the Magic Treehouse series is likely one of the first series that your child will read independently, it shouldn't be surprising that I'm recommending it as a first audiobook option. What's great about this series is that it will appeal to everyone in the family (even mom and dad).
Listening length- 6 hours, 1 minute
What are the best audiobooks for toddlers that you have found?
Related Posts: