Do you dream about perfectly coordinated, ridiculously amazing sibling Halloween costume ideas?
If your kids will let you choose their costumes, then I'd say you are super lucky and that you are in the right place because I have THE MOST AMAZING sibling costume ideas on the planet right here for you. I scoured Instagram, and the mamas over there did NOT disappoint.
You are guaranteed to find some amazing inspiration in this post, dear mama.
Are you ready?
Here we go!
Psst- If you're doing a lot of traveling in order to trick or treat, snag my Halloween Mad Libs… they'll keep your kids occupied!
This post contains affiliate links.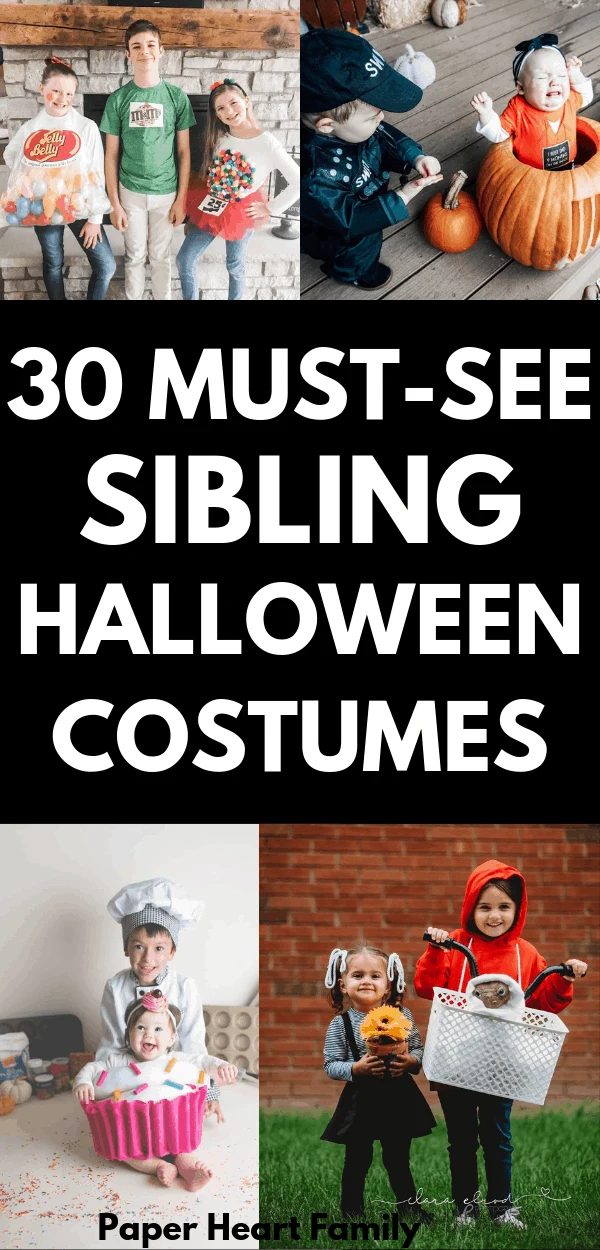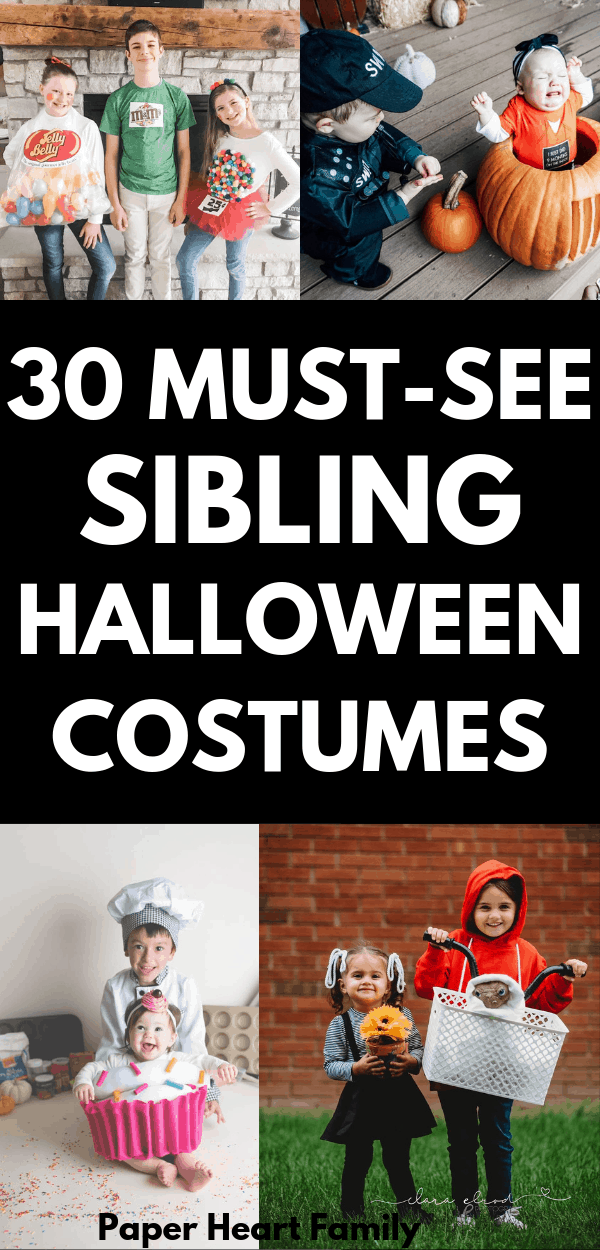 Sibling Halloween Costume Ideas
Times Square On New Years Eve
Let's kick off the list with this super simple but oh so fun idea. I love that it doesn't require a lot of props, and the creativity of this idea is HUGE.
A Magician And His Bunny
Eeee! Can it get any cuter? I am in love with this idea, it's so stinkin' adorable and perfect for boy girl siblings.
Curious George And The Man With The Yellow Hat
Yes, you could always dress up one of your kids as a monkey, but this pairing is to die for!
The Wizard Of Oz
Okay, I know, I know. I mentioned before that I've seen so many takes on the Wizard of Oz. But I couldn't resist including this one. And these are HOMEMADE! What? Amazing, right?
Alice In Wonderland
If the homemade costumes above didn't impress you (even though I can't imagine that), how about these? Incredible!
SWAT And An Inmate
Look at this photo!! Can it get any more perfect? It's simple, it's doable, it's amazing.
A Bull Rider And A Rodeo Clown
These sibling Halloween costumes are F-U-N.
Mario And Luigi
A couple gloves, pairs of overalls, and red and green hats and shirts are all you need for this one!
Little Red Riding Hood And The Big Bad Wolf
I think this one is pretty much perfection!
Peter Pan And Captain Hook
And instead of Tinkerbell and Peter Pan, why not break some gender stereotypes and have your little girl go as Captain Hook? LOVE.
Twinkies
Have you ever seen such an original, unexpected and ADORABLE costume? Perfect for a twin sibling Halloween costume!
BoPeep And Woody
Toy Story 4 is huge at the moment, and yeah, you could do Forky, but I love this little duo even more.
An Angel And A Devil
Some more homemade costumes coming at you! Look at those wings!
If you're loving the DIY costumes, check out these DIY Toddler Halloween Costumes.
Candy
These costumes are so SWEET. Pun definitely intended.
The Tortoise And The Hare
Okay, so I seriously love every single idea in this post, but this one?! It most definitely might possibly be my favorite.
Little Red Riding Hood
Another inspiration for this popular fairy tale, because you know, I couldn't pick just one.
Jurassic Park
Oh. My. Word. Stinkin' precious, right?
And Another
You just can't have enough Wizard of Oz ideas when they are THIS CUTE. It's perfection!
Rock, Paper, Scissors
Are these moms for real? I would never in a gazillion years think to dress my kids as rock, paper and scissors, but that's what makes Laurin Patton amazing and me? Not so much.
Want more?
I wanna hear in the comments, which of these amazing sibling Halloween costume ideas is your favorite?