Feeling poetic, sweet or silly and want to announce your pregnancy with the perfect pregnancy announcement poem?
These pregnancy announcement poems are the best of the best. I can't imagine that you won't find some inspiration here for your pregnancy announcement! Whether you are making a pregnancy announcement post, looking for a poem to announce your 4th or 5th baby, twins, baby boy or baby girl, a poem to give to a family member, a funny poem, whatever!
One of these poems is sure to fit the bill!
Also, this is the perfect time to document pregnancy with our free printable pregnancy journal!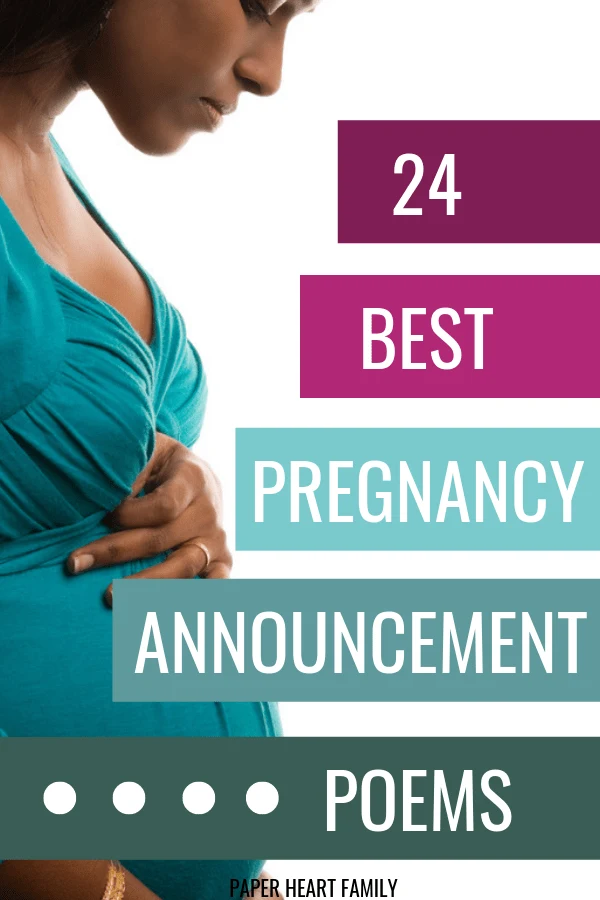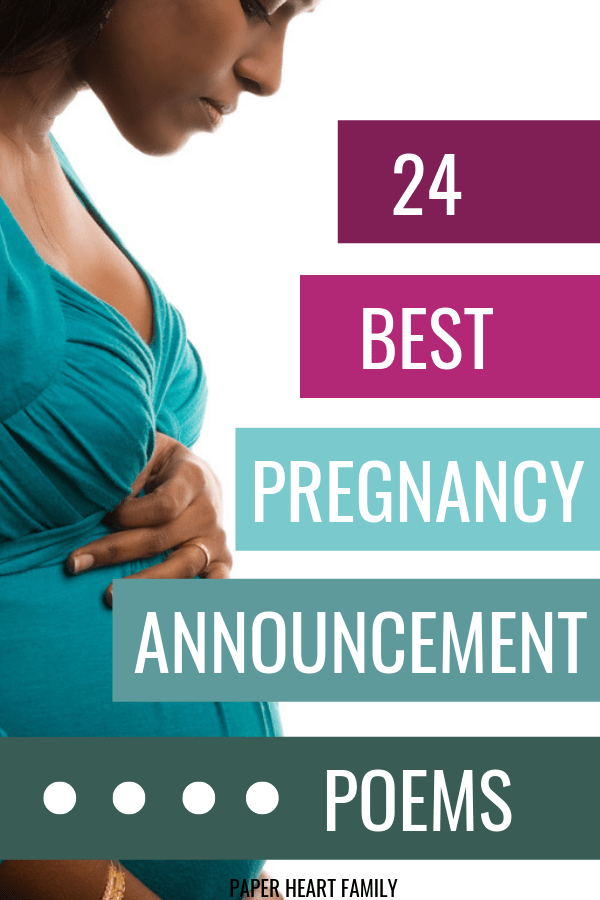 Pregnancy Announcement Poems
I do not have a face to see
or put inside a frame
I do not have soft cheeks to kiss
I don't yet have a name.
You can't yet hold my tiny hands
Nor whisper in my ear.
It's still too soon to sing a song,
Or cuddle me so near.
But all will change in _____________
That's when they say I'm due.
I'm the newest member of the family
I can't wait until I meet you.
All I ask between now and then
Is your patience while I grow.
I promise I'll be worth the wait.
Because of all the love we'll know.
So what I have to give you now,
Is a wish to you from me.
I cannot wait to be a part
Of this wonderful family.
*
There once was a girl,
And that girl met a boy.
They found living as two
Was a life full of joy.
These two happy lovebirds,
This couple, this pair,
Were snug in their nest,
But they thought it quite bare.
So they cuddled up closer,
Made room in their tree,
And their joy overflowed,
When two became three.
*
We prayed for you,
With all our faith,
Then kept you a secret,
Until you were safe.
At twelve weeks,
I'm now ready to say,
We're expecting a baby,
Six months away.
*
We waited for a while,
To share our lovely news.
It looks like we'll be shopping
For some tiny, little shoes.
*
Roses are red,
Violets are blue,
The secret is out,
Another baby is due!
*
Roses are Red
Violets are blue
The (last name)'s are knocked up…
and guess what–
THERE'S TWO!!!!!!!
*
First comes love.
Then comes marriage.
In February we will be pushing
a baby carriage.
(You could use this one to announce to your husband, or one of these other pregnancy announcement to husband quotes.)
*
First there was him,
Then there was me
Next grew our love
Now there is baby…
Pregnancy Announcement Poems For Fourth Baby
We have a little secret
So please don't say a word
Cuz some thought we were crazy
When we had our third
We are so excited
Can't wait to tell everyone
That soon they'll get to welcome
our fourth little one
I know you think it's crazy
That we would have another
But right now we just wonder
Is it a sister or a brother?
*
I once was just one,
and then I found you.
Then I became we
and we became two.
Nine months of waiting
our we became three.
Such a great family
were you, him, and me.
Then he got taller,
we wanted one more. . .
Guess What!
Our We is soon to be FOUR!
Pregnancy Announcement Poems For Fifth Baby
Then she got taller,
we wanted one more.
Another nine months,
our three became four.
The perfect little pair,
we watched them thrive.
Guess What!
Our We is soon to be FIVE!
*
Nine months of waiting
our we became three.
Such a great family
were you, him, and me.
Then he got taller,
we wanted one more.
Another nine months,
our three became four.
We wanted a little more honey
to sweeten our hive
Starting next year
we'll be a family of 5!
Christmas Pregnancy Announcement Poem
'Twas the night before Christmas
and all through the house
not a creature was stirring
not even a mouse.
The stockings were hung
by the chimney with care.
Gifts were placed neatly,
but one wasn't there.
This gift exists,
but it's so hard to hold
Although for its size,
it's more precious than gold.
In stores this gift
cannot be bought,
But to this family
this gift is worth the lot!
Inside one body
beats two hearts.
It'll be a while
before they will part.
But we are anxious to meet
The little one soon to be,
With fat little cheeks
a spitting image of me.
*
Dashing through the snow
A Granddaughter's on her way
Making spirits bright
She's due on Christmas day
Bows and ribbons abound
With tutus all around
What fun it is to dance & twirl
With a bouncing baby girl
*
Our family wishes you a Merry Christmas
With lots of love and gifts with curls
It's such a special time of year
And by the way – It's a GIRL!
*
Snow flakes and hot chocolate
And children with toys
I can't imagine a more special time
To announce our bundle of joy
*
Jingle Bells, Jingle Bells
Jingle all the way
Oh what fun it is to share
A baby girl's/boy's on the way!
Baby Boy Pregnancy Announcement Poem
Tiny fingers, tiny toes,
Little itty bitty clothes,
Teddy bears and smiles of joy,
Oh my gosh…It's a little boy!
*
Roses are red,
Violets are blue,
Someone is having a boy,
Can you guess who?
*
Baseball, soccer, football anyone?
We better get ready because we're expecting a son!
Pregnancy Announcement Poems For Announcing To Family
What giggles and coos,
Dresses in pink or in blue,
Who on (date)
Will need a _______________ like you?
*
Roses are red
Hold on to your panties
Cause in (month)
You're going to be aunties!
*
One…two…Happy Mother's Day to you
Three…four…but we've got something more
Five…six…in our bag of tricks
Seven…eight…we know you can't wait…
(Inside of card)
Nine..ten…to be a GRANDMA again!
Twin Pregnancy Announcement Poems
Although we don't know whether to buy pink or blue,
we do know we will need not just one but two!
Want more?
How are you planning to announce your pregnancy?