Looking for clever pregnancy announcement riddles for the big announcement?
I'm glad to help because honestly, announcing your pregnancy is a BIG, HUGE-MONGOUS (as my 3 year old says) deal! You want to come up with creative ways to say "I'm pregnant!".
You don't want to be like, "oh hey, yeah, we're pregnant". No big deal.
This is life-changing stuff.
Coming up with the perfect way to announce your pregnancy is important. It's also important to find the perfect pregnancy announcement for YOU. One that IS you.
Make sure that you check out my entire list of pregnancy announcement quotes and sayings , poems for announcing pregnancy and my ideas for announcing your pregnancy on Facebook.
In this post, you'll find pregnancy announcement riddles for any scenario.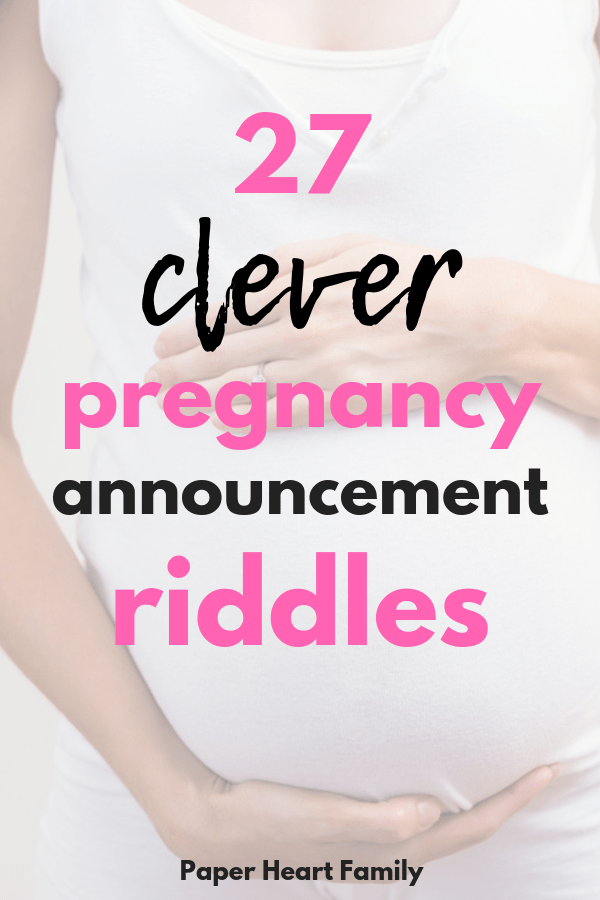 This post contains affiliate links.
Clever Riddles About Being Pregnant
You'll love these creative ways to say you're pregnant.
What is tiny, causing me lots of grief, and will make its appearance in (birth month)?
I'm patiently waiting on the day my back hurts, my feet are swollen, and i walk like a duck.
I'm giving up things like lunch meat, caffeine, sushi and alcohol for 9 months.
I'm small but very important.  I'm free to make but expensive to maintain. I'm noticeable but you cannot see me. What am I?
What do a chef who's baking a dinner roll and I have in common?
What gets a shower but doesn't get wet?
I can bring a smile to your face, A tear to your eye, Or even a thought to your mind. But, I can't be seen. What am I?
What has ten fingers and ten little toes, two sleepy eyes and a cute button nose? What has two feet, and a belly to tickle, and cause a craving for ice cream and pickles? With just one more hint, We're sure you'll see, The answer to this riddle begins with a B.
My to-do list for the next six months:
Buy bigger clothes.

Decorate a room.

Find a crib and toys.

Get rounder.

Get a bigger car.

Brainstorm names.

Have a …………………
I'm as big as a lentil at 6 weeks grown, soon my presence will be known. What am I?
Don't eat watermelon seeds, or you'll end up like me!
Difficult Pregnancy Riddles
I'm small but very important. I'm free to make but expensive to maintain.  I'm noticeable but you cannot see me. What am I?
Create a picture riddle (with baby peas, baby carrots, baby ruth chocolate bars, etc)
I can be created by humans, But they cannot control me. I suck on wood, paper and flesh alike. I can be more of a hindrance than a help at times. To my creators, I seem to be everywhere at once. What am I?
Facebook Status: OV bun EN
Cost of camera……$xx, Cost of e-mail……free, Getting our son to smile for a family picture….impossible. Counting how many people are in this picture…priceless!
What I won't be doing
Riding a rollercoaster

Jumping in a hot tub
What hubby will be doing a lot of
Going on ice cream runs

Scooping the cat litter box
Who hauls around cargo, doesn't sleep and grows hair in weird places?
Second Baby Pregnancy Announcement Riddles
We are pleased to announce that due to hard work and a good attitude we will be promoting our youngest son to big brother.
Oops, we did it again!
Photo announcement with your first child in a photo collage with other famous older siblings
Pregnancy Announcement Riddles For Grandparents
It grows, it grows, and grows for nine short months and it brings joy and happiness to all in the house.
Its cry is the sweetest sound, its smile the most precious thing, its cute face makes the heart melt. It's time to start making preparations, grandpa and grandma.
For first time grandparents: List all of your grandmother's/grandfather's life promotions and dates (promoted to older sibling, promoted to job position, promoted to parent, etc. Then say "Most exciting promotion yet, awarded on (due date).
Twin Pregnancy Announcement Riddles
What has two hearts, 4 eyes, will make you do a double take, and will be keeping me from getting any good sleep anytime soon?
One dream became two!
So good you can't have just one (with a photo of a baby onesie, shoes, etc)
What are your favorite pregnancy announcement riddles?
PS- If you haven't already, make sure that you sign up for Amazon's baby registry to get your free welcome box.