There's just something about a good quote, isn't there? And when it comes to baby quotes, even more so. I could spend hours scouring the Internet for the perfect quote that will express exactly what I want to say when I somehow can't find the right words to say it.
That's what I've done here. There are so many beautiful, heartwarming quotes about babies out there, but you have to really look to find them.
This post however? This post is the ONE resource that you need when it comes to finding the perfect baby quote for whatever the occasion. I mean, yes, you probably could spend hours going through all of the quotes that I have here for you, but at least you wouldn't be searching. They are all here.
The best baby quotes that I could find, all in one place.
I hope these quotes bring you joy, make you smile and bring you peace if you're struggling.
This post contains affiliate links.
Baby Quotes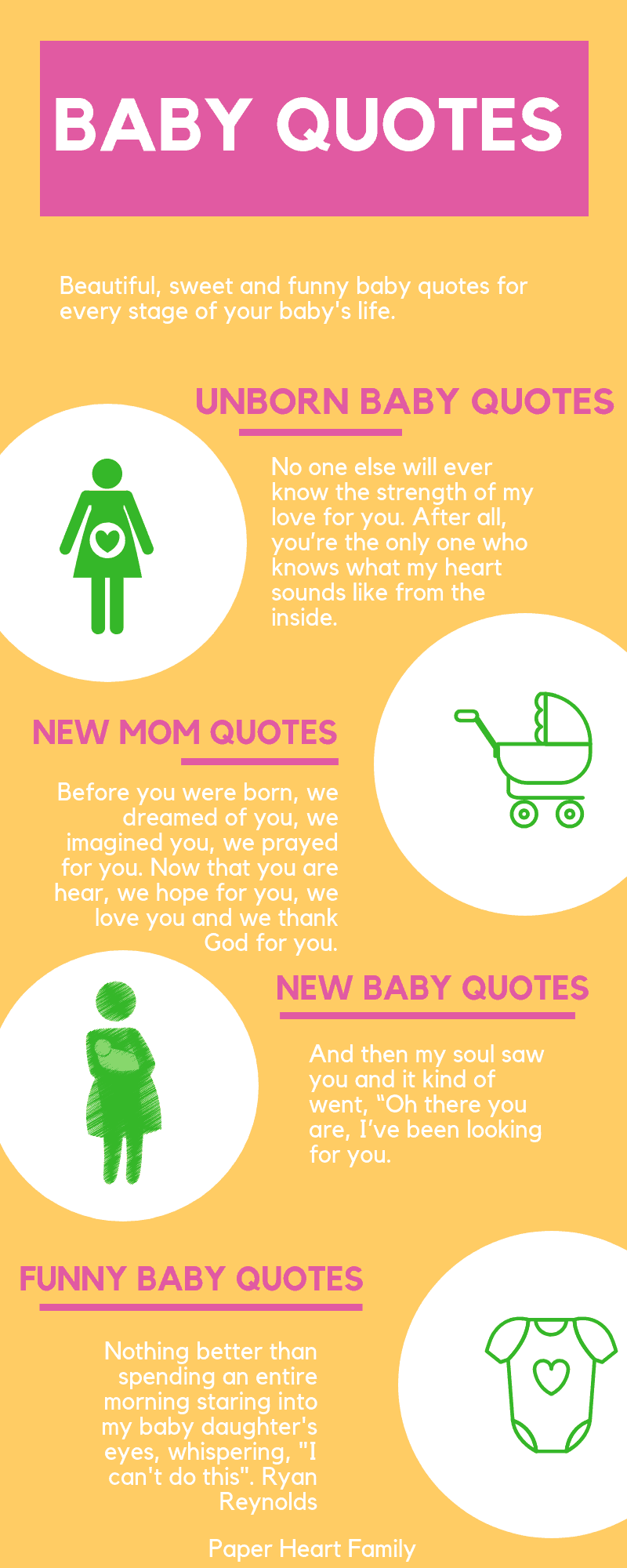 Unborn Baby Quotes
If you're looking for unborn baby quotes or pregnancy quotes because you're impatiently awaiting your baby's arrival, here are my favorites.
The unborn baby is created in the image of God for greater things, to love and be loved. Mother Theresa
No one else will ever know the strength of my love for you. After all, you're the only one who knows what my heart sounds like from the inside.
Baby Quotes For New Moms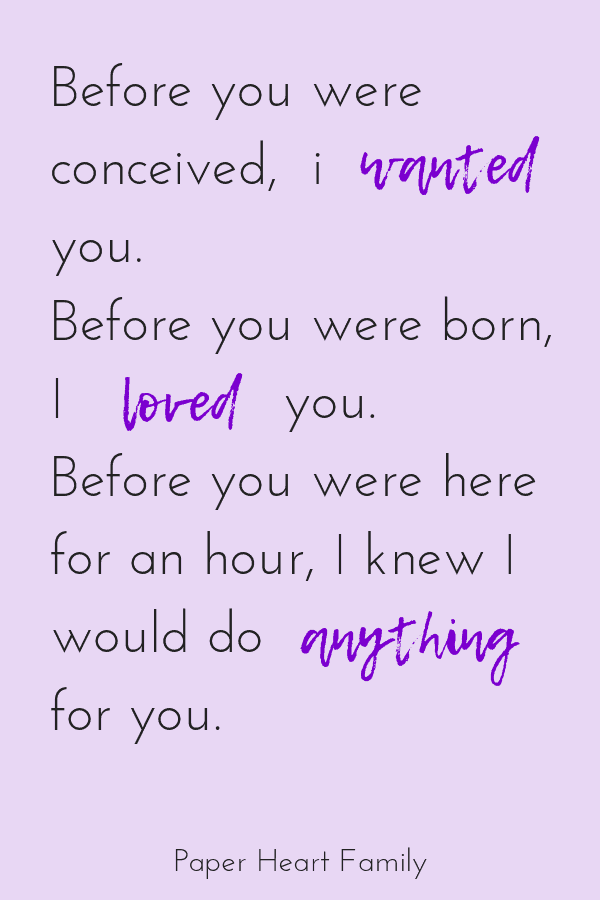 These new mom quotes perfectly express the incomparable emotions that we feel when we first meet our little babies.
Before you were born, we dreamed of you, we imagined you, we prayed for you. Now that you are hear, we hope for you, we love you and we thank God for you.
A new baby is like the beginning of all things: wonder, hope a dream of possibilities.
Read more: Quotes About Birth Of A Child
Quotes About Babies And Love
Quotes about babies and love that might just have you tearing up and reaching for the tissues.
A baby will make love stronger, days shorter, nights longer, bankroll smaller, home happier, clothes shabbier, the past forgotten and the future worth living for.
Before you were conceived i wanted you. Before you were born I I loved you. Before you were here for an hour I knew I would do anything for you.
Baby Girl Quotes
As mother to two baby girls, these baby girl quotes are near and dear to my heart, and I read them a lot when I've had a frustrating day. They always seem to help me to keep a positive perspective.
You are the sun to my shine, the sweet to my heart, cup to my cake, love to my life, sun to my rise, heart to my beat, sweetest little girl.
A daughter is a miracle that never ceases to be miraculous, full of beauty and forever beautiful, loving and caring and truly amazing.
Sugar and spice, and everything nice, that's what little girls are made of.
Rhinestones and pearls, and soft little curls, there's nothing sweeter than little girls.
Baby Boy Quotes
And because I couldn't forget about those adorable baby boys, these baby boy quotes make me a little sad that I'll never have a mama's boy.
There has never been, nor will there ever be, anything quite so special as the love between a mother and her son.
A baby boy is so unique, So tiny, sweet and ever meek. It's fun to imagine what he thinks, between those coos and little blinks. Though now he's just a babe, you'll find, that busy is his little mind. Learning, watching, listening, to every single little thing. As you look into his eyes, you see such wonder and surprise He's just so sweet, and when he smiles, your heart just soars for miles and miles.
Tiny fingers and tickly toes, cowboy boots and trucks to tow. A bundle of joy, created by love, a precious gift from heaven above.
Funny Baby Quotes
And of course, motherhood is hard, but sometimes those sweet baby quotes (that we LOVE) just don't cut it. Sometimes we just need some funny baby quotes that are raw and honest and just plain funny.
Nothing better than spending an entire morning staring into my baby daughter's eyes, whispering, "I can't do this". Ryan Reynolds
You never know when you're gonna get crapped on or when you're gonna get a big smile or when that smile immediately turns into hysterics. It might be like living with a drug addict. Blake Lively
Baby Nursery Wall Quotes
I had a bunch of baby nursery wall quotes in my babies nurseries, and these are the best options out there. Short, sweet, and totally precious.
Sometimes the smallest things take up the most room in your heart.
As soon as I saw you, I knew a grand adventure was about to happen.
Baby Loss Quotes
If you're looking for baby loss quotes, then I truly hope that these quotes bring a little comfort to your breaking heart, dear mama.
I fell in love with you when you were forming in my womb. Now I carry you in my heart instead of my arms.
An angel wrote in the book of life my baby's date of birth, then whispered as she closed the book, "too beautiful for Earth".
Read more here: Baby Loss Quotes
Baby Sleep Quotes
I would love to know why you're searching for baby sleep quotes. Is it because you just can't stop marveling at the perfect miraculousness that is your baby when she's sleeping? Or maybe you just can't believe that your baby hates sleep so much, and your looking for some funny baby sleep quotes.
I think I would fall into both categories.
Here sleeps a girl with a head full of magical dreams, a heart full of wonder and hands that will shape the world.
Let her sleep on your shoulder, rejoice in her happy smile, she is only a little girl, for such a little while.
Everyone should have kids. They are the greatest joy in the world. But they are also terrorists. You'll realize this as soon as they are born and they start using sleep deprivation to break you.- Ray Romano
Read more here: Baby Sleep Quotes
New Baby Quotes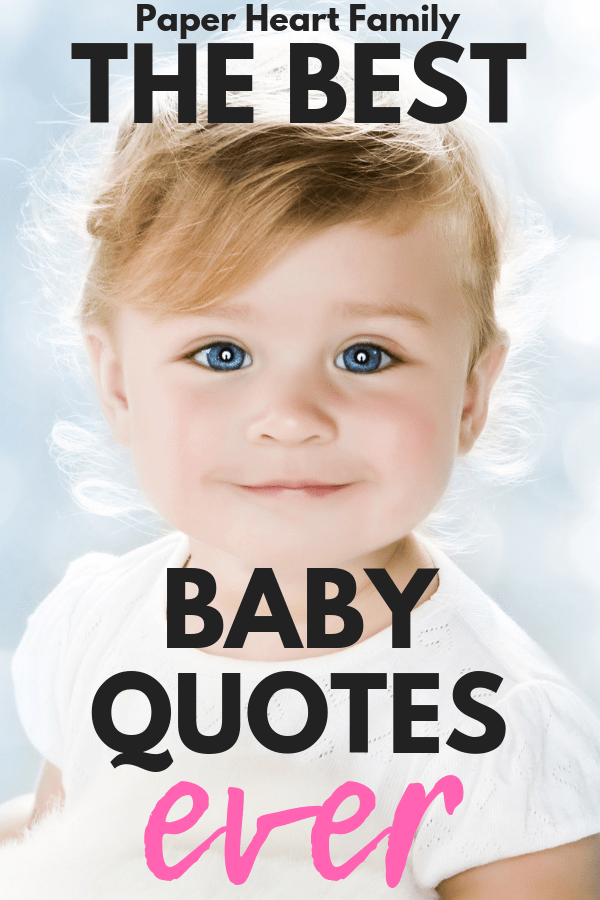 If you're looking for when baby is born quotes, then congratulations! Someday you'll wish that you could go back to that moment, pain and all.
On the night you were born, the moon smiled with such wonder that the stars peeked in to see you and the night wind whispered "life will never be the same".
And then my soul saw you and it kind of went, "Oh there you are, I've been looking for you".
Baby Quotes About Walking
What bigger moment in your baby's life then those timid first steps. These baby quotes about walking express just how special this milestone is.
A journey of a thousand miles begins with a single step.
Each step you take reveals a new horizon. You have taken the first step today. Now I challenge you to take another.
Baby steps… to big dreams.
The first steps a baby takes are into your heart.
Fear not, little one. The first leap is scary, but it's how you learn to fly.
Little by little, one walks far.
You have have brains in your head, You have feet in your shoes, You can steer yourself in any direction you choose. Dr. Seuss
Walk a little slower, Daddy, said a little child so small. I'm following in your footsteps and I don't want to fall. Sometimes your steps are very fast, sometimes they are hard to see; So, walk a little slower, Daddy, for you are leading me. Someday when I'm all grown up, you are what I want to be; Then I will have a little child, who will want to follow me. And I would want to lead just right, and know that I was true; So walk a little slower, Daddy, for I must follow you."
Baby Movie Quotes
Step one: read these cute and funny baby movie quotes. Step two: go watch these movies.
Look at her, she's wearing 6-inch heels. She's like a magical pregnancy unicorn. What To Expect When You're Expecting
Sometimes the littlest things take up the most room in your heart. Christopher Robin
Nobody puts Baby in a corner. Dirty Dancing
So this is love. So this is what makes life divine. Cinderella
Sadie: Where do babies come from? Debbie: Where do you think they come from? Sadie: Well. I think a stork, he umm, he drops it down and then, and then, a hole goes in your body and there's blood everywhere, coming out of your head and then you push your belly button and then your butt falls off and then you hold your butt and you have to dig and you find the little baby. Debbie: That's exactly right." Knocked Up
Yeah, baby, yeah! Austin Powers
Hasta la vista, baby. The Terminator
Baby Baptism Quotes
The perfect baptism quotes for baby that you can incorporate into the ceremony and festivities.
Precious one, so small, so sweet, dancing in on angel feet. Straight from heaven's brightest star, what a miracle you are.
For I know the plans I have for you, says the Lord. They are plans for good, to give you a future and a hope. Jeremiah 29:11
Read more here: Baby Baptism Quotes
Baby Footprint Quotes
Ah, baby feet. Is there anything cuter? All you have to do to wake up your guests at your baby shower is hold up some baby socks. Cue the oohs and aahs. If your creating a keepsake with your baby's footprint, these baby footprint quotes are the perfect accompaniment.
For a long time there were only your footprints and laughter in our dreams and even from such small things, we knew we could not wait to love you forever.
Baby feet tiptoe into your heart and stay there forever.
Read more here: Baby Footprint Quotes And Art
Twin Baby Quotes
If you have been blessed with twin babies, then these twin baby quotes are perfect for you.
When you gaze upon the lovely sight. Of twins, arm in arm, asleep at night. Think not that the house has been doubly messed. But that you, as parents, have been doubly blessed.
Two cute little faces with matching grins, nothing could be any sweeter than twins.
What are your favorite baby quotes?