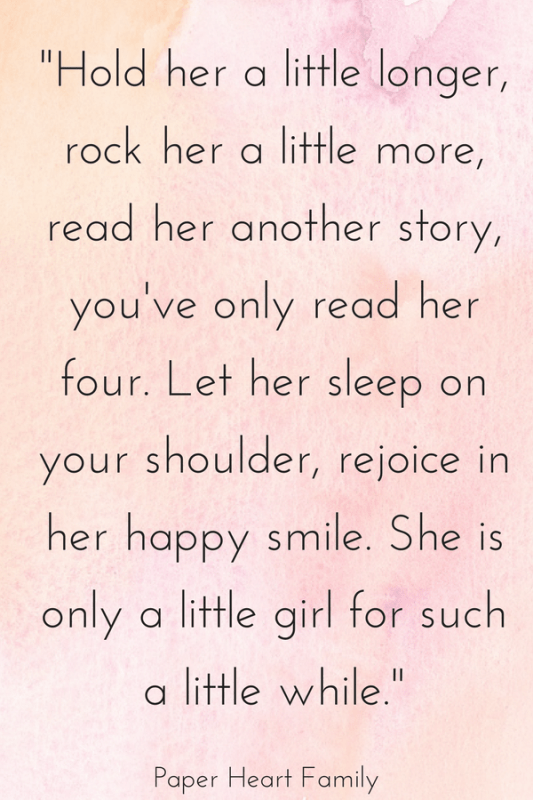 Inside: Having a baby can sometimes leave us speechless. These are the best baby girl quotes that perfectly express the immense love that we feel for our little girls. These baby girl quotes are inspiring, sweet, and can be used for your baby daughter's nursery, scrapbook, baby book or whatever you're creating for your baby.
This post contains affiliate links.
Having a baby is an experience that will forever change us.
Read: The Ultimate Collection Of The Best Baby Quotes
When I stop and look at my daughters, I am overwhelmed with emotion. They will forever be my baby girls, and I want them to know that with these "my baby girl" quotes.
These quotes about loving your baby girl say "I love you" better than I ever could.
Because sometimes it's hard to express in words our wishes for baby. How much we love them. What our hopes and dreams are for them. How we want them to be strong and fearless.
I have spent hours on several different occasions searching for the best quotes about baby girls.
Sometimes it was for their nursery, for one of my journal printables or a photo slideshow.
So finally, I decided to make a list that I could refer to of my favorite baby girl quotes. This list is an awesome list of quotes to a baby girl, newborn baby quotes and cute baby girl sayings.
So what are you looking for? Baby girl inspirational quotes, quotes about loving your baby girl or "it's a girl" quotes. You can find all of them here!
You can also check out my baby boy quote post, with many other gender neutral baby quotes.
These are the best baby girl quotes.
Always remember, you are braver than you believe, stronger than you think, and loved more than you know. – A A Milne
She has fire in her soul and grace in her heart. – Unknown
Today you are you, that is truer than true. There is no one alive who is you-er than you. – Dr. Seuss
In a field of roses, she is a wildflower. – Unknown
Don't let anyone ever dull your sparkle. – Unknown
She leaves a little sparkle wherever she goes. – Kate Spade
May you touch dragonflies and stars, dance with fairies and talk to the moon. – Anonymous
*
Happy girls are the prettiest. Audrey Hepburn
Let her sleep, for when she wakes she will move mountains. – Napoleon
If you can dream it, you can do it. Walt Disney
Be your own kind of beautiful. – Marilyn Monroe
Here sleeps a girl with a head full of magical dreams, a heart full of wonder and hands that will shape the world. – Anonymous
What if I fall? Oh, but my darling, what if you fly? – Erin Hanson
Though she be but little, she is fierce. – Shakespeare
Believe in yourself and you can do unbelievable things. — Unknown
*
Never dull your shine for someone else. – Tyra Banks
*
Beauty begins the moment you decide to be yourself. –Coco Chanel
*
Unique and different is the next generation of beautiful. – Taylor Swift
*
If you are always trying to be normal, you'll never know how amazing you can be. – Maya Angelou
*
Shoot for the moon. Even if you miss, you'll land among the stars. – Les Brown
Don't you worry your pretty little mind, people throw rocks at things that shine. – Taylor Swift
*
She believed she could so she did. – R. S. Grey
*
All of me loves all of you. – John Legend
Hold her a little longer, rock her a little more, read her another story, you've only read her four, let her sleep on your shoulder, rejoice in her happy smile, she is only a little girl for such a little while.
*
Just when you think you know love, something little comes along to remind you just how big it really is.
*
You are more than we ever expected and better than we ever imagined.
*
Such a big miracle in such a little girl.
I know a girl, she puts the color inside my world.
*
For all the things my hands have held, the best by far is you.
*
She's far more precious than jewels. Proverbs 31:10
*
Girl: a giggle wrapped in sunshine and glitter.
*
Her little hands stole my heart, her little feet ran away with it.
*
Beautiful girl, you can do amazing things.
A baby fills a place in your heart you never knew was empty.
*
I'll love you forever, I'll like you for always, as long as I'm living my baby you'll be. Robert N. Munsch
*
Being yourself is the prettiest thing you can be.
*
You are altogether beautiful my darling, beautiful in every way. Song of Songs 4:7
Aren't these such cute baby girl quotes?