The bond between a mother and son is like no other, and these sweet baby boy quotes express just how special that bond is.
Finding the perfect baby quotes to represent you and your son is important in capturing this time of your life.
Becoming a new mom to a beautiful baby boy is a life-altering experience, and these baby boy inspirational quotes will say "I love my baby boy" in the perfect way.
This list contains some of the sweetest baby quotes out there.
These quotes for baby boy would be the perfect nursery quotes, for a scrapbook or baby book or it's a boy quotes, perfect for a card to a new mom.
So what are you looking for?
Baby love quotes, newborn baby quotes or cute baby boy sayings.
You can find all of them here!
You can even use these quotes for your next baby boy status on social media!
You can also check out this post filled with cute baby girl quotes. (Some of them would work for your little boy, too.)
Or this one filled with baby quotes for all stages of your baby's life.
This post contains affiliate links.
Baby Boy Quotes From Mommy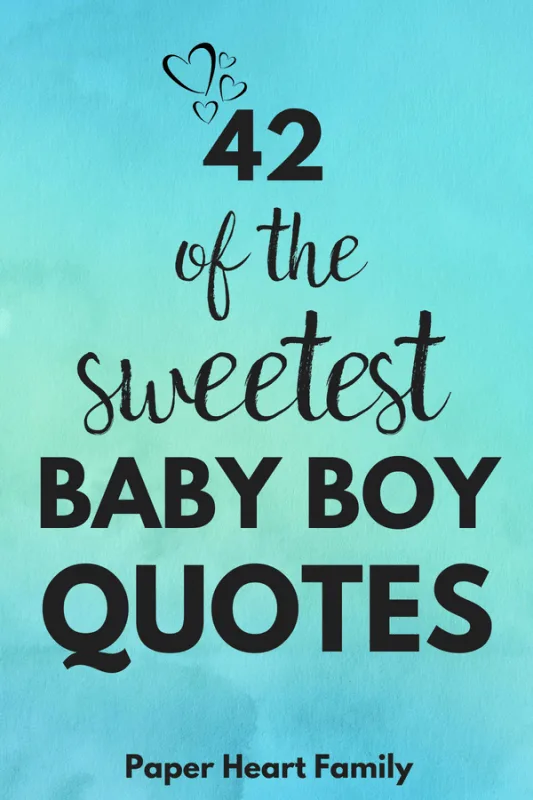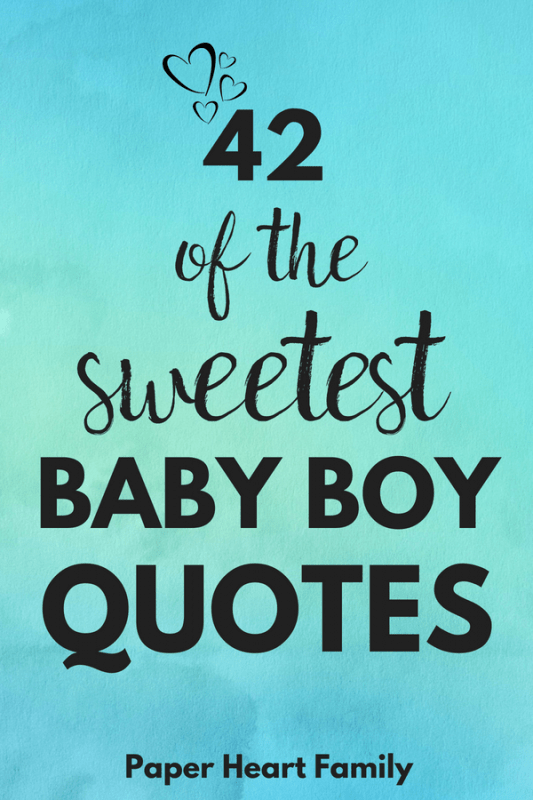 Something tells me I am going to love him forever.
*
His little hands stole my heart, and his little feet ran away with it.
*
Son, you'll outgrow my lap but never my heart.
*
The very first moment I beheld him, my heart was irrevocably gone.
*
You are loved for the boy you are, the man you will become and the son you will always be.
*
For this little boy we have prayed.
*
I Love My Baby Boy Quotes
No joy on Earth brings greater pleasure than a little boy to love and treasure.
*
A baby boy arrives, and just like that, everything changes.
The world gets bigger, hearts grow fuller, and life means more because he's in it.
*
A little miracle sent from above, a baby boy to cuddle and love.
*
And she loved a little boy very, very much, even more than she loved herself. –The Giving Tree
*
Sons may grow into men and grow out of their toys, but in the hearts of their mothers they are still their little boys.
*
You'll be his first kiss, his first love, his first friend, you are his momma, and he is your whole world.
He is your little boy.
*
Hold him a little longer, rock him a little more.
Read him another story, you've already read him four.
Let him sleep on your shoulder, rejoice in his happy smile, he is only a little boy for such a little while.
Such a big miracle in such a little boy.
*
Little boys should never be sent to bed.
They always wake up a day older. Peter Pan
So much joy in this little boy.
*
A boy is truth with dirt on its face
beauty with a cut on its finger
wisdom with bubble gum in its hair
and the hope of the future with a frog in its pocket.
*
Your son will hold your hand for a little while but your heart for a lifetime.
*
Little hands and little feet
little toothless grins so sweet
little eyes that shine so bright
little arms to hug you tight
everything's little except your joy
when you have a new baby boy.
*
New Baby Quotes
I swear I couldn't love you more than I do right now, and yet I know I will tomorrow.
*
As soon as I saw you, I knew a grand adventure was about to happen. –Winnie the Pooh
How wonderful life is, now you're in the world.
We made a wish and you came true.
*
You are my sun, my moon and all of my stars.
*
I don't know who you'll be, but I know you'll be my everything.
*
He has made everything beautiful in his time. Ecclesiastes 3:11
*
My wish for you:
To splash in muddy puddles,
to run through green fields,
to feel the sun on your skin,
to make special friends,
to find the end of the rainbow,
to sleep under the stars,
to spread our wings and fly like a bird.
*
Yes, I gave you life… but really, you gave me mine.
*
If ever there is a tomorrow when we're not together, there is something you must always remember.
You are braver than you believe, stronger than you seem and smarter than you think.
But the most important thing is even if we are apart, I'll always be with you. –Winnie the Pooh
Being a mother is not about what you gave up to have a child, but what you've gained from having one.
*
The most precious jewels you'll ever have around your neck are the arms of your children.
*
No one else will ever know the strength of my love for you.
After all, you're the only one who knows what my heart sounds like from the inside.
*
A baby makes love stronger, the days shorter, the nights longer, savings smaller, and a home happier.
*
Newborn Baby Boy Quotes And Sayings
I am your mother, you are my child.
I am your quiet place, you are my wild.
I am your calm face, you are my giggle.
I am your wait, you are my wiggle.
I am your dinner, you are my chocolate cake.
I am your bedtime, you are my wide awake.
I am your lullaby, you are my peek-a-boo.
I am your goodnight kiss, you are my I love you.
*
And then my soul saw you and it kind of went "Oh, there you are. I've been looking for you".
*
I loved you from the very start.
You stole my breath, embraced my heart.
Our life together has just begun.
You're part of me, my little one.
*
May you always know my little one you were wished for, longed for, prayed for and wanted.
I love you.
*
Precious one, so small, so sweet.
Dancing in on angel's feet.
Straight from heaven's brightest star.
What a miracle you truly are.
*
A wee bit of heaven drifted down from above – a handful of happiness, a heart full of love.
The mystery of life, so sacred and sweet.
The giver of joy so deep and complete.
Precious and priceless, so lovable, too.
The world's sweetest miracle, baby, is you.
*
From the moment they placed you into my arms, you snuggled right into my heart.
*
Mightier than the waves of the sea is this love for you.
*
I carried you every second of your life and I will love you every second of mine.
*
Let them be little cause they're only that way for a while.
Give them hope, give them praise, give them hope everyday.
Let them cry, let them giggle, let them sleep in the middle.
Oh just let them be little.
Funny Baby Boy Quotes
Having an infant son alerts me to the fact that every man, at one point, has peed on his own face. Olivia Wilde
*
Ah babies! They're more than just adorable little creatures on whom you can blame your farts. Tina Fey
*
When kids hit one year old, it's like hanging out with a miniature drunk.
You have to hold onto them.
They bump into things.
They laugh and cry.
They urinate.
They vomit.
Related: Funny Quotes For New Parents
What are your favorite little boy quotes?