There are so many reasons why you should want to find questions to ask your kids. These questions are the perfect way to open up communication between you and your daughter.
You might want to ask your daughter these questions to get a glimpse inside her mind, to look at your child's world through her eyes.
Maybe you want to make sure that you take time each day out of your busy schedule to give her some one-on-one attention.
Or maybe it's because you fear the teenage years. A completely legitimate reason to want to bond with your daughter NOW.
For me, it's all of these reasons. As much as I think I know my daughter, I am constantly surprised by her answers (and yes, we really do use this journal in my house. It's one of our favorite parts of the day.)
Also, as much as making time for my kids is a priority for me, sometimes life gets busy. When we complete our question of the day, it forces me to slow down and forget about everything else for a couple minutes.
There are a lot of mother daughter activities that I do daily with my daughters, and this is one of our favorites.
You can also incorporate some of these quotes for your daughter into this daily routine to make her feel special and loved.
And I am deathly afraid of the teenage years. I need my daughter to learn NOW that she can talk to me. That I WANT to hear her thoughts and dreams, her worries and her problems.
Even though these questions can be completed quickly each day, many of them can provide a chance to talk about issues your child is facing, or a chance to start a conversation about the importance of being kind or confident.
I love these questions because there are fun, laugh inducing questions mixed in with serious, more thought provoking questions. This means that you will able to discuss topics that are important without your child realizing that you are talking about serious stuff.
Because oftentimes when we talk about things like believing in ourselves or being compassionate, we come off as if we are lecturing our kids.
Be sure to check out my printable below as well, so that you can print these questions and record your daughter's answers.
Each week of questions revolves around a different theme.
Questions To Ask Your Daughter
Week 1: What she loves
I wish I could _______________________ everyday.

The best day of my life was…

I love mommy because…

I love daddy because…

I want to be like _______________________ when I grow up.

I love books about…

______________________ is beautiful.
Week 2: Confidence boosters
Who makes you feel the best about yourself? Why?

Name 5 things you're good at.

What is the greatest thing about being you?

What 3 words describe you?

What makes you different?

What do you love about yourself?

If you could change one thing about yourself, what?
If your daughter needs a little help with self-confidence and self-esteem, check out my collection of 49 questions to ask your daughter to boost her self-confidence.
Week 3: Kindness and compassion
What did you do today that was nice?

Who was kind to you today?

What do you do when you see someone who needs help?

How much do I love you?

What do you love about your sibling?

How does being nice make you feel?

What do you love most about your best friend?
Would you rather not be able to taste anything or feel anything?

Would you rather fly to the moon or be invisible?

Would you rather find a treasure map or magic beans?

Would you rather live in a shoe or a tree?

Would you rather have 100 brothers or 100 pets?

Would you rather build a tower or knock it down?

Would you rather slide down a rainbow or jump on a cloud?
I've created a printable keepsake with these questions, so that you can record your child's answers.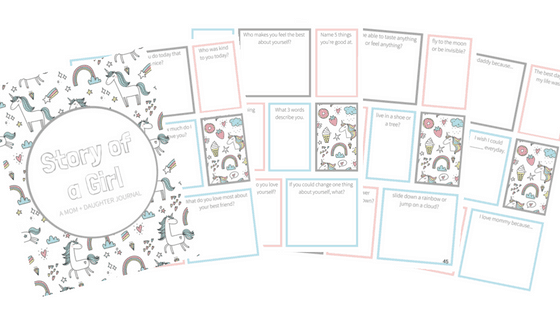 Sample page: