Giving birth and becoming a new mom is probably the most momentous occasion of your life, so it makes sense that you would want to celebrate and find the perfect baby quotes for new moms to put the emotions that you're feeling into words.
I remember the indescribable and completely instant love that I felt when I saw my first child for the first time. Love at first sight.
She was precious. A miracle. An angel. A gift from God.
I hope you find the perfect baby quotes for new moms here, that you can carry with you forever. May you never forget how you feel in this moment.
Baby Quotes For New Moms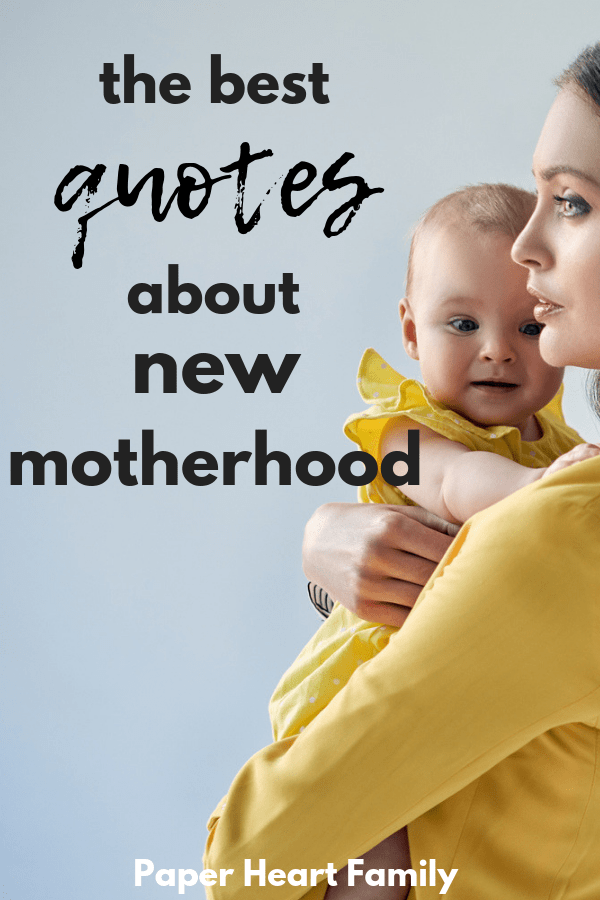 These baby quotes for new moms tell a little more about just how profound of an impact our little babies have on our lives.
Babies are more trouble than you thought. And more wonderful.
Even the smallest one can change the world.
I will protect you and carry you all the days of your life.
I held you so tightly in my arms, traced your fingers that were gently curled, through tears of joy, I whispered quietly, my beautiful child, welcome to the world.
Every child begins the world again. Henry David Thoreau
A baby fills a place in your heart you never knew was empty.
Just as there is no warning for childbirth, there is no preparation for the sight of a first child. There should be a song for women to sing at this moment, or a poem to recite. But perhaps there is none because there are no words strong enough to name that moment. Red Tent by Anita Diamant
The human heart was not designed to beat outside the human body, and yet each child represented just that– a parent's heart bared, beating forever outside its chest.
When your children arrive, the best you can hope for is that they break open everything about you. Your mind floods with oxygen, your heart becomes a room with wide open windows. You laugh hard everyday. Amy Poehler, Yes Please.
Babies are bits of star-dust blown from the hand of God. Lucky the woman who knows the pangs of birth for she has held a star.
Quotes For New Born Baby Girl
Just became the mother of a beautiful little princess? The following quotes for new born baby girls are some of my favorites, and I like adding them to my daughter's memory books.
I'm my mommy's world and my daddy's girl.
In my daughter's eyes, I am a hero. I am strong and wise and I know no fear. But the truth is plain to see, she was sent to rescue me. Martina McBride
A baby girl arrives, and just like that, everything changes. The world gets bigger, hearts grow fuller and life means more because she's in it.
Such a big miracle in such a little girl.
She's the exclamation mark in the happiest sentence I could ever write.
She is everything that is perfect, wrapped in a tiny bundle.
A baby girl would dance her way into your heart, whirling on the tips of angel wings, scattering gold dust and kisses in your path.
Baby girls are precious gifts like birds and brooks and streams…their hair is tied up with ribbons and bows…their hearts are tied up with dreams.
Click over to this post for more sweet baby girl quotes.
Quotes For New Born Baby Boy
Although I don't know from experience, they say there is nothing that can compare to the love between a mother and her little boy. These quotes for new born baby boys are all focused around that belief.
His little hands stole my heart. His little feet ran away with it.
Sometimes when I need a miracle, I look into my son's eyes, and realize I have already created one.
There has never been, nor there will ever be, anything quite special as the love between a mother and her baby son.
Your baby boy will hold your hand only for a little time, but he will hold your heart for a lifetime.
A baby boy is truth with dirt on its face,
Beauty with a cut on its finger,
Wisdom with bubble gum in its hair,
and the hope of the future with a frog in its pocket.
Click for more adorable baby boy quotes.
New Mom Quotes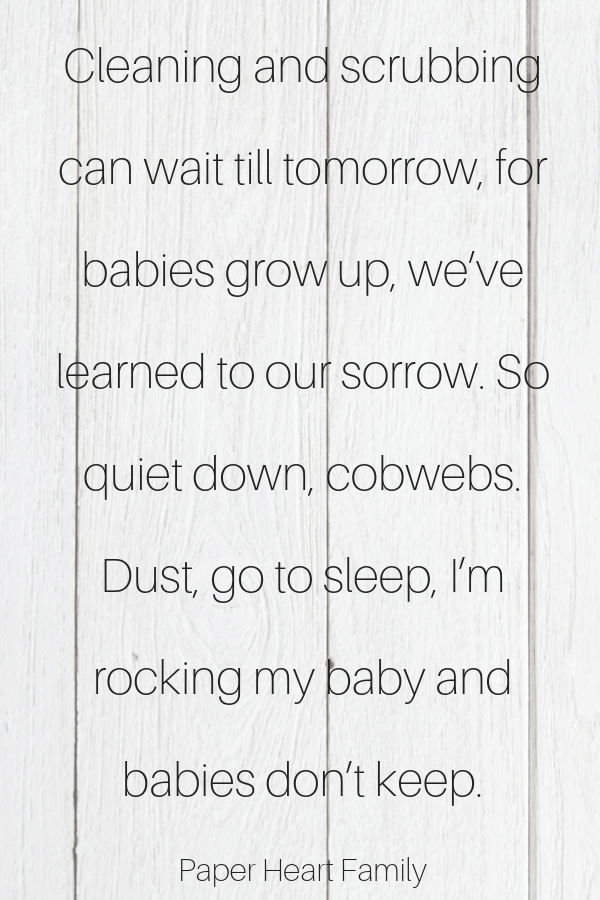 And what about how motherhood has changed you? These new mom quotes speak to how we are forever changed, how our lives are not so simple anymore, but how they are more precious and filled with love.
The joy of motherhood comes in moments. There will be hard times and frustrating times. But amid the challenges, there are shining moments of joy and satisfaction.
When a woman gives birth, two are born: a baby from the womb of its mother and a woman from the womb of her former existence.
Being a mother is not about what you gave up to have a child, but what you gained by having one.
You'll learn to lower your expectations about what you can accomplish in a day. Some days it will be all you can do to keep baby safe, warm and fed. And that will be enough.
Cleaning and scrubbing can wait till tomorrow, for babies grow up, we've learned to our sorrow. So quiet down, cobwebs. Dust, go to sleep, I'm rocking my baby and babies don't keep.
Being a mother is discovering strengths you didn't know you had and dealing with fears you never knew existed.
Motherhood is messy. And challenging. And crazy. And sleepless. And giving. And unbelievably beautiful.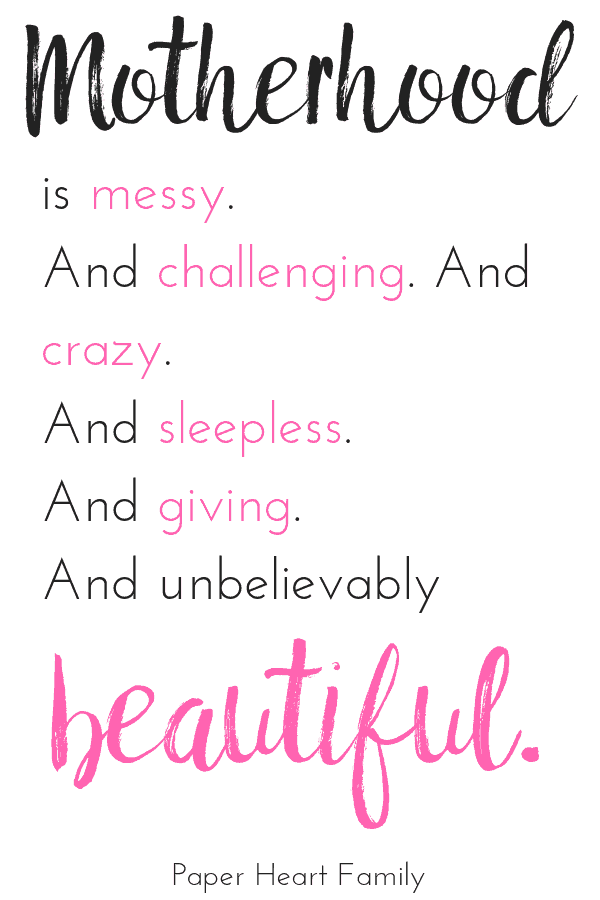 The moment a child is born, the mother is also born. She never existed before. The woman existed, but the mother, never. A mother is something absolutely new.
There is no way to be a perfect mother, but a million ways to be a good one.
A baby is something you carry inside you for nine months, in your arms for three years, and in your heart until the day you die.
Making the decision to have a baby is momentous. It is to decide forever to have your heart go walking around outside your body.
Being a mom has made me so tired. And so happy. Tina Fey
In giving birth to our babies, we may find that we give birth to new possibilities within ourselves.
We have a secret in our culture, and it's not that birth is painful. It's that women are strong.
I realized when you look at your mother, you are looking at the purest love you will ever know." – Mitch Albom
Birth is the sudden opening of a window, through which you look out upon a stupendous prospect. For what has happened? A miracle. You have exchanged nothing for the possibility of everything.
Birth takes a woman's deepest fears about herself and show her that she is stronger than them.
What good mothers and father instinctively feel like doing for their babies is usually best after all.
Some days she has no idea how she'll do it. But, every single day it still gets done.
To the world you are mom, but to your family you are the world.
Related: When Baby Is Born Quotes
Funny New Mom Quotes
And I of course can't end this post without adding in some funny new mom quotes. Because new, sleep-deprived moms need a little laughter in their lives, for sure.
I used to have functioning brain cells, but I traded them in for children.
You should never say anything to a woman that even remotely suggests that you think she's pregnant unless you can see an actual baby emerging from her at that moment. Dave Barry
A worried mother does better research than the FBI.
There never was a child so lovely, but his mother was glad to get him to sleep. Ralph Waldo Emerson
I don't want to sleep like a baby, I want to sleep like my husband.
Mom: One who sacrifices her body, sleep, social life, spending money, eating hot meals, peeing alone, patience, energy and sanity for love.
Mom: the amazing ability to hear a sneeze through closed doors, in the middle of the night, three bedrooms away while daddy snores next to you.
People who say they sleep like a baby usually don't have one.
Mothers are basically part of a scientific experiment to prove that sleep is actually not a crucial part of human life.
Related: More Funny Baby Quotes
I hope you found the perfect baby quote for new moms!