There are so many ways to document pregnancy, and I'm so happy to share them with you.
The best thing about these ideas is that they will help you look back at this exciting time.
Because truthfully, pregnancy can be kind of a blur.
At first, you're miserable. Nausea is taking over your life. And after that, you're just wishing for the weeks to fly by so that you can hold your little baby in your arms.
One day you'll wish that you could experience pregnancy again. It's a quick 9 months that is unlike anything else you'll ever experience.
When I was pregnant, it was important to me to document my pregnancy. I wanted to be able to look back and not only see my baby bump, but I also wanted to be able to immerse myself in those moments.
These ideas for documenting your pregnancy will help you to track your growing belly and put in writing all of your thoughts, experiences, dreams and feelings.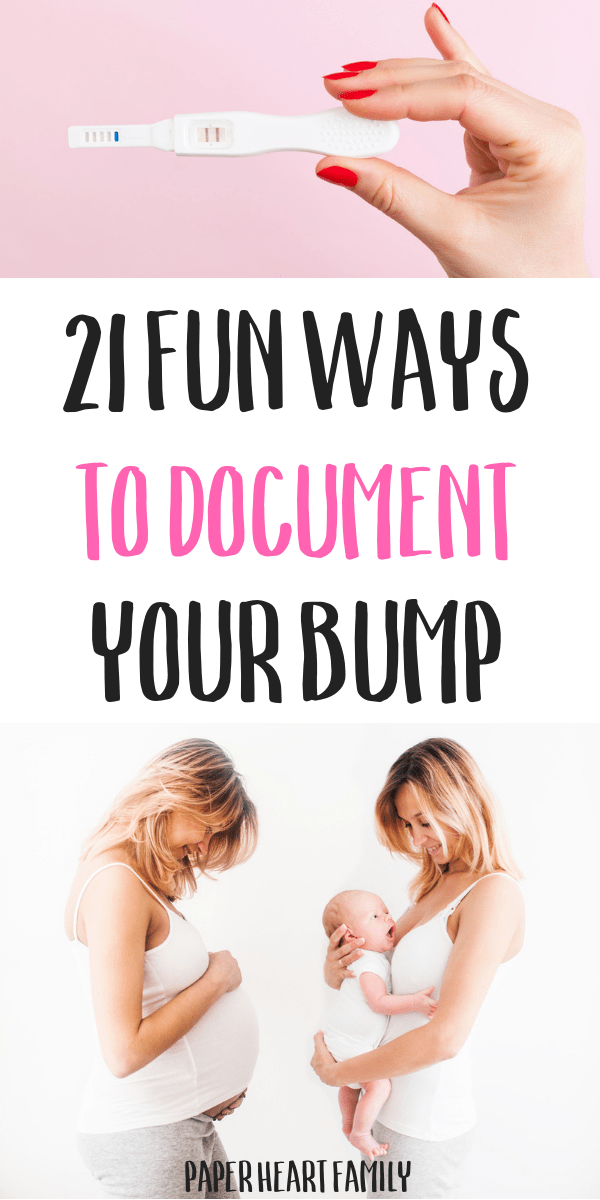 Journaling About Your Pregnancy
Do you love the idea of keeping a journal or some kind of written account of your pregnancy? Check out these fun, simple ideas.
Pregnancy Journal
I love writing in an actual journal. Yes, typing up something might be quicker, but there is just something so much more PERSONAL about writing things down.
I love a printable Pregnancy Journal because it gives you the option of picking and choosing the pages that you want to include in your completed journal. This way no matter what, your journal is going to be complete!
There's nothing worse than a half completed pregnancy journal or baby book, right?
I created my printable Pregnancy Journal to go beyond the facts and milestones of pregnancy to include special thoughts and feelings.
If you want a simpler version, I also have a 3-page pregnancy trimester journal.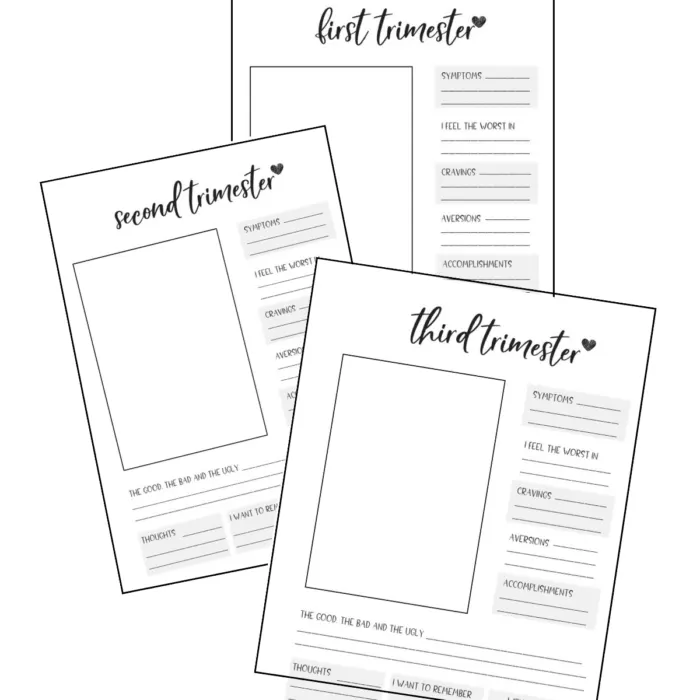 Pregnancy Scrapbook
If you really love getting hands-on with your journaling, a pregnancy scrapbook is right for you.
Do A Pregnancy Interview
I LOVE this idea. You know those interviews that are always floating around on FaceBook with questions that you ask your kids? Here's an interview for YOU! Simply write your answers to this interview at any point (or at several points!) in your pregnancy.
How far along?

Weight gain so far

Clothes you're wearing these days

Stretch marks?

Got sleep?

Best moment of the week

What are you missing?

Baby kicks?

Cravings

Got a baby bump?

Innie or Outie?

Wedding rings on or off?

Mood and emotions?

Looking forward to
Write Letters To Your Baby
This is such a great habit to get into. I started during my pregnancy, and I have a box full of letters (in sealed envelopes) for both of my kids. I'll be giving them to my kids when they turn 18. I try to write them letters on their birthdays, and at any other time that I get inspired.
Let's talk about some other adorable, fun and cute ways to track your baby bump.
Travel During Pregnancy
What better way to get cute photos of your bump than on vacation!
Think you can't travel while pregnant?
You definitely can!
Learn the best places to travel while pregnant.
Take A Photo Of Your Positive Pregnancy Test
After all, that pregnancy test is what started it all right? Well, not exactly, but you know what I mean.
Take Baby Bump Photos Month By Month Or Week By Week
There are so many fun options for pregnancy progression photos.
First and foremost, take 10 minutes right now to set reminders on your phone that will last from now until the end of your pregnancy. This way, you won't forget to take your weekly or monthly photo.
Second, get creative! Here are some fun ideas:
Include the produce that shows the size of your baby in the photo. You can hold it, have it next to you or even eat it! Just realize that this method takes a lot of planning to make sure that you are prepared and have the right produce on hand for that week.

Wear the same outfit- If you choose an outfit to wear for each and every bump photo, it will be easier to see the progression of your pregnancy.

Use a chalkboard to write specific information of that week.

Use a letterboard– You've likely seen these letter boards everywhere. They provide an easy, stylish way to document whatever you want to say in your bump photo.

Include siblings- What I love about including siblings in your week-by-week pregnancy photos is that it will help you to relax and the photo will likely end up being more fun and candid.
Keep it simple and track your month using your fingers (hold up 3 fingers when you're 3 months along, etc).

You can also use my free printable milestone cards for your bump photos. They can help you easily track your pregnancy. The cards say things like "4 weeks", "3 months" and there are more fun sayings like "can't see my toes".
Silhouette Photo- Buy sheer curtains to hang on a window in your house. Use your phone's camera (set on black and white). Take the photo using only natural night. You should get a silhouetted photo.
Pregnancy Craving Photoshoot
If getting in front of the camera for a playful photo shoot sounds fun, why not have a pregnancy craving photoshoot? A fun photoshoot with the foods that you're craving is a unique, awesome idea.
Pregnancy Progression Video
Have your significant other record you (weekly) turning (doing a 180). Wear the same clothes each time. Slowly turn to face the camera, announce your pregnancy week, then turn the other direction. At the end of your pregnancy, put all of the videos together, with the last video showing you turning around and holding baby.
Stop Motion Pregnancy Video
If you were really good at taking your weekly bump photos, why not put them all together into a stop motion video? Check out the one below. It'll blow your mind!
Video Messages To Baby
A little simpler than the other video ideas, you could simply record video messages to your baby throughout your pregnancy. I've talked about how I lost my mother at a young age on the blog before, and if I had something like this from my mom, it would be my most prized possession for sure.
Before And After Photos
This is a must do! Simply take a photo pre-baby then another photo (holding baby at your stomach and in the same place and position).
Schedule Professional Maternity Photos
The ideal time for a maternity shoot is right around 33 weeks. Although this is a splurge, it is one that you won't regret. I didn't get professional photos with my first, but thankfully did with my second. They are probably my favorite photos of myself EVER.
Belly Casting
I didn't even know that this was a thing until I started researching for this post, but it's a really cool, unique idea.
Belly casts can easily be made using a kit like this one. What better way to see just how you looked when you were pregnant?
Apps For Documenting Pregnancy
Cinemama allows you to create a keepsake video and keep a pregnancy diary right in the app. Your bump pics can be organized and made into a time-lapse video complete with a soundtrack.
Baby Pics allows you to add adorable artwork and text to your baby bump (and baby!) photos.
I hope you have fun documenting your pregnancy!
PS- If you haven't already, make sure that you sign up for Amazon's baby registry to get your free welcome box.
What ways to document pregnancy are you planning to use?