If you're looking for some free printable Easter games, you're in the right place!
I have the best of the best for you here, all in one place.
Whether you are looking for Easter egg hunt ideas, word games, an Easter bingo game, Easter party games, Easter egg games, fun Easter dice games, a word scramble, or a memory game, I've got that and more!
If you don't find what you're looking for, it's probably over on my other post, free printable Easter activities.
These printable activities are a whole lot of fun and are the perfect way to spend some time with your whole family or with friends this Easter holiday.
You could even use them for Sunday school or as a gift inside your children's Easter baskets!
This list includes family games as well as games perfect for young children and older kids, too.
This post contains affiliate links.
One of my favorite things to keep on hand for all of our printable activities are these dry erase pocket sleeves.
They allow you to reuse your free printables over and over again!
**All printables are for personal use only.
Free Printable Easter Games
Easter Guess Who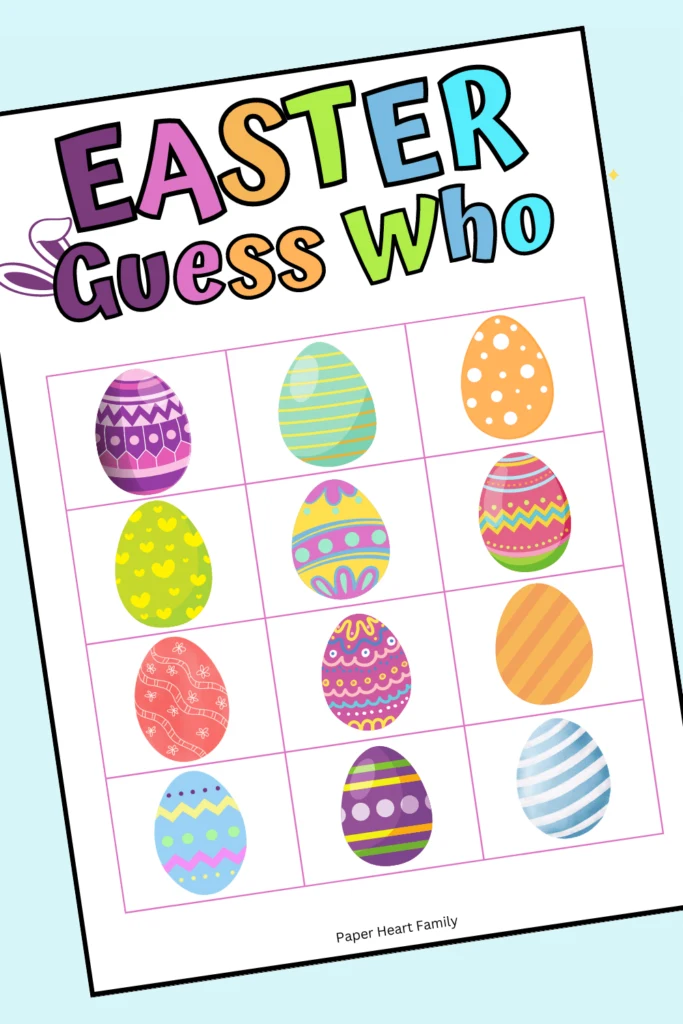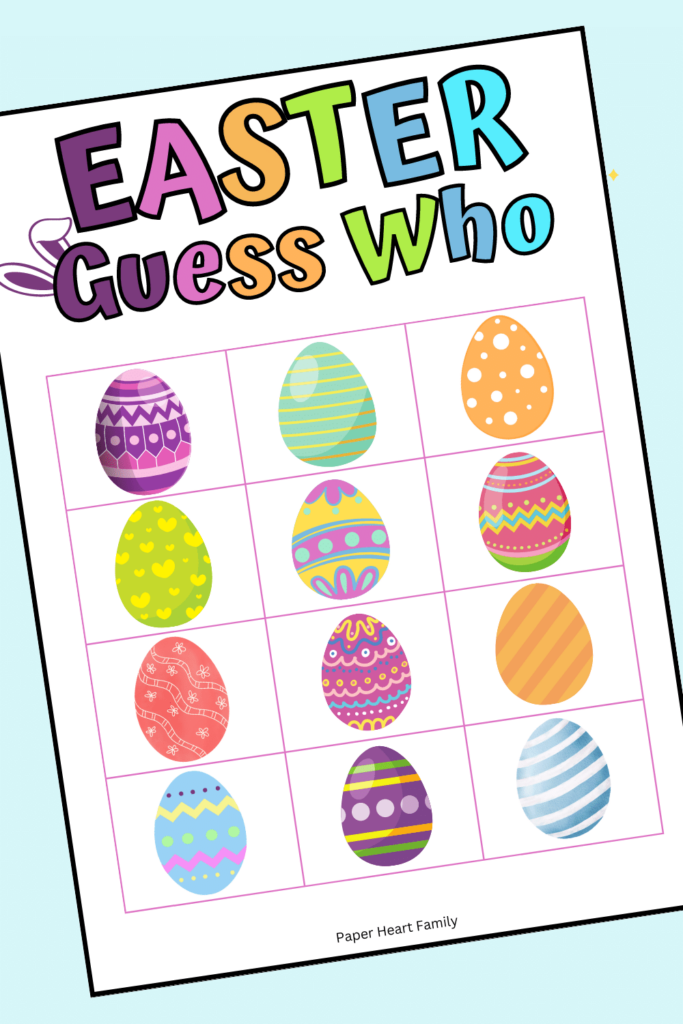 This printable Easter Guess Who game allows you to play an Easter egg-themed guess who game?
Ask questions such as:
Does your egg have zig zags?
Is your egg yellow?
Try to guess your partner's egg before they guess yours!
Make sure to print enough game boards for each person that will be playing.
Easter Trivia Game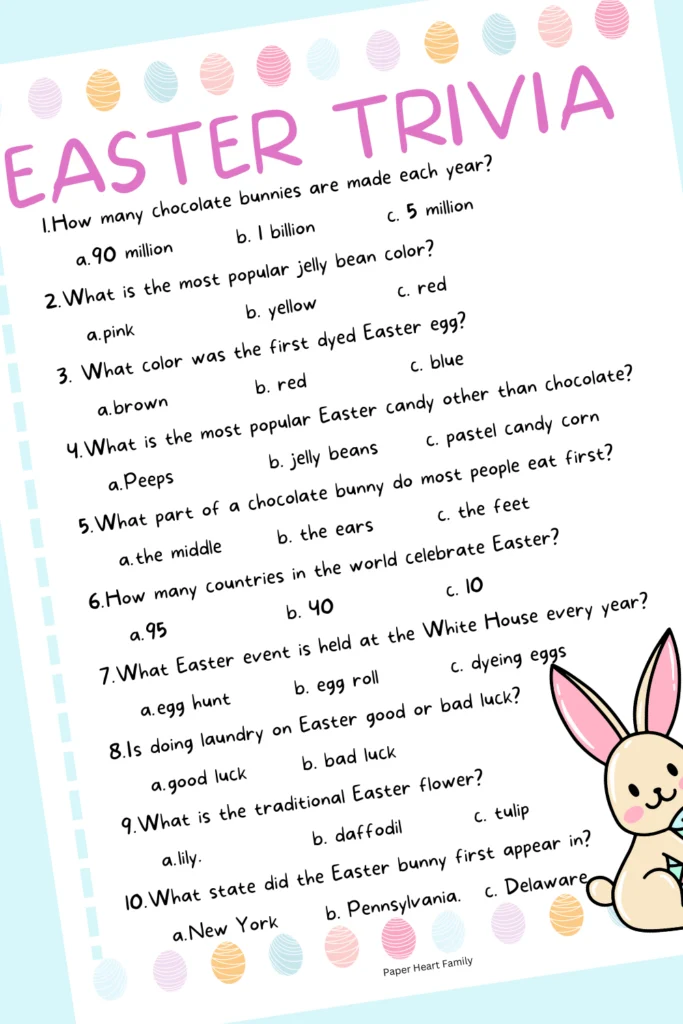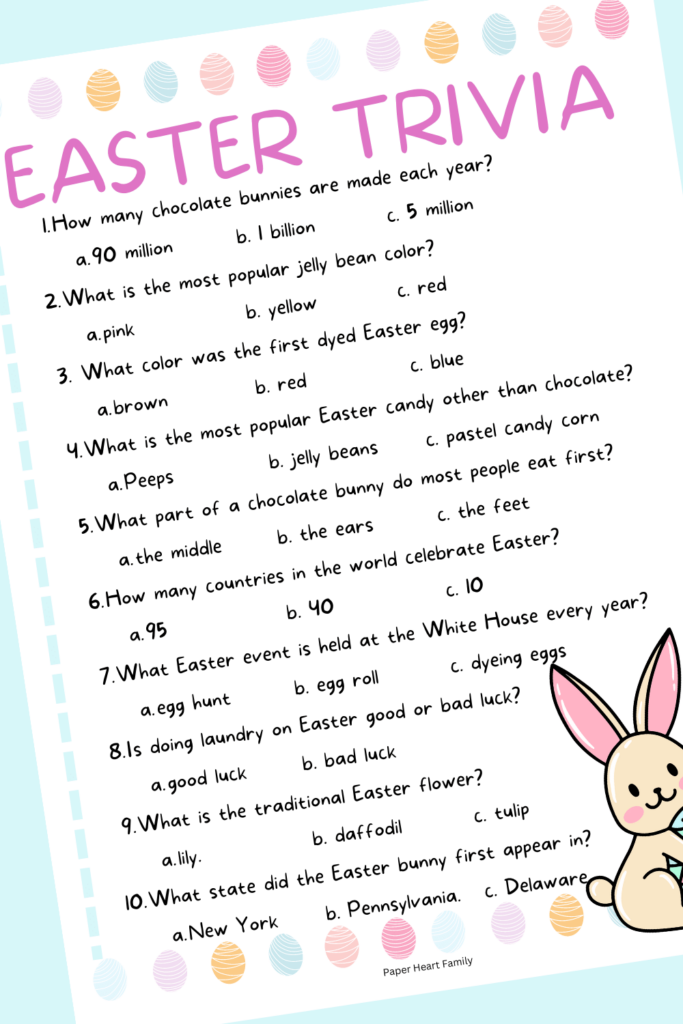 I love trivia games because it's a fun way to play a game and learn something new at the same time.
Put your family's Easter knowledge to the test with the following questions!
(The answers are underlined in the answer key below.)
How many chocolate bunnies are made each year?
a. 90 million b. 1 billion c. 5 million
What is the most popular jelly bean color?
a. pink b. yellow c. red
What color was the first dyed Easter egg?
a. brown b. red c. blue
What is the most popular Easter candy other than chocolate?
a. Peeps b. jelly beans c. pastel candy corn
What part of a chocolate bunny do most people eat first?
a. the middle b. the ears c. the feet
How many countries in the world celebrate Easter?
a. 95 b. 40 c. 10
What Easter event is held at the White House every year?
a. egg hunt b. egg roll c. dyeing eggs
Is doing laundry on Easter good or bad luck?
a. good luck b. bad luck
What is the traditional Easter flower?
a. lily b. daffodil c. tulip
What state did the Easter bunny first appear in?
a. New York b. Pennsylvania c. Delaware
Easter Scavenger Hunt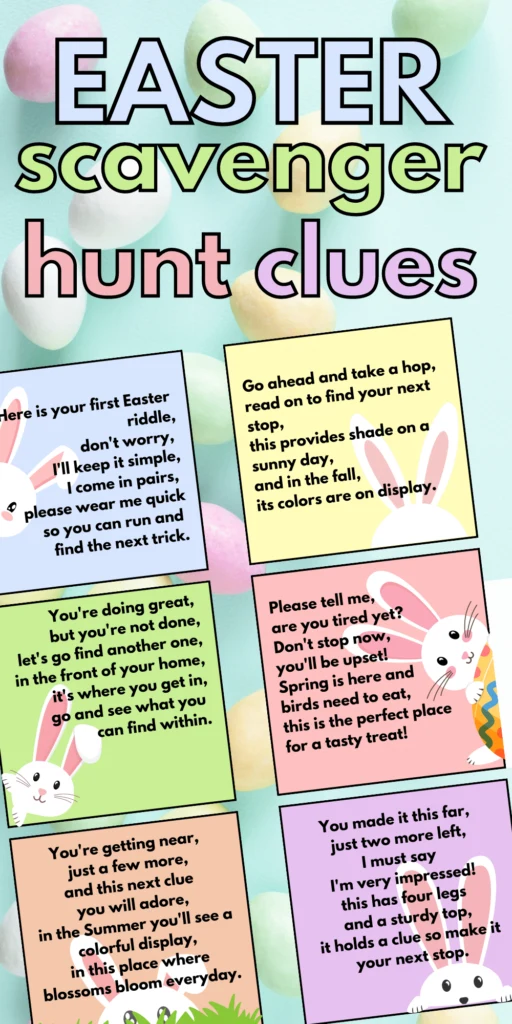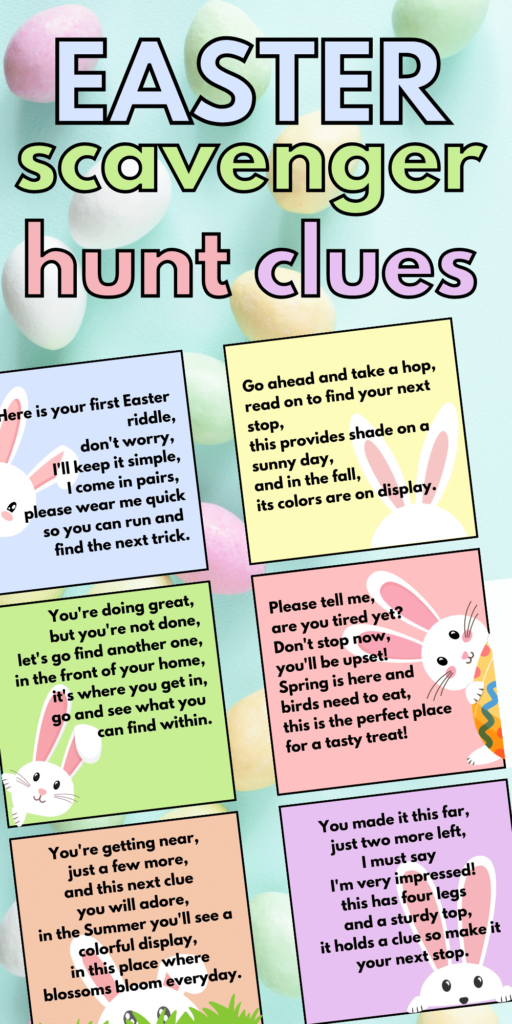 Your kids will love this outdoor scavenger hunt.
You can do this fun game anytime before Easter or as part of an Easter party.
It could also be set up by the Easter Bunny himself, and lead to your child's Easter basket on Easter morning.
Here are the clues:
#1
Here is your first Easter riddle,
don't worry, I'll keep it simple,
I come in pairs, please wear me quick
so you can run and find the next trick.
#2
Go ahead and take a hop,
read on to find your next stop,
this provides shade on a sunny day,
and in the fall,
its colors are on display.
#3
You're doing great,
but you're not done,
let's go find another one,
in the front of your home, it's where you get in,
go and see what you
can find within.
#4
Please tell me,
are you tired yet?
Don't stop now,
you'll be upset!
Spring is here and
birds need to eat,
this is the perfect place
for a tasty treat!
#5
You're getting near,
just a few more,
and this next clue
you will adore,
in the Summer you'll see a colorful display,
in this place where blossoms bloom everyday.
#6
You made it this far,
just two more left,
I must say
I'm very impressed!
this has four legs
and a sturdy top,
it holds a clue so make it your next stop.
#7
One clue remains in this fun Easter game,
so don't quit now,
that would be lame!
This has a wheel
and an engine inside,
and seats that are comfortable
for a long ride
#8
You found it, hooray!
Congratulations to you!
I hope you had fun,
and have a
Happy Easter, too!
[mv_create key="7″ type="list" title="Printable Easter Games" thumbnail="null"]
I hope you have a great time with these free Easter games!
Related Posts: