If you're just starting out on your journey to find the best bottles for breastfeeding babies, you might be wondering why is this post about the best bottles for breastfeeding babies. Why BOTTLES?
I bet you're super busy and you don't have time to consider bottles in the plural form.
I wish I could tell you, buy this bottle. I guarantee it will work.
Boo.
I can't. You see, every baby is different. Especially breastfed babies. They can be a little choosy about the bottle that they will accept.
Read: The Most Common Breastfeeding Problems
Humor me for a minute. What is your drink of choice? If you like beer, chances are you would prefer it from the tap. And imagine that for a very long time, you ONLY had beer from the tap. And then someone tried to give you beer from a can. And it wasn't the right temperature. You probably would refuse it.
I'm totally not a beer drinker, so for my analogy I'm going to use a Pepsi. I LOVE Pepsi from the fountain. If I knew nothing more than a perfectly cold Pepsi from the fountain, and then someone tried to give me a lukewarm Pepsi from a bottle, I would probably refuse it.
That's your baby. Nursing is cozy, and warm, and wonderful. It can be insulting to a baby to get an artificial nipple shoved into their mouth. (Seriously, my first child, though only alive for about 60 days, was totally insulted by the fake nipple.)
This is why it's important to try a bottle that's made for a breastfeeding baby. This kind of bottle will (try it's best to) simulate the act of latching and breastfeeding. It's also important to have a little patience. It might take a little while to find the best bottle for your breastfeeding baby.
The right bottle is extremely important, but there is more to it than just that. Read this post to learn everything else that is essential when it comes to bottle feeding breast milk.
And if you're at the beginning of your breastfeeding journey and haven't taken any breastfeeding classes, you need to check out this online and on-demand breastfeeding class. It will teach you all you need to know (and you don't have to leave your house).
This post contains affiliate links.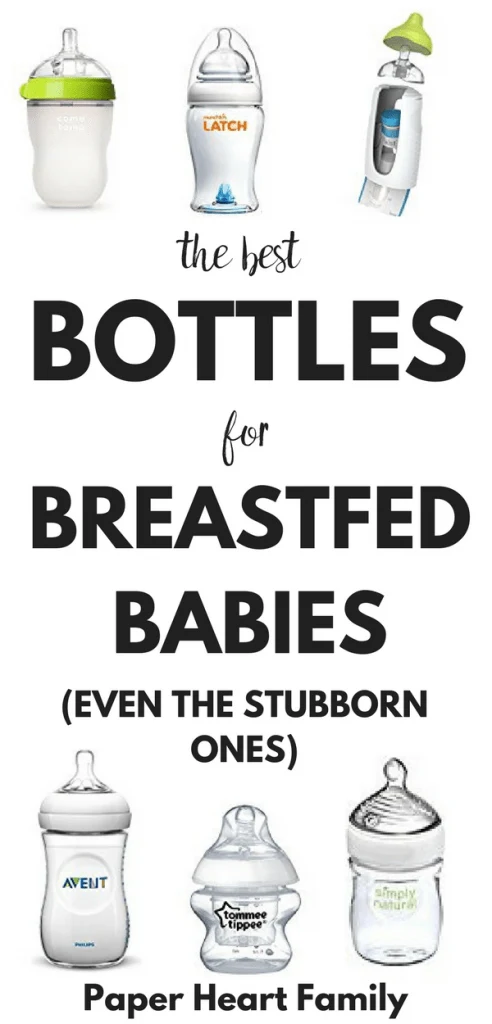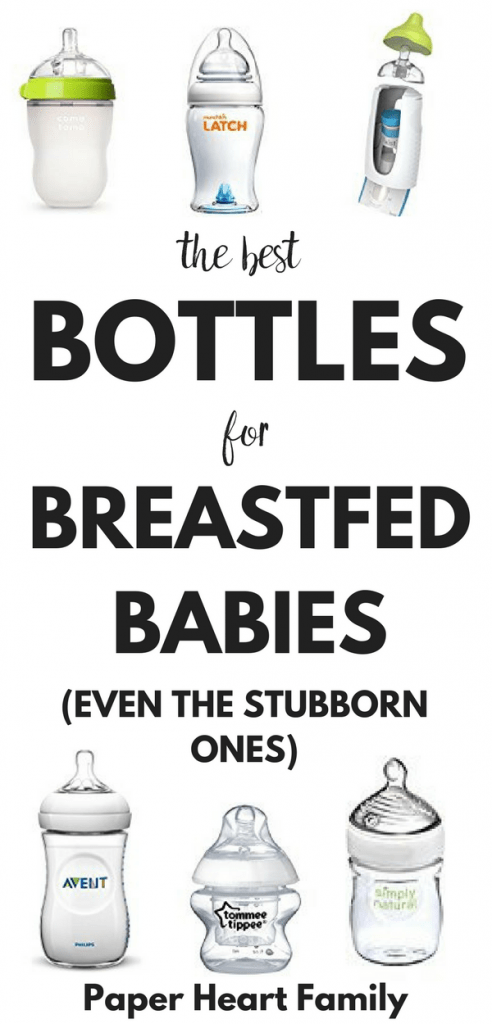 A few bottle feeding tips
Don't commit to one bottle and buy 10 of them.
You might have to try a few different bottles to find that magical bottle that your baby won't refuse.
Introducing a bottle to your breastfed baby
For your own sake and to prevent causing an oversupply, you want to wait until breastfeeding is established before pumping and introducing a bottle. However, you also don't want to wait too long, because then your baby isn't going to be so receptive to change. Most lactation experts suggest waiting until baby is at least one month old.
Related: Does Breastfeeding Get Easier?
Make sure it's a slow flow nipple.
This is where it gets tricky. You want baby to have to work at it (just like they have to work to get your milk to letdown). If you give baby a bottle with a fast flow, your baby might a.) choke because they are not used to a flow so fast or b.) prefer the bottle because they don't have to do anything.
Make sure it's as warm as your breastmilk.
Remember my beer/soda analogy. You want your pumped milk to resemble your straight-from-the-tap milk as much as possible.
On to the bottles. The following list contains the absolute best baby bottle brands out there for your breastfeeding baby.
Best Bottles for Breastfeeding Babies
This post contains affiliate links.
Avent Natural Bottle
The Avent Natural has almost everything that you might need in a bottle. Moms love that it is easy to mimic a natural breastfeeding latch and prevent nipple confusion, and it has innovative AirFlex vent technology to prevent baby from swallowing air.
This bottle also has the reputation of being very well made and comfortable to hold.
And bonus! It's very easy to clean.
Comotomo Bottle
Let's talk about the Comotomo.
This bottle is genius. It's got all of the basics that you would want in a bottle for your breastfed baby (features like a naturally shaped nipple, 2 anti-colic vents) but this bottle has so much more.
The actual bottle is made of a "soft and squeezy" skin-like material designed to soothe and calm baby because of its resemblance to the breast. It's not only comforting to baby, but it allows you to mimic letdown by squeezing the bottle. This is one of the best bottles for breastfeeding babies who refuse the bottle.
Bottles made for babies who are breastfeeding are designed so that baby has to work to get milk out of the bottle (so as not to prefer the bottle). The Comotomo also does this, but the option to force a little milk into baby's mouth is amazing. The Comotomo wasn't out when my first child was a baby, but I wish it was. This would have been the perfect bottle for her bottle-hating self.
Even more, the skin-like material is a super safe silicone, most moms say that they don't leak, and they are easy to clean with just your hands. What?! I'm always kind of grossed out by bottle brushes because they just don't seem completely sanitary, so this is a big plus.
Best Baby Bottles For Gas And Colic
Dr Browns Natural Flow Bottle
Dr Browns bottles are extremely well known for being the best baby bottles for a gassy breastfed newborn, therefore they are highly recommended for babies with reflux. Many moms with reflux babies swear by these bottles and say that they have prevented their babies from spitting up excessively and have helped them gain weight.
Dr. Browns now makes Natural Flow bottles that are meant for breastfed babies. They are BPA free, however because of the complex anti-colic system they contain many different parts and can be difficult to wash.
Best Baby Bottles For Newborns Who Breastfeed
Munchkin Latch Bottle
The Munchkin Latch is definitely one of the more inexpensive options on the market. The nipple is designed to stretch and flex and as baby grows so it's one of the best baby bottles for newborns because it grows with them. Once they are bigger, you can simply buy the sippy cup top to use with this bottle. A big plus if you're conscious of minimizing waste.
This is also different from other bottles because you can buy an adapter than can hook up to your pump and pump directly into the bottles, perfect for busy working moms.
It's easy to clean (but not as easy as some other bottles due to the valve on the bottom), however some moms complained about the nipple getting pushed in when baby was drinking.
The Kindle Twist
The Kiindle system is definitely eye-catching.
I love that it's all in one. You pump into the bag, throw the bag into the freezer, thaw the milk in the bag and then feed baby from the bag. And because baby is drinking the milk out of a bag, there is no way for air to get in. There's also no way for contaminates to get in either. So. Smart.
When baby is finished, you simply throw the bag away and the only thing that you need to wash is the nipple.
You can also buy an adapter to make any nipple work with this system.
I would say that this is a great option for busy moms (wait, aren't we all busy?). However, it is probably a bit more costly due to the extra parts and bags that need to be purchased.
Bottles For Breastfed Babies That Refuse The Bottle
Lansinoh Momma Bottle
While the Lansinoh Momma bottle isn't flashy, they may be the best bottles for breastfed babies that refuse the bottle. The ones who are extra stubborn. If you have a stubborn baby, I bet that's music to your frustrated ears.
It's a pretty inexpensive bottle that has all the necessities. It has an anti-colic valve and it's BPA-free. It's also easy to clean and very durable and well-made.
Nuk Simply Natural Bottle
The thing that I find most interesting about this bottle is that it has several holes (the stage one nipple has 3 while the stage 3 nipple has 9) to simulate mom. It's a little surprising that this seems to be the only bottle on the market with this design.
The Nuk Simply Natural is easy to clean, dishwasher-safe and very inexpensive, however some moms say that they crack easily.
Tommee Tippee Closer to Nature Bottle
The Tommee Tippee is the only bottle that my first baby (semi) accepted. We tried everything at the time. My second child took to these also, more willingly.
This bottle is fairly inexpensive and does not leak (and waste your precious breastmilk, yay!). It's got all of the necessities of the best bottles for breastfed babies, and it's extremely lightweight for when baby starts to hold the bottle herself.
And if you're weird awesome like me, you'll love that they come in really fun colors!
To make your decision even easier, I made this chart. Well, this chart will help you find the bottle that best suits your needs. Here's to hoping that your baby agrees.
Good luck!
Best Bottles for Breastfeeding Babies- Baby Bottle Comparison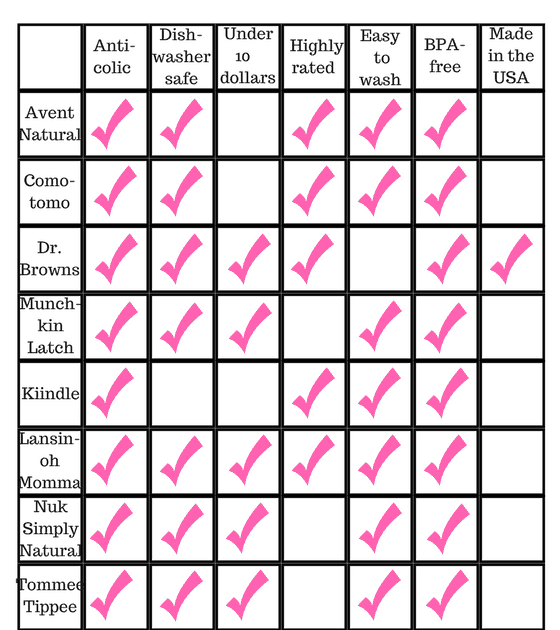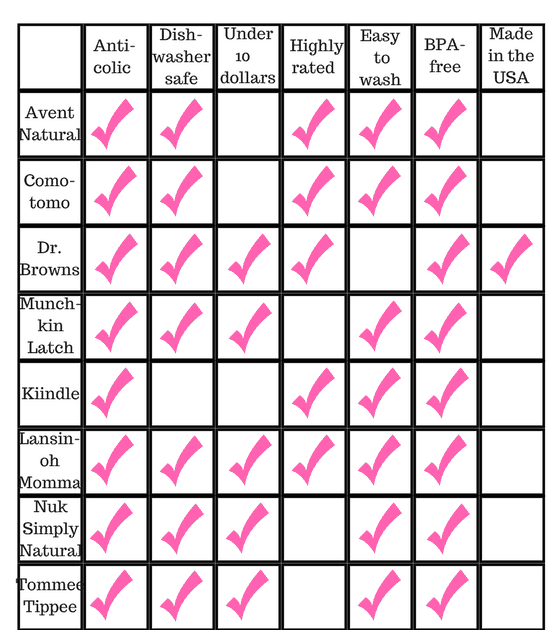 *Dr. Brown's bottles are made in the USA, China and Germany.
*Highly rated= at least 4.5 starts on Amazon
What do you think is the best bottle for breastfeeding babies?