Having the right breast pump bag essentials with you when you go to work can make or break your day.
Just as with anything else, organization is key to making our mom day flow smoothly. Or at least semi-smoothly.
On this list of pumping must haves you will find a lot of items that are necessary, and some others that are simply going to make the process a little bit easier. You can also download my printable checklist at the end of this post, which is super helpful to keep in your pump bag and review each and every night. Because I'm sure you've realized by now. Mom brain is REAL and you need all of the help that you can get.
When I went back to work after having my first baby, I had NO IDEA what I needed. I think I was more distraught at the thought of leaving my baby who had been literally attached to me for the last four months that nothing else really mattered at the time.
And I was okay with my bare minimum pump bag items. For a few weeks.
There were 3 different incidents that I experienced that helped me to formulate this list for you. So that you don't have to experience the same level of panic and stress.
Breast Pump Incident #1: I somehow forgot the plug for my pump at home.
I didn't have ANYTHING. No way to pump! I couldn't leave work (I mean, I guess I could have but didn't). So I ended up hand expressing as much milk as possible in the faculty bathroom on my breaks.
Breast Pump Incident #2: I left all but 2 storage bottles at home.
I pumped three times during the day, and had NOTHING to transfer my milk to so that I could continue pumping.
I ended up finding some Tupperware in the FCS classroom next door, but man was that stressful. I was close to having to pump and dump. And cry.
Breast Pumping Incident #3: I leaked breast milk onto my clothes.
And of course I didn't have a change of clothes with me! Thankfully the leak wasn't huge, but still. I had to make it through the rest of my day partially covered in my own breast milk.
So let's avoid any boobie milk mishaps, 'kay?
A pumping class can help you to avoid any and all mishaps, mistakes and general pumping problems. The Ultimate Back To Work Pumping class is online and on-demand in a convenient video format that you're gonna love. Oh, it's also SUPER cheap.
Unsure of when you should be pumping? Learn how to perfect your pumping schedule for newborns.
Here are your Breast Pump Bag Essentials.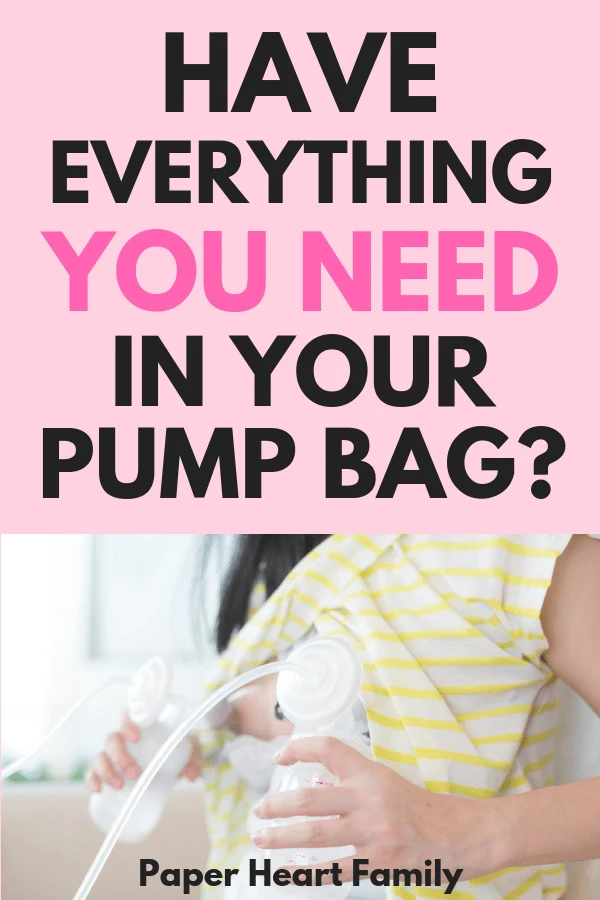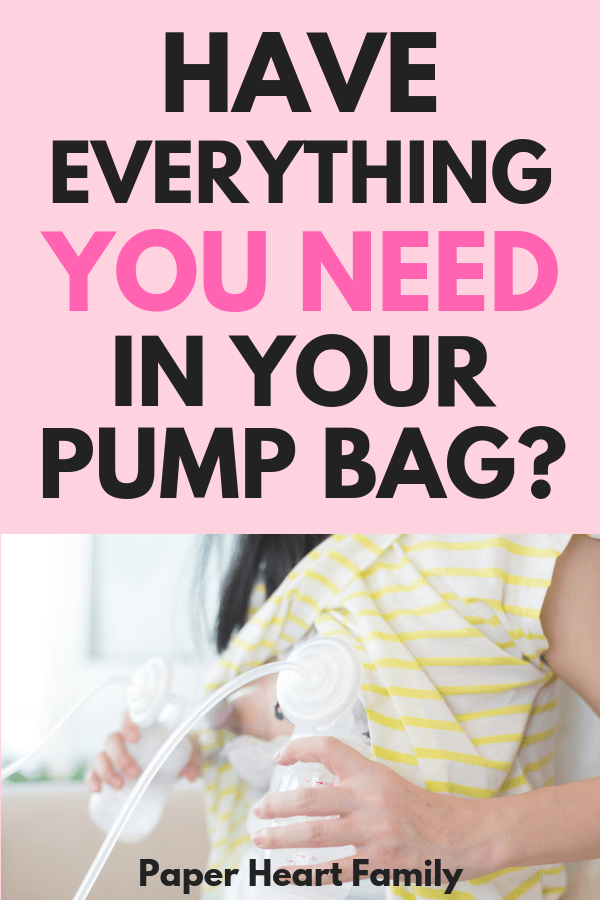 The Best Breast Pump Bag
A great breast pump bag is not a necessity, but if you can afford it, it's DEFINITELY very nice to have.
A great breast pump bag will be roomy so that you can fit everything you need in it. It will also have a zipper compartment for your pump, it will be wipeable (because spills are inevitable) and it will have an insulated compartment where you can store your pumped milk when you are traveling home.
With my first baby, I used the ugly Medela Pump In Style bag. It didn't store any of my other work essentials (laptop, lunch, papers, etc), it didn't keep my pumped milk cold and did I mention that it was UGLY?
It just wasn't practical at all.
For my second child, I splurged and purchased a Sarah Wells breast pump bag, and it was the BEST THING that I bought for myself in years.
The Sarah Wells bag has 4 different compartments.
The main, largest compartment can store your non-related pumping work stuff. And you're storing it AWAY from your pump and milk so that you don't need to worry about spills.

The two small side compartments are insulated. I kept my pump, flanges, etc in one pocket and in the other I had my ice pack and pumped milk.

One small outside zipper pocket for your car keys.
I'm telling you, this bag is a DREAM. It helped me to stay organized and pump quicker.
Related: How To Empty Breast Faster
However, I realize that a Sarah Wells bag just might not be in your budget. I've found a couple other options that are pretty and pretty inexpensive, too.
The Gogoso Mini Pump Backpack
This pump bag is cute, inexpensive and can be used as a lunch bag when you're done nursing.
However, it can only be used with manual or small electric breast pumps.
I love that it has a cooler pocket, 2 insulated bottle pockets and that it can be carried as a bag OR a backpack.
BananaFish also has a bunch of super cute and functional options.
The Best Breast Pump
The number one pumping must-have of your breast pump bag would be… the PUMP of course. I mean, nothing's happening without this thing. Unless you like pumping manually with your hands until they cramp up every three hours.
First of all, the best breast pump is the pump that your insurance will provide for free.
But if your insurance provides multiple options, here are my suggestions. I highly recommend getting one of the following double-electric pumps.
I used the Medela PISA for pumping for both of my babies. It's definitely not the prettiest pump (but who cares?). It a durable pump that lasts. My only complaint was the noise. It wasn't super loud, but I do think there are some quieter breast pumps on the market.
It's probably the most well-known and most commonly used breast pump, and provided for free by most insurances.
If I were to have another baby, this is the pump that I would want to try out.
The Spectra series are lightweight pumps that are highly reviewed and a good choice for breastfeeding moms.
Special features: a timer and a nightlight. The timer option is so helpful if you're pumping at work for only a set amount of time so that you don't have to watch the clock. The nightlight would be great for any middle of the night pumping sessions.
Check out all of my breast pump recommendations, including wireless, hands-free, manual and double electric options.
Pump Accessories
Pump flanges and extra membranes are the accessories that you will need.
UNLESS you want to purchase the most amazing, hands-free pumping system ever created (and no, they didn't pay me to say that).
You see, there are these little things called Freemies. They are cups that you insert into your bra and your breast milk is then collected into them.
I used these for my second baby (sadly not for my first) and I literally have NO IDEA how I managed to pump for an entire year with traditional flanges the first time around.
I love Freemies because:
I didn't need a hands-free bra (in order to put a hands-free bra on, you have to get half-naked, which is not always an easy feat while at work and in work clothes).

They are pretty discreet (if a cop had pulled me over while I was pumping with my Freemies, he might have looked at me a little funny, but he would NOT have known what I was doing).

You can easily pour your milk out of them.

They allowed me to easily pump in the car.
Battery Pack And AC Adapter
You might be thinking that these two aren't necessary breast pump bag essentials. An AC adapter is only necessary if you plan to pump in the car, but a battery pack is definitely something that you should have.
You never know where you might be when you need to pump and you might not have access to electricity (it happened to me on more than one occasion). A battery pack will help you be prepared for any scenario (think power outage).
Breast Milk Storage Bottles
If you are using a traditional flange pumping system, breast milk storage bottles are what you will directly pump into. You will likely need at least 6 bottles if you are pumping 3 times a day, but you might want to purchase even more to keep at work permanently, in case you forget to pack them.
Ice Pack
Having an ice pack with you for your commute back home will ensure that your breast milk is stored safely.
Learn more about how to store pumped breast milk.
Hands-Free Nursing Bra (if not using Freemies)
I can promise you that you will not want to go without a hands-free nursing bra. Whether you are planning to pump and continue working, you're going to fit in some me time, or you're simply planning to stare at the wall, you're not going to want to do any of those things while holding two suction cups to your breasts for 15 minutes.
Extra Breast Pads
If you are prone to leaking, an extra set (or 2) of breast pads will definitely help you to avoid an awkward situation at work.
An Extra Set Of Clothing
No explanation needed, right?
Nipple Cream
Especially at first, you might be experiencing some friction from your flanges. Try turning down the suction speed (higher isn't always better). You can also lubricate the inside of your flanges with some nipple cream to reduce friction.
Hand Sanitizer
Handling your breast pump and breast milk with clean hands will help keep your breast milk safe for your baby.
Water Bottle And Snacks
When you are breastfeeding and pumping, you will need to drink much more than normal (about 100 ounces total). Making it a habit to drink each and every time that you pump will help you to stay sufficiently hydrated. The extra water will help you to maintain a healthy milk supply.
Related: How To Increase Milk Supply
And snacks? Well, breastfeeding mamas can never have too many snacks!
Photos Of Your Baby
Do you really need an excuse to look at your baby? Probably not, but here's one anyway. Looking at photos of your baby will help provoke a letdown of milk. You could always watch a video of your baby crying and crank up the volume real loud if your boobs need a little extra encouragement. That'll work.
An Extra Set Of Pump Parts And A Manual Pump At Work At All Times
As I think I already mentioned, you new mom brain will make you forget the most essential things. I mean, really, a breast pump? Yes. YES. You will potentially (probably?) forget your pump at some point. Make sure that you have what you would need at work if that happened, such as a manual pump and somewhere to store the milk.
Distraction (book, tablet, etc)
If you are not planning to work while you pump, use this time to your advantage! Catch up on the show that you really want to watch, or bring a good page-turner to read.
Checklist
Place a checklist of the items that you need to have IN your pump bag well, in your pump bag. Quickly glance over your checklist each night before bed to make sure that you have all of your breast pump bag essentials packed and ready to go. DON'T do this in the morning.