DIY Halloween costumes are the best! They let you bring any costume idea to life and can lead to some really magical Halloweens.
For me, DIY costumes make up so many of my childhood Halloween memories and seriously are the funnest pictures to look back at.
I still remember making many of my costumes with my mom and being so proud of the ones I was involved in.
Looking back at my childhood Halloween pictures, I can say that some of them were super questionable (like my terrifying Raggedy Anne costume) but this was before Pinterest and social media gave us a little help in the DIY department.
My favorite thing about DIY halloween costumes are the memories created while making the project.
Last year we made my son a rocket ship costume and the best part was making it together and having my little guy help with it.
It took a little longer having him help, but it was so much fun doing it as a family and he was so proud of his costume!
I hope you have just as much fun making your own costumes this year and find some inspiration for your little one in the ideas below!
DIY Toddler Halloween Costumes
1. Slinky Dog
As far as homemade Halloween costumes go, this may be one of the cutest DIY Halloween costumes I've ever seen!
This would be the perfect sibling or friend costume and requires a little DIY magic and a whole lot of felt and a hot glue gun!
Most of the outfit is felt and would require cutting and either gluing or sewing and the clothes underneath you probably already have at home.
The middle slinky part is a giant slinky (these are surprisingly easy to get online) and would provide quite a bit of entertainment on its own. This costume is so cute and one that your toddler will love!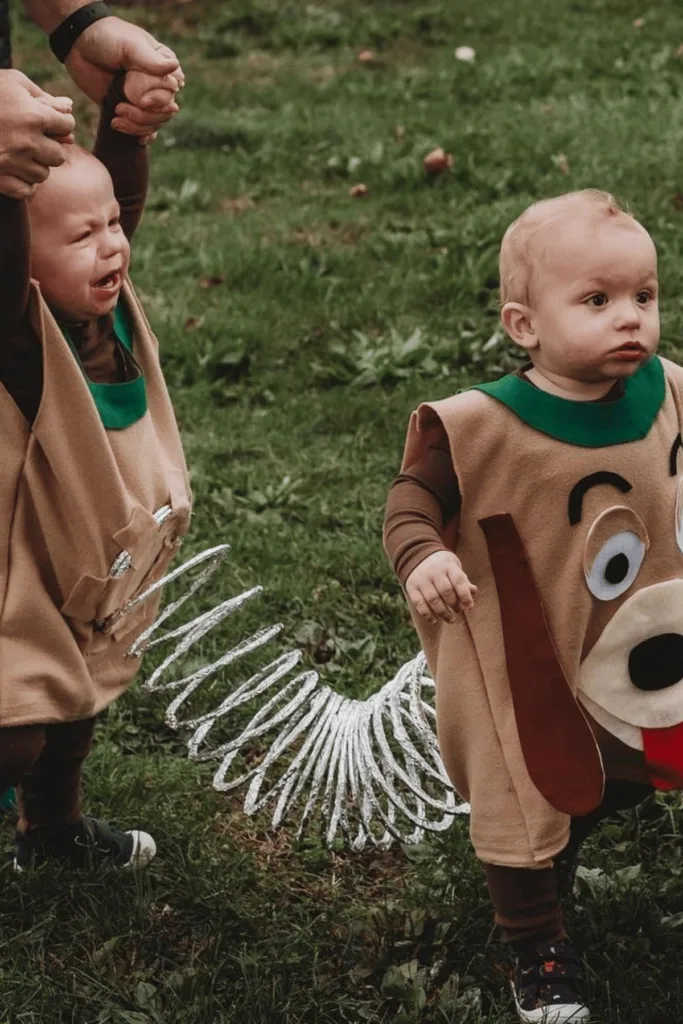 Credit: @some_assembly_required
2. A Chicken
The best toddler costumes are easy to make and require you to buy little to no supplies.
This adorable simple costume is just that! It requires clothes that you most likely already have, like a white shirt and yellow leggings and just a few other items.
The white boa and yellow cleaning gloves (those are the funnest and cutest shoes I have ever seen!) would be easy to find and the headband takes a little red felt and a headband that can be attached with a hot glue gun or a few stitches.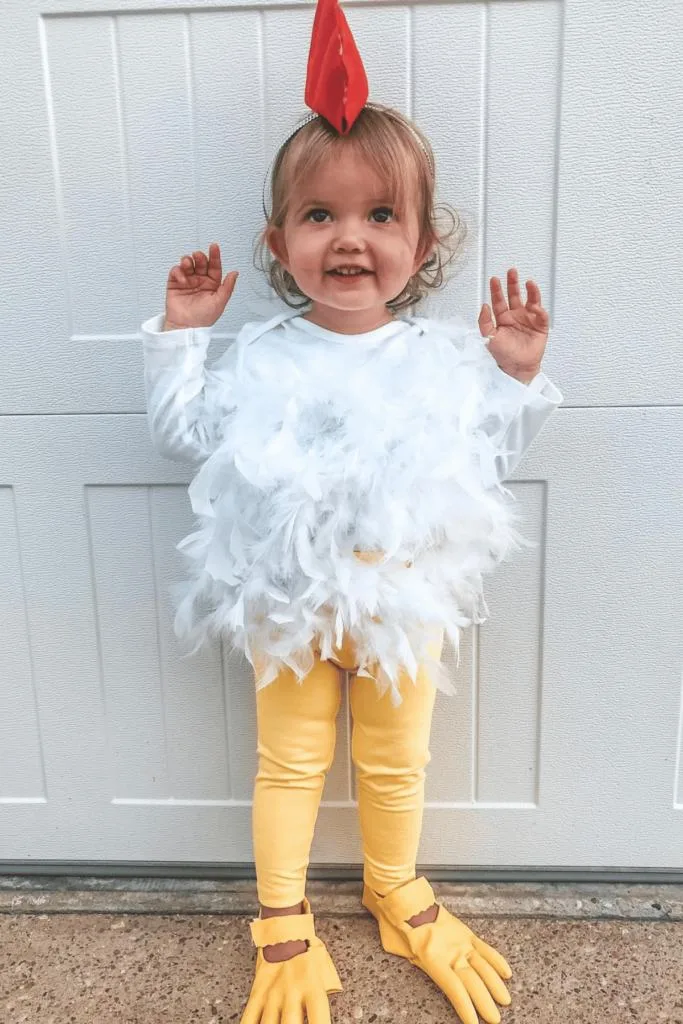 Credit: @ohmygoshitskristen
3. A Dragon
Do you have a dragon loving toddler? If so, this is the perfect costume for you!
Most of the DIY work will be making the mask and tail and with a little cardboard, a hot glue gun, some paint, paper and a little creativity you can have your little dragon running around in no time!
The clothes underneath you most likely can find in your child's closet and can be any shade that matches the color of the dragon. This would be a great costume to involve your little one in on making.
They could help get the materials and lay out the different shapes of felt on the tail and on the mask!
Your little one will have a blast helping out and will be so proud of the costume you designed together!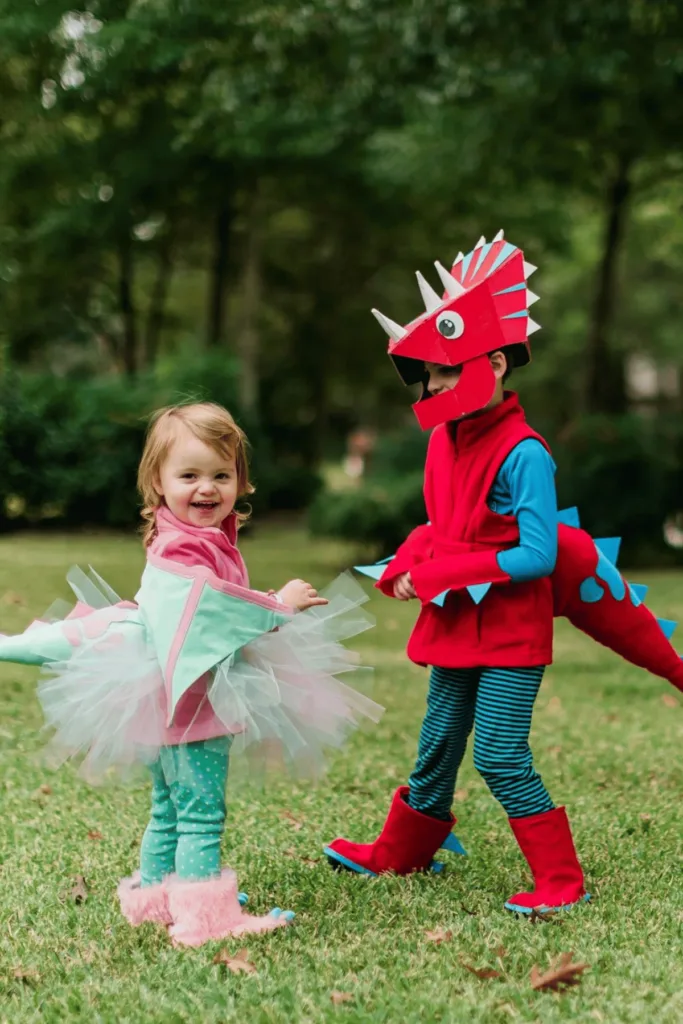 Credit: @emilylaurenross
4. The "Grandpapi"
This may be the easiest DIY toddler costume on the list and it is so darn cute!
It requires some super cute clothes and a stick on mustache and eyebrows and will bring a smile to everyone who sees your little one!
The fancy clothes would be super easy to find at most stores (I know Cat and Jack from Target has many sets like this) and the mustaches are easy to find online.
It's a great last minute costume and would be is the perfect costume for little boys!
Bonus: have your child dress up with their grandpa for an even cuter Halloween duo!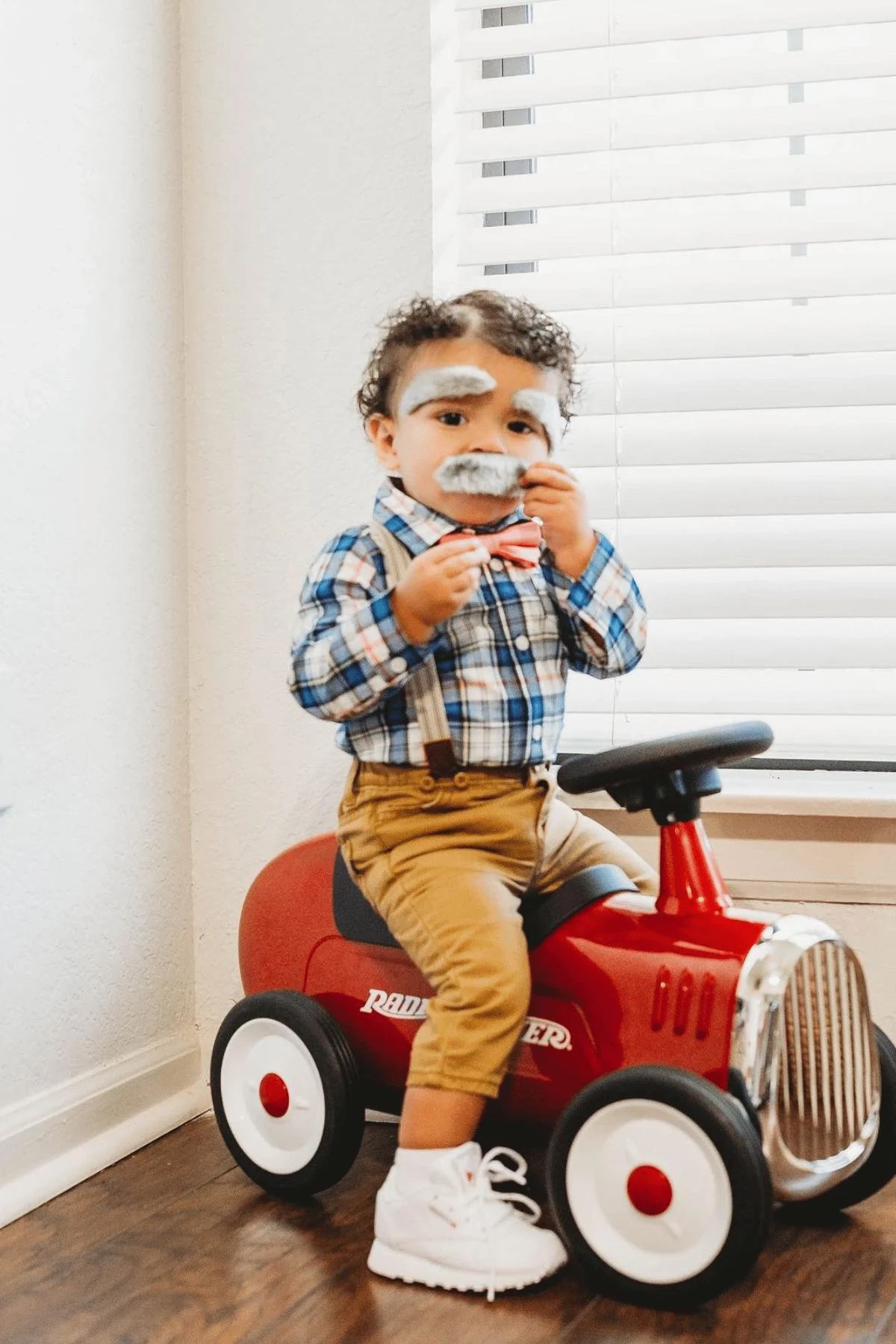 Credit: @livin.mivida.ale
5. A Piñata
Nothing is cuter than this toddler Piñata costume! Do you have a hot glue gun and scissors?
Then your ready for this adorable DIY toddler costume! This one is a little more on the creative side and might take some more time than others on the list, but would be such a fun one to include your whole family in.
Grab some scissors, paper, felt and an outfit you don't mind gluing it to and get cutting!
A fun way to include your toddler would be to let them pick out the color felt they want for their piñata costume.
After cutting each strip of felt, glue it on in a layering pattern so that the colors lay on top of each other.
Tip: Starting from the bottom and working your way up will make it even easier!
The head piece is easily made with some more felt and two birthday party hats and a whole lot of hot glue!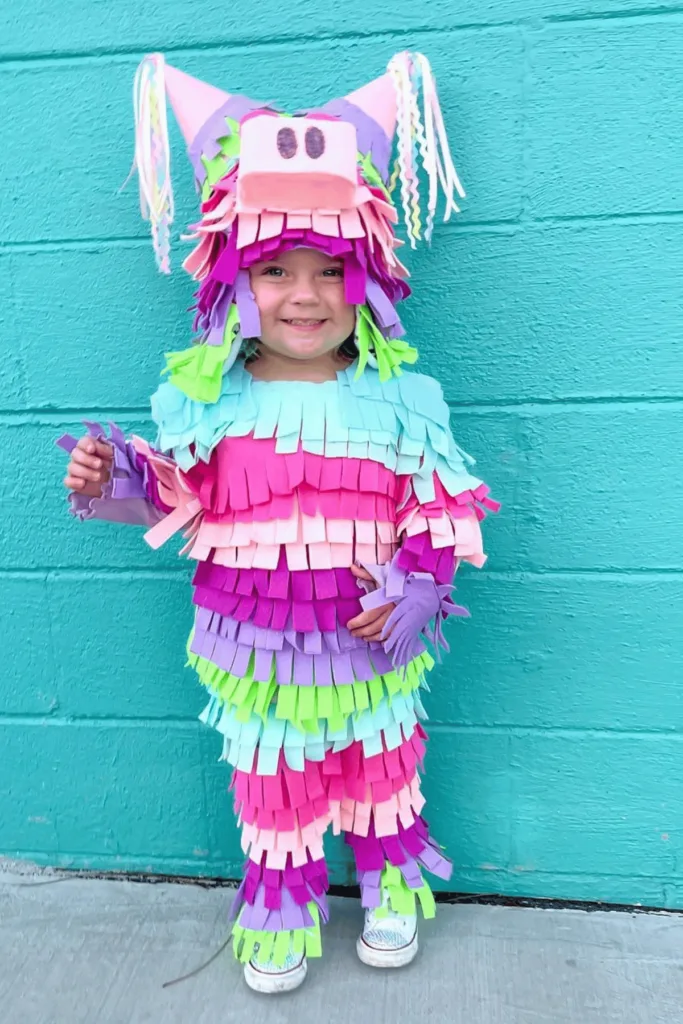 Credit: @saylor.says
6. A Ghost
This DIY toddler halloween costume is a classic that is even cuter on little kids! Grab a white tutu and white leotard and attach the black eyes and mask.
These can easily be attached with glue, duct tape or even sewn on. This is a simple costume that will be adorable on your toddler girl!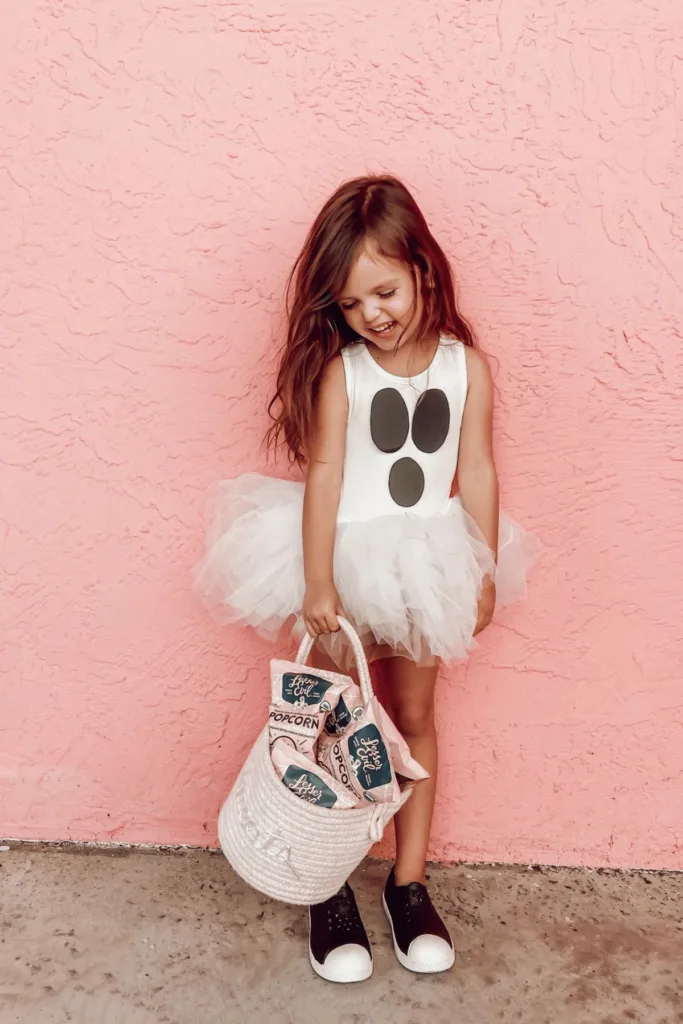 Credit: @stayinghomesawyer
7. Boba Tea
This DIY toddler costume is adorable and makes me want some Boba Tea!
The best part is that the primary materials are a cardboard box, box cutter, and a hot glue gun.
There are a few other materials that you will have to gather like the orange cellophane and some brown balls (the bit balls work great for this) and then you can get crafting!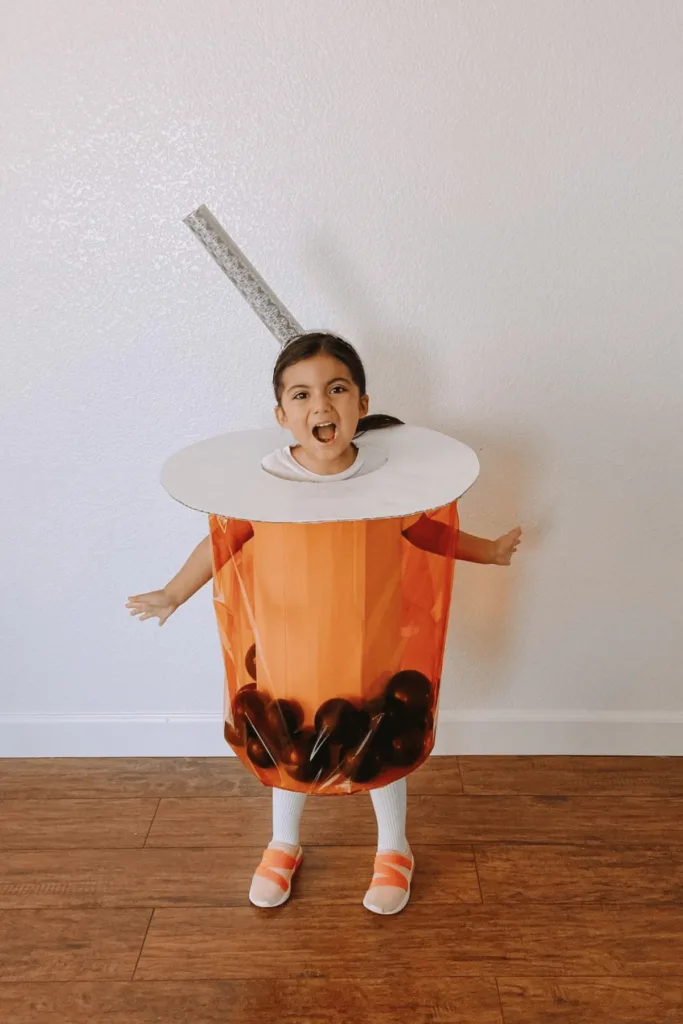 Credit: @imdeztinee
8. Starbuck's Coffee
This DIY toddler costume is adorable and will be loved by all the Starbucks fans out there.
As far as DIY projects go, this might require a sewing machine for some of the assembling or a hot glue gun might do the trick.
Add a little felt for the cup part, cardboard for the straw and the Starbucks image and your adorable DIY toddler Halloween costume is complete!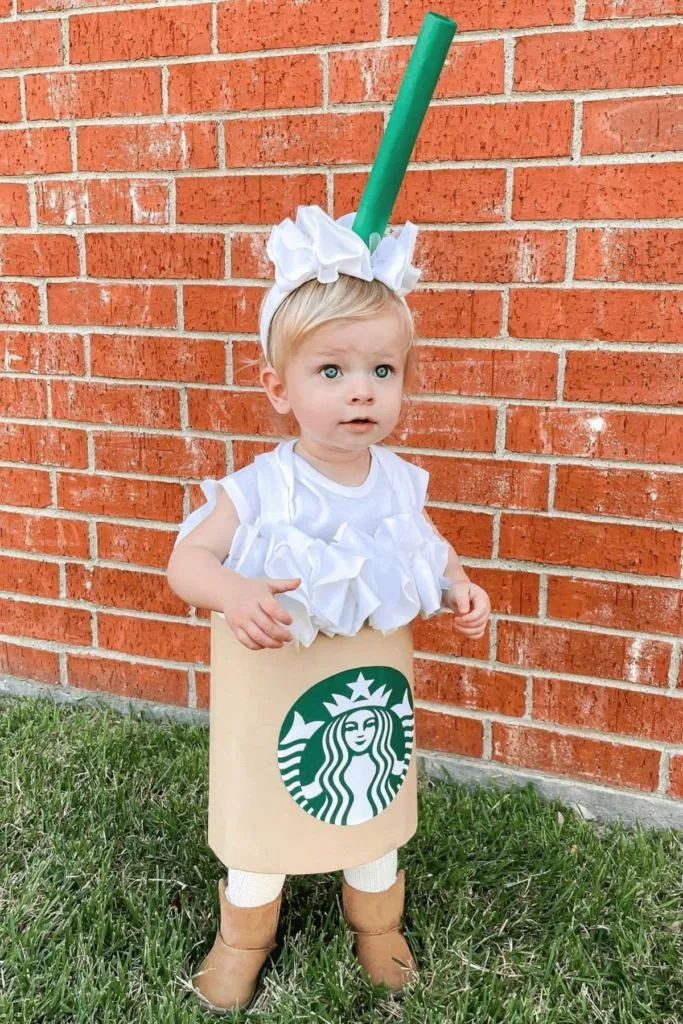 Credit: @erinchoward
9. An Ice Cream Truck
I am a sucker for a family costume and this one is adorable!
The toddler ice cream truck costume is such a creative costume that requires mostly a cardboard box and some DIY creativity!
The best part of this costume is that your little one can add to their own ice cream truck by coloring an ice cream cone. For a closer look at his great costume, check out the credit link below.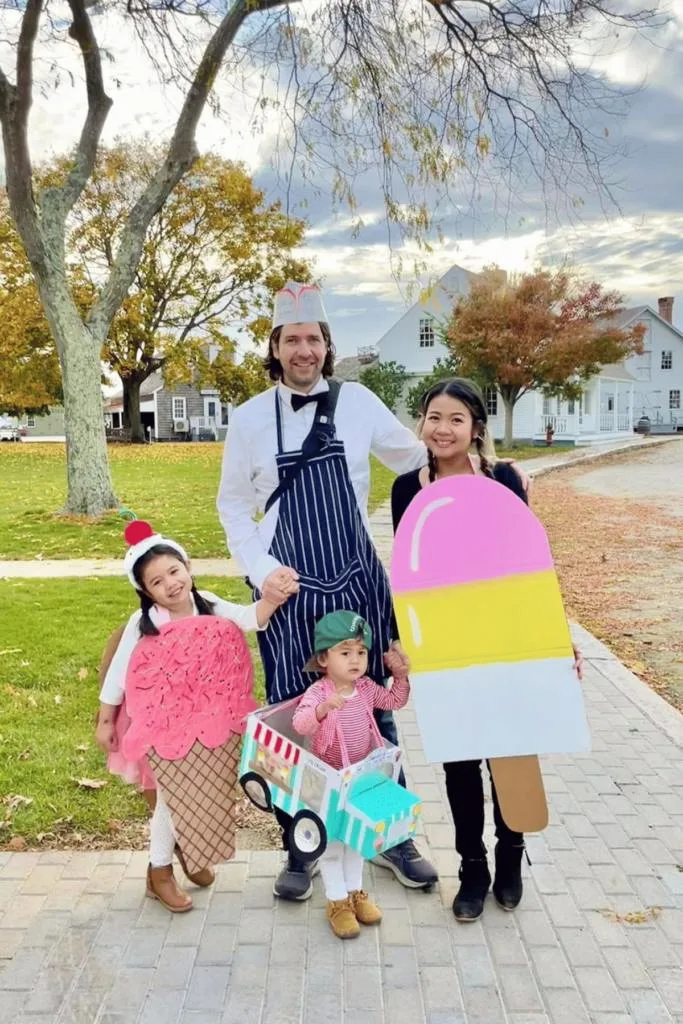 Credit: @cate_andthekids
10. Annie
The sun will most definitely come out with this simple DIY costume!
This one requires a wig and red dress and those adorable fancy socks (that I for sure remember wearing as a kid and being so proud of!)
Add a little freckles and some black Mary Jane shoes and you have yourself an adorable Annie costume! Bonus: add a terrier mix dog and you are set!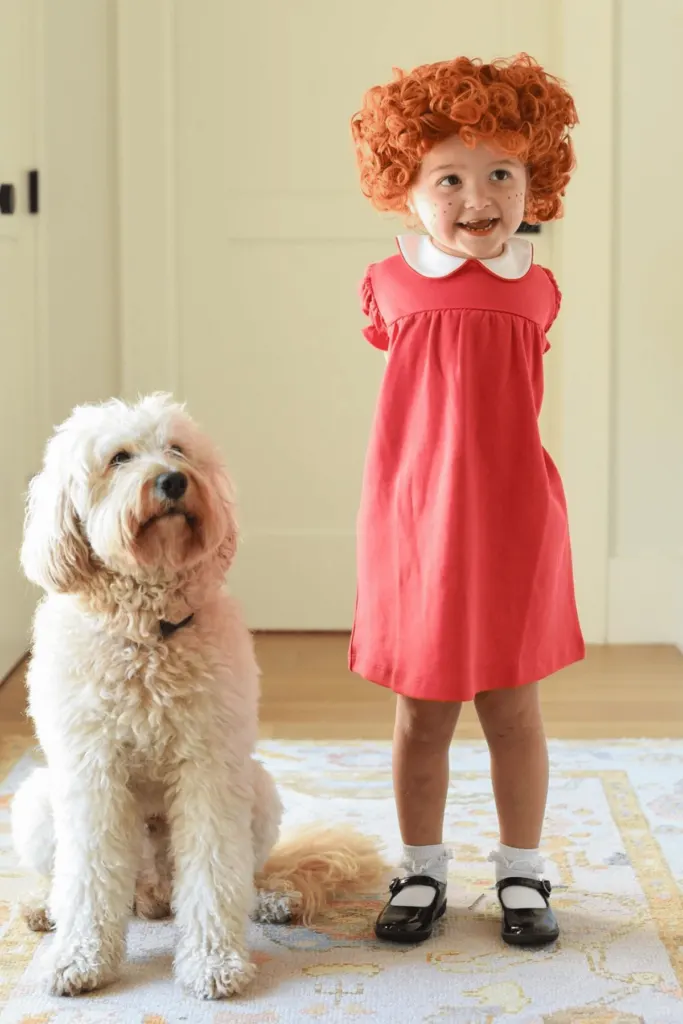 Credit: @sweetcarolinedesigns
11. Fruit
These DIY costumes are a fruit lovers dream and super cute!
I love that the grape costume is really a simple costume and would only require balloons a little felt for the headband and a black shirt and black pants.
The adorable little peach costume would most likely take a sewing machine to make and a little felt.
Other than that these are two simple costumes that will bring a smile to everyone's faces!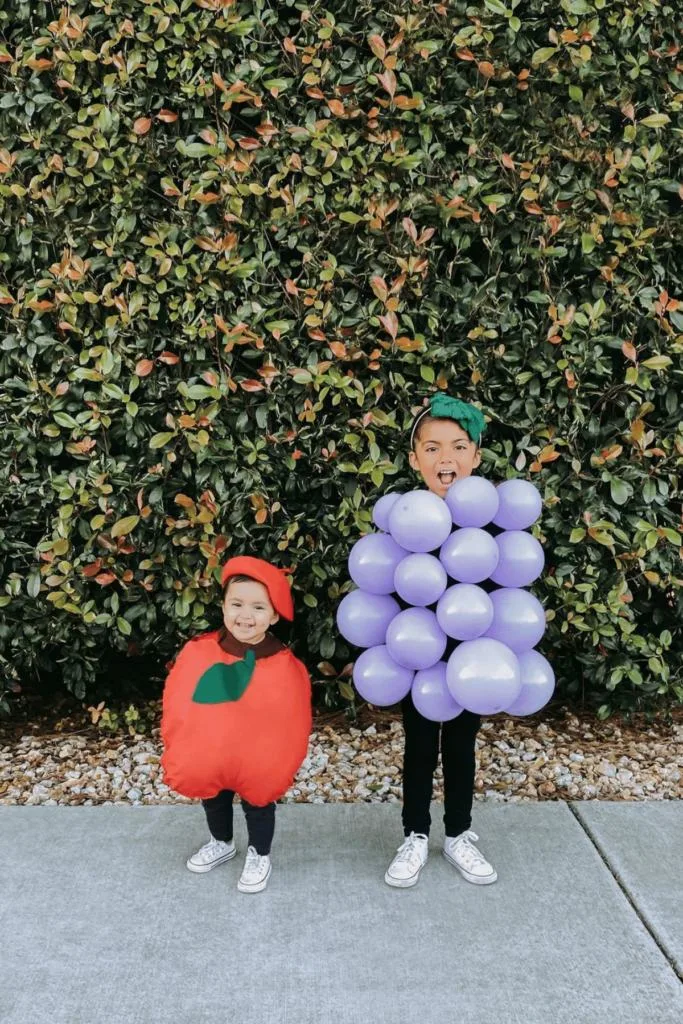 Credit: @imdeztinee
12. Winnie The Pooh
Bringing your child's favorite character to life for Halloween is magical and these Piglet and Winnie the Pooh outfits do just that!
These are pretty easy in terms of DIY halloween costumes and can even be used as sibling costumes!
The piglet costume is a pink tutu and ping leotard that either comes with black stripes or you can add them with a black sharpie! Grab a cute piglet headband and the outfit is complete!
Winnie the Pooh is just as easy; a yellow tutu, yellow tank and a little red shirt with some felt or vinyl letters will complete this look!
The best part of this great costume is that it can be used for make believe play after trick or treating is done.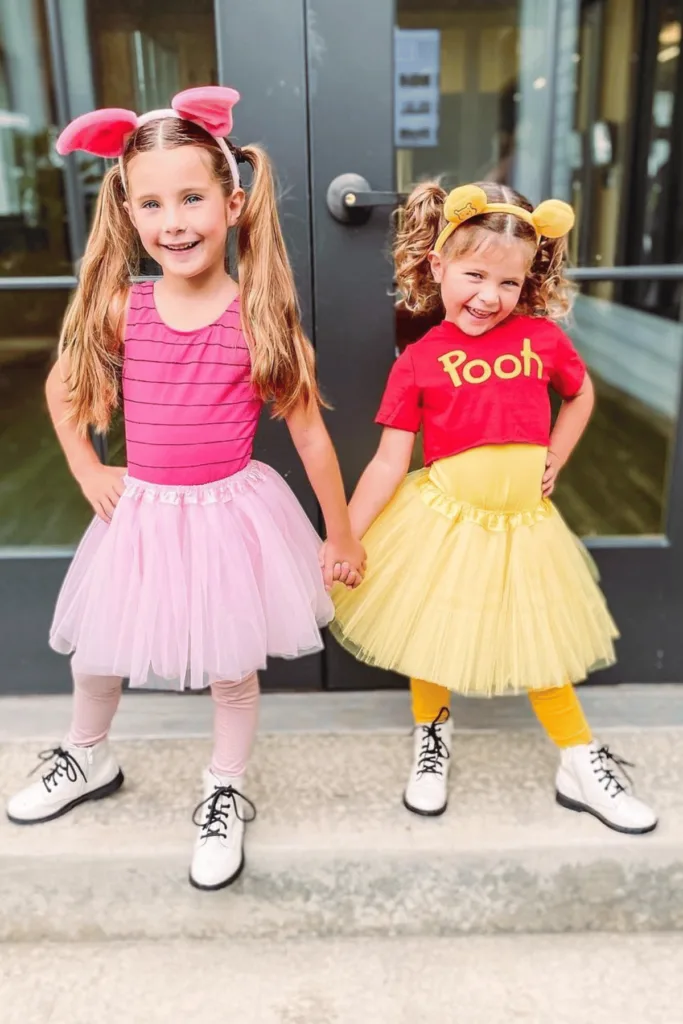 Credit: @erinpinaire
13. Scuba Diver
This scuba diver costume is so much fun and is perfect for your water loving toddler!
It's a pretty simple DIY costume and you most likely have some of these items already around your house like black pants and a black shirt.
Grab some spray paint, goggles and head over to this Scuba Diver costume tutorial for an easy tutorial!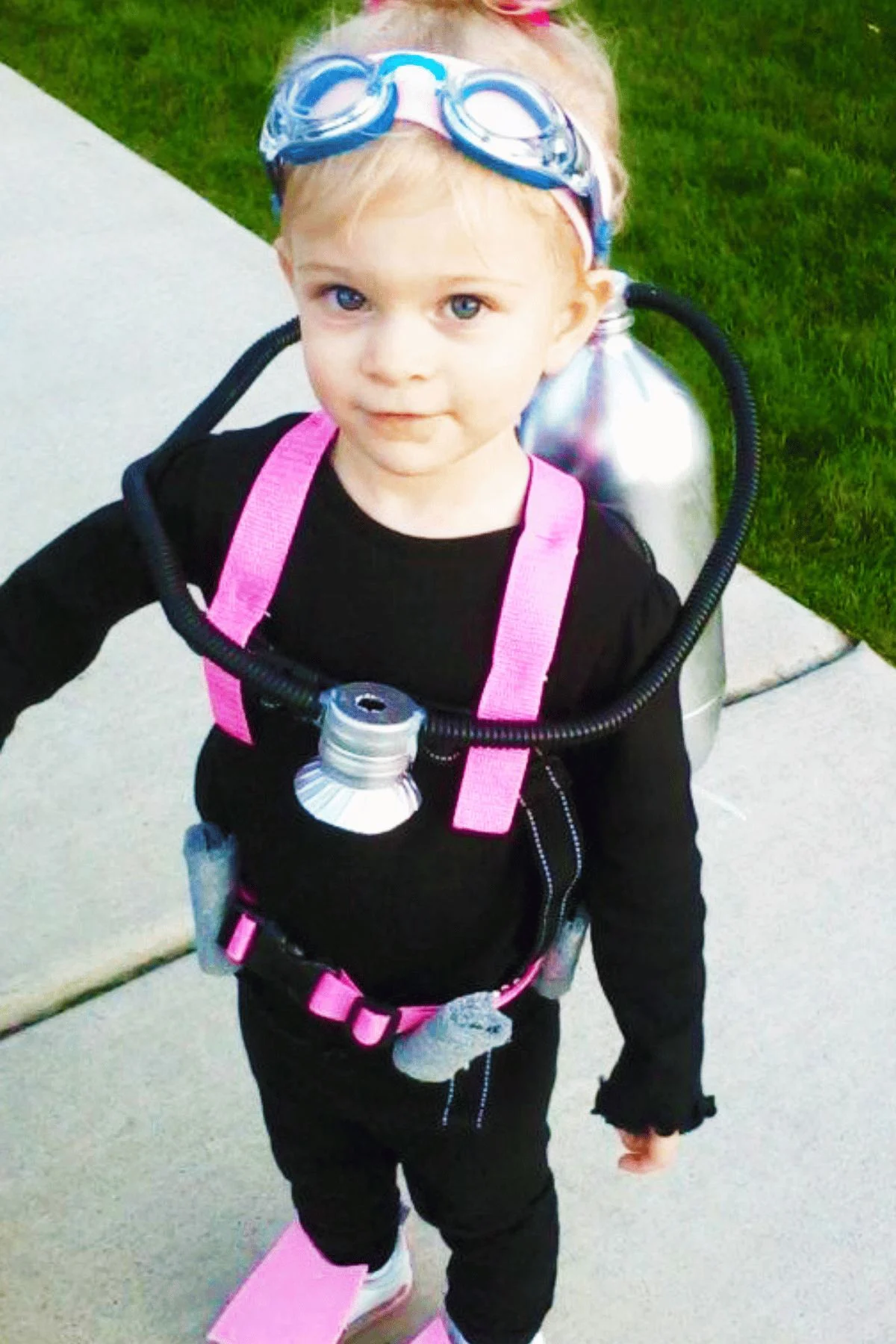 14. Mermaid
This mermaid costume is the cutest and would be a dream costume for so many little girls!
The best part is that it includes a full tutorial that will walk you through how to make this adorable mermaid costume.
A fun way to include your toddler on this project would be letting them help pick out the material for the tail. It's so much fun going to a craft store and looking at all the different materials they have and getting to choose their own colors would make this even more magical!
Check out this easy mermaid tutorial and get crafting!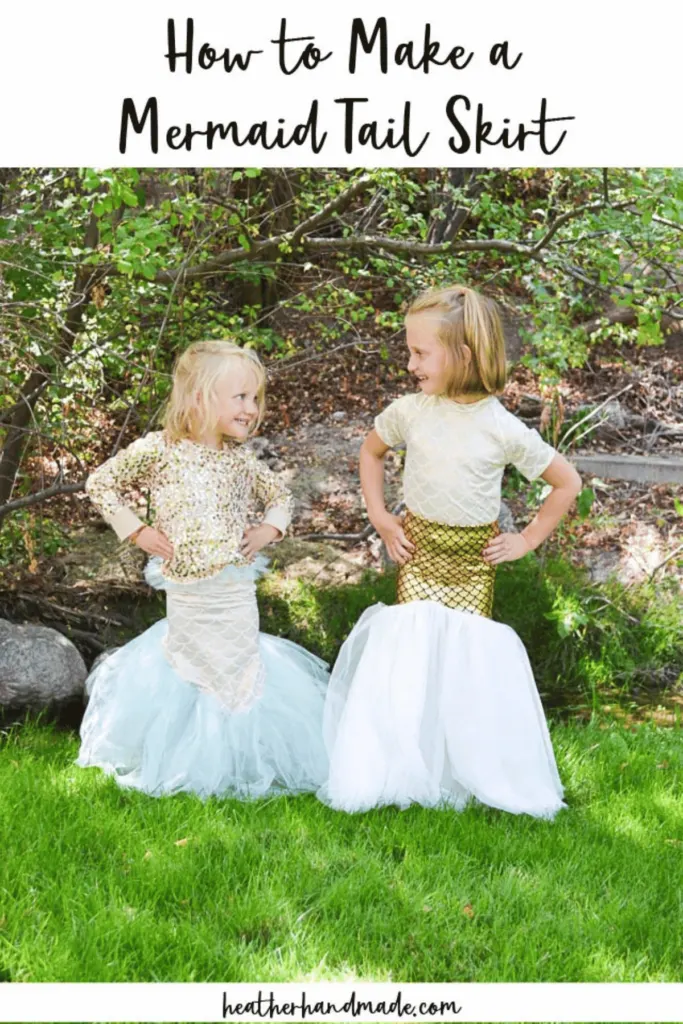 15. Lego
Looking for an easy last-minute costume that is adorable and your kid will love? Look no further than this cute lego costume!
This great idea is super simple and requires a card board box, some spray paint, a hot glue gun and a box cutter.
Grab a yellow shirt and yellow pants and this outfit is complete! If you don't want to do yellow, you could easily make this lego costume any color.
This would also be a super easy and adorable family outfit! Check out this diy lego costume tutorial for an easy tutorial and have fun building!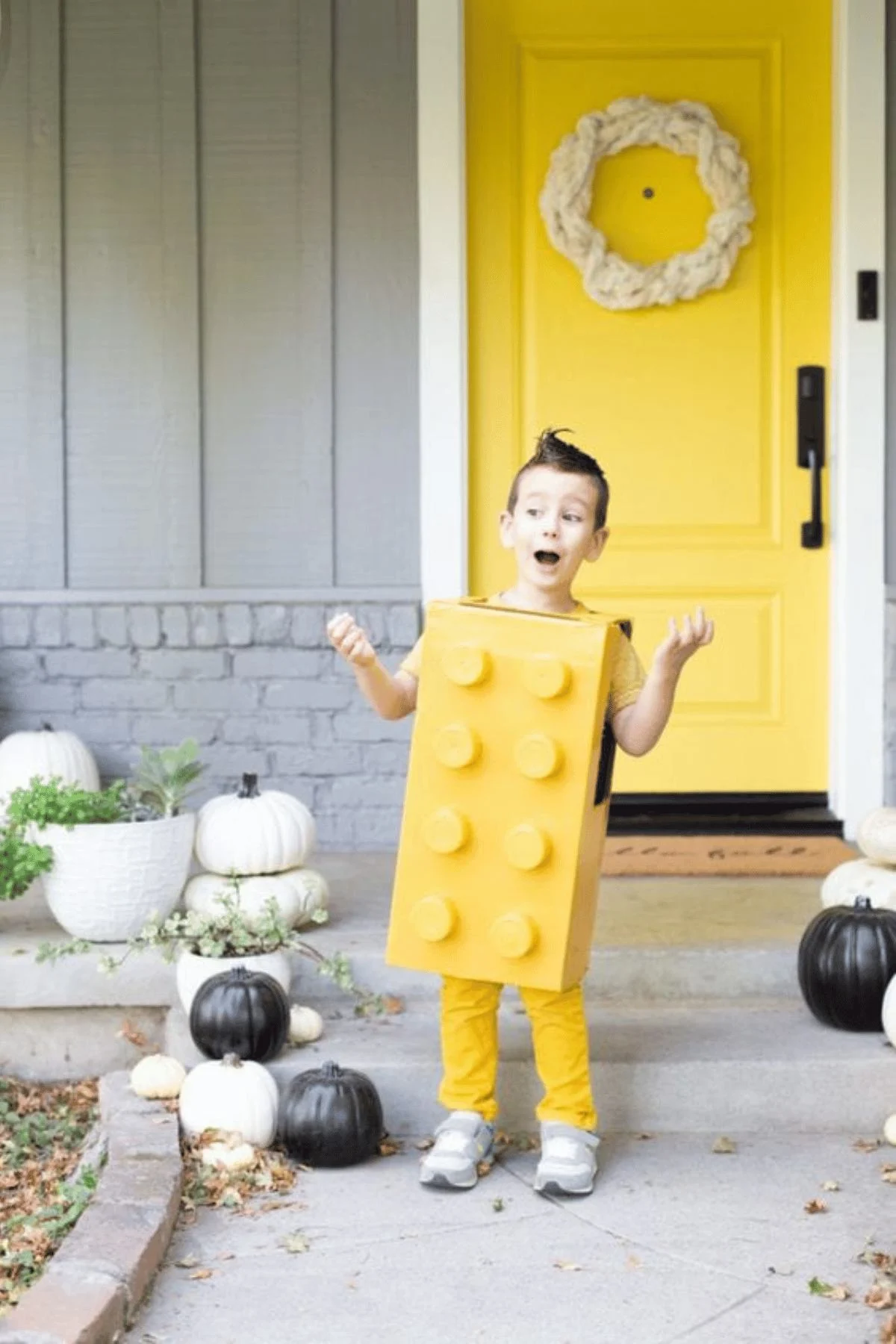 16. Bluey
This fun costume is another favorite character- Bluey! The easy tutorial also comes with directions on how to make Bingo!
This costume is super easy and requires mostly felt and a hooded sweatshirt and black pants. It's one of the easier DIY costume and will bring your Bluey loving toddler so much joy!
Check out Bluey costume tutorial for these adorable DIY Halloween costumes!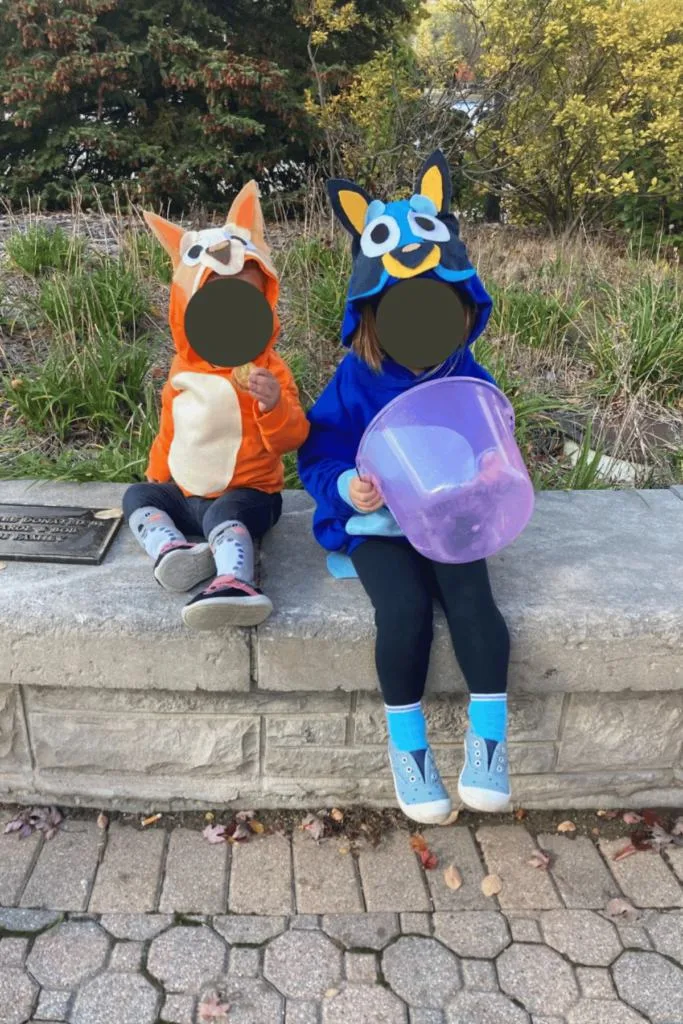 17. A Rainbow
This perfect costume is a child's imagination coming to life!
Grab some pool noodles (bonus if you reuse the ones from the summer), a tutu and get crafting!
The best part is that you can make this rainbow costume your own by adding as many rainbow details as you want!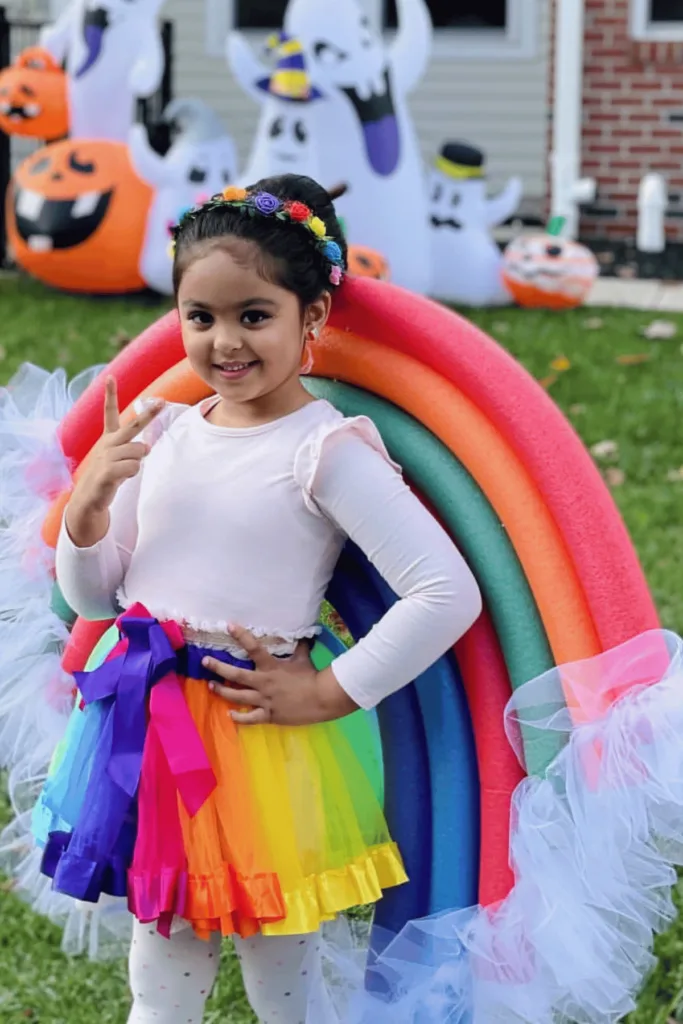 credit: aanya.bee
Even if you don't have a baby, you'll be wishing you did once you see these DIY baby Halloween costumes.
DIY Halloween costumes are so much fun to make and really lead to so many good Halloween memories!
I hope you have just as much fun making your costume as we have had in our family. Looking for more Halloween costume ideas?
Check out Halloween costumes for a baby, family halloween costume ideas or sibling costumes for more ideas! Please leave a comment below on what costume you and your littles decided to make, I love hearing about all the DIY costumes!