Halloween is such a fun time with kids! The dressing up and magic of it all brings back so many childhood memories for me.
And just add in the smell of fall, cute decor and pumpkin patches— mmm I just love it! So what are you planning to do this year for a happy Halloween?
Halloween parties require Halloween games, right? What are some of your favorites?
Bobbing for apples, eating donuts from a string, and Halloween bingo are a few good ones to have up your sleeve.
If you are in need of some fun costume ideas for your toddler, click to get some great inspiration!
We want to provide you with a fun group game that will be perfect for children of all ages— younger kids learning their alphabet OR even for your high school kids!
It's one of the most classic and oldest party games… Scattergories!
What a classic word game, right? This Halloween game is bound to become a new favorite in your fall family game nights.
Make it a game night with this Halloween memory game printable.
How To Play Scattergories
Let's start off with remembering the game directions for the good ol' game of scattergories. The original version is a fast-paced game where you are given a game sheet with words that have been put together in themed categories.
An alphabet die is rolled to determine the letter you will be using. Your job is then to write a word for each category that begins with the chosen letter. Write as many as you can before the timer goes off.
You will score points by having words that nobody else had! So be sure you use unique words in order to beat your opponents.
If you don't have an alphabet die, simply have a player choose the letter.
There are so many different ways to play this game! For this fun one, we're going to focus on Halloween and I promise you'll have so much fun!
Halloween Scattergories Game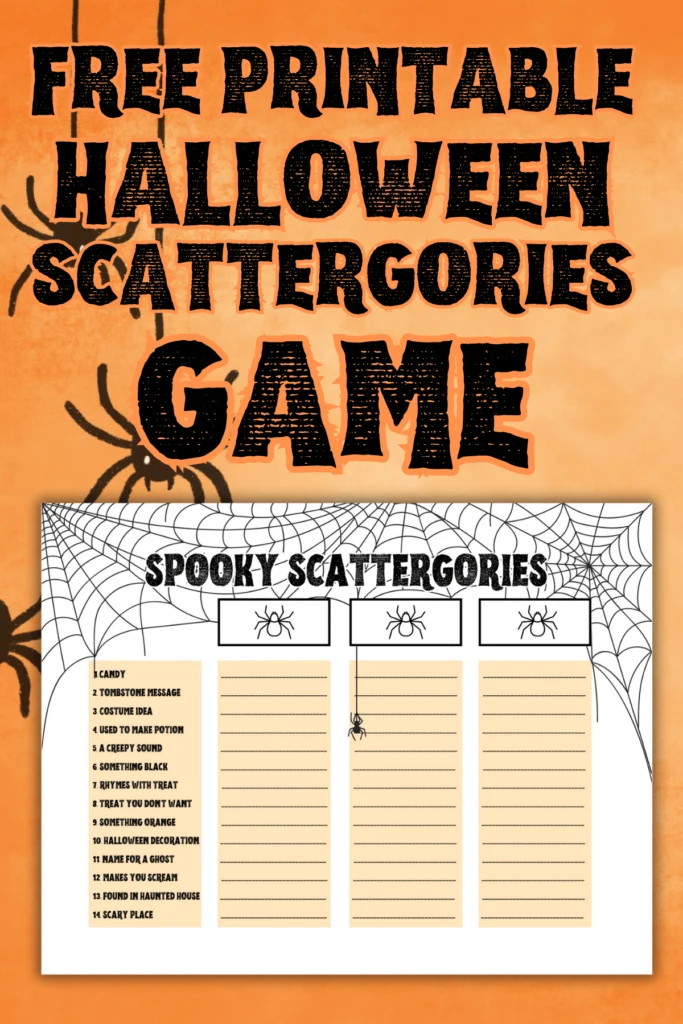 This Halloween Scattergories is a printable game that you can find a download link to below.
It has a spooky twist to what was explained above. In this version you will find the categories listed on the left hand side. Above you will find 3 spiders with 3 columns.
Each spider is a different round. First, roll the alphabet die and have each person write the letter in the spider.
Keep in mind that the random letter might be an X. If that's the case, you might want to have them re-roll to get something a little easier. Or, try it out! You never know what you'll come up with!
Start the timer and each person will write as many words down that start with the assigned letter as they can. When the time runs out, compare the game cards.
Whoever has the same words written down crosses them out. Again, you gain points by having unique words on your card.
If you want to use cardboard folders to make it real serious and avoid any cheaters… go for it! Your high schoolers will get a kick out of it.
You can let younger kids fill out the columns without letter requirements (older kids will definitely need a specific letter to make it fun). Simply have them think of themed words that go with each category.
To add another layer of difficulty try adding a timer. You may also come up with your own categories.
How To Get Your Free Printable Halloween Scattergories PDF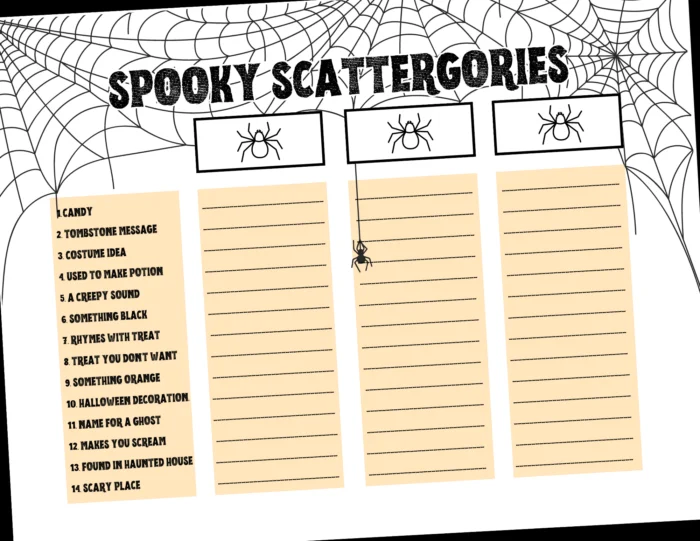 Aren't free printables just the best?! You will receive the download instantly upon subscribing.
I also recommend checking out these Halloween Mad Libs as well. Oh and this Halloween Guess Who game. I mean, you're already printing anyway!
Feel free to print it from your own printer or at a local print shop (just remember that this file is for personal and classroom use only).
Many print shops have affordable printing for simple things like this. So I would definitely check that first before printing at home so you don't waste all of your ink.
I recommend printing it on some nice heavy card stock for the highest quality feel. AND then it might save for next year if you laminate it and use dry erase markers.
Simply put in your email address at the bottom of this article to receive your free download.
Try doing a test print first if you are worried about the print settings. And remember that the exact colors that you see here might be different from your physical product.
I hope your next game night is a blast!