How would your child complete this sentence: I love my teacher because ______________________. This I love my teacher because printable makes it super simple to help your child express their love for their teacher.
As a teacher myself, I very much appreciate getting gifts, but the ones that I treasure the most aren't the mugs, or the gift cards. The ones that I really love are the handwritten notes and cards. The ones that make me laugh, smile or make me feel like I'm making a difference in my student's lives.
This is the perfect teacher appreciation gift for Christmas, Valentine's Day, the end of the year… You could really give this gift whenever.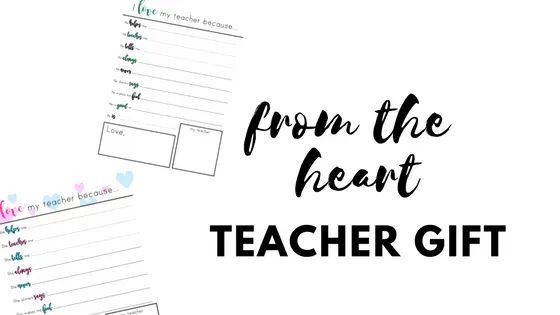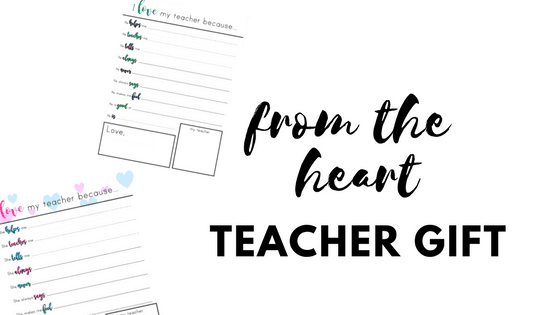 My daughter has an amazing kindergarten teacher. And I know (from experience!) that her teacher probably doesn't hear that very much.
Maybe she hears it more than me because I'm a middle school teacher, and we all know how middle schoolers are. But anyway.
I created this all about my teacher free printable as a way to express our appreciation. But I also created it to help my child to show her appreciation for her teacher.
Because my daughter is 5 and she doesn't really know how to put her extreme LOVE for her teacher into words. She needs a little prompting to kind of get it out.
This all about my teacher fill in the blank printable will definitely make your child's teacher smile (and you'll probably get some really cute answers too!)
These are my 5 year old's answers:
I Love My Teacher Because Printable
I love my teacher because she helps me feel better. Kindergarten has been a rough adjustment, so this such a big part of why her teacher is amazing.
She teaches me ABC's.
She tells me Hi.
She always talks to me.
My teacher is great because she never gives me a card change. And for my rule-following child, never getting a card change is life.
She always says Toots. She calls her Toots (like Tootsie).
She makes me feel happy.
I love my teacher because she is good at the calendar. Lol!
She is nice.
Printing Your I Love My Teacher Because Printable
Print the female or male version.
Use this thank you note to teacher printable for your child's teacher today!
And you can also get my bus driver appreciation printable.
I would love to hear your child's responses!