Inside: Are you wondering what the timeline of a breastfed baby looks like? These are the phases that your breastfeeding baby will go through, including cluster feeding, distracted nursing, growth spurts and more! A lighthearted, humorous look at the funny and sometimes frustrating stages that your baby will go through.
This post contains affiliate links.
What do you see when you envision breastfeeding? A calm breastfeeding mom and baby, gazing into each other's eyes lovingly, maybe. The truth is, moms go through a lot of different emotions and experiences throughout our breastfeeding journey.
There are so many benefits of breastfeeding for her and for yourself (and I loved breastfeeding my babies), but it's not always easy.
When Does Breastfeeding Get Easier?
While difficulties exist like latching problems, blocked ducts, pumping while at work and mastitis, you are also dealing with normal, sometimes frustrating nursing phases.
The Timeline of a Breastfed Baby
The "cluster feeding so that I can make your milk come in" phase
Although colostrum is baby's super-food, it's your baby's job to nurse (and nurse and nurse and nurse) in order to cause your milk to "come in". This cluster feeding will inevitably occur at night, when all you want is to get a few winks. Who are we kidding, you're in a hospital. The nurses won't let you sleep anyway.
This is of course the toughest stage of breastfeeding. It can seem like you're never going to make it work.
Make sure you get some of my favorite Earth Mama nipple butter and apply it after every SINGLE nursing session. Your nips will thank you.
If you didn't take a breastfeeding class, then this online and on-demand, guaranteed or your money back breastfeeding class is just what you need.
The "your milk is in full force and I can't keep up" phase
Imagine. Your tiny infant who previously got about a teaspoon of colostrum a day now has a river of breast milk coming at her. It's common for baby to get frustrated, cough or choke because she simply can't keep up.

The "I can't nurse without falling asleep" phase
How are you supposed to put baby down drowsy when every time she nurses she's simultaneously sleeping? My second baby was either nursing or sleeping (or nursing and sleeping) for the first 3 months of her life.
The "it's between 5-9 pm, I'm starving" phase
Call it the witching hour, call it time to veg on the couch, most babies will cluster feed in the evening for hours. If it's your first baby, park yourself in front of the TV with some munchies and Netflix. If it's not your first, I'm sorry. You simply need to tough it out until the next phase.
The "wow there's so much to look at" phase
The "can't nurse without falling asleep" phase will abruptly end and be replaced with the I'm-so- distracted-by-everything phase. Your baby will begin to notice that there is a world that she needs to discover. Get ready for on-off-on-off-on-off for infinity nursing. Go in a dark room, you say? I speak from experience. Shadows are super intriguing.
The "I'm growing and I need ALL THE MILK" phase
Baby's grow. A lot. Growth spurts can be brutal, with a baby attached to you seemingly all day long. It will end soon, I promise. Enjoy the snuggles. Just imagine what your body would feel like if you grew as quickly as your baby's. Ouch! And revel in the fact that you don't have to pay for all the formula that it would take to get through these growth spurts.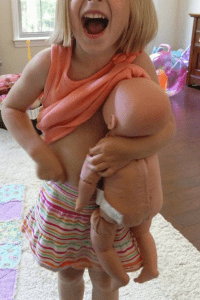 The "look mom, I'm an acrobat" phase
Imagine you had to eat your most satisfying meal of the day facing a wall. You'd be stretching and twisting, too. Remember, the world is an exciting place, and while your baby wants to nurse because it's her warm and safe haven, she also wants to see what's going on.
The "I have these new things called teeth, let me see what I can do with them" phase
Not all babies will bite, but it's definitely a possibility, and actually sounds worse than it really is. However, nip that in the bud ASAP, mama.
The "hello, I'm right here, LOOK AT ME" phase
There was a period of time when if I wasn't looking at my daughter while she was nursing, she was forcefully pulling my face toward her so that I would make eye contact with her. Sweet? Yes. Annoying after the first 254 times? Yes.
The "I'm a big kid now, just kidding, I'm still a baby" phase
If you are still nursing your toddler (yay for extended breastfeeding!!), you might be wondering why she has begun nursing every 5 seconds. You are her comfort, and she needs a little (okay, maybe a lot) of reassurance to make it through this scary time in life. Separation anxiety is at an all time high at around 18 months, so distract if possible, but if not, don't worry. This too shall pass.
The "I'm teething, help me" phase
Some babies will nurse less during teething (I've heard) but some will nurse more for comfort. If there was a Worst Teether in the History of Teethers Prize, it would go to my child. The good news? Nursing comforted her. The bad news? Nursing comforted her.
The "let me pull your shirt up and help myself" phase
Ah, yes. There's nothing more fun than the first time this happens in public. Bonus: you get to deal with the incredulous "you're still nursing a baby who is old enough to pull up your shirt" stares.
Want a comical look at the phases of the breastfeeding mom?
Pin it!