Baby Halloween costumes might be the cutest part of Halloween!
I love looking at baby costumes as we roam the neighborhoods trick or treating and no matter what a baby is dressed up as, it's instantly adorable.
Getting to choose your babies Halloween costume the first few years is maybe one of the best parts of Halloween and making a homemade costumes can be so much fun!
There are so many creative ideas out there and truly something for everyone. The best part of making a DIY halloween costume is getting to decide what you want to make!
Will you make a funny costume or go with an over the top sweet and adorable costume?
Or maybe you want to do something completely original? Making your babies costume opens up so many possibilities and are so much fun to make!
Plus, your little one will be looking back at these pictures for years to come and they might even be impressed with your level of DIY skills!
Check out the ideas below and get crafting!
DIY Baby Halloween Costumes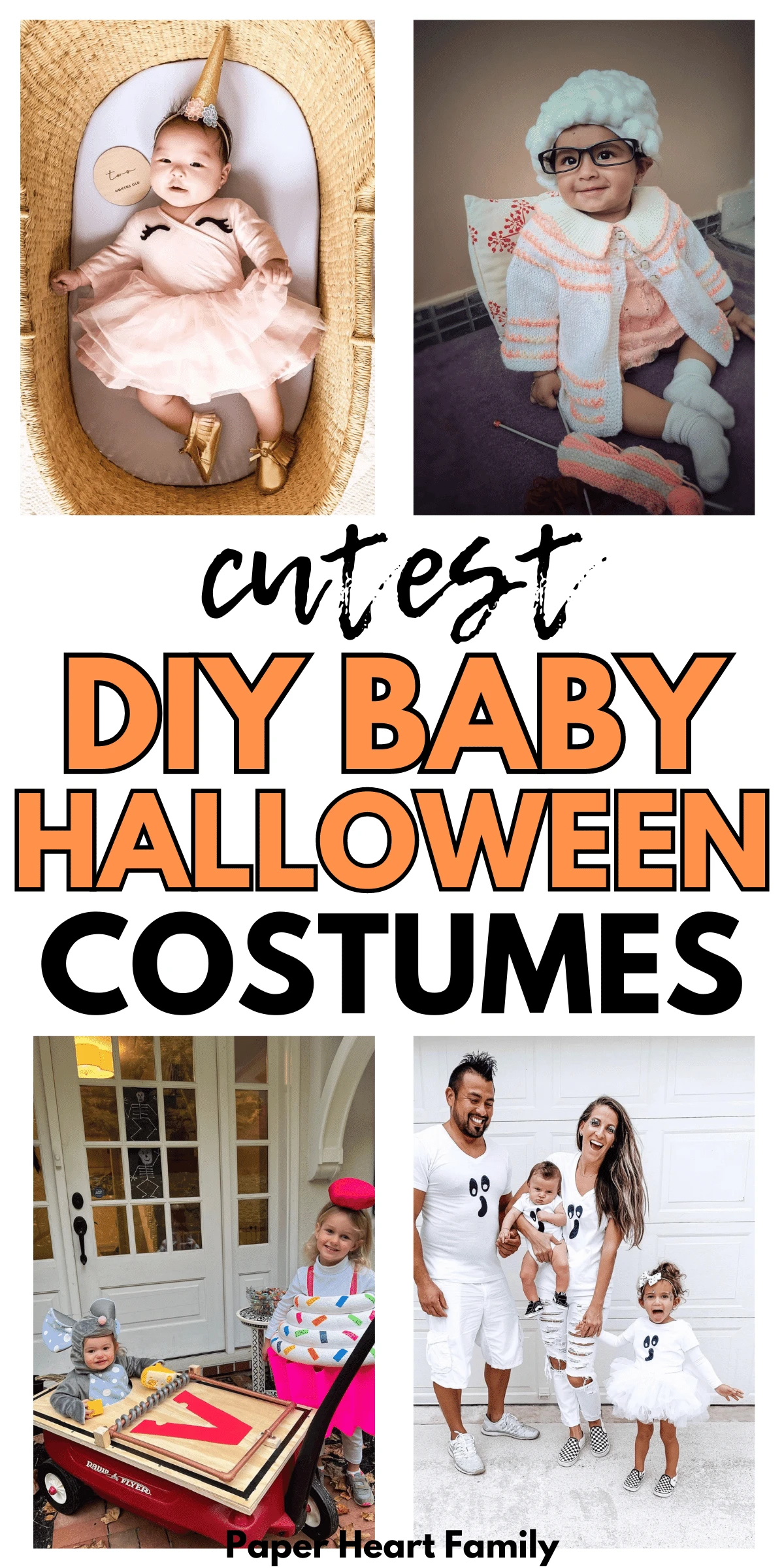 1. A Subway Sub
Anything food related for a costume is an instant win in my book! This costume is adorable and perfect for a newborn baby who is still in the sleeping, swaddle bliss.
The beanie is an easy DIY project with felt pieces hot glued or sewed on to look like the top of sandwich (lettuce, onion, tomato etc.).
The only thing you would have to purchase for this cute baby costume would be the Subway swaddle and of course you can find these easily online!
Your little bundle of joy will be the tastiest costume out there!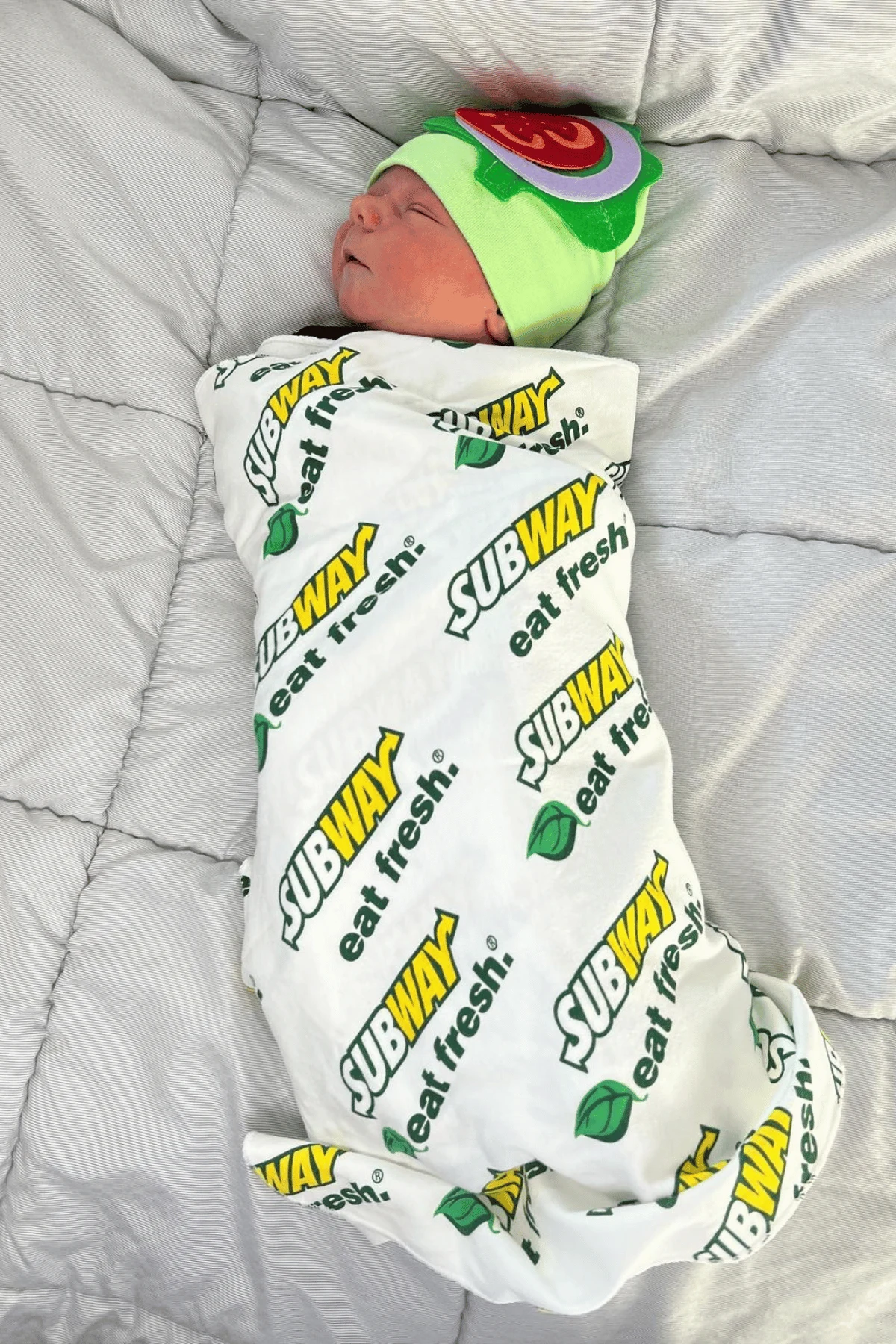 Credit: @leannepearson
2. A Snail
This is such a sweet and original DIY costume idea that requires simple materials and minimal time. To turn your sweet baby into an adorable baby snail it will take gray clothes, a gray beanie, cardboard and ribbon, some paper or newspaper and a hot glue gun.
The snail shell is where most of the DIY magic comes into place and is fairly simple!
Your goal is to roll newspaper or kraft paper (or whatever paper you have that will roll and form easy) to look like a snail shell. You will want to make sure the color of the paper is close to the color of a snails shell (grayish, brown).
Once your shell is formed you will attach it to the cardboard backing (hot glue would work great!) and attach the ribbons. Now you have the most adorable snail you have ever seen!
This is a snail I would even let into my garden!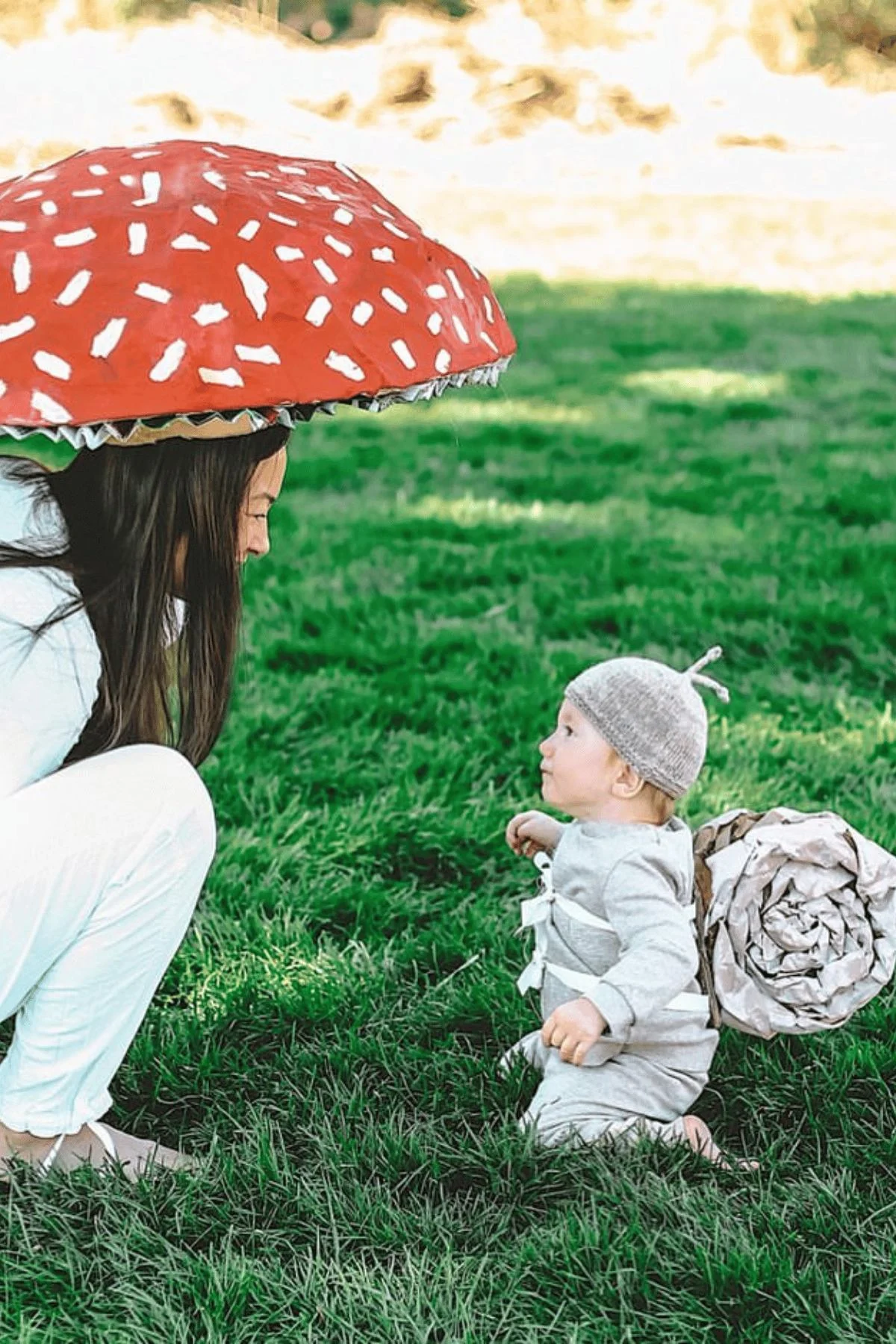 Credit: @heyclairecraig
3. A Lumberjack
This DIY costume idea is such a cute costume and makes me laugh every time I see it!
I love this costume for so many reasons- it of course is so cute, but it also takes minimal effort and its very likely you have most of these items already in your babies closet.
Grab a beanie, jeans, a plaid shirt and some suspenders and your little lumberjack will be ready for Halloween!
Another great thing about this costume is that you could easily make it into a family costume!
Credit: @mikala.grill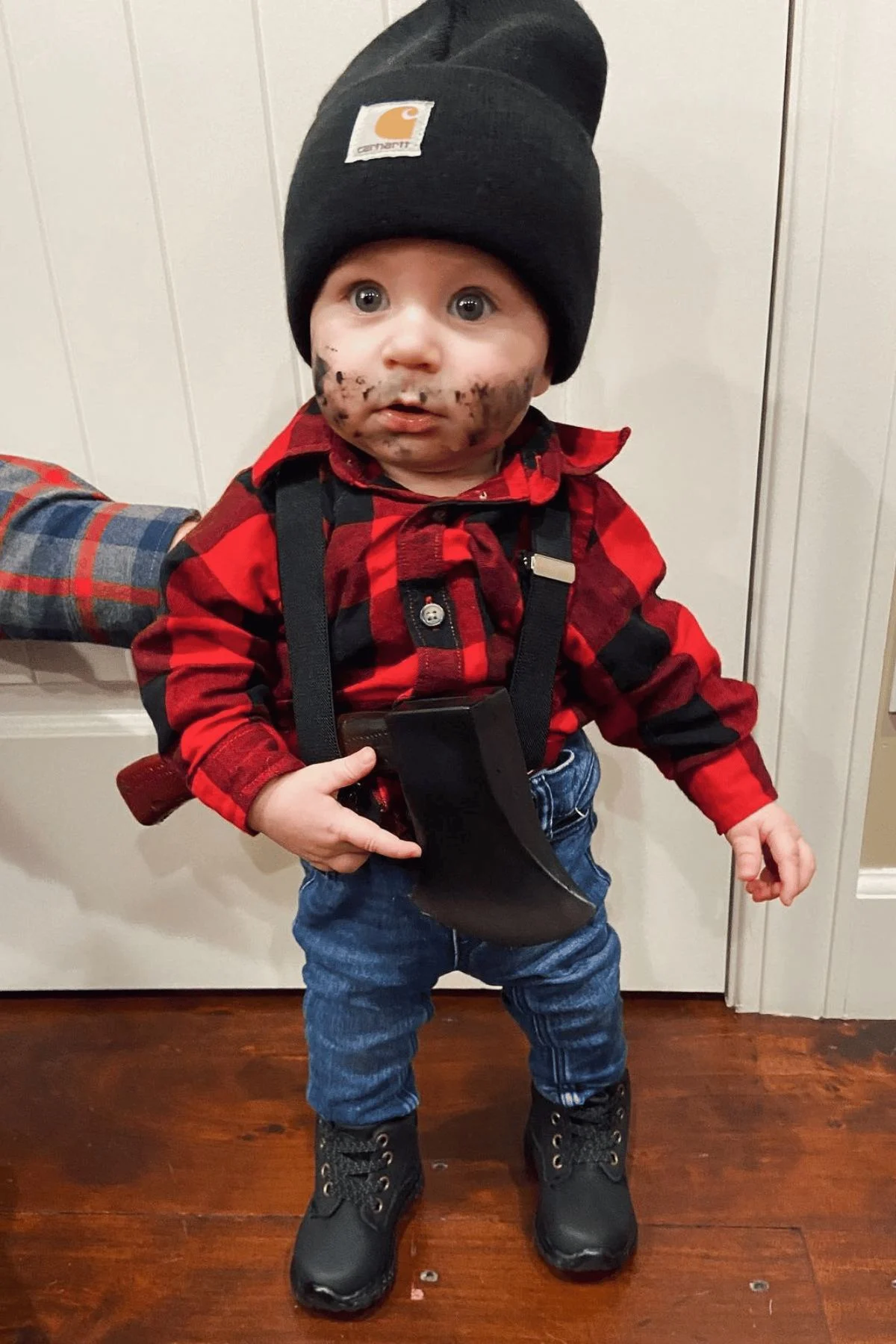 4. Spaghetti And Meatballs
This spaghetti and meatballs costume is the cutest thing and super creative! I love how this mom made the spaghetti noodles and that most of the costume can be found in your babies closet!
Grab a white onesie and white pants, some red puff balls, a big pasta pot and thick big yarn to make your little one a yummy pot of spaghetti!
Hand your little one a wooden spoon and place them inside the big pot and you will have the cutest pot of pasta anyone has ever seen!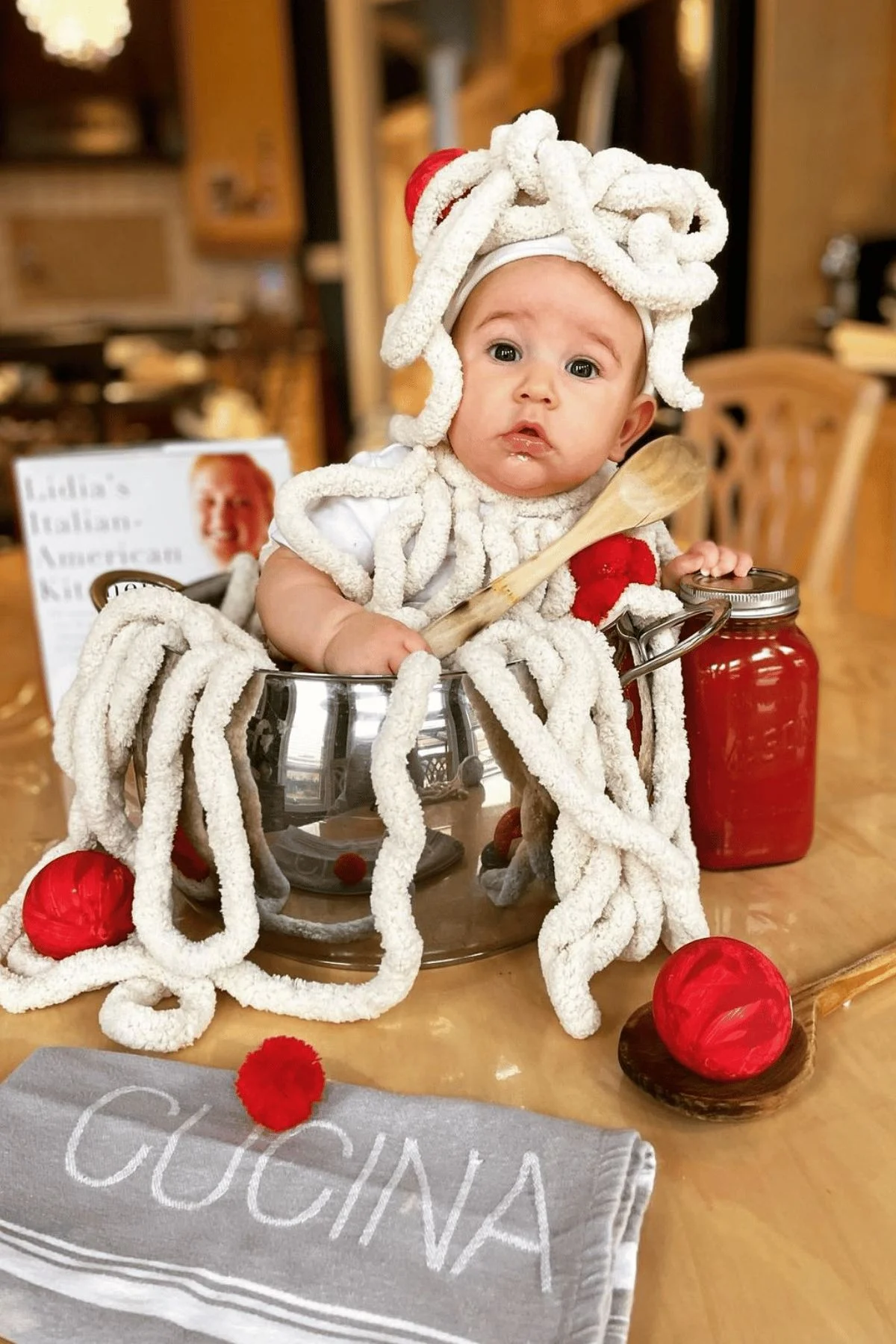 Credit: @maria.cristini
5. A Parrot
This DIY baby Halloween costume is so colorful and creative and can be reused for dress up for years to come. It takes minimal materials and would be fun to make!
Grab some colorful felt pieces, a red onesie and pants, a cape and a hot glue gun (or a sewing machine) to make. Layer your felt pieces while gluing them on to the cape and your little one will be a parrot in no time.
You could easily make this into a family costume and have your own flock of birds!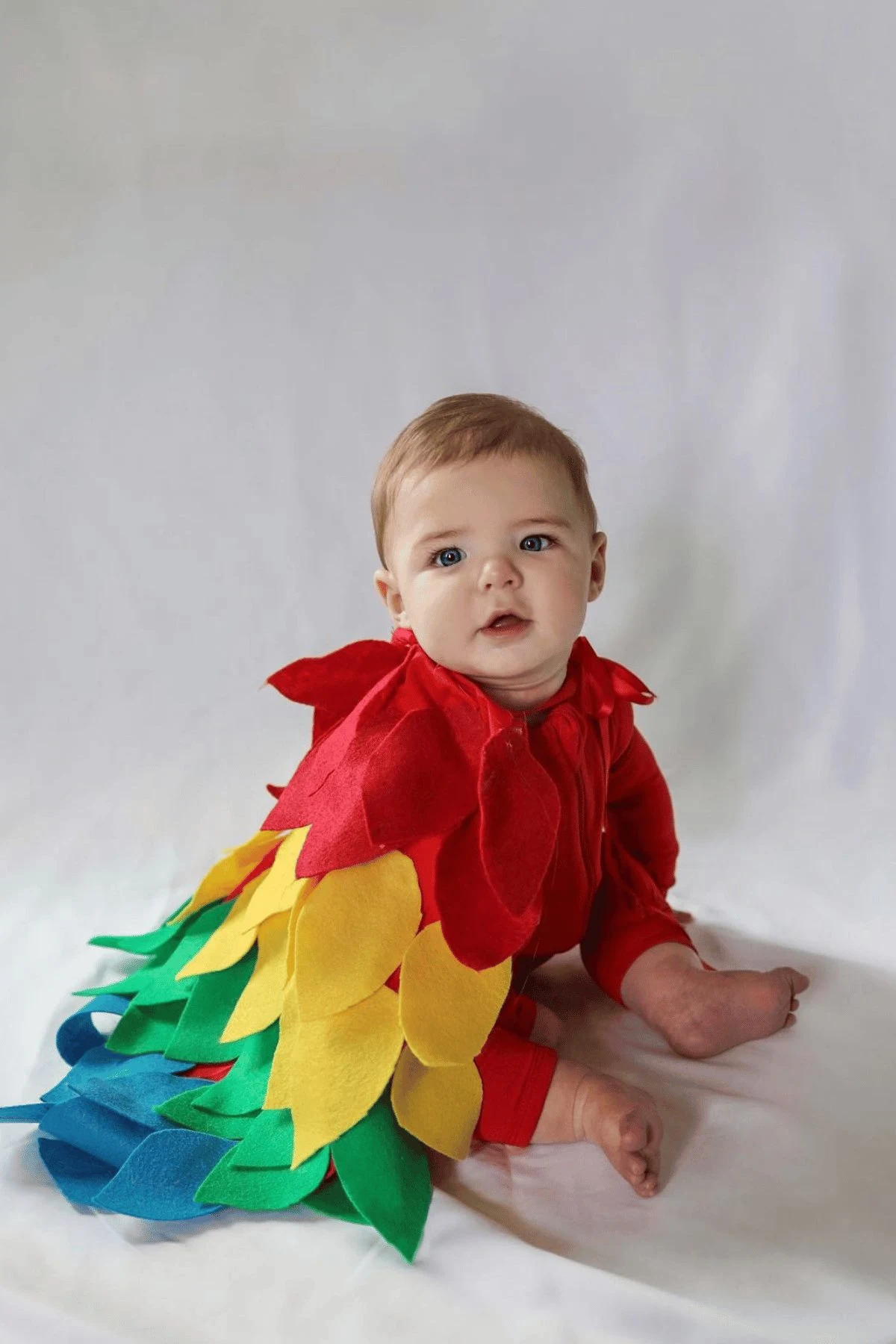 Credit: @lovethelunas
6. A Unicorn
This is the sweetest DIY halloween costume! I love that this outfit is simple but SO cute.
All you would need to make your sweet little one into a unicorn is a pink onesie, pink tutu, a unicorn horn headband and some cute gold slippers. This is by far one of the sweetest little girl costumes out there!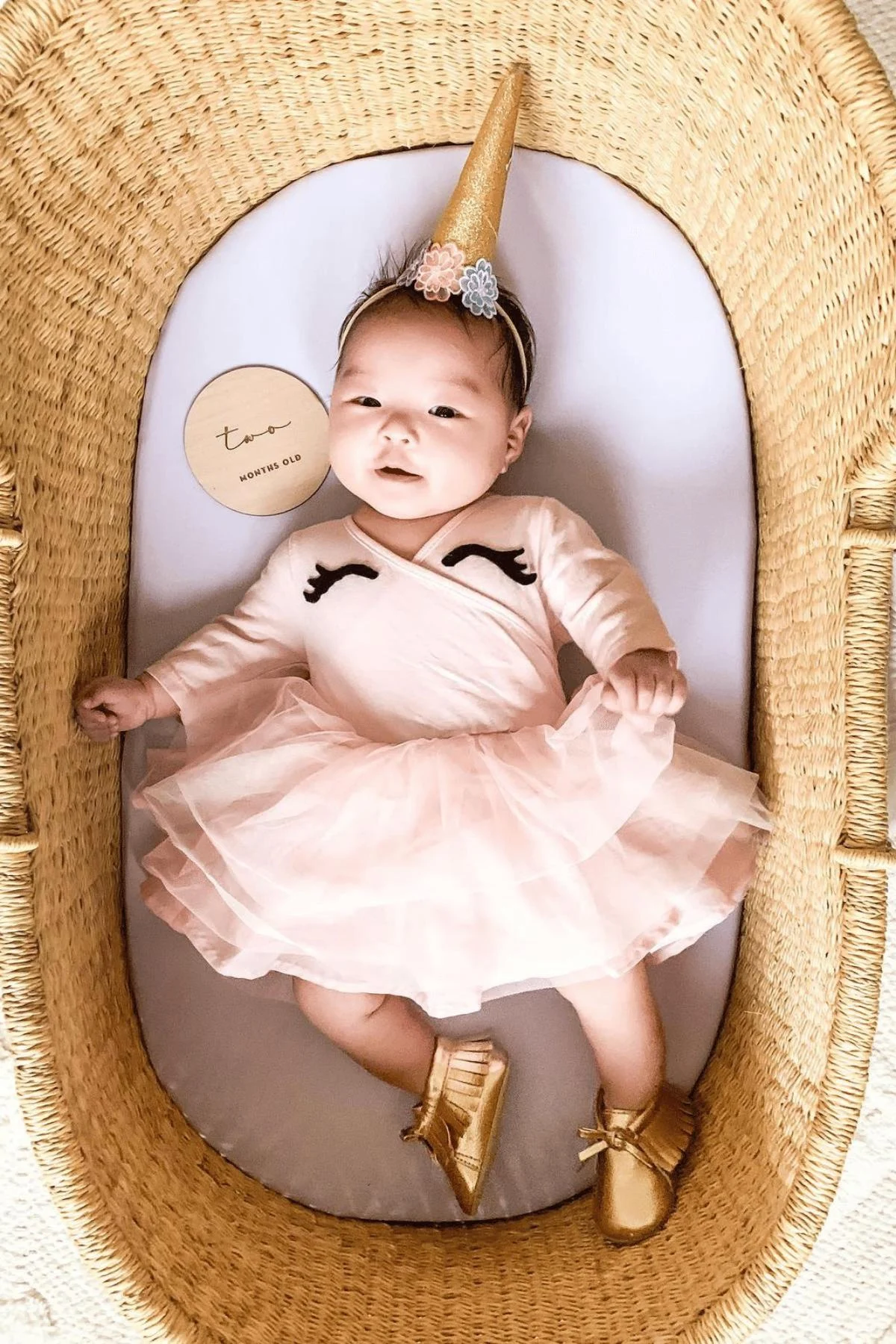 Credit: @justatinabit
7. A Ghost
I love an easy costume that the whole family can join in on and this baby's costume screams just that. This costume is super simple to pull off and requires a white onesie and some black felt pieces (or a vinyl iron on if you have a circuit or cutting machine).
The adult versions are just as easy and most likely you and your family already have white clothes in your closet (maybe your toddlers is a little stained like mine)
Have fun making this spooky costume!
We have more family Halloween costume ideas with a baby too!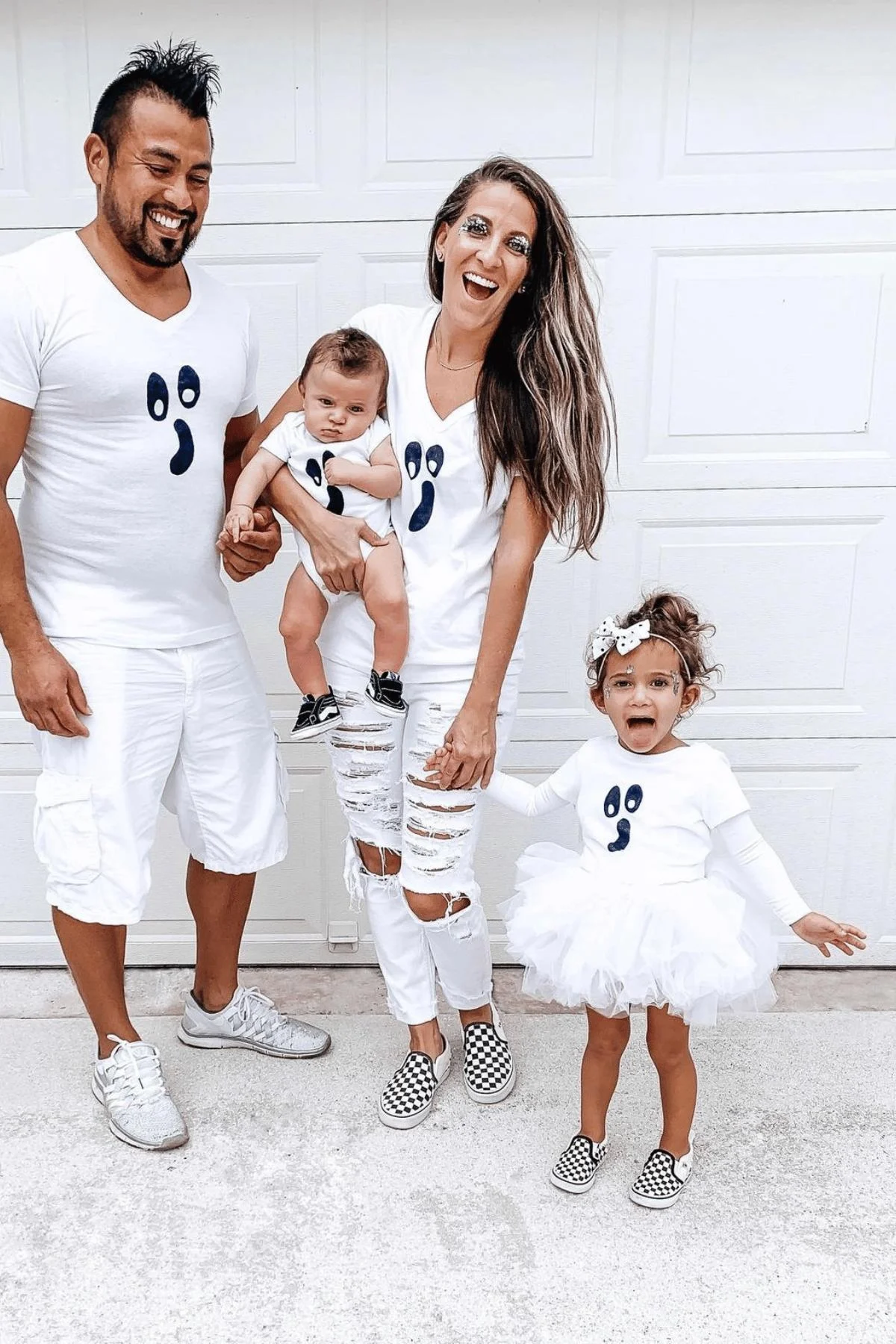 Credit: the_floridagirl
8. A Cow
Is there anything cuter than a baby dressed up in animal costumes? They are just adorable and this cow costume does not disappoint!
It would take little more DIY magic with some sewing (or buying a cow print shirt and hat) and attaching a pink felt piece on the tummy. The best part of animal costumes are they are super easy for an older sibling or family to match.
Psst- We have DIY toddler costume ideas too!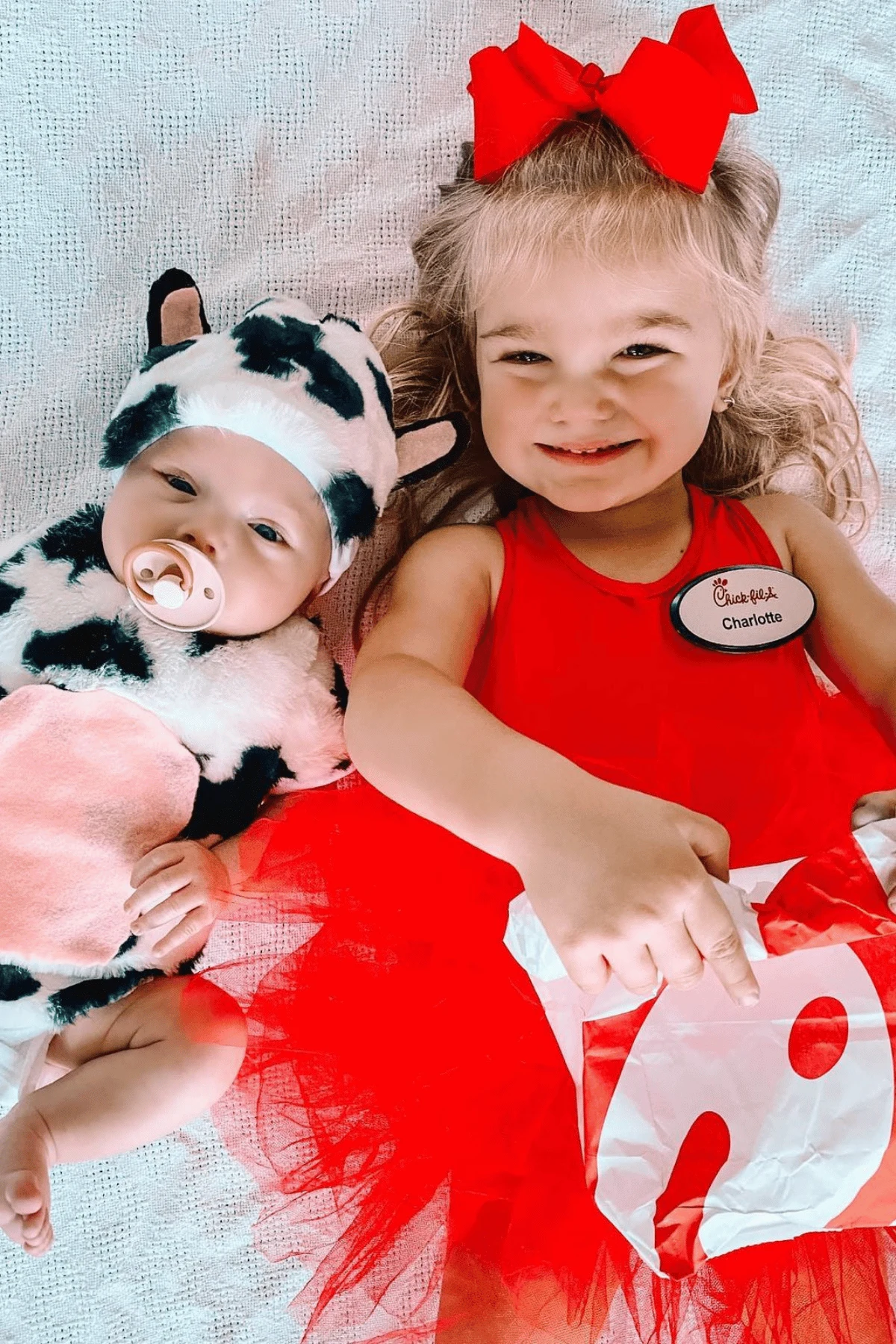 Credit: @tay_renaee
9. A Chicken
Once again, animal costumes are just the cutest and this chicken costume does not disappoint. This easy DIY costume will turn your little baby into the cutest little chicken.
Some of the materials for this costume might already be in your little ones closet like a white onesie and yellow leggings.
The rest (a white boa and chicken beanie or hat) would be super easy to find in a store and online.
This adorable baby costume will bring smiles to so many, including your own little chicken and make for the sweetest pictures to look back at.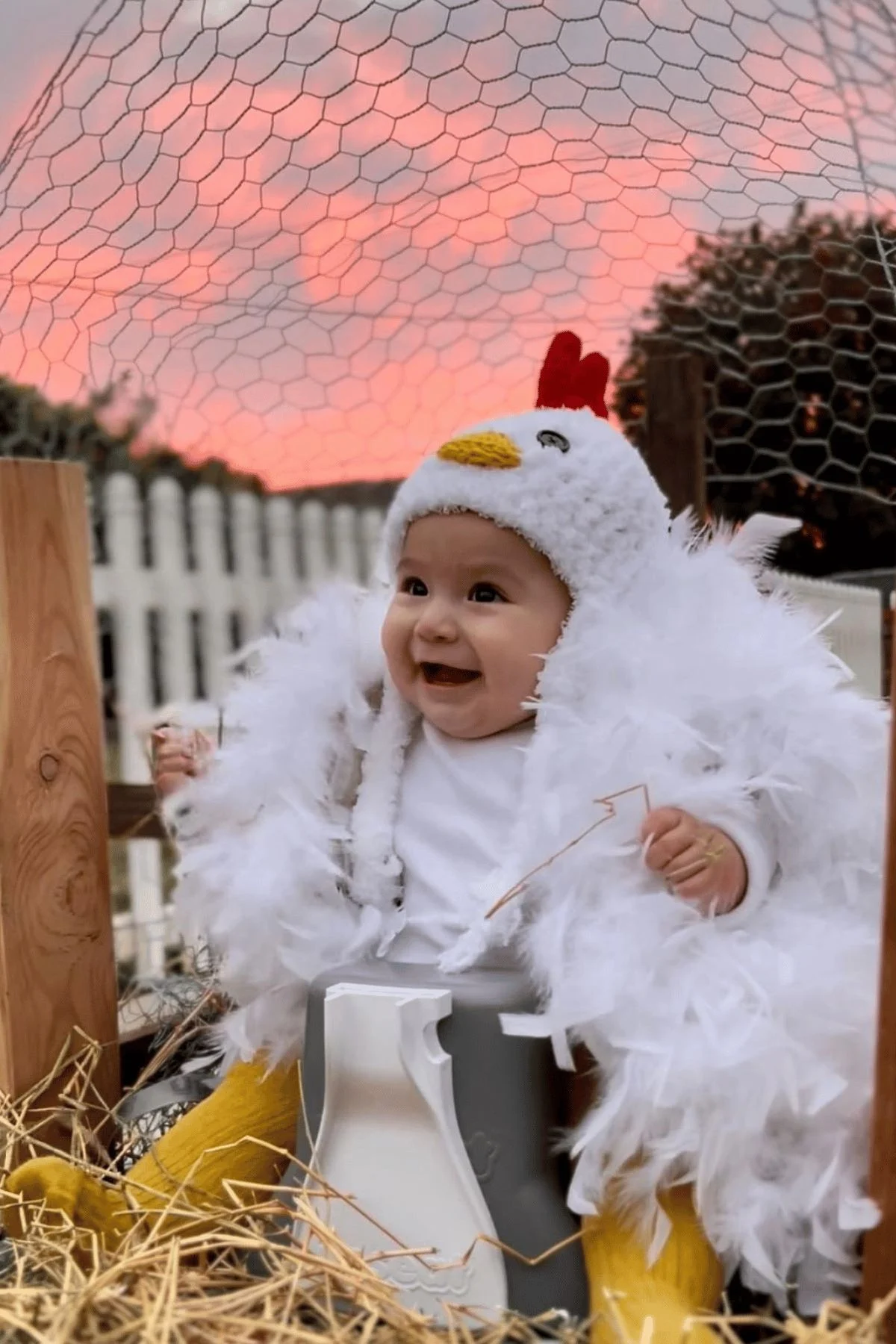 Credit: @bely_ochoa
10. A Nana
Babies dressed up like older people is just hilarious and this one does not disappoint on the laugh factor! The hair is my favorite part and would be so easy to make with a hot glue gun, a beanie and some cotton balls.
The rest of the outfit can easily be thrown together based on what is in your little one's closet and glasses can be found at any store (or maybe like me, under the couch).
Your sweet little baby may have aged overnight in this costume, but it will be a photo they are guaranteed to get a laugh out of in the future! Bonus if you can get your little one to hold a knitting needle and yarn.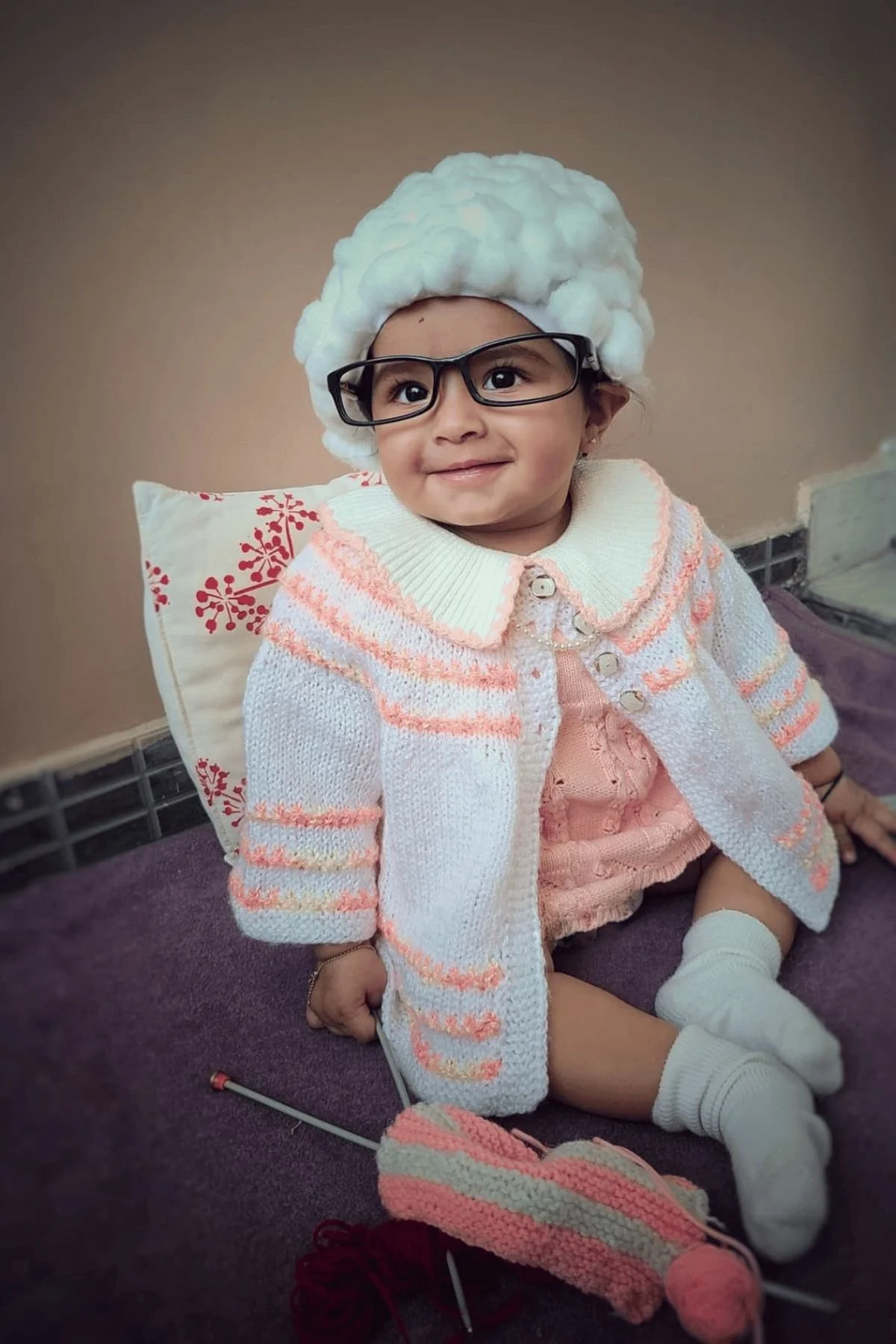 Credit: @sunainamalik_
11. A Dalmation
This Dalmatian outfit is so cute and easy to put together! It might require a sewing machine, but it would be worth the extra DIY time.
The best part is this costume would be a great family or sibling costume.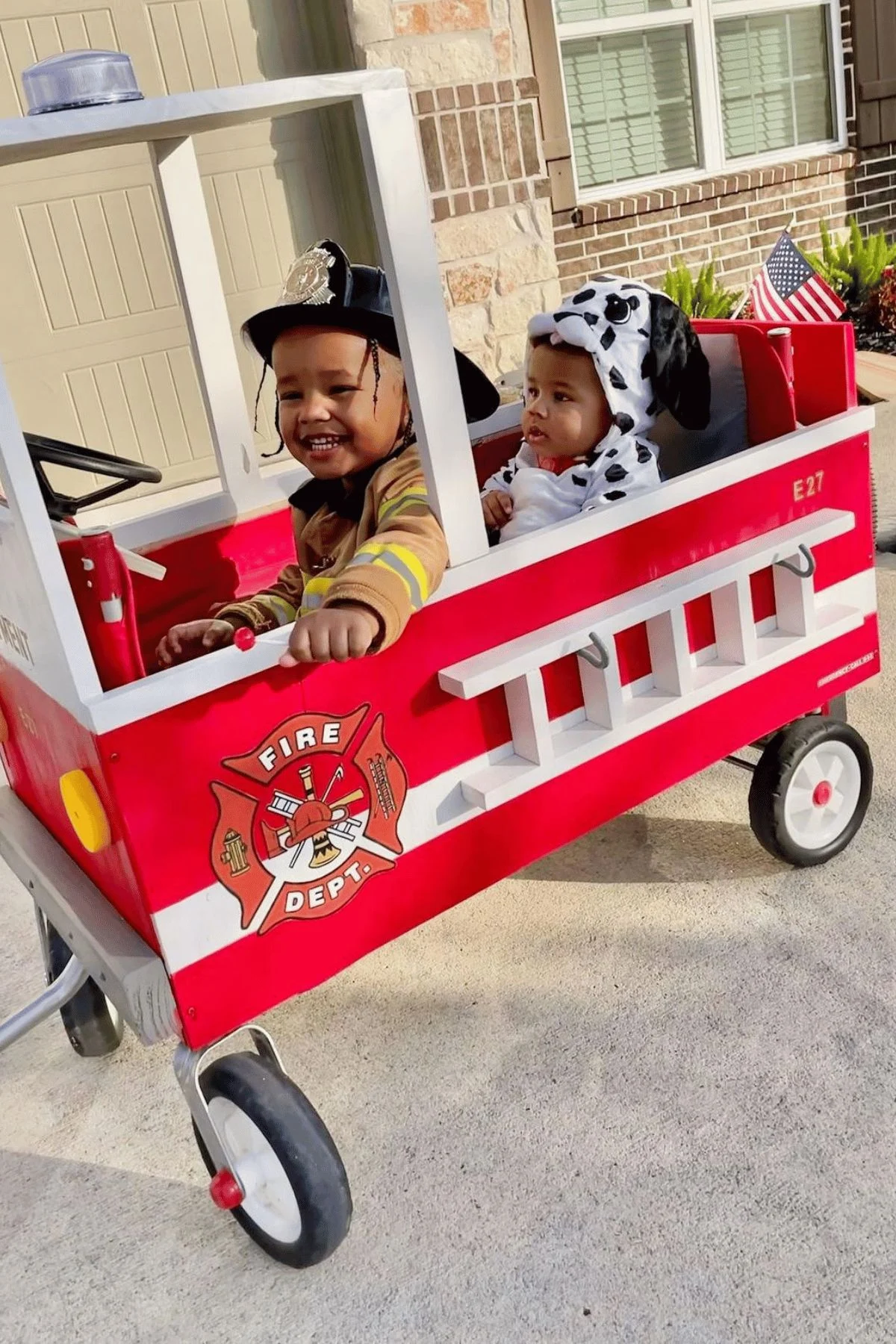 Credit: @muvarocky
12. A Mouse
As far as DIY halloween costumes go this one is a little more involved, but the pay off is worth it! This mouse costume is so original and cute and I love that it makes it easy for your baby to join in on trick or treating.
The mouse trap is a little work with building the top portion onto a wagon but would be an easy DIY project for any one that is a little handy with a drill.
The mouse costume might take a sewing machine, so grab some gray fabric and get busy!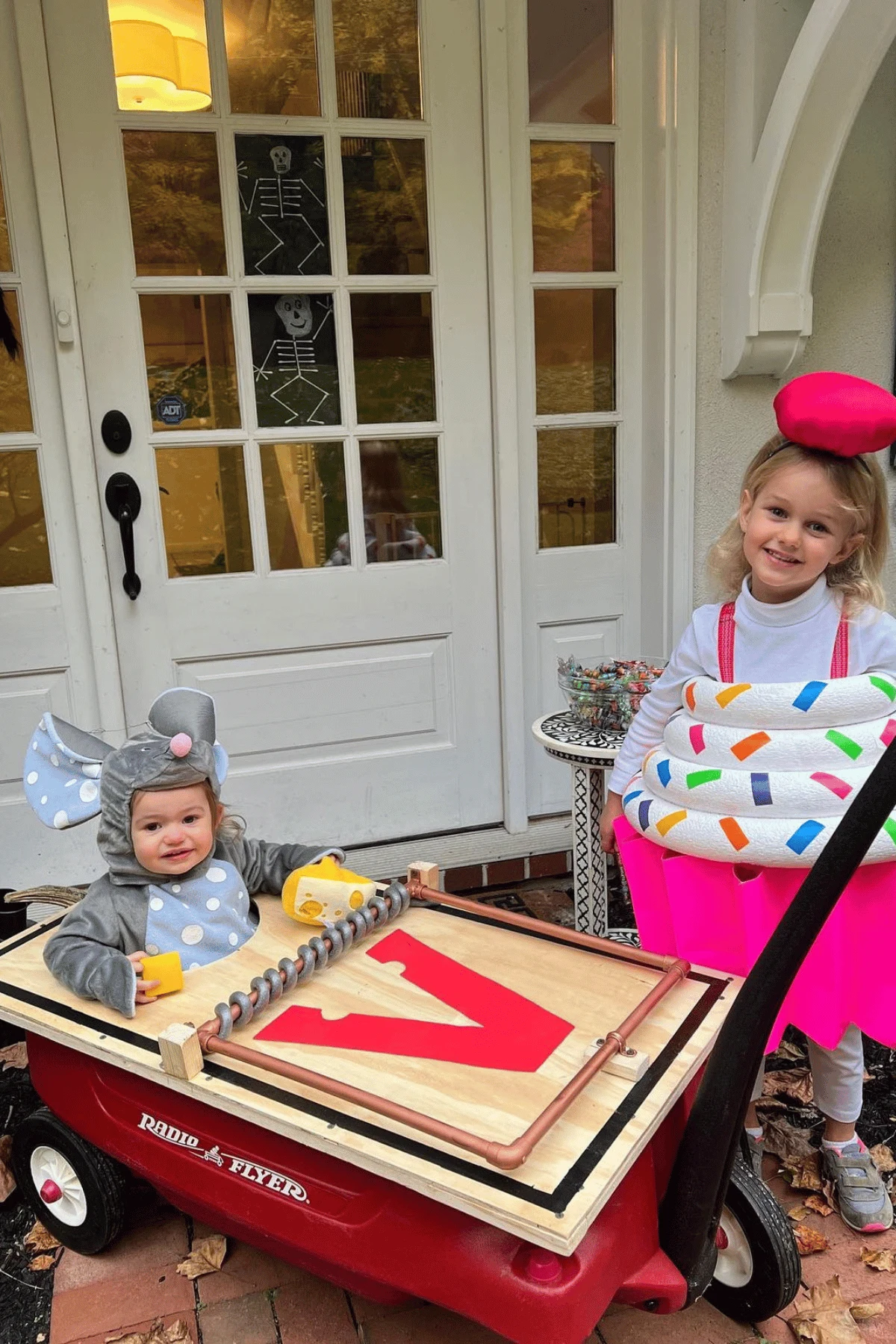 Credit: @perroneonice
13. A Plant
This DIY baby costume is the cutest thing. I love that the baby fits right into the pot and that it's used as a baby carrier.
The under clothes are super simple- a green onesie and the rest of the costume would require felt pieces and pom pom balls. Bonus if you can match your sweet little plant!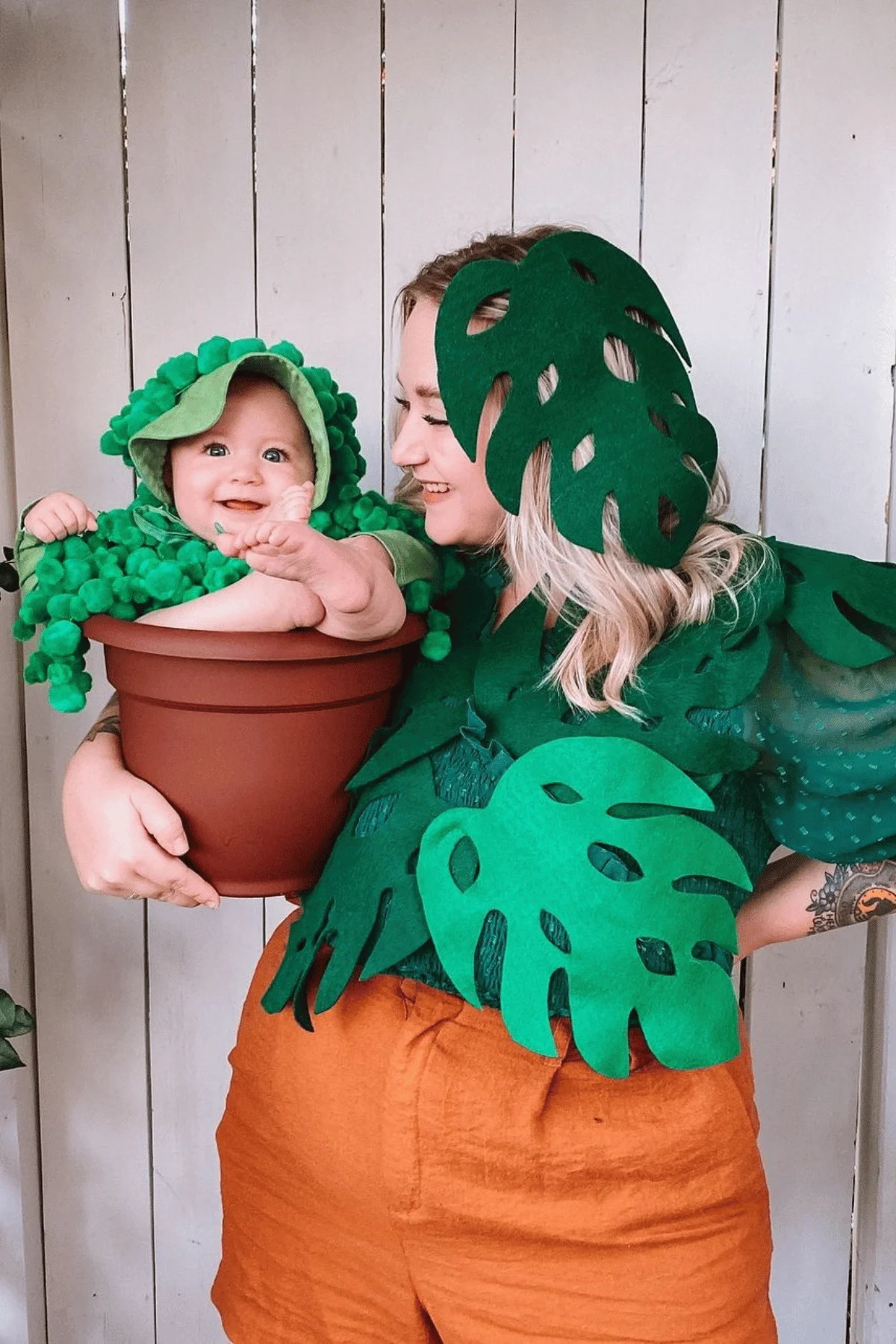 Credit: @terynskye
14. An Astronaut
This adorable costume is out of this world! It's a pretty easy DIY costume and would require just a few things to put together. The jumpsuit could either be purchased or could be sewn with a sewing machine.
The NASA and American Flag patches can easily be found online or at a store and can be sewed on or ironed on (or even attached with a hot glue gun).
Check out the baby Astronaut costume tutorial to make this adorable costume! A bonus of this costume is that it could be used as a fun dress up costume after Halloween!
I love an outfit that can be used again and again.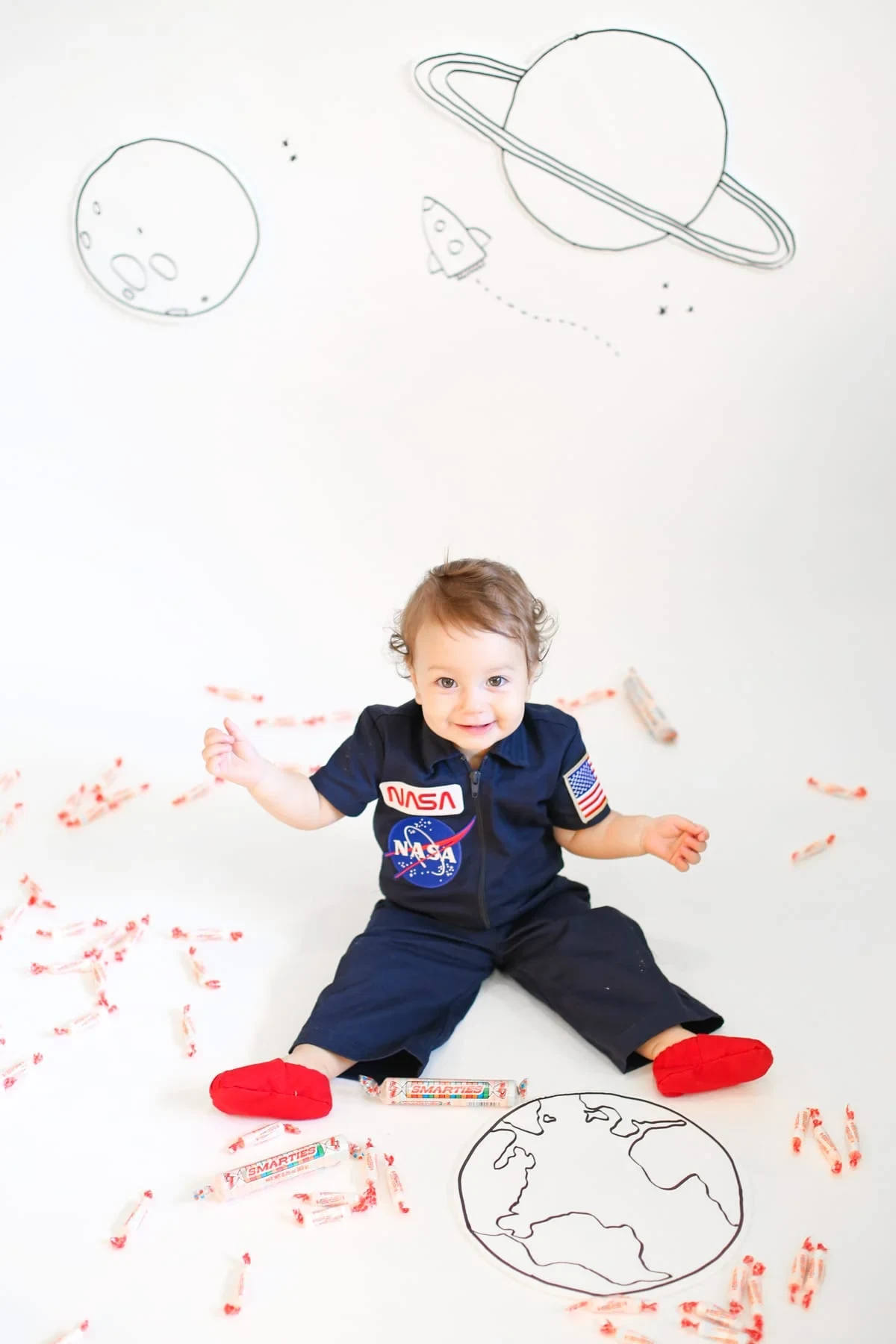 There you have it! Fourteen adorable DIY baby halloween costumes that are sure to be a crowd pleaser! Get your materials and let your DIY shine this Halloween. Have you made your little one a costume for Halloween? Share your idea in the comment box below!
Looking for more Halloween costume ideas? Check out DIY toddler costumes, Family costumes for 4 or creative costumes you have never seen for even more ideas!