Sometimes the world can feel hard and having ways to express gratitude is so important! Even more important is teaching our children ways to practice gratitude on a regular basis and the month of November is such a great place to start!
I love simple gratitude activities that are easy for the whole family and help me model gratitude to my little one. The benefits of gratitude are huge and gratitude truly is such a powerful emotion that impacts your health in such a positive way.
My goal with gratitude is to teach my child ways to focus on the things he is thankful for and I hope that when he is older, he will able to use this gratitude muscle during difficult times. I also find that bringing positive things into our home helps us all have a grateful heart and brings us closer as a family.
There are so many ways to express gratitude and these fun activities are a great place to start this holiday season!
Gratitude games are a fun way to practice gratitude and this Thanksgiving Gratitude Tic-Tac-Toe is a perfect game for the entire family!
This would be such a sweet way to connect with older kids and it would be a great way to introduce gratitude to younger kids.I love that the gratitude prompts are an easy way to help younger kids get the concept of gratitude and that it gives a great reminder how easy it is to find gratitude in everything.
It's played like a normal tic-tac-toe game and each time you mark a box you answer the thankful prompt. The best part of this game is that all you have to do is print it and you are ready to go!
Photo credit: paperheartfamily.com
I love this gratitude activity because it's an easy way to get your kids talking about what they are grateful for and it can be played over and over!
I think this would be such a great nightly routine where each person in the family rolls the dice and says the thing they are grateful for. This would be great for kids of all ages and can be modified to fit your kids' needs.
Older kids might give you more detailed answers, while younger kids might just be starting to understand the concept and the questions will give them some idea of where to start. All you need is paper to print and a dice and you and your whole family can get rolling on gratitude!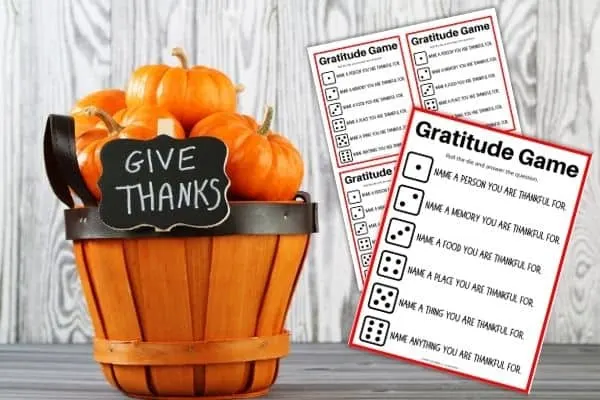 Photo credit: mombrite.com
This gratitude scavenger hunt is such a FUN way to practice gratitude! The scavenger hunt has you looking around your house for each item that you are grateful for and at the end of the hunt, your child gets to tell you the one thing they are grateful for today.
What I love about this gratitude scavenger hunt is that it shows your child how many things inside their home they already have and should be grateful for. I know that when we get into the holiday season, we have so many new toys coming into our house and it's hard for my little guy to really understand that he already has so many things to be thankful for before all the new gifts.
I think this is a great way to talk about that before the holiday season begins. I also would love to use this scavenger hunt year round and do it whenever I think we need a little more gratitude in our lives!
Photo cred: rockyourhomeschool.net
I LOVE this gratitude activity! Not only is it super cute, I love that every family member gets to share and record what they are thankful for and that it can be done on a daily basis during the month of November and then used as a Thanksgiving centerpiece!
I think this would be such a fun tradition to start and the regular gratitude practice during the holiday season would help make practicing gratitude throughout the year easier. For older kids, it might be fun to have them help write on the pumpkin.
I would also want to take a picture of our pumpkin each year and see how our gratitude changes as a family. It would be a fun thing to look back on through the years and would be such a sweet tradition!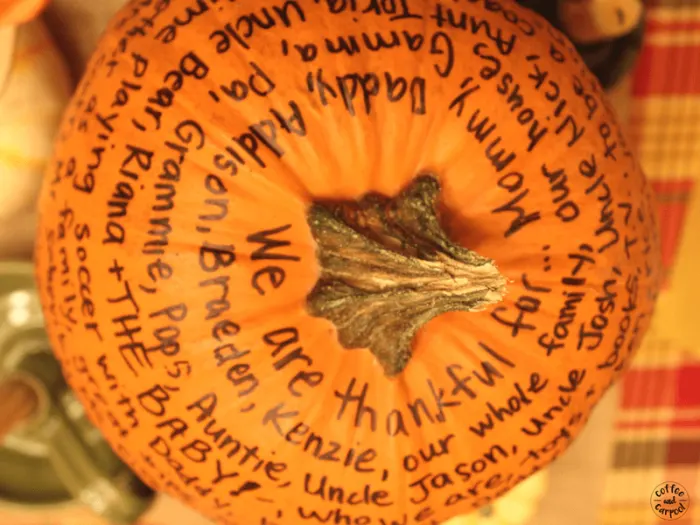 Photo cred: coffeeandcarpool.com
This thankful turkey is so cute and would be such a fun activity for the month of November! Its a great way to combine art and gratitude and after coloring the turkey, it would be nice to fill in the feathers together while talking about the things we are grateful for.
I love that this is an activity that is great for kids of all ages and that you could easily do it as a whole family. Plus it could even double as a Thanksgiving decoration!
This craft could easily be a simple one that doesn't take a ton of time, or your child could let their imagination go and spend a ton of time decorating the turkey to make it their own. This is a gratitude activity you don't want to miss this holiday season!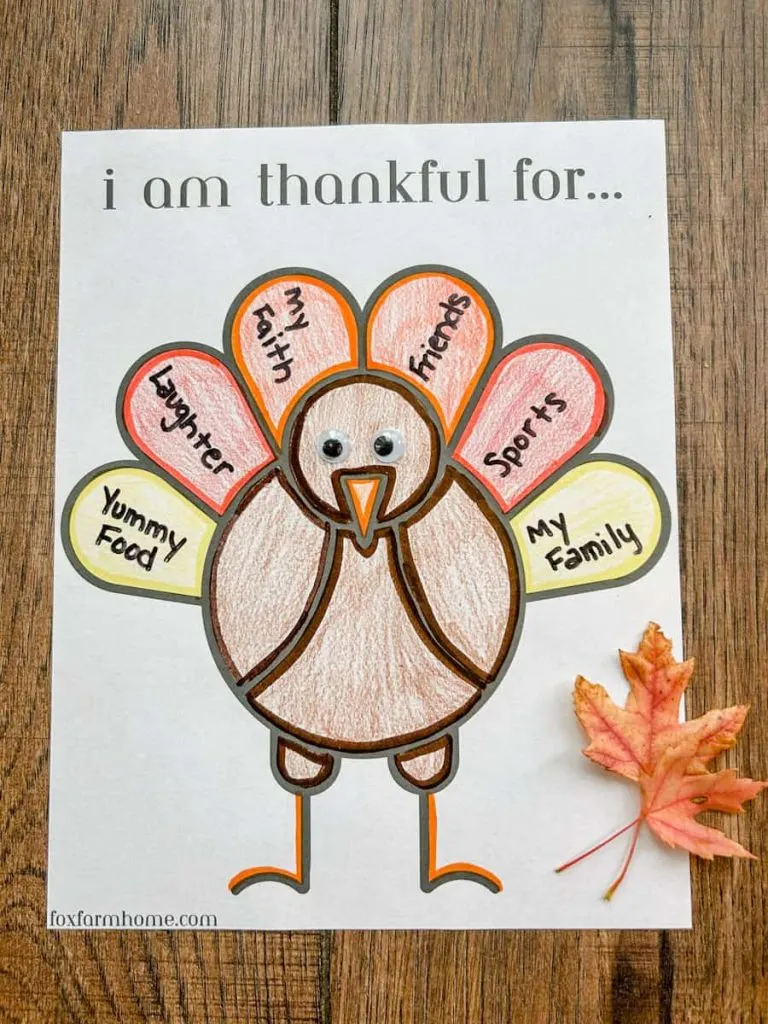 Photo cred: foxfarmhome.com
This gratitude journal is such a simple way to practice daily gratitude! It could easily be done as a family or older kids might want to have their very own journal.
Each day it prompts you with a different thing to find gratitude in. It would be perfect for the month of November, but really could be done any time of the year.
Another fun way to use this would be to end each night by filling this out as a family and recording each persons response. It would be a really sweet tradition and when someone in the family was feeling down, they could go to this journal to find gratitude and joy.
Photo Cred: makingfrugalfun.com
We love painting rocks and these gratitude stones are so cute! They would be so fun to do with the entire family and I love that they could be used as a centerpiece for Thanksgiving or for random acts of kindness by hiding these around outside for others to find.
This would be a great activity to do while talking about what each person is grateful for and would be such a fun and beautiful way to express gratitude!
Photo cred: rockpaintingguide.com
I love an art project that requires just a piece of paper and these mini thankful notebooks are a simple way to practice gratitude while also letting your child get creative!
The folding of the book might require an adult, but once folded, your child should be able to do the rest. Inside, your child writes what they are thankful for and eventually they will have a little book of gratitudes.
Older children could easily write sentences, while younger children might write a word or draw a picture to show their gratitude. A fun idea would be to have the entire family do this in the month of November and then share their thankful during Thanksgiving dinner!
Photo credit: ourkidsthings.com
These gratitude kindness notes let your child express gratitude for people by giving them a small note with the reason why they are grateful for them.
I love that this lets your child express their gratitude in a meaningful way that will bring joy to someone else. I think this shows that such an important part of gratitude is how we express it to others and letting the people we love know we are thankful for them is so powerful.
This activity would be so fun for the holiday seasons, but the idea of showing gratitude to others could easily extend the entire year!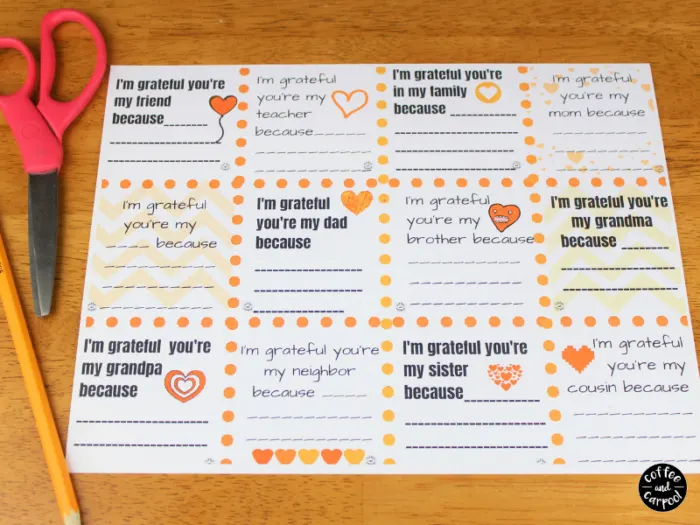 Photo credit: coffeeandcarpool.com
Coloring grateful pages might be one of the best ways to combine art and thankfulness! I love how cute these coloring sheets are and that you could easily do this with the entire family!
Plus, there are multiple prints to choose from so you could do this a few times over the month of November. The best part with coloring sheets is that they are great for kids of all ages and if you glue the finished coloring sheet on construction paper, you have an instant decoration for the holiday season!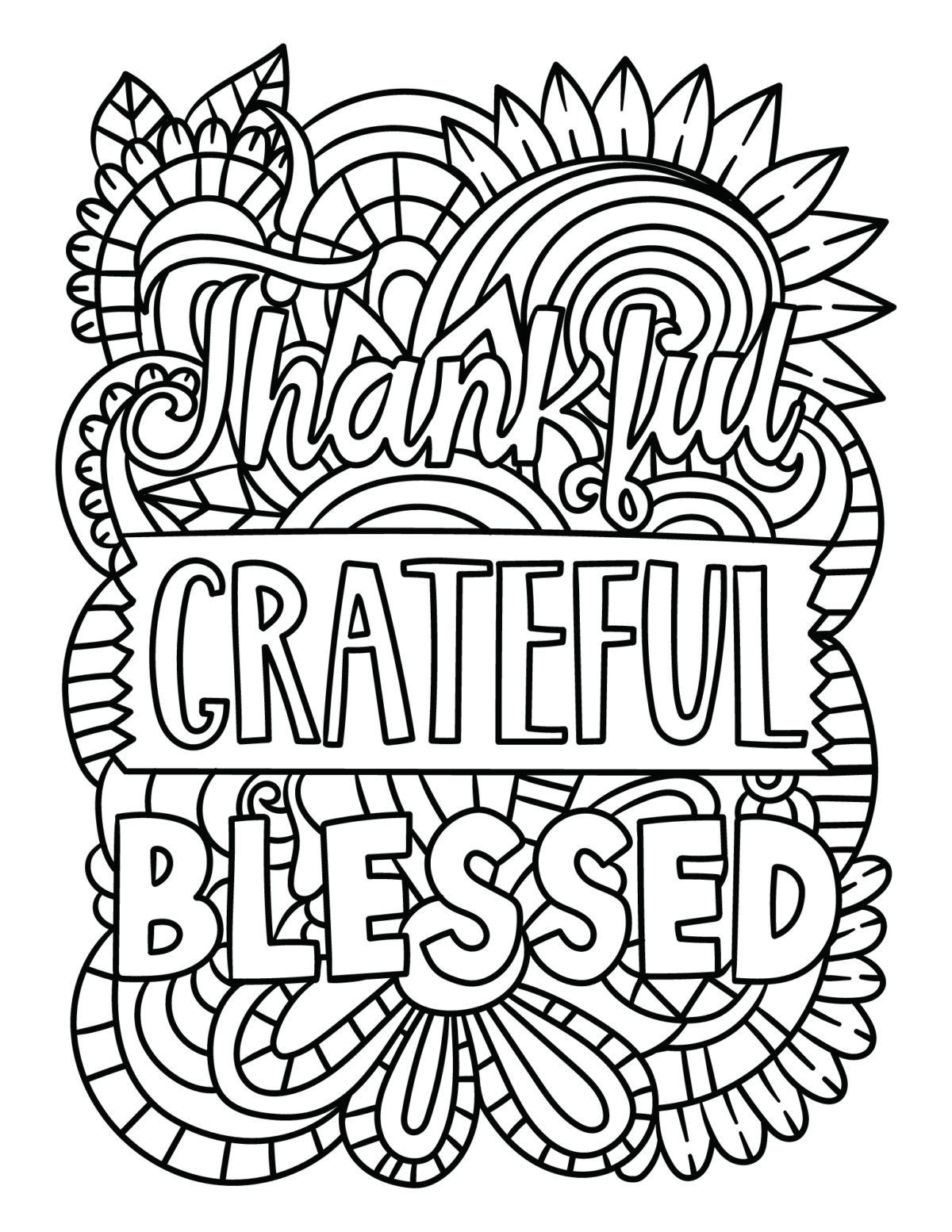 Photo credit: twokidsandacoupon.com
There are so many ways to practice gratitude, but the best gratitude activities are the ones you get to do with your family. Hopefully you were able to find one to do this holiday season. In the spirit of being grateful, I am so thankful for this community and all of you that make this blog possible!
This community brings me so much joy and I'm truly thankful to be raising my little human with you all! Gratitude is a beautiful thing and I think it's amazing we get to share it with our own children. I know I am looking forward to trying some of these ideas out this November.