Is your child as obsessed about losing a baby tooth as mine are?
I'm guessing yes.
Or maybe your child is terrified?
Either way, gifting this tooth fairy receipt will mean that your child will love this tradition even more OR it will encourage your child to like it.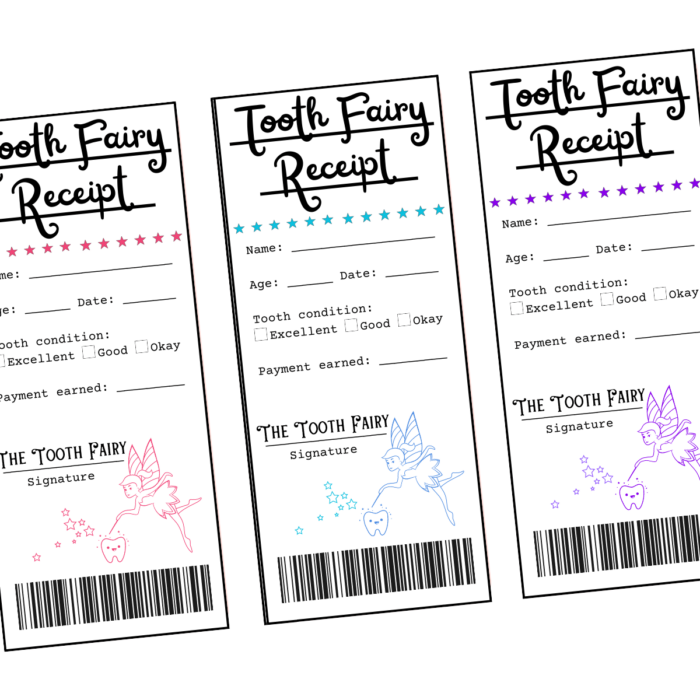 No matter what the case, I think it's so important to make your child's tooth fairy experience super memorable.
Whether it's your child's first tooth lost or the tenth, this tooth receipt can still provide the magic of the tooth fairy.
Because that's what childhood is about, right?
Magic!
That's what I love about kids.
It doesn't take much to make their lives magical.
The tooth fairy tradition is a pretty simple tradition.
The tooth fairy doesn't bring anything elaborate.
But it still provides so much excitement.
One way to add a little more magic and excitement is to print out a copy of my free printable tooth fairy receipt or to start dropping some tooth fairy quotes.
It's a fun idea that doesn't take much of your time.
Those are my favorite ways to make my kids feel special and loved.
This printable is the perfect tooth fairy gift!
With this receipt, you will be able to document the date and your child's age.
You will also be able to let your child know the condition of the tooth!
You can go with "excellent" if you want to give your child a pat on the back for their excellent oral care skills.
Or you could go with "okay" if your child needs a little encouragement to keep his teeth clean.
You can also document the "payment" that was given for the tooth.
And again, if your child is anything like mine, this receipt will be kept as a keepsake that your child will use to clutter up their room for years to come.
I mean, it's true.
This is why I keep a tote in the basement for all of my child's "treasures".
Otherwise, they would be all over the place in her room.
Are you ready to create some tooth fairy magic tonight?
Free Printable Tooth Fairy Receipt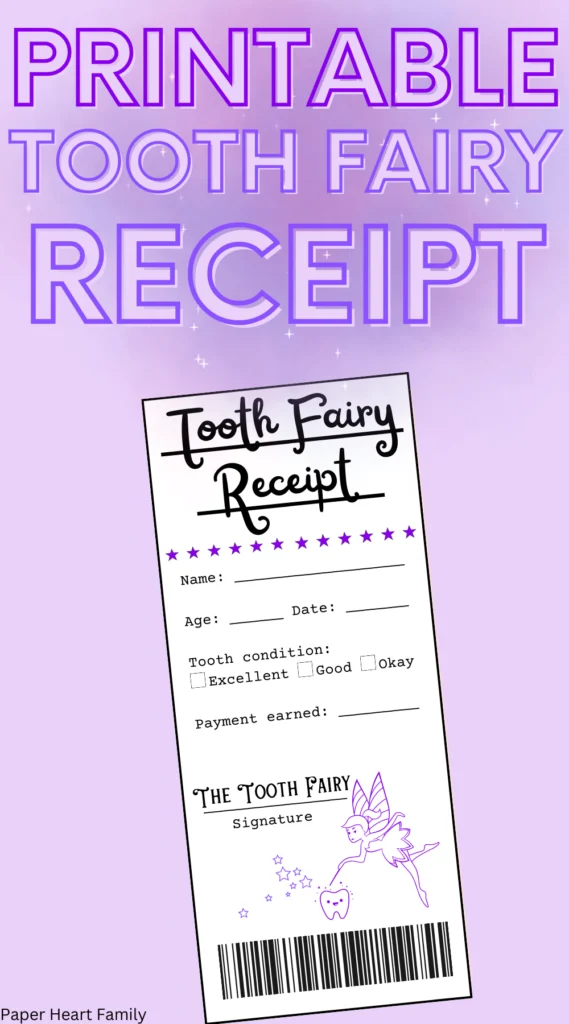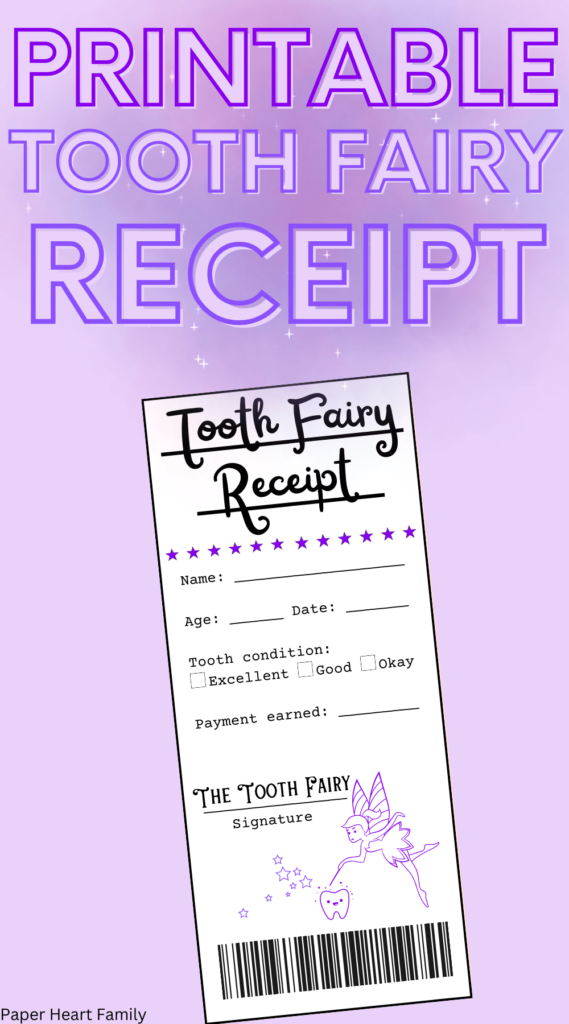 Your tooth fairy receipt comes complete with the following:
curly, authentic tooth fairy handwriting
an area to write your child's name to make it officially theirs
an area to document your child's age and the date
a tooth condition rating (from excellent to okay)
a place to document the payment earned from the tooth
the tooth fairy's beautiful signature
a barcode (because every receipt needs one!)
a cute, gender neutral design (in purple, blue or pink) that will work for both boys and girls with simple print that resembles the font used on receipts
Here's what you need to do in order to set up some tooth fairy magic.
Download the PDF printable from the bottom of this post.
Print your free download.
Gather your materials- you can have the tooth fairy gift some money or maybe a small toy.
Engage your ninja skills- sneak into your child's room, ever so carefully remove the tooth from under the pillow and place this receipt along with some type of payment.
Am I the only one that gets super stressed out by this tradition?
My oldest is a super light sleeper, but so far has never woken up.
Miraculously.
More Tooth Fairy Printables
Here's the thing.
You are already getting the printer set up in order to print this receipt.
Why stop there?
I have a couple other tooth fairy printables that might be perfect for your child!
You could include a letter from the tooth fairy printable, reminding your child to brush and floss and congratulating your child on taking care of their teeth.
Or maybe you are giving this receipt as a little something special because the tooth fairy forgot to come last night. If that's the case, you need this tooth fairy forgot letter.
You could also include a certificate from the tooth fairy.
There are so many possibilities!
What does the tooth fairy give?
In my house, the tooth fairy has always given a few dollars and coins.
However, I feel like our fairy's gifts can be… better.
I would love to hear your ideas!
I will soon be writing a post on the best tooth fairy ideas.
I could include your idea!
So let me know in the comments below what you do when the tooth fairy visits.
Do you have a tooth fairy pillow? A tooth fairy door hanger?
Do you paint a couple dollars with clear glitter?
Your Instant Download
In order to receive your download, simply subscribe below.
Three different colored receipts will print on the same page.
The beauty of these little receipts is that they can become a traditional item that the tooth fairy brings each and every time.
Don't you love starting a new tradition with your child?
Also remember that this free printable is for personal use only.
Your download will appear instantly upon subscribing (it will not be emailed to you).
As a member of my email list, you will join thousands of other moms who are just trying to make their child's childhood more memorable and fun!
I hope my tooth fairy receipt makes tomorrow morning so much fun and so memorable for your child!
Related Posts: