The worst has happened.
Your sweet child lost a tooth, carefully put it under their pillow and went to sleep with hopes that the next day their tooth would be gone and in its place would be money or a treat.
Instead, they woke to a tooth still there and you woke to tears, lots and lots of tears.
Now what do you do?
First, you take a deep breath and know that a ton of other parents have been in your shoes and that it will be okay.
Second, you make a plan to leave an awesome tooth fairy forgot letter with a creative excuse the next night that will answer any questions your child may have and will still keep the tooth fairy tradition going!
What To Say If The Tooth Fairy Didn't Show
You are most likely frantically trying to find a way to explain to your sweet child why the tooth fairy didn't come, while also trying to figure out how you are going to fix this.
Take a deep breath! Good news!
I have the answer for you and best of all, it's pretty easy.
First off, help your child double check their room and let them know that something really strange must have come up for the tooth fairy because they are almost always on time!
This gives your child some time to calm down and reassures them that you think this is as crazy as they do.
Then let your child know that they will for sure come the following night and that they must have a really good tooth fairy excuse for why they weren't able to come in the middle of the night.
Your child might still be pretty bummed and to help them feel better, maybe have fun making up crazy stories of why the tooth fairy didn't make it.
This is a sure way to make your child laugh and will lighten the mood.
Need some crazy reasons?
Maybe the tooth fairy had collected so many teeth that her bag broke while she was flying to your house and she had to turn around and spend the rest of the night collecting them.
The funnier the story the better!
The point is to get your child laughing and thinking of all the silly things the tooth fairy might have been doing and reassuring them that they will be there the next night for sure (if you forget two nights in a row there is nothing I can do to save you).
Tooth Fairy Forgot To Come Letter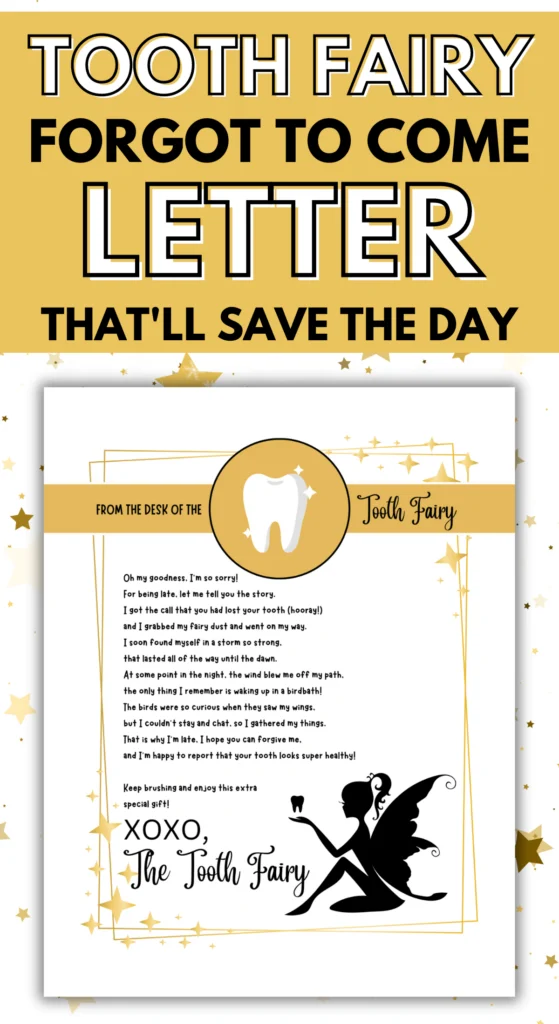 I present to you a printable tooth fairy forgot to come letter!
This tooth fairy forgot letter will provide your child with a creative excuse of why the tooth fairy forgot them last night and assure them that it was not intentional.
The letter does a great job explaining what happened and might even make your child laugh (you know how funny tooth fairies can be!)
Here is how to get your printable tooth fairy letter ready.
1. Click to download instantly (this will be in a pdf format)
2. Print your letter (if you want to be extra fancy, print on card stock or a fun color paper)
3. Make a plan for what you will leave with the letter. The letter ends with "enjoy this extra special gift". I would maybe include an extra dollar or a small extra gift that shows how sorry the tooth fairy is.
4. Make a plan on how to get it to them. Set an alarm so you don't fall asleep!
Bonus: Put small magical fairy dust on the letter and money. This can be done in many ways!
Here are some easy ones you might have around your house: glitter nail polish, glitter glue, glitter in general. Anything to make the letter and money a little more special!
If this was your child's first tooth, I would make this a big deal. This is a very exciting time for them!
Other Ways To Make Your Child's Day Special
While printing your tooth fairy forgot letter, make this exciting time even more special with a tooth fairy receipt or a tooth fairy certificate!
The tooth fairy receipt is a great way for your child to remember each tooth they lost and have a sweet little keepsake from each lost tooth.
What I love about this is that it is so easy to do and will add to the tooth fairy tradition in a sweet, memorable way.
The tooth fairy certificate is a great way to celebrate the first time your child loses a tooth and creates a keepsake to remember losing their first tooth.
Both options are sweet ways to add to the tooth fairy tradition and give your child something special to keep from the tooth fairy.
Other great ways to make your child's day special is to:
have your child write their own letter to the tooth fairy
have your child start a tooth journal where they write about losing each tooth, how they felt and what the tooth fairy left them
make a tooth fairy pillow or special keepsake box for future teeth (You can find small little boxes at most craft stores)
start a losing tooth tradition like getting ice cream the day you lose a tooth or the day the tooth fairy comes
take a picture of your child when they lose a tooth for a keepsake (every single kid is adorable once those front teeth come out!)
celebrate National Tooth Fairy Day! This is a real thing and is celebrated on February 28th. I'm a sucker for random holidays and reasons to celebrate so if your like me, enjoy finding fun ways to encourage your children to take care of their teeth!
Adding to the tooth fairy tradition can be so fun! Find what works best for your family and have fun making this big deal a fun time!
Downloading Your Free Printable
I hope this tooth fairy forgot letter saves the day for you and your child.
You are doing a great job and it's okay to forget something.
This letter should help explain what happened on the tooth fairy's end and keep this special tradition going.
Plus, when your child is older, it will make for a really funny story!
In order to download, simply subscribe in the box below.
Your printable tooth fairy letter will appear instantly (in PDF format).
Once downloaded and subscribed, you will be a member of my email list where I send out emails with resources and activities for you and your children to enjoy!
For more printable letters to get you through all the holidays, see my leprechaun letter, easter bunny letter or tooth fairy visited letter!
They are a great way to make the holidays even more magical and your child will have a sweet keepsake to remember this special time.