If you love to make people laugh, but need a little inspiration, then you've come to the right place! I have scoured Instagram for the VERY BEST, incredibly funny pregnancy announcement ideas for your social media status. They are ON POINT.
This mamas are geniuses. Seriously.
It kind of makes me want to get pregnant again, just so I can announce in a super clever, super funny way like they did.
Almost.
Let's start off with some pregnancy announcement quote ideas, and then we'll get to the good stuff (the pregnancy announcement photo ideas (you're gonna die when you see them!).
First, make sure to snag my free pregnancy trimester journal!
Pregnancy Announcement Quote Ideas
(Insert husbands name) is going to be a daddy and I'm pretty sure it's mine.
See how to make a surprise pregnancy announcement to your husband!
Guess what's cooking in our oven? (Hint: it's not cookies).
Say hello to my little friend" – quote from Scarface
This is just a little sneak peek. Check out many more funny pregnancy announcement quotes and riddles.
Pregnancy Announcement Photo Ideas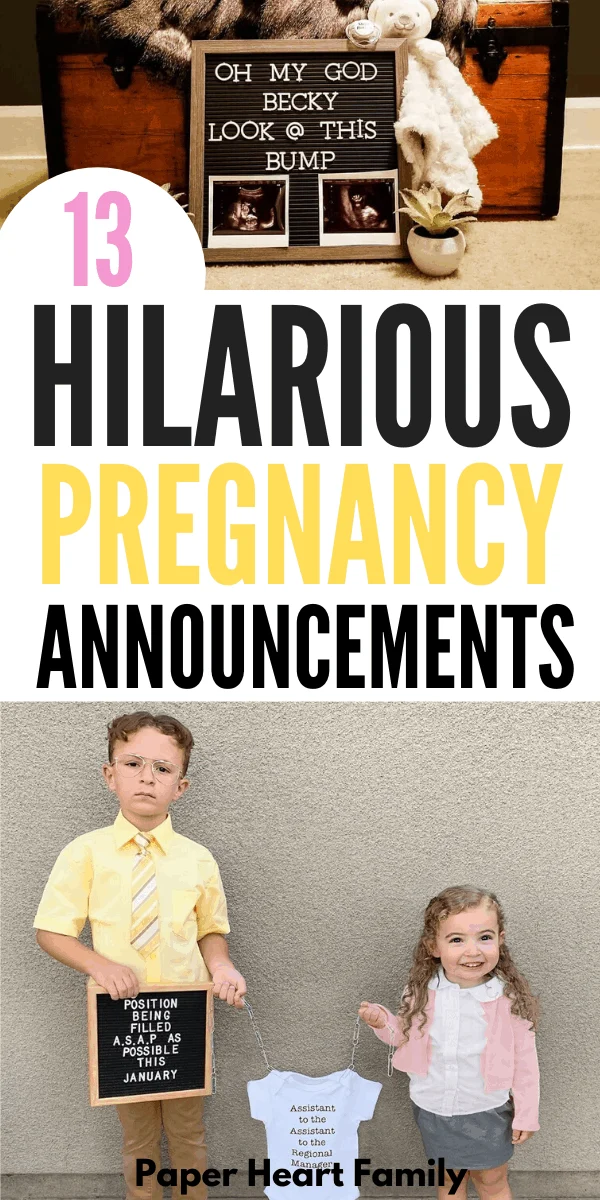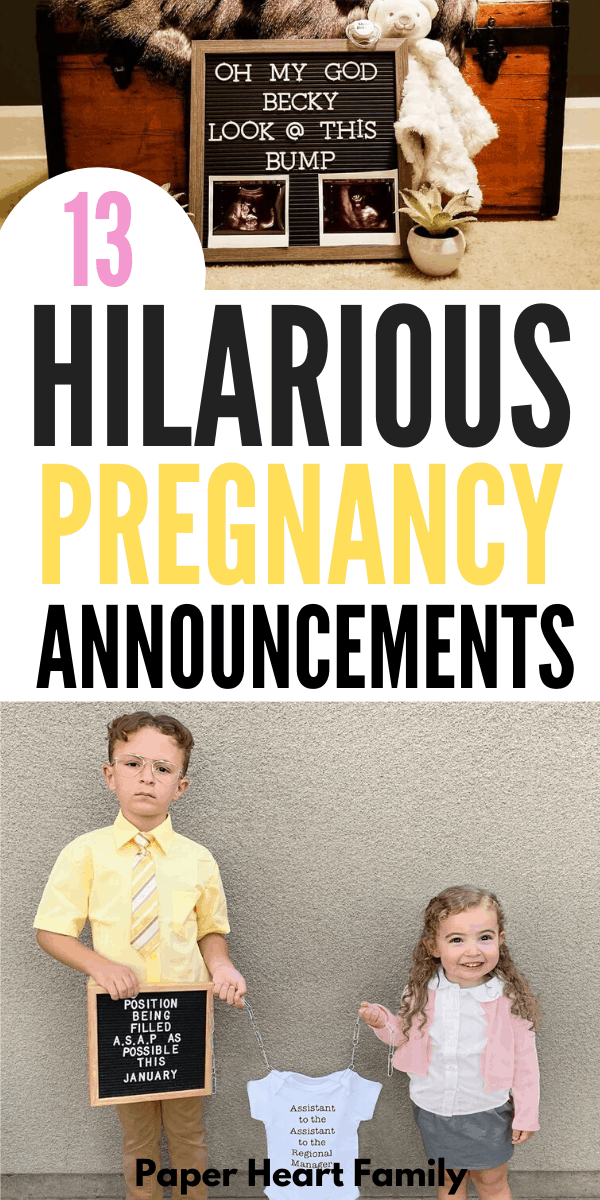 Oh and I saved the VERY BEST for last. If you are a fan of The Office, then you NEED to check it out. I've never seen anything better, I swear.
A little vulgar, but OH so funny. If you want to shock your Aunt Karen, this is the kind of pregnancy announcement you're looking for!
One of the worst things about having a big family, is the comments that come with it. People can be so rude. That's why an announcement like this is GENIUS. Who is gonna make a rude comment after they read something like this?
LOVE. I bet this pregnancy announcement would make even Lizzo proud.
Okay, is she not THE CUTEST?! I love that this announcement combines a little nostalgia. It is seriously precious and perfect.
I'm sure you've seen pregnancy announcements like this one before, but really, you can never have enough! I love that this one feels so real. I can tell these parents are super awesome.
His face! Something tells me that this one wasn't staged.
Humor makes everything better! But seriously, she's right. What ever makes us want to have another baby after barely surviving the toddler stage is a complete mystery.
The whole bun in the oven thing has been used for ages. Centuries? But let me introduce the modern take on the "bun in the oven". A bun in the oven with nuts. C'mon! It's genius!
credit photographer for above photo: @calliemanionphotography
I LOVE it! This pregnancy announcement perfectly captures the chaos of having a big family (while still keeping it beautiful). And they do it all and manage to be funny, too? Parenting goals!
Again, the inspiration from 90's hit music always gets me. (For a second there I thought Sir Mix-A-Lot might have been from the 80's (!), but a quick Google tells me that the song came out in 1992. Phew!)
I know that you may be looking at this list of pregnancy announcement inspiration in the spring, summer or fall and this one will be completely irrelevant, but who cares? It's adorable and hilarious and I LOVE IT.
Fur baby mamas love including their fur babies in their pregnancy announcements, and this is one of the cutest examples I've seen.
This one is also a really nice way to head off those inevitable gender questions!
And…. drumroll please? My absolute favorite!
Seriously. Is this announcement not the cutest, funniest, BEST think you've ever seen? If you've never seen The Office (or hate it– is that even possible?!), then you probably don't get it. But if you love The Office, then I'm sure you are so envious of the amazing mom that pulled this off. Best. Pregnancy announcement. Ever.
Need more? Check out more ways to announce your pregnancy on social media.
I hope this list of amazing, funny pregnancy announcement ideas inspired you to come up with your own amazing pregnancy announcement! I would love to hear about what you come up with in the comments!