Do you feel at times that your children are constantly begging for your attention and time?
Sometimes you just don't have it in you to play all day long and sometimes you actually have to get some things done!
It can be hard to have your kids consistently at your feet asking you to play with them and to feel guilty that you just simply can't drop everything to be with them all the time.
I'll let you in on a little secret though: Fostering independent play for your kids is actually healthy for your child's development!
There are many benefits of independent play for both older children and younger children.
These types independent activities help our kids to be more creative and allow for more imaginative play.
And, who would have thought that their problem-solving skills are enhanced when they spend this time learning on their own?!
I am one who feels guilty watching my kids play alone without me.
But after reading through the research, we've found that it is actually beneficial for their developing minds.
AND it gives you a little break to get something done (or take a nap mama! You deserve it).
Before getting into specific independent play ideas, let's talk about how to encourage it— especially if this is your first time introducing it in your home.
Have a high energy toddler who can't seem to play alone? Try out these toddler activities and see if they'll tire out that busy little one of yours!
Tips For Encouraging Independent Play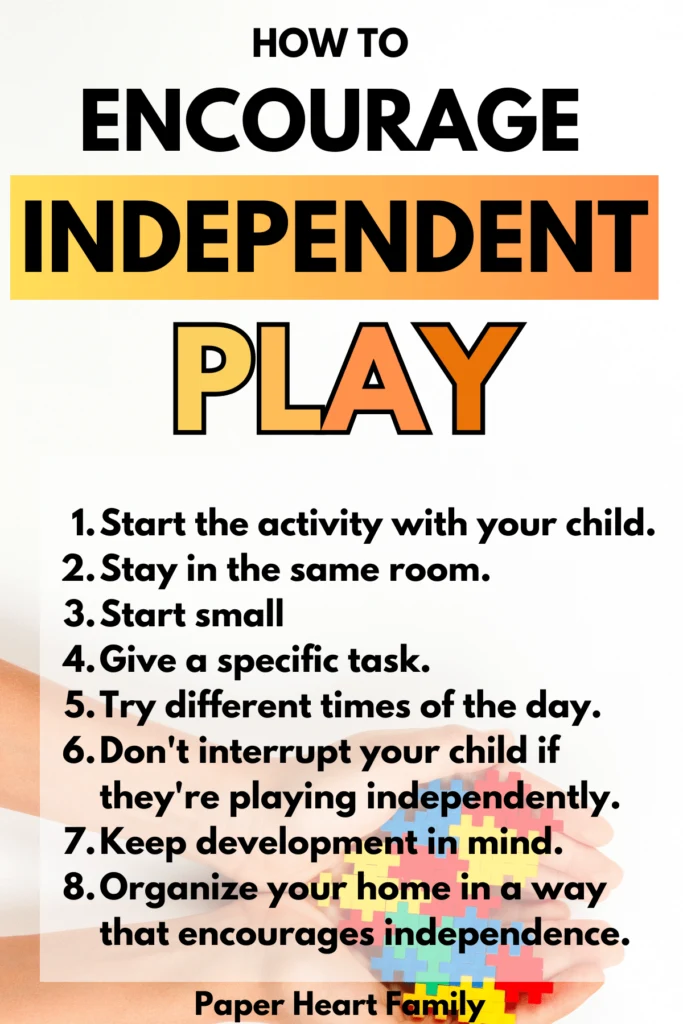 1. Start The Activity With Your Child
Being alone in the early years of a child's life can be lonely.
They might not be used to doing quiet time by themselves especially after spending so much time interacting and playing with their trusted adult.
Try doing the activity with them to start so they know what to expect out of it.
Giving them free time from the get go will be challenging for them to come up with fun activities on their own.
So sit with them for a little bit to show them what to do. It might not give you the hour that you're hoping for, but little by little the time will increase.
2. Be In The Same Room
Some kids are genuinely scared of being alone.
And guess what? That's ok!
Even as an adult, I prefer to be with people rather than alone.
Children tend to have bouts of FOMO just like adults. So don't expect them to be all alone doing their quiet time activities from the get go.
You can encourage them to do their own activity next to you while you get your tasks done. (Or sleep. Naps are so needed as a mom of little ones).
3. Start Small
Starting with small amounts of time at the beginning is a great way to implement independent play. Then, slowly increase it every few days.
It can just be 10-15 minutes one day, then after 2-3 days of it going well, up the time to 20-30 minutes.
You know those parents who say "yeah, my son stays in his room for 2 hours everyday to play by himself for quiet time".
And you're like "how in the world do I get that kind of peace in my life?!"
Trust me. It will come. But it takes a lot of patience and everyday determination. You'll get there eventually! Don't give up!
To reward your child, you can do one of these mommy and me activities when your child is done playing independently.
4. Give Your Child A Specific Task
One of my favorite things to watch a child do is complete a given task. If they are having a hard time simply "playing with blocks", you can give them something specific to do.
Try this. "Build me a tower that is as tall as you are". Or "build a long road with only red blocks".
Kids thrive when they are given instructions to follow.
And life hack: this works really well for clean up time too! "Pick up all the toys that have yellow on them".
5. Try Different Times Of Day
Depending on your child's developmental stage, they might need a specific time of day to play by themselves.
Maybe your toddler is super chipper in the mornings right after they wake up. Spend some quality one on one time with them for a little bit and then try independent play.
After naps, my kids tend to turn into little gremlins, but if your child is a happy camper after waking up from a nap then by all means, give this time a try!
Cook your fancy dinner in solidarity while listening to a podcast!
6. Don't Interrupt If Your Child Is Playing Independently
Sometimes we hinder our children's ability to play on their own when we step in when they are ALREADY PLAYING PEACEFULLY ALONE!!
Resist the urge to do this. Slowly back away and let their creative juices continue to flow.
7. Keep Development In Mind
Playing independently is definitely a skill that can be acquired.
However, 1-2 year olds (generally speaking) aren't quite ready for this type of play. If you're still in this stage, then hold out for a bit longer.
Don't worry. You're time will come!
If you are just starting quiet time with your child, then remember to give them age appropriate activities when playing alone.
Otherwise, you might come back to find all of the barbies' hair has been cut along with your favorite linens and their clothes have been drawn on with permanent marker.
Mom's worst nightmare.
8. Organize Your Home In A Way That Fosters Independence
Check out this post that will help you to create a home that fosters independence.
If all your toys are put away, consider getting some of them back out to eye level for your children so they can be creative on their own terms.
And now. The moment you've been waiting for (drum roll please)… The best and favorite independent activities for kiddos!
Independent Activities For Kids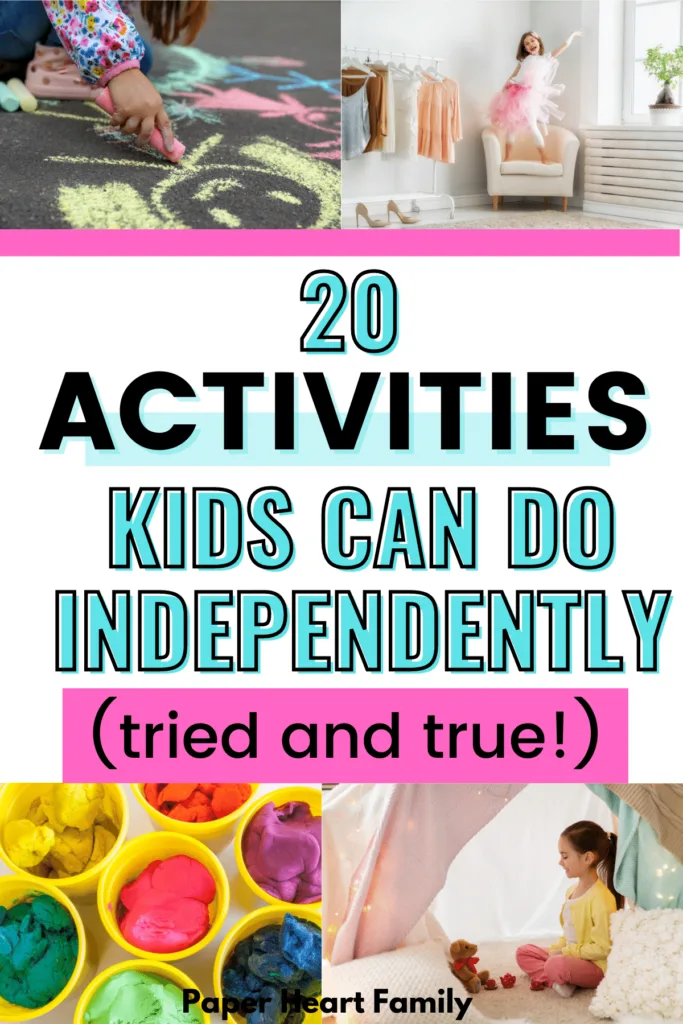 1. Play With Play Doh
This is bound to have your kids hooked for a good 20 minutes and is just so much fun! Make sure to set up an actual "play doh station" though.
Trust me. You DO NOT want to find play dough smushed into your couch cushions and carpet.
Have them do it on a cookie sheet on top of a towel on a hard floor surface or at a table.
2. Draw
Drawing is a good way for kids to develop their fine motor skills and learn how to correctly hold a pencil (Sometimes they figure it out all on their own without you teaching them… simply because they spend a lot of time with one in their hand).
If you are looking for help, check out these drawing ideas that your child will love.
3. Put Together Puzzles
This can be a new skill for many young children. Sometimes it can get frustrating, so make sure you are close by if they need a hand.
4. Care For A Baby Doll
One of the best ways to teach a child to be gentle is with a baby doll. They will learn how to hold, feed, change and coo at a baby.
This can be especially helpful if you have a baby (your child can take care of their doll while you are taking care of the baby).
It will keep them entertained while you are doing a feeding for your new little one.
5. Play With Kinetic Sand
Sensory bins are such great ideas for independent play! Kinetic sand is a fun way to introduce these types of bins to your quiet time.
It's a good idea to put this in something that can't spill (like a storage container).
Give them play construction trucks, spoons, and other fun things and then watch how your child plays with these things in a new creative way.
6. Play With Orbeez
This is a great activity for young little hands. Grab a large box and fill it with water beads (found on amazon) and some water.
Wait for 24 hours and then hide objects in them for your child to find. They will love going on a "treasure hunt" in your own kitchen!
7. Build With Legos
Legos are great for your older toddler. Building things that aren't in instruction manuals is helpful for their brain development!
This is one of those open-ended toys that kids can use again and again with many different ideas! Try a zoo, town, home for their stuffies or race track.
8. Make A Fort
Kids LOVE forts. It's like permission to transport to a whole new world! (cue Disney music here). Build them this fun pillow fort and throw some books and a flashlight in there.
Endless fun is bound to be around the corner with this one!
9. Play In The Bath
Water play! Need to get something done but want your active toddler to be contained? Throw them in the bath and add a little food coloring.
Give them a matching popsicle too with toys that are the same color!
Safety tip: never leave your child unattended in the bath tub. Do some work that requires sitting so you can be next to them while they are in the water.
10. Put On A Show
Creative play at its best right here! Give them a bucket of costumes and have them come up with a show.
Tell them you'll be back in 20 minutes to watch their performance (set a timer and then stick to your word).
11. Color
Another great way to learn to hold a pen or pencil. Make sure to only give them crayons if you won't be there to supervise.
If you want mess free coloring, try taping the paper inside a large container so that if they accidentally color off of it, then it won't get on the floor.
I don't know about your kids, but my 8 year old is OBSESSED with these adorable Squishmallow coloring pages.
12. Rotate Toys
Sometimes kids just get sick of their own toys. Have you ever noticed that children play better at other people's houses? So many NEW toys, right?!
Try a rotating system with your toys. Have some of them put away (out of sight) for a few months and then rotate them every so often.
They'll be so excited to play with all of their "new toys" that they completely forgot about!
13. Set Something Up As An Invitation To Play
This is our favorite way to do quiet time at our house. Set up a few activities that you know will engage your child (choose a few from this list).
Set each one up in a circle around the room and they can pick and choose which ones they want to do for quiet time.
14. Have One Kitchen Cabinet Designated For Your Child
Kids love to be in the kitchen with you when you have to cook! They will love that you have a cupboard specifically for them!
Fill it with containers to stack, nest, etc.
This way when you're cooking, your child can play independently.
15. Play Pictionary
Children take awhile to draw things. While they are taking a turn to draw something for you to guess, you can go get something done.
Then come back to guess and laugh with your little one.
16. Play With A Lite Brite
This is great to foster hand-eye coordination. They will love seeing what they can create with the little pieces that begin to light up!
17. Do Tangrams
Find great deals here. Kids love finding what types of shapes and patterns they can create with geometric shapes! They will spend lots of time building and observing patterns.
18. Collect Rocks, Leaves, etc.
Send them outside to the backyard if you have a gated area. Or head out with them to sit and watch as they collect lots of items in a bag.
Come back in and help them do a fun craft with their findings!
19. Play With Colored Water And Droppers
Squirt a few drops of food coloring into water and let your child have at it!
They will love feeling like they are giving "medicine" to their pretend friends.
Again, place a towel or container under the cups of water for an easier clean up!
20. Set Up A Tea Party With Stuffed Animals
Pretend play is great at this age! Help them start to master this skill by setting out their stuffed animals for them in a circle on a blanket.
Give them little cups and plates (paper ones from Costco work great) and tell them to help their stuffies have a little tea party!
Next time you feel guilty for having your child play by himself, just remember that you are actually helping them to learn and grow In different ways!
This is a great skill to help your child develop at an early age in life. AND it's one that you will be grateful to have as a parent!
Enjoy your few minutes of peace and quiet 🙂
21. Make A Friendship Bracelet
Making friendship bracelets can sometimes be frustrating for kids, but these easy friendship bracelets might be worth a try!
It's not a kit. All you need is cardboard and thread.
If this is too much for your child, you can opt for this charm bracelet kit which my daughter LOVED.