If you're looking for a fun and unique way to celebrate your mom this Mother's Day, I've got the perfect idea.
A Mother's Day scavenger hunt is a great way to arrange something special that will show that you care.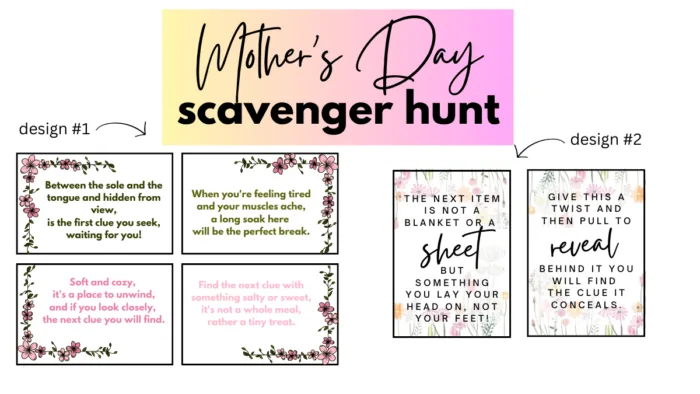 Because your mom is SOMEONE special!
I've made it super simple for you, with 8 printable scavenger hunt clues to get you started!
What I love about this Mother's Day game is that you can make it as easy or as challenging as you want.
Some clues are pretty broad, and will allow you to make this scavenger hunt last a while!
For example, the first clue will lead mom to a pair of shoes.
If your house is anything like mine, I bet you have many pairs of shoes in your house.
It's the same thing with the clue that will lead your mother to the snacks.
Going through all of those snack boxes and bags could take, well, forever!
I also love this activity because it can be used with literally anything.
Whether you got your mother one of the more simple Mother's Day gifts like a gift card to her favorite restaurant or something more elaborate, you can use these clues to lead her to it.
The whole family can get in on the fun, too!
This post contains affiliate links.
I also think it would be a great idea to include one of the following with your gift.
If you would also like to give a meaningful gift, here are some of my favorite Mother's Day gift options.
Okay, let's talk about the clues and where you should hide them.
Mother's Day Scavenger Hunt Clues
Clue #1
Between the sole and the tongue and hidden from view,
is the first clue you seek, waiting for you!
Th next clue card should be hidden inside a shoe.
But keep in mind, your mom is probably going to look in her own shoes first.
It might be a good idea to put them in someone else's shoes in order to prolong the fun!
Clue #2
When you're feeling tired and your muscles ache,
a long soak here will be the perfect break.
This clue will be much easier to find then the first, but that's okay.
We don't want mom to get too frustrated!
It should be hidden in the bathtub, probably in plain sight.
Clue #3
Soft and cozy, it's a place to unwind,
and if you look closely, the next clue you will find.
This clue is a little bit vague.
Feel free to interpret it however you'd like!
Some ideas for this clue's hiding places would be:
your mom's favorite chair
the couch
the bed
Clue #4
Find the next clue with something salty or sweet,
it's not a whole meal, rather a tiny treat.
Like I said before, if your house is anything like mine, there's a whole cabinet filled with snacks.
Are you going to hide the clue in one of the first snack bags you see?
Or are you going to hide it in one that's stuffed in the back and has been forgotten about?
It's up to you!
Remember, don't be too mean to your mom.
This is her day!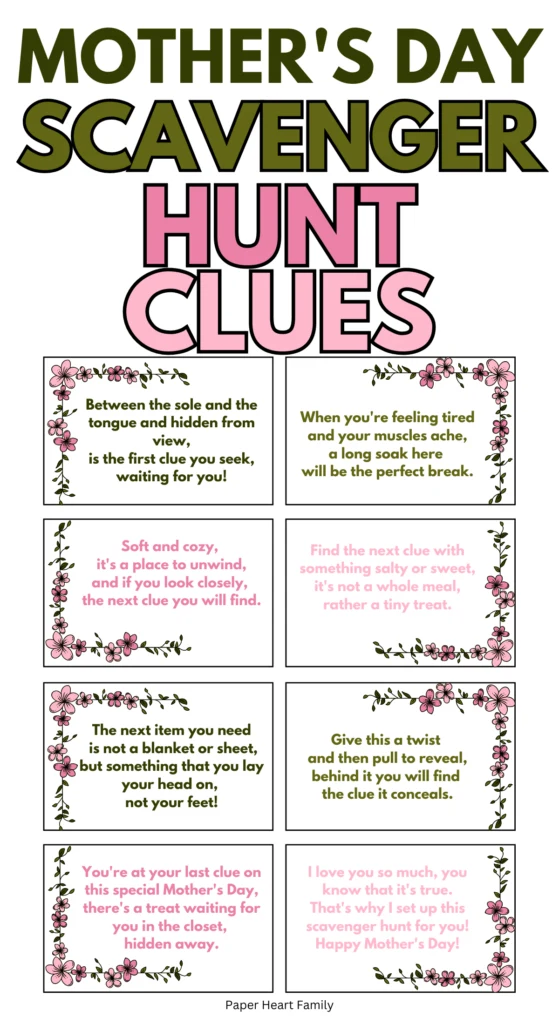 Clue #5
The next item you need is not a blanket or a sheet,
but something that you lay your head on, not your feet!
This is another easier clue to give your mom a little break after the last one!
You could hide it under a pillow, or better yet, inside the pillowcase.
Clue #6
Give this a twist and then pull to reveal,
behind it you will find the clue it conceals.
Did you have to read this one a few times?
Do you know where this clue leads?
This clue is hinting at a door.
The possibilities are numerous with this one, too.
The item that should be twisted is a door knob.
You can literally hide the clue "behind it" like it says.
For example, you could tape the clue onto the back of the door.
Clue #7
You're at your last clue on this special Mother's Day,
there's a treat waiting for you in the closet, hidden away.
Okay, we've made it to the final clue.
Pick a closet in your house and place your small gift for your mom inside.
Make sure that you hide clue number eight with it to remind your mom that it's her special day and that you love her!
Clue #8
I love you so much, you know that it's true.
That's why I set up this scavenger hunt for you!
Happy Mother's Day!
Scavenger Hunt Set Up
Download your instant printable PDF from the bottom of this post.
Print using a color printer on white card stock. The card stock is optional but it will allow your clues to be more substantial and less likely to rip during the treasure hunt!
Cut out each of your clues.
Keep your first clue to be given to your mom on the morning of Mother's Day.
Hide all of the other clues (along with a gift with the last clue) in the spaces specified above.
Scavenger Hunt Design Options
It's always so difficult for me to choose a design for my printables.
Therefore, for this fun game I have made two different versions.
The first version is a little more simplistic with vines and pink and purple flowers.
The second version is more whimsical and was created using a more sophisticated font.
You can't go wrong with either one!
Mother's Day Scavenger Hunt PDF
If you would like to include one of these free printable Mother's Day scavenger hunts in your Mother's Day celebration, here's how.
Simply click below in order to receive your printable PDF instantly.
Please be sure to follow our terms of use.
This printable is for personal use only!
Instant Downloads:
I truly hope that you found this activity to be an easy way to celebrate mom this holiday!
I hope she loves it!
I would love to hear about which design you chose and how the activity went.
Leave me a comment below!