How cute is this printable ice cream craft?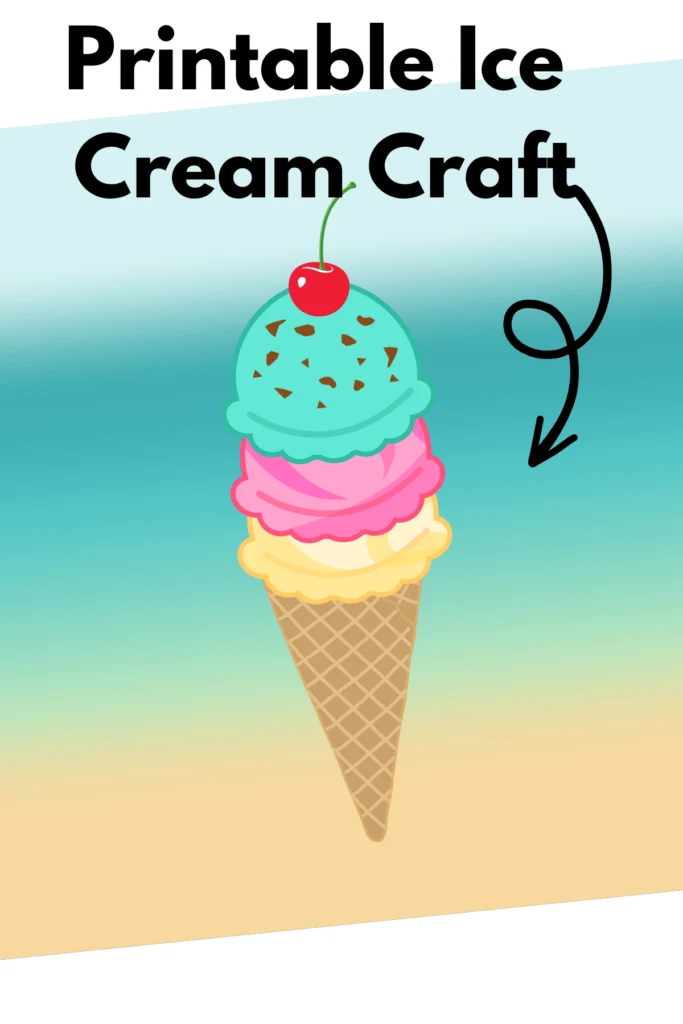 My kids love crafting, but honestly the whole thing kind of stresses me out.
My kids usually have these grand ideas and I NEVER have all of the supplies that they need or want.
That's why I started creating printable crafts for kids.
Check out my butterfly craft template or my dinosaur craft template!
They seriously couldn't be easier!
We are always (almost always?) going to have paper, scissors, glue and coloring utensils.
That's why this kind of craft doesn't stress me out.
Easy outdoor activities are my favorite, and if it's a nice, calm day, you can totally take this free printable template outside.
And isn't this just the perfect summer craft for kids?
I'm obsessed.
What I have for you is two different options so that your children can express themselves in different ways through art.
If your child isn't into coloring, but loves cutting and pasting, then the color version is for you.
If your child wants to color in their own scoops of ice cream to reflect their favorite ice cream flavor, then the black and white version is the perfect option.
And I think the adorable ombre background is the perfect addition to these printable ice cream templates because they will make the final product pop!
My kids and I all created this ice cream cone craft this weekend and each of our creations turned out unique and so cute.
This is one of my favorite spring themed activities for toddlers.
All of the cutting and pasting is a great way to build your child's fine motor skills.
It's really such an easy ice cream craft that is perfect for kids of all ages (adults, too).
I had just as much fun as my kids.
The possibilities are endless. You can create different flavors and make a sweet treat that you will wish you could eat.
You can also add some other fun additions, like real sprinkles to give your paper ice cream craft texture, for example.
This post may contain affiliate links.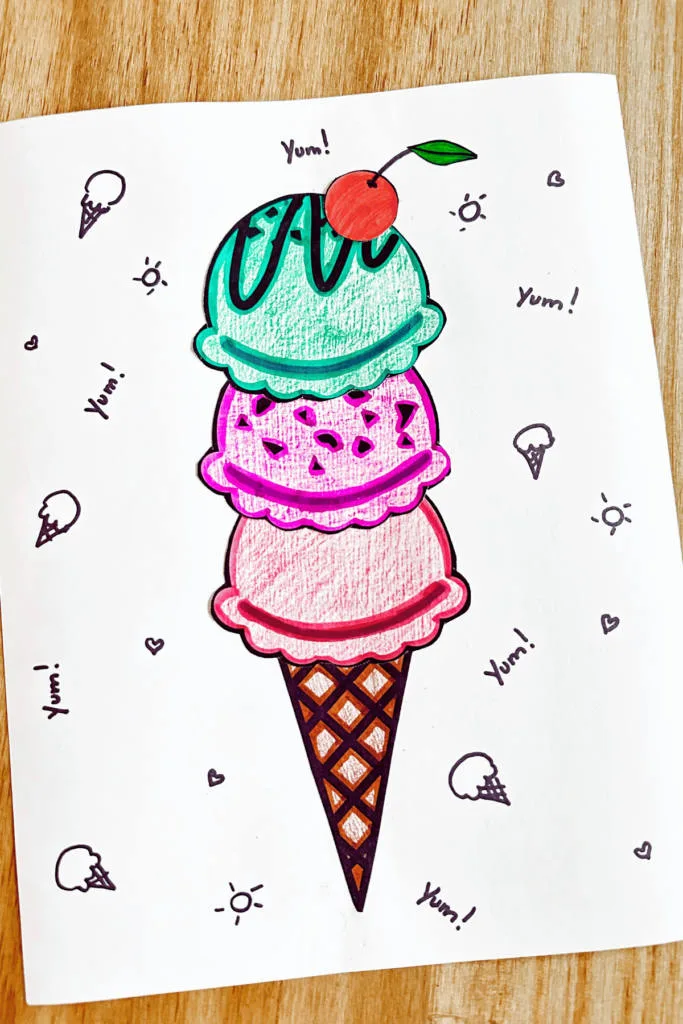 When can you use this free printable ice cream template?
to create a bulletin board with all of your students' ice cream creations
with kindergarteners, preschoolers or any age
at home on summer break on a hot summer day
as a summer activity for a play date
I could even see a few of these created and strung together to use as ice cream party decorations!
So cute, right?
The point is, this printable craft can be used anytime, anywhere!
This post may contain affiliate links.
Free Printable Ice Cream Craft Suggestions
Here are some of my suggestions to make this crafting experience even better.
Cut the various objects out yourself ONLY if your child it too young to do it herself, or if it will be frustrating for your child. Otherwise, the cutting practice is good for your kid, and less work for mom.
Print on regular printer paper. This will make it easier for children (especially younger kids) to cut.
Consider pasting the ice cream cone on fun construction paper, card stock or the ombre background provided with the PDF file.
Use whatever you have to color in the project. We have used markers, colored pencils, gel pens, watercolor paints and more. It's nice to experiment with different mediums.
Be creative and add other elements. For this specific craft, you can add real sprinkles or a red pom pom instead of the printable cherry.
Printable Craft Steps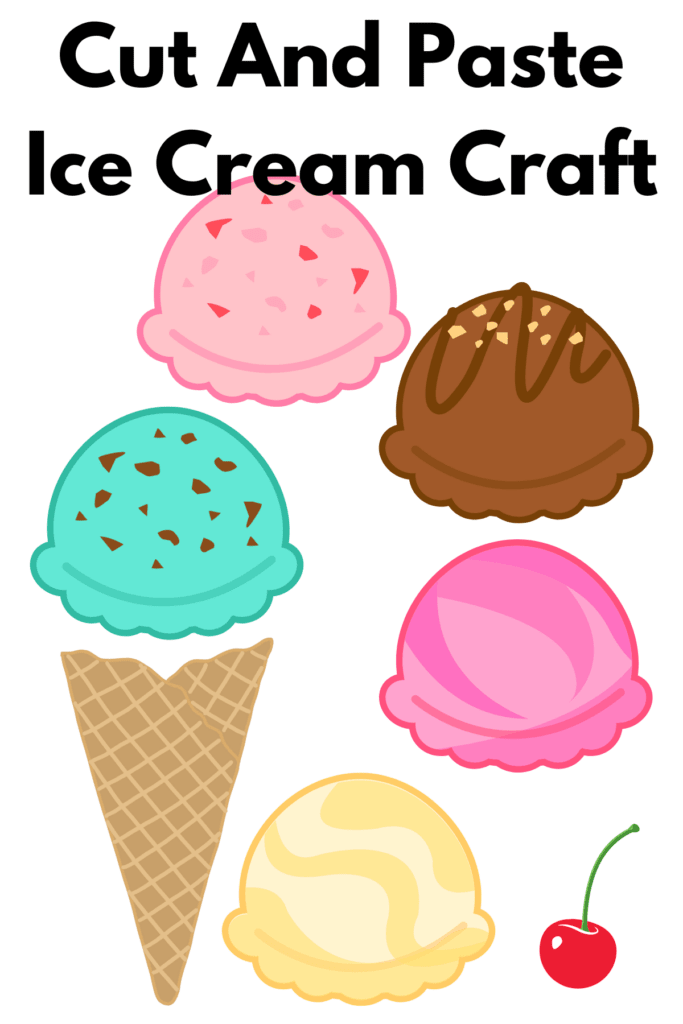 Step #1
Print your free printable (found at the bottom of the post).
Step #2
Cut out each of the elements carefully.
Again, don't do this for your kid if they are capable of doing it themselves!
Step #3
Color the cherry, ice cream scoops and ice cream cone with the medium of your choice.
We just purchased these gel pens and I am OBSESSED with them.
They are a great value!
(I think I might just need to hide them from my kids!)
We also LOVE coloring our printable crafts with watercolor paints (you could even print directly on watercolor paper for an even better effect.)
Step #4
Paste the ice cream patterns onto the ombre paper, card stock or construction paper.
For best results, I recommend using glue sticks as they are much easier than squeeze glue.
Step #5
Add optional embellishments such as glitter, pom poms or sprinkles!
Or how about some of those foam balls that come with slime that get everywhere?
They could be used to simulate sprinkles, too!
Encourage your child to use their creativity.
I'm sure they will come up with some great ideas.
Download Your Free Printable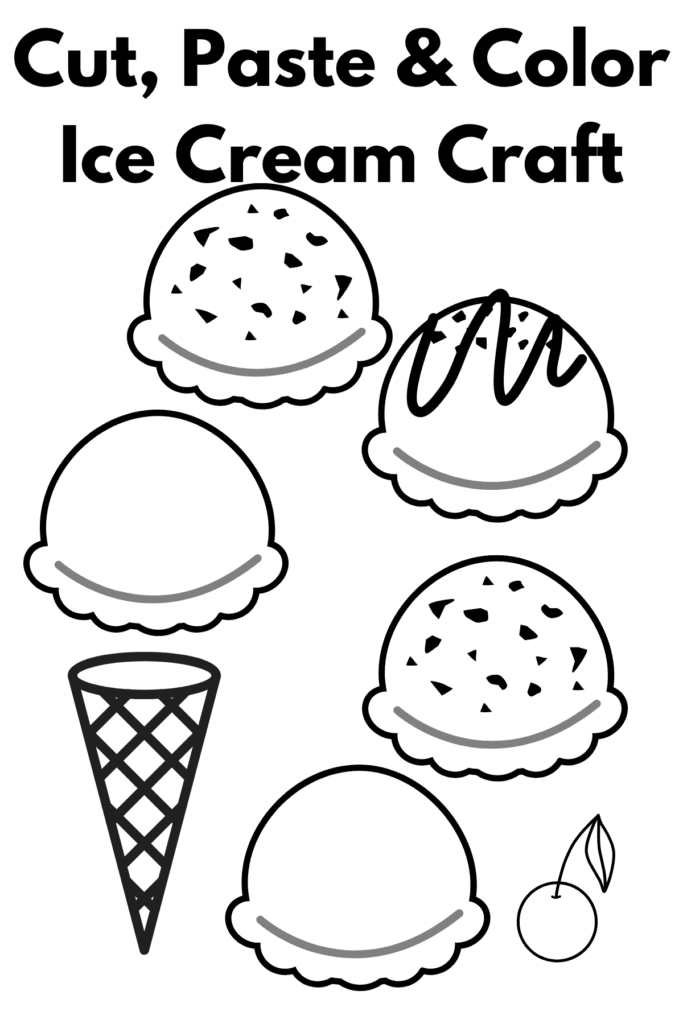 So why don't you break out the ice cream and have a yummy treat to share with your kids while you create this craft project?
In order to download your free printable, simply subscribe in the subscription box below.
My subscribers receive an email once a week with awesome printables and activities just like this one!
I also hold a monthly $50 dollar giveaway, so you don't want to miss it!
Your free printable will open instantly upon subscribing.
Please remember that these printables are shared with you (for free!) and therefore are for personal use or classroom use only.
Make sure to only print the page or pages that you will be using.
I hope this easy craft is lots of fun for you and your kids!
I would love to see the final product!
Let me know if you would like to see more ice cream activities!
Related Posts