Ah, your newborn won't sleep unless held? It's SO hard, right?
Maybe your baby is 2 weeks old, 3 weeks old, 3 months old or 6 months old! It could happen at any time really. Without warning.
On one hand, can you even blame your baby? Of course your baby only wants to sleep on you! You know what that means? You've got a smart one.
But really, your arms are reassuring, your smell, your warmth, your heartbeat. Everything about you makes you the perfect snuggle spot.
Both of my children, as babies, went through this phase at least once. It's normal, but it's HARD. You very well can't sleep all night yourself with your baby in your arms unfortunately. You need to make sure that your baby is in a safe sleeping environment. Unfortunately, your baby could care less about what is safe for her.
You probably have a baby who will sleep for hours snuggled up on your chest, but who wakes up instantly as if she's possessed by el diablo if you try to place her ever so gently into her crib.
And I'm going to tell you right now. You might not find the solution to this problem. It might just be a phase that you're going to have to deal with in whatever way possible.
My first baby was fine until I went back to work when she was four months old. She literally WOULD NOT sleep for the week and a half after that unless she was physically attached to me and nursing. All. Night. Long.
So, if you're dealing with this issue, try out the following techniques and hopefully you will find something that works for your baby. (I'll say a little prayer for you.)
This post contains affiliate links.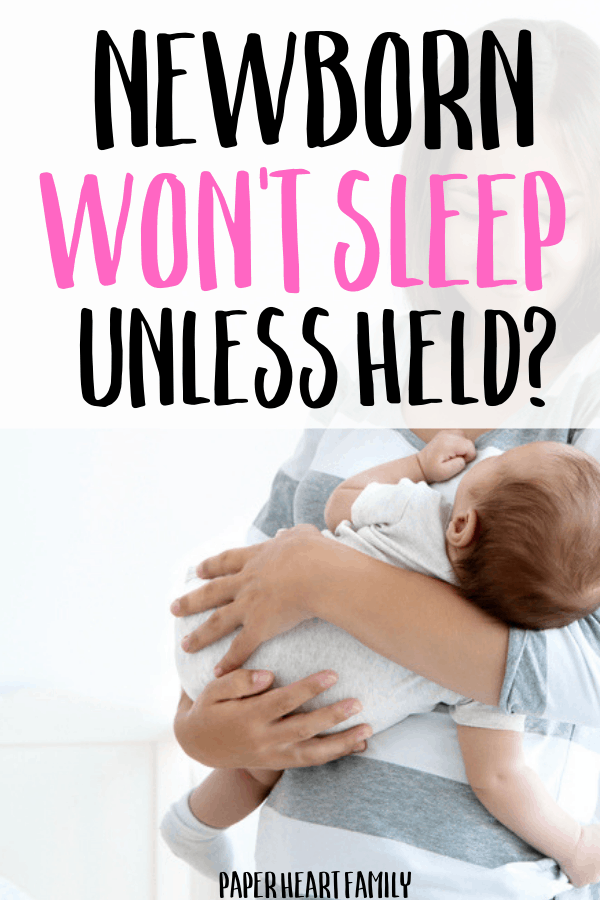 What To Do When Your Newborn Won't Sleep Unless Held
Take Shifts With Your Partner
If your baby sleeps terribly in the bassinet or crib or your baby will only sleep on you at night, this is super helpful. My husband and I used to do this one with our newborns.
Have your husband (who will probably be awake anyway) keep the baby for the first few hours of the night. Go to sleep as soon as your baby does. Then, once you've had a straight 4 or so hours of sleep, you can try putting your baby down in the bassinet for the rest of the night.
Swaddle
If your newborn baby cries when put down and you HAVEN'T given swaddling a focused attempt, what are you waiting for?
I have heard so many moms say that their baby hates swaddling, or that they gave up on swaddling because their baby wouldn't stay in the swaddle.
If your baby is a newborn, she just came out of a squished, swaddle-like environment, so hear me out. EVEN IF your baby appears to hate the swaddle, just give it a try. Swaddle your baby up (with a velcro swaddle so that she can't get out of it), and then feed or nurse until sleepy and lay down.
Even if she fights it. Just persevere, mama. Once she's asleep, you might be surprised that she actually likes the swaddle.
Is your baby guaranteed to sleep better this way? Unfortunately not. But it's definitely worth a try. Both of my babies loved it, and while it helped my first sleep super long stretches, it did not help my second who despised sleeping flat.
Keep Your Smell Close
If you are swaddling your baby to sleep, a great idea is to take the swaddle blanket and simply wear it under your shirt/bra all day. The swaddle blanket will smell like you and your milk and will be more comforting for your baby.
White Noise
Using white noise with your baby is another way to mimic the womb, which will calm your baby, help your baby fall asleep faster and most importantly? Help your baby stay asleep LONGER. A white noise machine will help your baby transition through tough sleep cycles too.
Holding Your Baby Before Putting Down
It might be helpful to hold your baby for a while before attempting to put down in the crib or bassinet. The amount of time that your baby is going to need to be held will likely vary baby to baby.
It can take your baby a little while to settle into a deep sleep.
Keep Trying
You may have realized by this point that babies change rapidly. The fact that your baby refuses to sleep somewhere other than your arms is a temporary issue. There are many different newborn sleep stages that you and your baby are going to have to navigate.
And guess what? Today might just be the day that your baby decides that she will sleep unattached!
I would try each day to put your baby in her ideal sleeping spot. One day it will actually work, I promise.
Try Different Sleeping Surfaces
As I said before, my second child despised sleeping flat on her back. She wouldn't sleep longer than 15 minutes in her bassinet at all.
My first slept well next to me in a co-sleeper that made middle of the night breastfeeding easy.
Wear Your Baby During The Day
Some babies will be put down a little easier for naps for some reason. Others? Not so much. If your baby literally wants to be attached to you 24/7, wearing your baby will give you a little sanity (at least during the day).
I loved my Moby Wrap and wore it almost all the time in the newborn stage.
Hold Your Baby When You Can
I know, I know, not the best advice. But maybe you're here because you've heard some ridiculous things like "you're spoiling your baby" or "you're ruining your baby's sleep".
I know it's hard to believe right now, but you're not ruining anything if you decide to hold your baby all the time.
Start Small
Having a small, more attainable goal at this point might be helpful. You can start off with the goal of getting your baby to sleep at least one nap per day where she isn't held or worn. It will help you to realize that you are making progress, and you can of course increase your goal and make it bigger as time goes on.
Try Some Heat
As you're getting baby ready for bed, lay a heating pad down in the bassinet until it gets nice and cozy and warm. Remove the heating pad and lay your swaddled baby down onto the mattress. The warmth of the mattress might just be enough for your baby to feel comforted enough to give your arms a little break.
Breastfeed, Breastfeed And Breastfeed Some More
I am telling you from experience that THIS is the solution that most helped my first baby. She was a classic cluster feeder, and there were many times when I wanted to give her a pacifier to give myself a break.
This is actually one of the most important things that helped both of my babies sleep 8+ hour stretches at 8 weeks old.
What did her cluster feeding look like? Snooze and sleep-nurse from 5:30-9:30. If I even tried to move her, all hell would break out. Flailing, screaming, frantic nipple-searching. I swear she must have taken in about 6,372 ounces each and every night over that four hour period. But guess what?
She slept BEAUTIFULLY after all that cluster feeding. I mean honestly, she was likely too full and milk drunk to do anything else but sleep.
If your baby doesn't demand to cluster feed like mine did, still try to encourage her to nurse as much as possible. Offer the breast as much as possible in the hours before bedtime.
And again, don't worry about causing bad sleeping habits at this point. Do what you can do (whatever you can do) to get yourself and your baby some sleep.