Pregnancy is such a beautiful, crazy, and special time and you will want to document every bit of it!
Good news- I have a free printable journal for you!
It's amazing how different each trimester is and how one month (or let's be honest even one day) you may be craving tomatoes and the next minute you can't stand them!
These are the little things you will want to remember and laugh over when your sweet baby is in your arms and you are thinking back to that first trimester when you couldn't eat a single bite of food for weeks- ahhh the memories.
This printable journal is a great way to document and keep track of your milestones throughout each trimester and help you remember all those special moments!
Free Printable Pregnancy Journal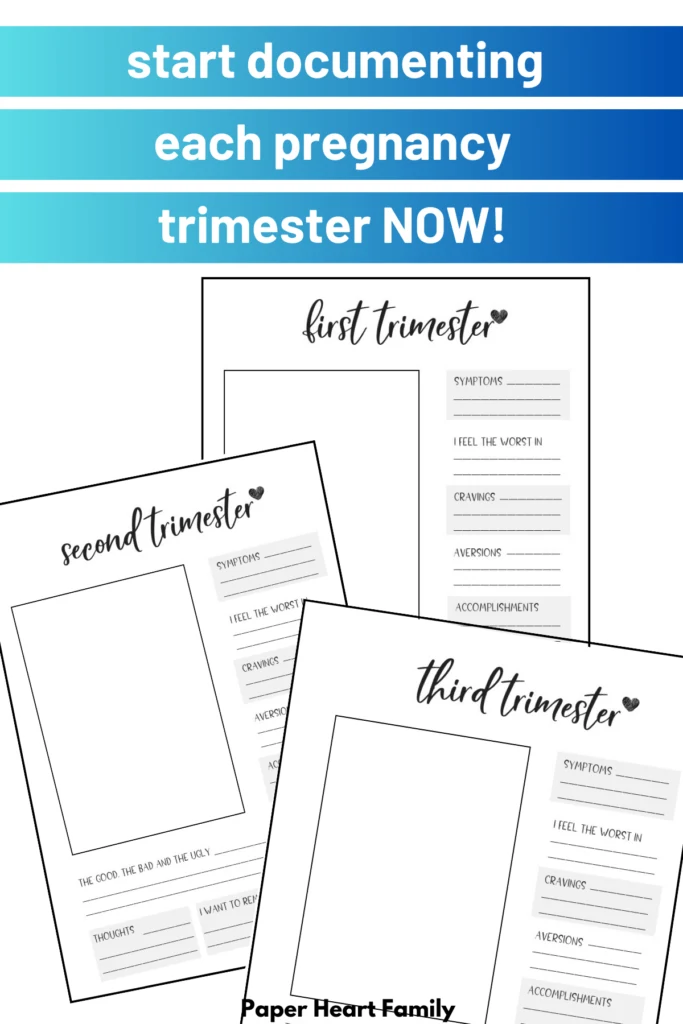 This free pregnancy journal is a great way to help you remember all the special moments and the "what in the world" moments that lead to your sweet little bundle of joy and it's also one of the best ways to document pregnancy.
Your whole pregnancy is such a special time but your first trimester is so much different than your third trimester and it is so much fun to see how much has changed throughout your pregnancy. My favorite part of this printable journal is being able to look back not only at the pregnancy progress, but also at all the funny little things that made the pregnancy so unique and made it such a special time.
That's why I love this free printable journal- it gives you the perfect snapshot of each trimester (plus it doesn't take much time to fill in) and lets you document your symptoms, cravings, weight gain (because lets be honest, that is a fascinating thing to watch happen over 9 months!) as well as how you are feeling and any special things you want to remember.
It also has a spot for you to write your thoughts and most importantly your accomplishments (I mean you are literally growing bones!)
The best part of this free pregnancy journal is the space for a picture and here you get to choose; it can be of you and your growing tummy or a sweet (and maybe semi-alien looking) ultrasound image.
This free printable pregnancy journal is for everyone- first time moms who are just experiencing pregnancy or expecting moms who are on baby #3!
It doesn't matter how many times you have been through pregnancy, each one is so unique and different and you will want to remember all of the special moments from each of them!
Pregnancy Journal Ideas
Writing in a journal throughout the three trimesters will help you remember all of the things you love about pregnancy, like when your pregnancy started to show, how you announced to your husband and also the not-so-great things like how water made you nauseous… WATER!
It will also help you keep track of your milestones, like when you finally stopped having morning sickness or when you felt your baby's first kick.
You will want to be able to look back and remember all the tiny moments that made pregnancy so special and also the things that made it so hard (I am always in awe of my body when I read through my own pregnancy journal and remember all it did to grow a little human!)
Some tips when filling in your printable journal:
-fill in throughout each trimester (so much happens in one trimester and you don't want to forget how you felt in week 6 vs. week 10)
-Consider taking a bump picture each trimester for this journal. It truly is amazing to see your tummy grow! I remember at the end of my second trimester, I felt huge and did not think it was possible for my stomach to stretch any more! By the end of my third trimester I would look back at my pictures from early in my pregnancy and laugh at how big I thought I was (nothing compares to the last few weeks of pregnancy!)
-When you are filling in your journal, think about the small details you want to remember, and also the fun things you will want to share with that little bundle of joy that you are currently carrying! My son is fascinated with my pregnancy journal and loves for me to tell him stories about when I was pregnant. His favorite thing is to point at every picture and confirm he was in fact still in my belly at that point. It's really sweet and it will be so much fun to share these memories with him in the future.
Download Your Pregnancy Journal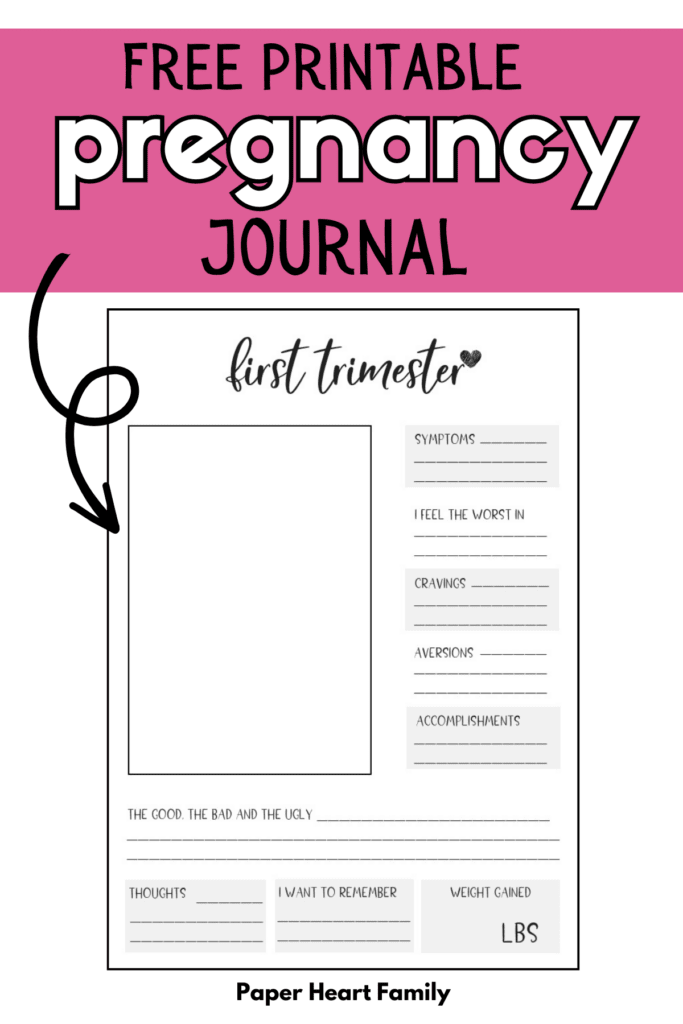 You are all ready to start documenting your pregnancy progress!
To download your free pregnancy journal, simply subscribe in the subscription box below and your printable will download instantly! (personal use only)
The best part of subscribing is that you will receive more great resources like a pregnancy checklist for each trimester or tricks to get through morning sickness. Once printed, you can keep track of your pregnancy milestones and all the special moments along the way!
If you love this freebie, you should check out all of my pregnancy freebies.
Check Out My FULL Pregnancy Journal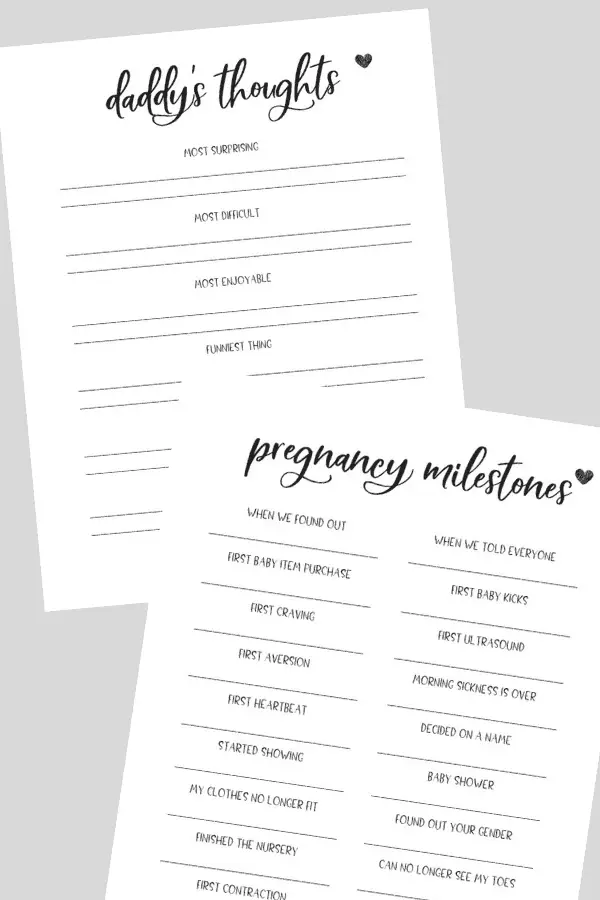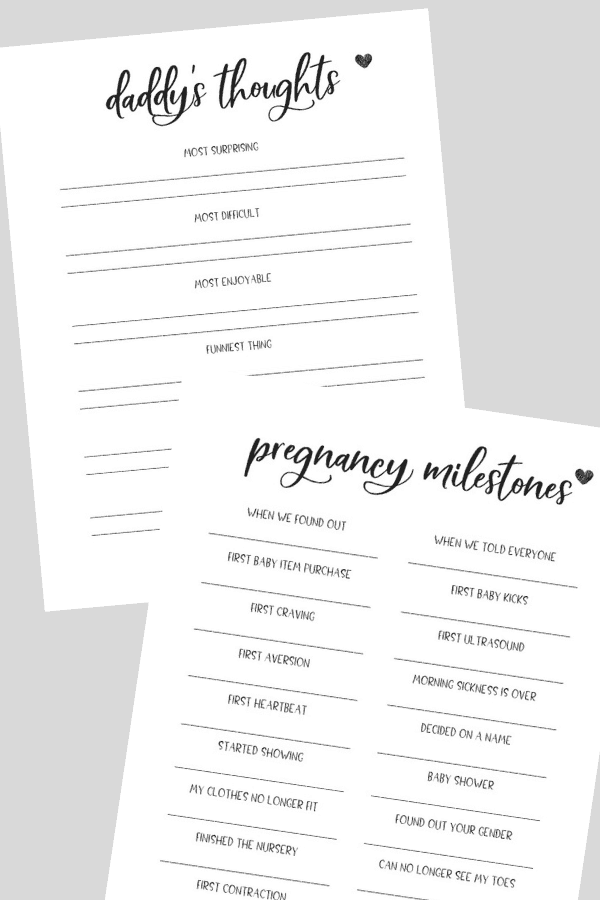 This is such a special time and you may find that you want to document even more!
During my pregnancy I loved writing down each week what was going on with the little human I was growing, especially the size of my little human (I always liked the comparison in terms of fruit!) writing fun facts about my baby (the week I was growing hair was pretty cool) and some thoughts I was having about my week.
I found that each week in pregnancy varied dramatically and now I love looking back and reading about all the different things I experienced, thought and felt.
If you find that you want to document more, then this Pregnancy Journal is for you!
It is a great way to document all the special moments in your pregnancy. It has a printable cover, page for each trimester, weekly journal pages and a ton of other pages like how you came up with the baby name, how you announced it to everyone and pregnancy quotes.
There is also a page for ultrasound images and pictures of your pregnancy progress.
My favorite part of the full pregnancy journal is that it has a space for your babies footprints (those are the sweetest little feet you will ever see!) and a place to keep track of your doctor's appointments and your first ultrasound.
It's a great way to document this special time and I promise you will love looking back at your journey!
Good luck mama! You are doing a great job carrying your sweet bundle of joy.
I hope you enjoy this free pregnancy journal and find joy in all these special moments!