If you are anticipating making a Facebook pregnancy announcement soon (or Instagram!), or whatever the newest, hottest social media platform is, I have a ton of ideas to help get you inspired to share that you are going to be new parents.
Announcing your pregnancy is one of the biggest announcements that you will ever make in your life, and you want it to be memorable, right?
I mean really, how many times are you going to have the chance to craft the perfect Facebook pregnancy announcement status and share such good news?
It's also a great way to start documenting pregnancy.
I have a free pregnancy trimester journal that you can use in order to write about everything you're experiencing throughout your pregnancy!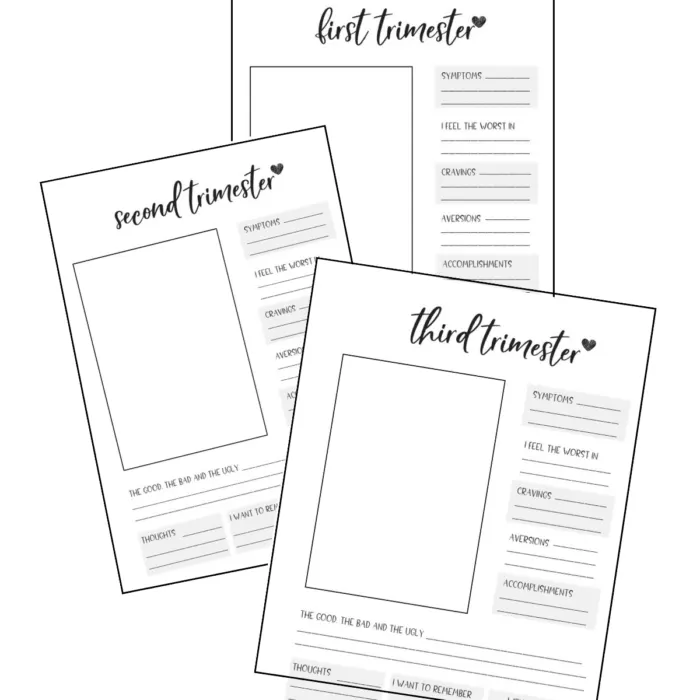 You want to make sure that you make your announcement at the right time (before your baby bump begins to show!) and that it's memorable!
Read: When Will I Start Showing In My Pregnancy?
Of course, I first recommend telling those closest to you in person first.
There's nothing worse than finding out big news about your closest friends or close family members on Facebook.
I'm sure it's happened to you. Just. Don't.
So assuming that you've already told everyone that really matters (ha!), let's get into how you can make a cute, epic, memorable or sweet pregnancy announcement on social media.
Whatever your style is, I got you.
Wondering how to announce your pregnancy on Facebook?
Decide when you're going to announce, then how you're going to announce.
Here are some creative pregnancy announcement ideas.
You can announce with:
a pregnancy announcement quote
an adorable or funny photo
a video
And don't just document your baby bump now!
Make sure you take pictures monthly or weekly with this pregnancy milestone cards printable.
This post contains affiliate links.
Psst- If you haven't already, make sure that you sign up for Amazon's baby registry to get your free welcome box.
Announcing Pregnancy On Facebook Ideas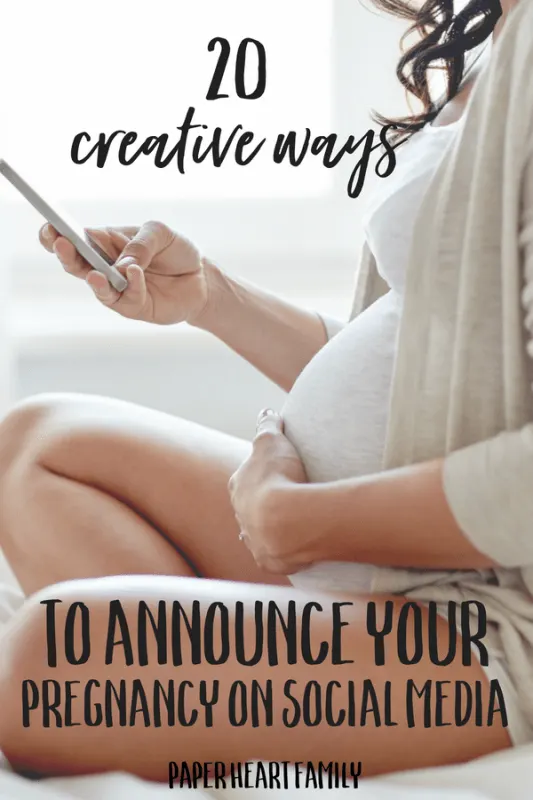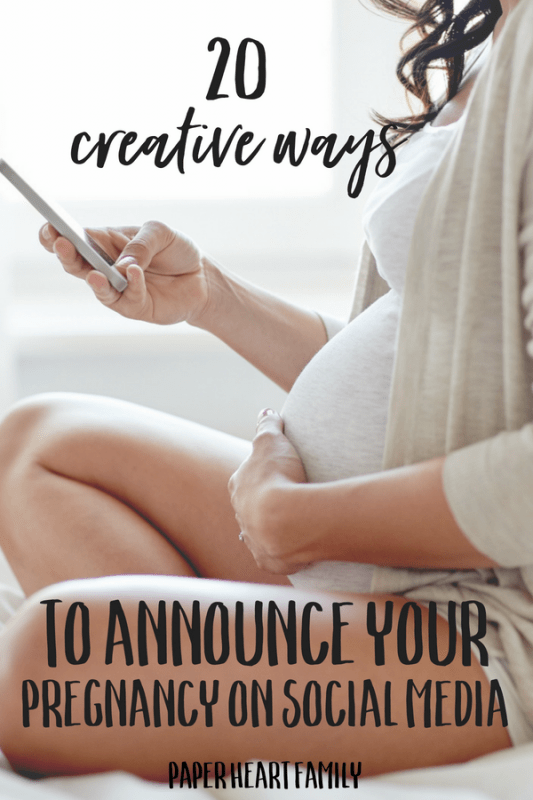 Pregnancy Announcement Quotes
There are many different ways that you can announce your pregnancy in writing, but it's important to get your Facebook pregnancy announcement wording right.
You might want a funny announcement quote, one that will make everyone cry, or a pregnancy announcement riddle that will have everyone scratching their head.
You might want a cute way to announce your pregnancy on social media or maybe you're thinking the cheesier the better!
Simply posting a quick quote on social media is the easiest way to share your big surprise, but it can be just as special as any other announcement.
There's no wrong way to share.
Guess what's cooking in our oven? (Hint: It's not cookies!)
A great adventure is about to begin… Baby number ______ due in (due date month and year).
What is tiny, is causing me a lot of grief, and will make its appearance in (due date month and year)? Our new addition!
I like big bumps and I cannot lie!
Roses are red, love is sweet, or family is growing by two tiny feet.
I quit drinking (for the next nine months)
We decided we are tired of sleeping in every day and doing whatever we want.
The single life was fun, married life is rad, but now comes the best adventure, becoming mom and dad.
Adding a little more love to our family.
You can stop asking when we're going to have a baby now (with a picture of the positive pregnancy test).
Here we grow again…
Out of difficulties, grow miracles (perfect for announcing the upcoming birth of a rainbow baby)
Need more? I've got:
Pregnancy Announcement On Facebook Photo Ideas
If you'd like to include a photo with your announcement, these ideas are pretty inspiring.
I scoured Instagram for the best pregnancy announcement photos, and as I predicted, those ladies did not disappoint!
However, remember that a simple photo of a letter board with a quote and a picture of the ultrasound photo is just as good as any of these.
Simple is okay!
Such a sweet idea from this adorable couple.
A photo shoot at a carnival would be so much fun and I definitely think this is a great first pregnancy announcement.
Photo credit: @maddywilliamsphotography
A lovely idea that let's your family and friends know that you have actually planned your baby.
This can be a helpful one if you have more than two kids!
'Cuz you know, more than two kids is a "big family".
I don't think pregnancy announcement photographs get much sweeter than this one!
Love how this one is going to require a detailed look at the photo to actually get the message.
A nice subtle way to announce a pregnancy.
And you could have a competition on Facebook.
Who's going to notice first?
Any photo with an adorable little girl eating ice cream is cute enough as it is, but add in a witty quote with it and everyone who sees it will be oohing and aahing.
I totally agree, being a princess is overrated.
This adorable photo announcement comes from JourneytoSAHM.
You can check out her pregnancy announcement post here.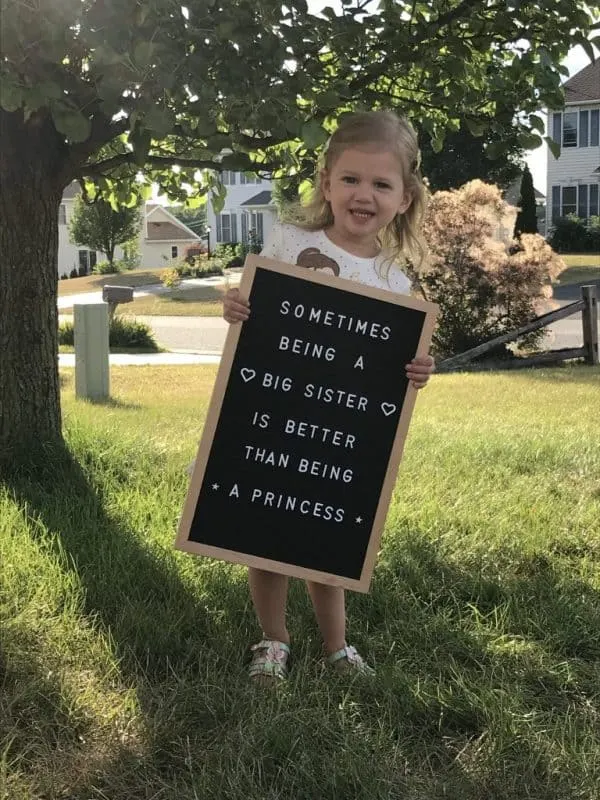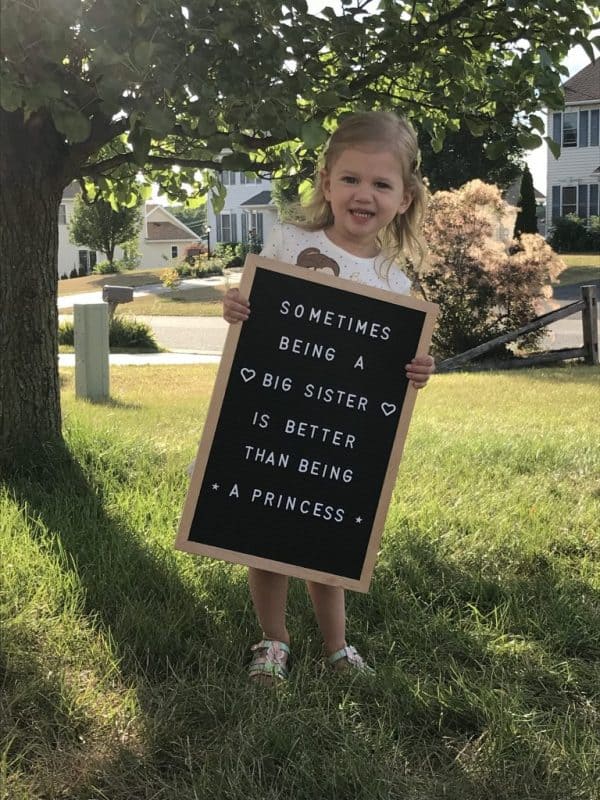 Wanna add in a little humor?
You can imagine that might be really what the dog is thinking.
Another humorous way to express how excited you are about having another baby (and how completely not excited your kids are!).
Don't you love this idea?
So clever, so adorable, such a funny way to share your baby news.
This one is definitely super cute.
This couple tells it like it is, and I LOVE it.
Because while pregnancy is "beautiful", it's crazy and chaotic too, and that's okay to say.
A great pregnancy announcement for siblings close in age.
I've seen a lot of variations of the tiebreaker photo, but this one is one of the most adorable and such a fun way to include older siblings in the announcement.
Hmm, there are literally no words.
If you have parents who are really good sports, then a photo like this is GOLD.
I love including family pregnancy announcement shirts in the photo.
It's cute, it's trendy and so original.
Have you seen any pregnancy announcement movie posters yet?
I can't get enough of them!
This is a great example, but there are many creative ways you could go with this type of announcement.
View this post on Instagram


Pregnancy Social Media Announcement Videos
If videos are more your style, there are tons of pregnancy announcement ideas on YouTube.
These are some of my favorites.
Videos are such unique ways of sharing your happy news on your social media accounts.
This couple used video from a drone and some really incredible videography skills to create this sweet video for their friends and family.
One of the sweetest videos ever which includes the baby's big sisters.
WARNING: This one had my crying like a baby, and I'm NOT currently pregnant.
You've been warned.
If you're really feeling ambitious, you could absolutely parody a song like this fun couple did with Taylor Swift's "We Are Never, Ever, Ever."
In this video (which is simple compared to most that I found), the couple documents the big occurrences in their lives, ending of course with finding out that they are pregnant.
Good luck with announcing your pregnancy and welcoming your little miracle!
And I hope your family and friends love your big announcement!
I would love to know below how you are planning to announce your pregnancy on social media.
Frequently Asked Questions
When should I announce my pregnancy on Facebook?
There is no "best time".
Some women will wait to announce because of the risk of miscarriage.
If you are okay with announcing to every single one of your facebook friends before out of the riskiest time period (the first twelve weeks), then go ahead!
Just tell those closest to you in person first.
What's the best way to announce pregnancy?
The best way to announce your pregnancy is to remain true to yourself.
Don't get caught up on doing something elaborate if you're normally laid back or something funny if you're serious.
Create a pregnancy announcement that reflects you and your personality!
Why should you wait 12 weeks before announcing pregnancy?
You are of course free to announce your pregnancy whenever.
Some women choose to wait until the second trimester due to the risk of miscarriage.
80% of miscarriages occur in the first 12 weeks.
However, if you're having horrible morning sickness, it might be nice to announce so that those around you understand why you're so sick.
Pregnancy Announcement Shirts