Alphabet activities are a game changer for learning with your little one! Whenever I do a fun letter alphabet craft with either of my daughters not only are we learning together, but we actually laugh and have fun while doing it!
And bonus… you feel like a great mom for doing an educational yet fun craft!
Toddlers and young children have so much they need to learn in these first few formative years, letters of the alphabet being one of them.
For more ideas on what to teach in your home or preschool, take a look at the post: things to teach a 3 year old.
Letter B is a great letter of the alphabet to start with! However, if this is your first time with the alphabet craft rodeo then I would head over to check out our letter A activities too.
These activities are a great way to practice letter recognition with your kiddos. You can also use them for lesson plans for preschool!
Whatever way you decide to use them, you'll want to hang on to these fun crafts for years to come.
Letter B Activities For Preschool
In this blog post, you will find:
a few printable upper case letter B crafts (Butterfly, Bunny, Bee, Bear, Breakfast and Bird)
letter B songs to listen to and sing along with
letter B movement prompts to get your preschooler up and active
a blank letter B sheet with many different possibilities
letter B books
Letter B Craft Printable Activities
These printable letter B activities are creative and easy ideas that are also so much fun to play with when finished! Make sure you have white paper, a printer and a glue stick handy for each of these paper crafts.
When you finish each craft, you can start an alphabet book for your child. Place each craft in a page protector and in a binder where you can save all of their letter crafts as they complete them.
It's a fun memoir to have for your child to look back on through the years of all the letters they have learned and simple crafts they have done with you!
Another fun thing to do with these crafts is to practice saying each of the letter B words while you do the activity.
Bumble Bee Letter Craft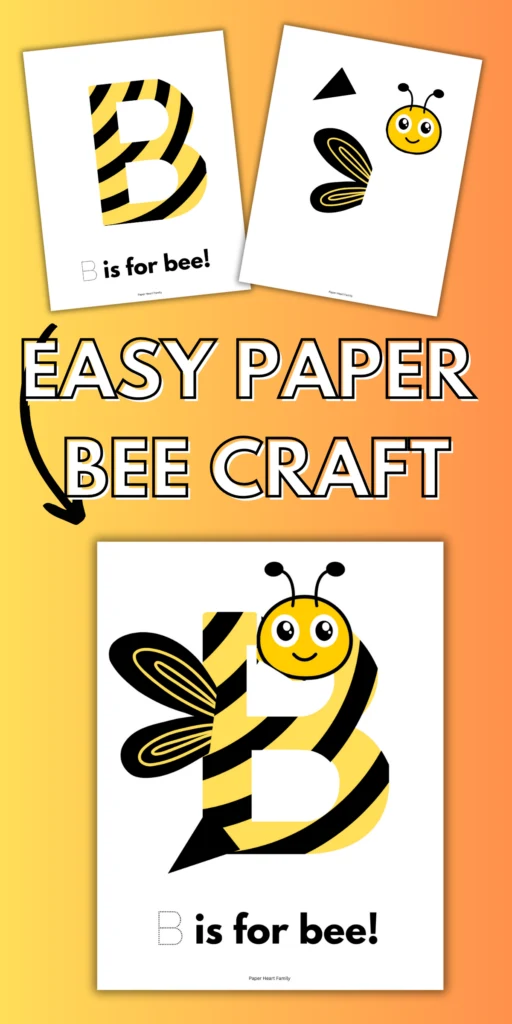 For this one, cut out all of the pieces and glue the wings on the left side. Then glue the stinger to the bottom and the head on the top.
Have fun flying it around the room or make multiple to hang from the ceiling!
Click to download your bee craft.
Butterfly Letter Craft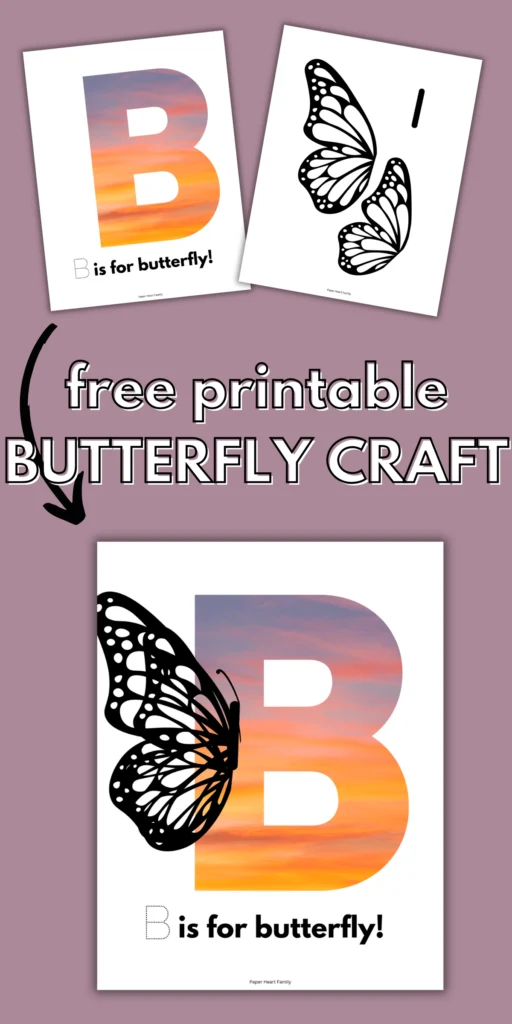 This one will have you cut and glue the wings to the middle body part (the black line). Feel free to have your child color the wings too!
Then have it "fly" on the letter B "sky". You could even break out some pipe cleaners for the antennae.
Click here for your butterfly craft download.
Bunny Letter Craft
The Bunny one gives a great example of what it should look like at the end. Try using real cotton balls to glue on for the tail.
Your toddler will love the different texture on his or her bunny!
Click here for your bunny craft download.
Bear Letter Craft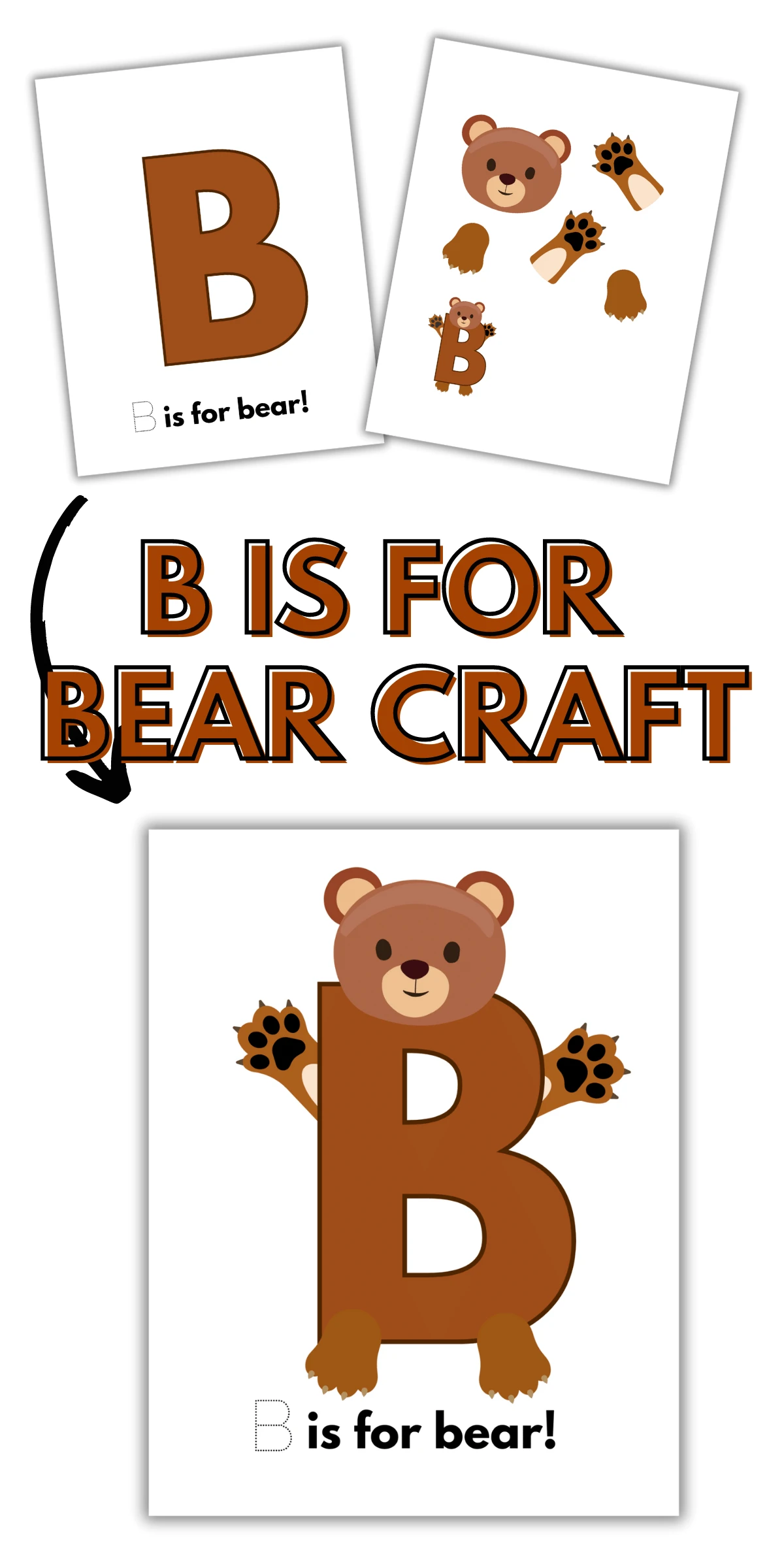 The bear craft is a must especially if you are going to be reading "We're going on a Bear Hunt".
Help your child cut each piece out on this one as their are lots of small parts that will require some special adult attention.
Click here for your bear craft download.
Breakfast Letter Craft
Kids love breakfast food right?! Breakfast for dinner anyone? I feel like that's our go to when I forgot to meal plan for a day (or if I just don't feel like making a "real meal").
While you make the breakfast for dinner, have your toddler cut and glue some breakfast foods onto the letter B paper. Talk about what foods start with letter B while you eat!
Click here for your breakfast craft download.
Bird Letter Craft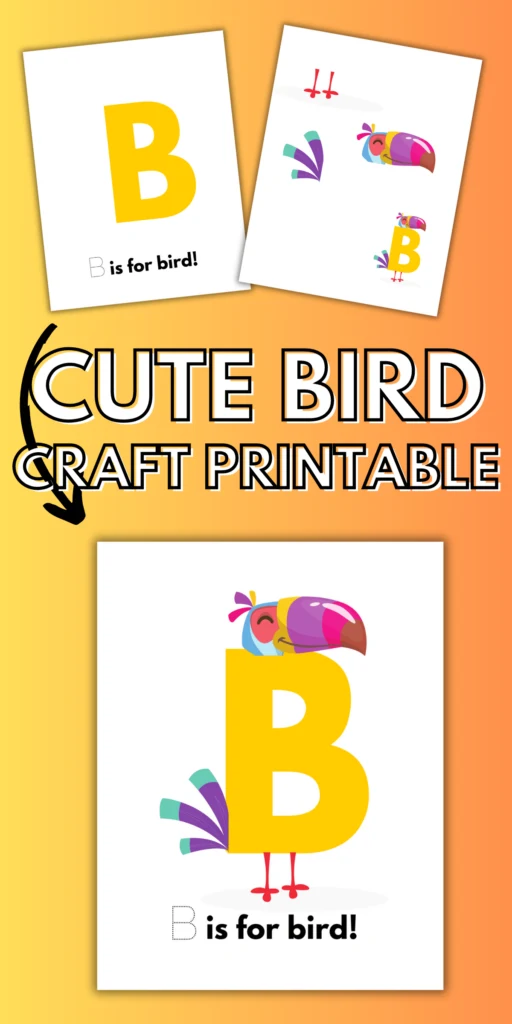 Isn't this one so cute? Totally reminds me of Kevin the bird from the movie, UP. You could even have a movie day and watch this with your child while they hold their bird.
Click here for your bird craft download.
B Is For Bat Craft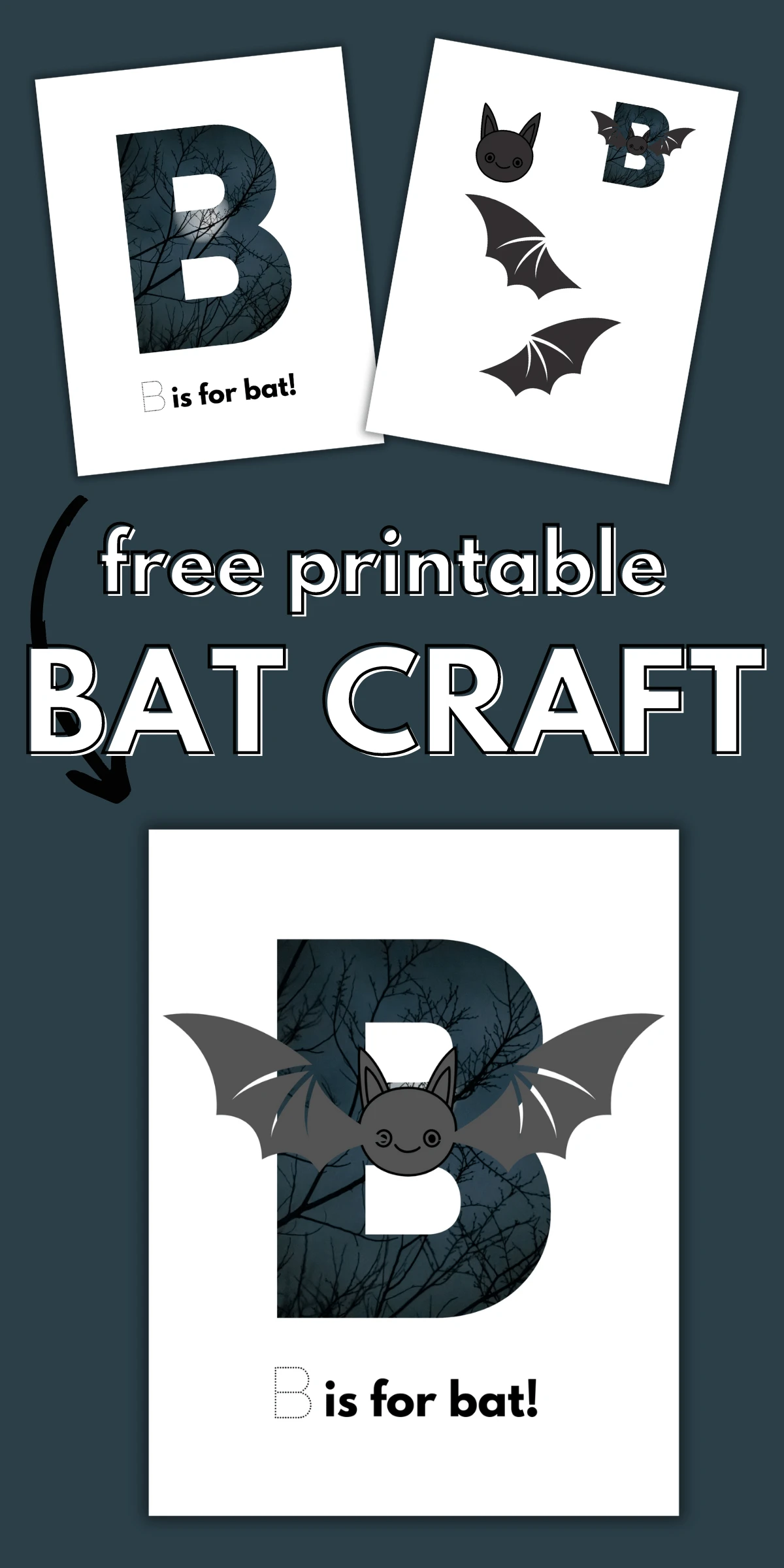 If your child is totally into bats, check out this other printable bat craft too!
Click here for your B is for bat craft download.
Did you love these letter B printables as much as we did? If so, check out more letter crafts and see what else you and your child might enjoy!
Letter B Songs
Singing is a fun way to engage your child while learning at the same time! Play BumbleBee by the Laurie Berkner Band while your child flies their bumble bee craft around the room!
Other fun B songs include:
Letter B Movements
It's so important for kids to keep moving in a day! With so many screens and jobs that require parents to sit in front of a computer all day… life has become a whole lot less mobile.
Kids need at least 30 minutes of physical exercise or movement everyday! Try these play-based letter learning activities to help your child get up and moving while working on their letter skills at the same time.
You could also try these letter B movements:
Bounce like a ball
Bake a cake
Balance like a tree
Bark like a dog
Balance on one foot
Bike really fast
Bloom like a flower
Blast off like a rocket
Bend like a flower in the wind
Bang on a drum
Letter B Sheet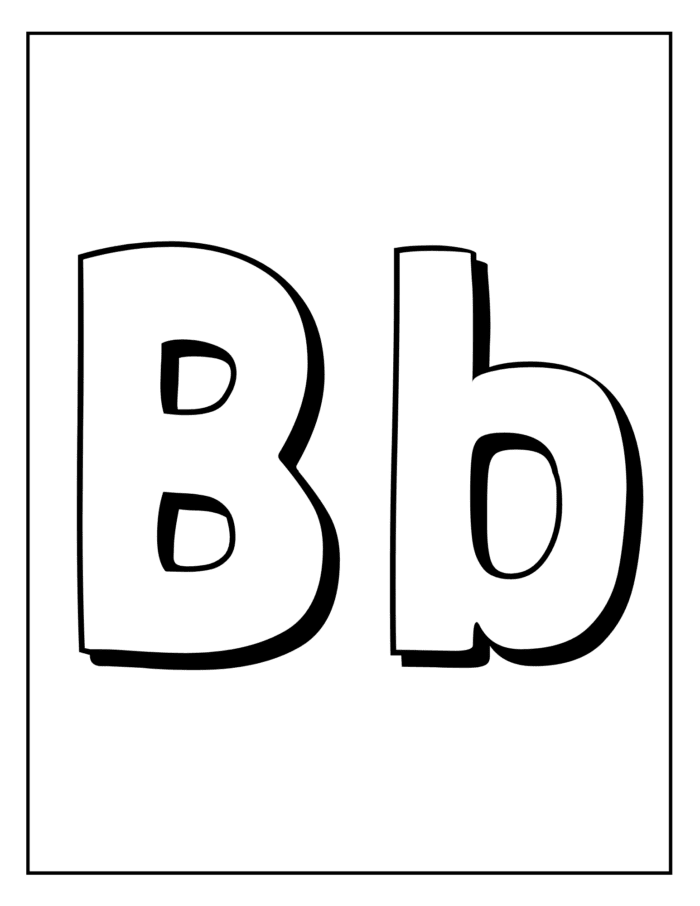 This blank letter B can be used for so many things!
Idea #1:
You can have your child practice tracing the shape of the letter with different color crayons.
This is a great way to reinforce the lowercase b as well.
Idea #2:
You can also help them practice cutting and gluing it onto a paper plate. A toddler hack: Using a permanent marker, draw a smiley face on their thumb nail and tell them "I always want to be able to see the smiley face". This will keep their thumb face up and everyone will feel a little safer!
Idea #3:
Another fun one with this blank B is to use is as a coloring page.
Idea #4:
You can also turn it into snack time! Get out some blueberries and have your child place them along the lines of the letter B. It will serve as a great letter b snack!
Letter B Books
There are lots of books that either start with the letter B or emphasize it throughout the story.
One of our favorite books at our house is Brown Bear, Brown Bear What do you See? By Eric Carle.
We're going on a Bear Hunt is great for repetition of the word "Bear" and it's a fun one for kids to act out with you too! Make each room of your house a different part of the book.
Example: grass- living room, mud- laundry room, snow storm- hallway, etc. Then make sure you build a cave to go in at the end of the book!
Here's a few others that you might try:
A Bug, a Bear and a Boy
Three Bears in a Boat
I like Bugs
Blueberries for Sal
How many Bugs in a Box?
Big Red Barn
Boy on a Bug
B is for Breathe
Blueberry's Blue Day
Bird Builds a next
My Big Brother
Boat Book
B is for Bedtime
Bears Don't Read
Are you a Bee?
Bird Hugs
Bugs and Butterflies
Other Simple Letter B Activities
Looking for other fun things to do with letter B? Try a letter of the week theme and start the Play-Based 5-Day Letter Learning Challenge for some fun with your kids!
I hope you found some ideas that will be beneficial to both you and your child! These might even end up becoming some of your favorite activities!