Our family always jokes about how it usually snows like crazy overnight, and especially on Monday mornings, we wake up to a winter wonderland.
This past winter certainly showed us that it can snow anytime (and ALL THE TIME!) and we realized that having a plan for school closure is pretty important.
While a little screen time is ok, it is good to have other outdoor and indoor ideas for snowy day activities set up for these times. While we have a list of indoor activities at the ready for you, this article is specifically geared towards a cold winter day.
So let us dive into all the fun that can be had on a snowy, blustery day!
Indoor Snow Day Activities For Kids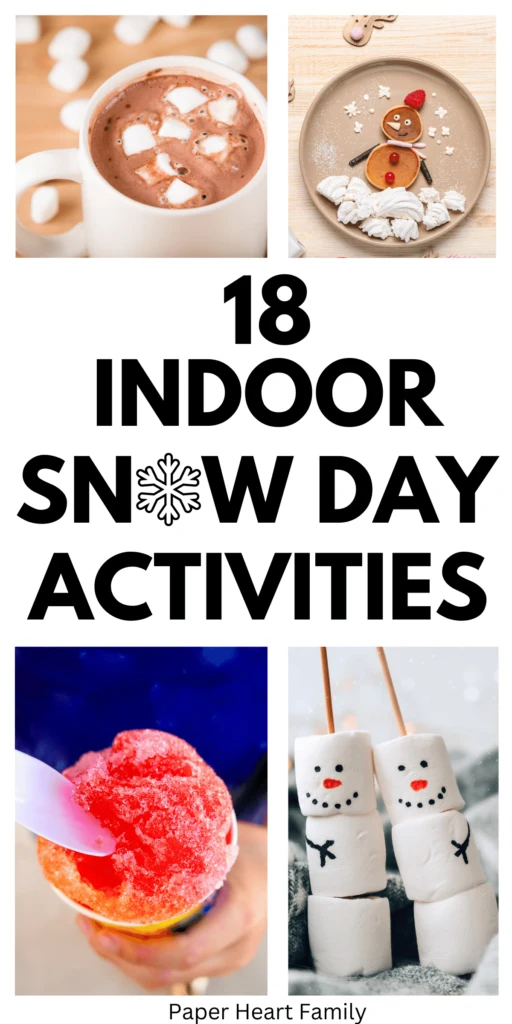 1. Make A Special "Snow Day" Breakfast
Since you all have a little extra time on your hands, let the kids help decide what to make for the special breakfast. Bonus points for letting them help make the meal!
2. Snuggle Up And Talk!
There is nothing cozier that cuddling up together during a snowstorm and catching up with a family member.
In case you find yourself at a loss for what to talk about, we have some fun ideas for possible topics, to include: snow day would you rather questions, kid jokes and this or that questions.
3. Bake Together
Pull out the cookie sheet and create a tasty treat! Let the kids decorate with their favorite toppings for some extra fun!
4. Make Special Hot Chocolate
5. Watch A Movie
6. Do A Simple Craft
Winter crafts can be very entertaining for small children. It's a perfect time create an art project by using things you can find around your home.
7. Make Snow Cones
We love when it snows so that we can use real snow to make our snow cones.
8. Make Snow Ice Cream
9. Do A Read Aloud
Cuddling up with a favorite book together always makes everything feel warmer. Let your older kids read to you for some good quality time!
10. Make Marshmallow Snowmen
These mini snowmen will be fun to make and so tasty afterwards!
11. Play A Board Game
Board games are always a hit during snow days, especially if you pair them with a nice cup of hot cocoa.
12. Build A Fort
Pull out all the pillows and blankets in the house and collect them in the same room. Creativity is the only rule for making an amazing snow day fort!
13. Have An Indoor Picnic
14. Make Maple Syrup Snow Candy
15. Create An Indoor Scavenger Hunt
Kids will love looking for a special snow day surprise! You could create a scavenger hunt that actually leads into your next activity and the kids have to guess what it is.
16. Have A Dance Party
Play some of your favorite songs and boogie down!
17. Put Together A Puppet Show
This activity alone could take a good portion of the day.
First, you have to come up with a story and make puppets and figure out where the show will be performed.
Then of course there must be a practice before the show is finally ready to be seen! Before you know it, it is the afternoon.
The kids will really enjoy the creativity and planning that goes into this activity!
18. Make Shadow Puppets
Pull all the curtains shut and find a free space on the wall the project a light on. Then create shadow puppets using your hands or other objects around the house.
Your kids can experiment with how the shadows of objects get larger and smaller depending on how close or far away they are from the light source.
Outdoor Snow Day Activities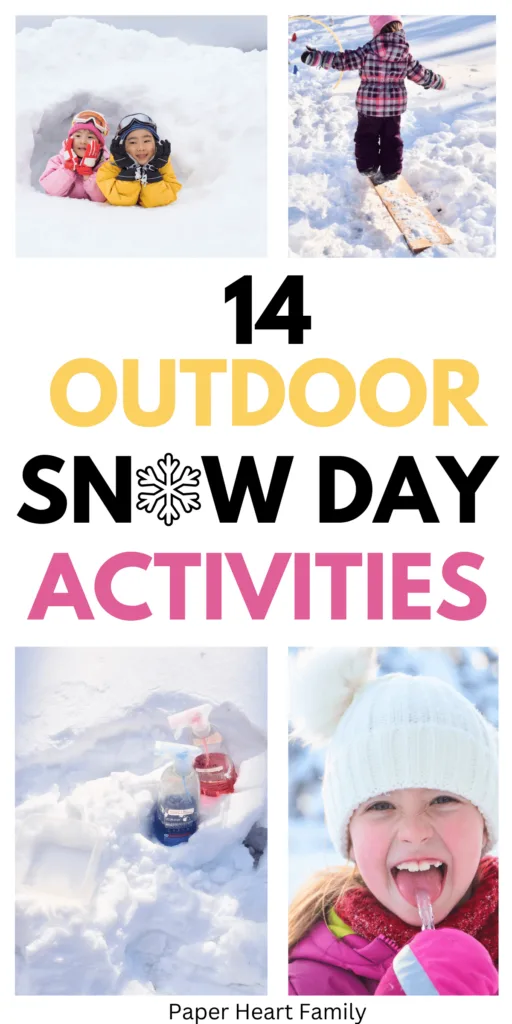 19. Build A Snow Castle
We have this snow fort building kit. The best part is that you can use it in the summer at the beach to build a sand castle.
20. Set Up A Snow Obstacle Course
Setting up a snow obstacle course can play double duty by getting rid of some of that cabin fever and getting some physical activity in on a cold day.
If you are at a loss for ideas, we have included a list of possible activities for a snow outdoor obstacle course.
21. Go Skiing In Your Backyard
No need for a big mountain when you can have a great time right at home!
Have you seen these skis for the backyard? My kids and I all have a pair and they are so cool (and inexpensive, too!)
22. Play On A Snow Scooter
This snow scooter is another really amazing snow toy that we have. My daughter has loved it since she was 5 years old. It will be played with for years to come!
23. Make Colorful Snow
This is a cold weather activity that you can do inside or out with a squirt bottle filled with water and food coloring.
You can create a snow painting with the whole family or bring some snow in the house for some colorful fun that little kids will definitely enjoy!
24. Build An Igloo
Not only is this a creative learning experience for you and your kids, it is also a team building activity! Let the kids take the lead and see where it takes you!
25. Shovel The Snow Together
Involve the entire family to make different shapes in the snow with shovels. Bonus points for building a snow fort with all of the accumulated snow!
26. Have A Family Snowball Fight
27. Have A Mini Snowman-Making Competition
Pull out any accessories and let everyone use their creativity to build their own snowman. You could have a theme that everyone agrees on.
My son likes to make snowcats or snow creatures and gives them silly names. Top it off with a photoshoot to commemorate the day!
28. Examine Snowflakes
All you need is a piece of black construction paper and a magnifying glass! Kids will love this science lesson in disguise!
29. Have A Snow Photoshoot
Dig a heart in the snow, put your phone at the bottom and take a picture of you and your family looking down at the phone!
30. Practice Your Aim With Snowballs
31. Hunt For Icicles
This is one of my son's favorite games to play! This past winter, he saw an icicle far away out of the window and we had an adventure putting on all of our gear and tromping out into the snow to find it!
The sense of accomplishment was real when we discovered our special icicle!
32. Decorate Snow Angels
At the end of the day, you and your kids will have had so much fun together, you will all be super excited for the next snow day! It is also always a win when you do not have to depend on screen time to keep your kids occupied.
The joy and laughter that will come out of this snow day is priceless and will create memories that will warm your heart and the hearts of your children for years to come. And, as always, you've got this!